Founded in 1912 in Slough, Upton Court Grammar School is a mixed grammar school for Years 7 to 13. Upton Court Grammar School aims to help their pupils fulfil their academic and personal aspirations, with specialisms in languages and science.
Other schools within the Slough Consortium include Langley Grammar School, St Bernard's Catholic Grammar School and Herschel Grammar School.
11 plus exam information for Upton Court Grammar School
Address: Lascelles Rd, London, Slough SL3 7PR

Area: Slough, Berkshire

Admissions info: [email protected], 01753 522892

School type: mixed grammar

Number of pupils: 1,009 (approximately)

Number of places in Year 7: 165 (approximately)

Open day date: Currently only available virtually (more information on the school website)

11+ exam dates: September

Exam board type: Slough Consortium
Upton Court Grammar School term dates
The term dates at Upton Court Grammar School for 2023–2024 are:
Autumn term: 6th September – 15th December 2023

Half term: 23rd October – 3rd November 2023

Spring term: 3rd January – 28th March 2024

Half term: 12th–16th February 2024

Summer term: 15th April – 24th July 2024

Half term: 27th–31st May 2024
Upton Court Grammar School 11 plus admissions process
Registration: open between May and June

11 plus exam dates: September

Result notification: End of October

Place allocation notification: March

Appeal hearings: must be applied for within 20 school days of place allocations being published. Hearings happen between April and June
Students are eligible for admissions if they achieve a score of 111 on the 11 plus entrance exam. Using information from the most recently published test information, here is an insight into the number of pupils who applied to each of the four schools in the Slough Consortium, and their success rate: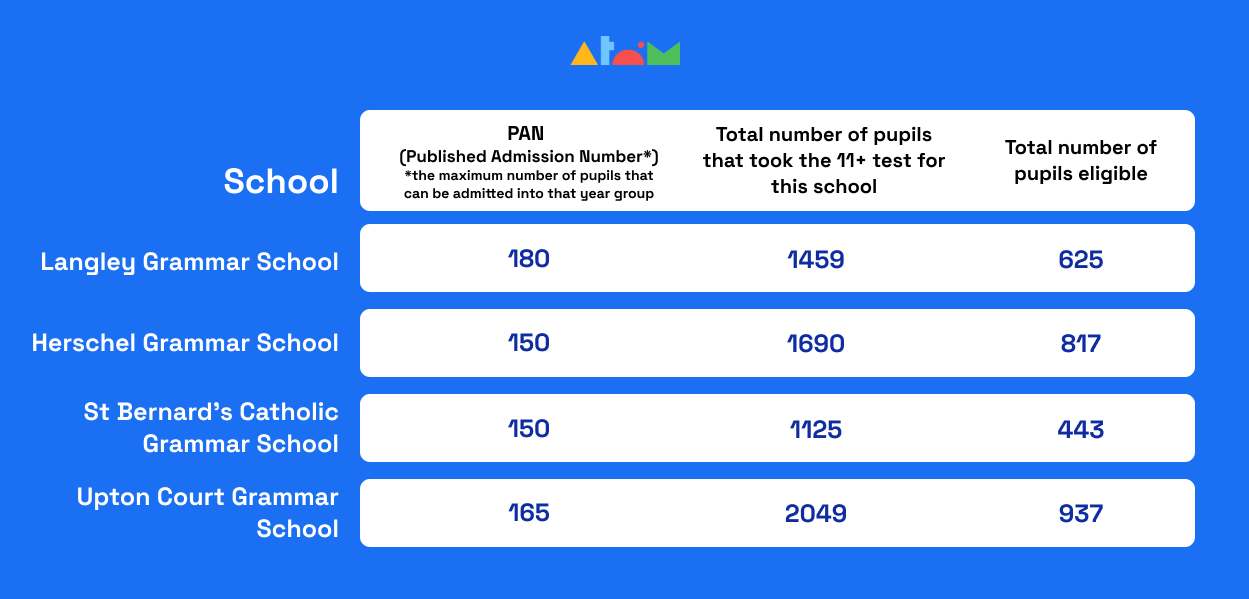 Admissions are also determined by whether the child is or has been in care, and all children whose Education Health and Care (EHC) Plan names the school will be admitted. Up to 20 places will then be offered to applicants who are currently eligible, or have been eligible within the previous six years, for Free School Meals.
The admissions criteria for Upton Court Grammar School is then as follows:
Children of staff/children who attend Pioneer Educational Trust schools (more information available on the school website)

Up to 120 pupils in order of their rank in the 11 plus examination results

Any remaining places are allocated by proximity of the pupil's permanent address to the school
What is the Upton Court Grammar School 11 plus exam format?
The Slough Consortium formally used CEM (Centre for Evaluation and Monitoring) as its 11 plus provider until 2022. However, CEM has given notice that it will no longer be offering paper-based tests for entry to grammar schools. Alternative arrangements are now being put in place by the Slough Consortium for entry to a Slough grammar school in 2024.
Further information will be made available here when these arrangements are confirmed.
How can my child prepare for the Upton Court Grammar School 11 plus exam?
Your child can prepare for the Upton Court Grammar School 11 plus exam by recapping the content they have learnt in Key Stage 2 English and maths, and practising verbal reasoning and non-verbal reasoning questions.
To learn more about preparing for the Upton Court Grammar School 11 plus, take a look at our parents' guide to the Slough Consortium 11 plus.
You can also start your 5-day free trial of Atom Nucleus today for success in the classroom, entrance exams and beyond. With 90,000+ teacher-written practice questions, video tutorials, live exam prep courses and lessons and unlimited mock tests that mirror the content, structure and design of the Slough Consortium exam, your child can go into exam day feeling confident and prepared.
---
Get personalised support with 11 plus entry
We know that the 11 plus process can be challenging for both children and parents. Atom Learning is on hand to support you and your family every step of the way.
Book a call with an Education Expert
Confused about applying to grammar schools, and not sure what you or your child needs to do? Atom's friendly and informative Education Experts are on hand to support you and your child every step of the way. Book a call to discuss any questions you have about admissions processes and helping your child prepare for entry to a grammar school.
Join our WhatsApp groups
Why not join over 2,000 parents already using our Atom Learning community WhatsApp groups? You'll get access to free resources and advice, while our Education Experts will be on hand to provide instant answers to any questions you have about the school admissions process and your child's exams.
Subscribe for the latest education advice
Subscribe to Atom's mailing list and get free resources to help your child master core subjects, excel in their entrance exams and build academic confidence.
You'll get access to exclusive discounts to Atom Nucleus, invitations to relevant parent webinars, free downloadable resources to support your child's learning – and much more.