If you're preparing for your child to sit the 11 plus in September, there are now around ten weeks left before the exam. In this 45 minute webinar, Jade will talk you through how best to use this time to ensure your child feels confident and ready to excel in their entrance exams.
Free resources for 11 plus preparation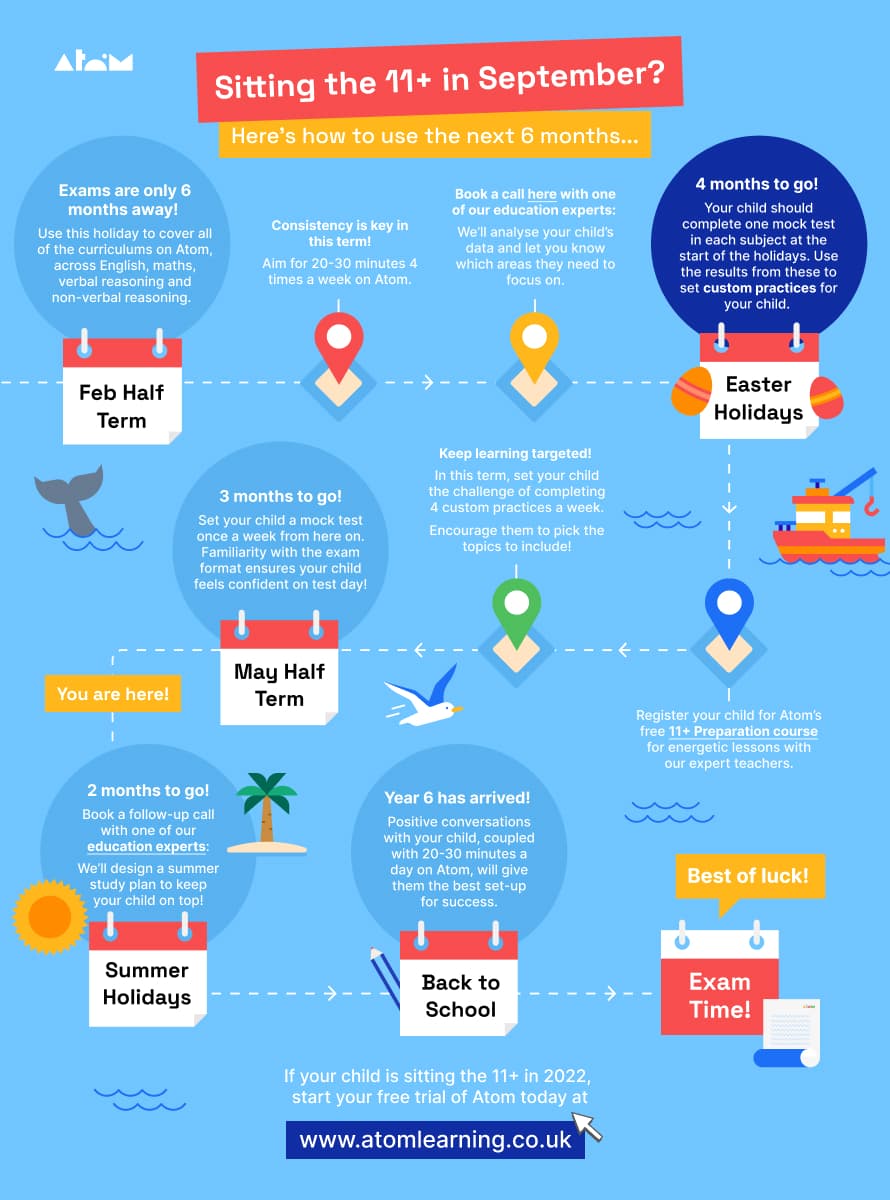 The 11 plus curriculum
Although the timing and structure of the exam papers vary between schools and regions, the content of the test is very similar across the country. Your child will be assessed on:
Grammar school exams typically take place in the first or second week of September, right at the start of Year 6. A lot of the maths and English exam content will be at a level that your child has not encountered in the classroom yet.
There are no completely new English and maths topics introduced in Year 6, so your child won't encounter any topics on the 11 plus exam that are completely unfamiliar to them. However, the topics are expanded and extended to a more complex level to build on prior knowledge.
This means it's important to build their confidence and fluency with the more challenging Year 6 learning objectives at home. You can use these Key Stage 2 English and maths checklists as a guide:
Verbal and non-verbal reasoning will be new to most students as they are not taught as part of the national curriculum. Again, it's important to familiarise your child with these subjects well in advance of the exam so there are no surprises.
Atom Nucleus makes it easy to cover all the topics needed for the exam to the correct level. The platform breaks down all the 11 plus content into exciting Learning Journeys which your child can work through anytime, anywhere.
How to build subject mastery
Building strong subject mastery is key for confidence and success in entrance exams. Being familiar with the full curriculum, and knowing how to approach different question types and what methods to use, will have the biggest impact on your child's results.
A common misconception about 11 plus preparation is that repeating practice papers is the only way to be prepared for the exam. Although practice papers are helpful for building exam technique (see below), it's more important to ensure your child actually understands the concepts behind the questions and has consolidated their learning. As we approach the date of the exam, we recommend increasing the use of mock tests as well as custom practices to target any tricky topics.
It's also important to revisit topics regularly, even ones that they are excelling in. To keep their knowledge strong, maintain a balance between introducing new topics and recapping. Recaps can be brief – only 10 minutes is needed to make sure a method stays at the forefront of their mind.
Maximise mock tests over the summer
Practice tests are a valuable way to hone exam technique, but are not a substitute for building subject mastery! At this stage, make sure your child is completing mock tests under exam conditions so that they can hone their technique and get used to using the time most effectively.
Short, regular bursts of revision are the most effective approach – on a weekday when your child has school, homework, and extracurriculars, we recommend spending no more than 20 or 30 minutes at a time on learning journeys and custom practices. The weekends can then be a good time to sit mock tests and review the transcripts together. The summer holidays are also a great time to make the most of mock tests and practice papers.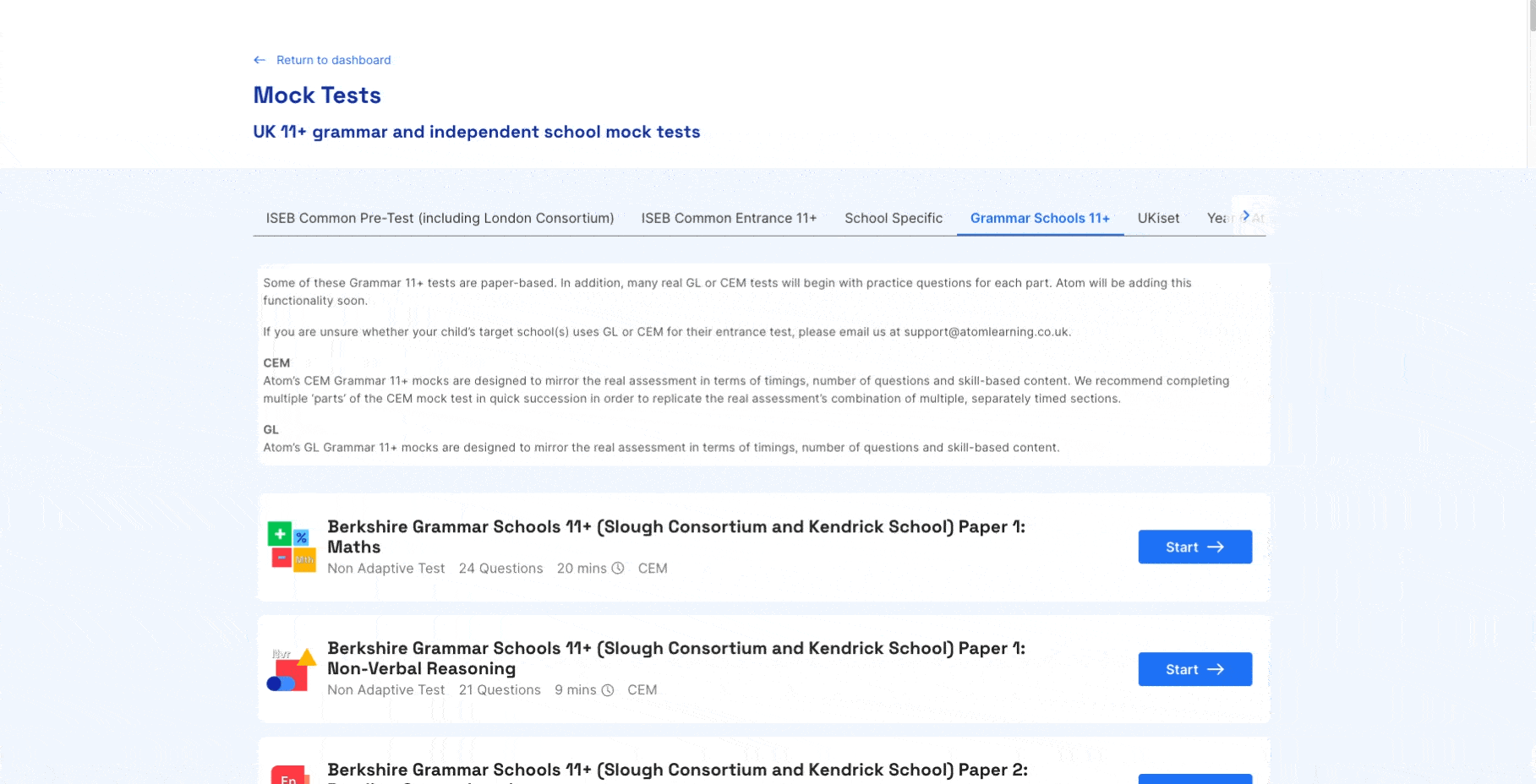 Atom Nucleus has unlimited practice papers in the style of your local grammar schools.
Learn more about how to use mock tests for exam preparation: Using Mock Tests to prepare for the 11 plus.
Top tips for the next ten weeks
Increase the amount of time you're spending on practice papers and custom practices

Sit shorter custom practices throughout the week and mock tests on the weekends

Mock tests should be completed under exam conditions

Always make time to review mock test transcripts together and discuss any learnings

Allow flexibility. If your child is feeling tired or demotivated, take a 24-hour break from all exam preparation to help them feel refreshed

Celebrate progress and successes to keep motivation high

Register your child for summer Live Lessons – our fun and interactive 11 plus exam prep course takes place on Tuesdays during the summer term
Watch the webinar recording for more details on how to use the next ten weeks to ensure your child feels confident and prepared when exam day comes around.
---
We know how important this time is. Our dedicated team of Education Experts are on hand to support you and your family every step of the way should you have any questions about 11 plus preparation: