Bromley High School is an independent day school for girls aged 4–18 in Bromley, South East London. It was opened in 1883 by the Girls' Day School Trust (GDST) – a close network of girls' independent schools in England.
Academic results at Bromley High School are consistently strong. In 2021, 80% of all GCSE grades were 9–7 (A*–A equivalent). The school has an impressive collection of accolades for its academic success, including 'Outstanding Progress Award (Independent School)' from the Education in Business Awards and 'Best STEM provision in a UK school' in 2018.
Girls at Bromley High School have access to a wide range of co-curricular opportunities. Music is integral to school life; Bromley High School was the first all-girls' Steinway school in the world and it has its own musician in residence, with annual concerts held at prestigious London venues (Cadogan Hall in 2021). The school also benefits from space on the fringes of South East London; girls have freedom to enjoy sporting facilities across 25 acres, including a pool, new fitness suite and gym, sports hall, track and floodlit courts and pitches. Aspiring athletes at Bromley High School have been offered Sports Scholarships at Princeton, Yale and Harvard universities in the last five years.
Bromley High School is committed to charitable giving and celebrating community partnerships. An annual community festival is hosted by the school every summer and pupils work closely with local primary schools in digital and sports leadership projects. Every class at Bromley High School takes responsibility for organising its own fundraising event, with £25,000 raised by the senior school, on average, every year.
Key information for Bromley High School
Head: Mrs Emily Codling

Address: Bromley High School, Blackbrook Lane, Bickley, Bromley BR1 2TW

London Borough: Bromley

Admissions contact: [email protected], 020 8781 7000

Age range and gender: 4–18, girls only

Number of pupils: 877

Number of places in Year 7: 60

Ratio of applicants to places: Undisclosed (competitive)

Open day date: Saturday 1st October 2022 – register for a place online

Overview of selection procedure: Entrance exam and team and problem-solving activities

Registration opens: Currently open – apply through the Bromley High School website

Registration closes: Friday 25th November 2022

Assessment date: Saturday 10th December 2022

Scholarship assessment date: Week commencing 16th January 2023
Bromley High School fees and financial assistance
The school fees at Bromley High School from September 2022 are £6,375 per term. This covers the curriculum, text books, some stationery, choral music, games and swimming, but not school meals (which are an added cost of £255 per term). School meals are compulsory for all pupils up to Year 11.
Bromley High School is able to offer a small number of means-tested bursaries for talented girls who could not otherwise afford the school fees. These can provide up to 100% of fee remission. Due to very limited numbers, these can only be awarded to the very highest-performing candidates academically, whose financial circumstances meet the GDST's strict criteria.
Girls applying for 11 plus entry to Bromley High School may also apply for a scholarship, with awards made irregardless of parental income. The scholarships on offer are Academic, Art, Drama, Music and Sport.
Bromley High School term dates
The term dates at Bromley High School for 2022–23 are:
Autumn term: 5th September – 15th December 2022

Half term: 17th–28th October 2022

Spring term: 5th January – 30th March 2023

Half term: 13th–17th February 2023

Summer term: 17th April – 7th July 2023

Half term: 29th May – 2nd June 2023
The term dates at Bromley High School for 2023–24 are:
Autumn term 5th September – 15th December 2023

Half term: 16th–27th October 2023

Spring term: 8th January – 27th March 2024

Half term: 12th–16th February 2024

Summer term: 15th April – 10th July 2024

Half term: 27th–31st May 2024
Admissions process for Year 7 entry to Bromley High School
Up to 60 places are available in Year 7 at Bromley High School each year, joining girls who move up from the Junior School. If you would like to register your daughter for Year 7 entry in 2023, you will need to complete the online application form and pay a non-refundable registration fee of £125. The deadline for submission is Friday 25th November 2022.
All registered candidates will be invited to take the school's entrance exam on Saturday 10th December 2022. In addition to paper tests, girls will be involved in some team and problem-solving activities.
If your daughter is applying for a scholarship, you will need to submit a separate 11+ scholarship application form by the same date as the main application deadline. There will then be additional steps in the admissions process, with scholarship assessments taking place during the week commencing 16th January 2023. If your daughter has been shortlisted for a scholarship assessment, you will be notified before the end of the year.
Bromley High School will send letters detailing the outcome of candidates' applications to families by Friday 6th March 2023. The acceptance deadline is Friday 3rd March 2023.
Bromley High School entrance exam
All candidates who are registered for Year 7 entry to Bromley High School will take the school's entrance exam on Saturday 10th December 2022. This consists of tests which assess each child's potential in the following areas:
In addition to these tests, girls will take a short creative writing paper and a brief maths extension exercise. You may find our following guides helpful for your child's exam preparation:
How to help your child prepare for the selection process at Bromley High School
Build foundational knowledge
The 11 plus exam at Bromley High School covers a huge range of content. Candidates are tested across the English and maths Key Stage 2 national curriculum, in addition to verbal reasoning and non-verbal reasoning skills (which are not typically taught at school).
Atom Nucleus can help your child consolidate everything they need to know for the exam. With over 90,000 teacher-created questions and helpful learning resources across English, maths and verbal reasoning, one Atom subscription will give your daughter all the materials needed to get to grips with the curriculum before the exam day.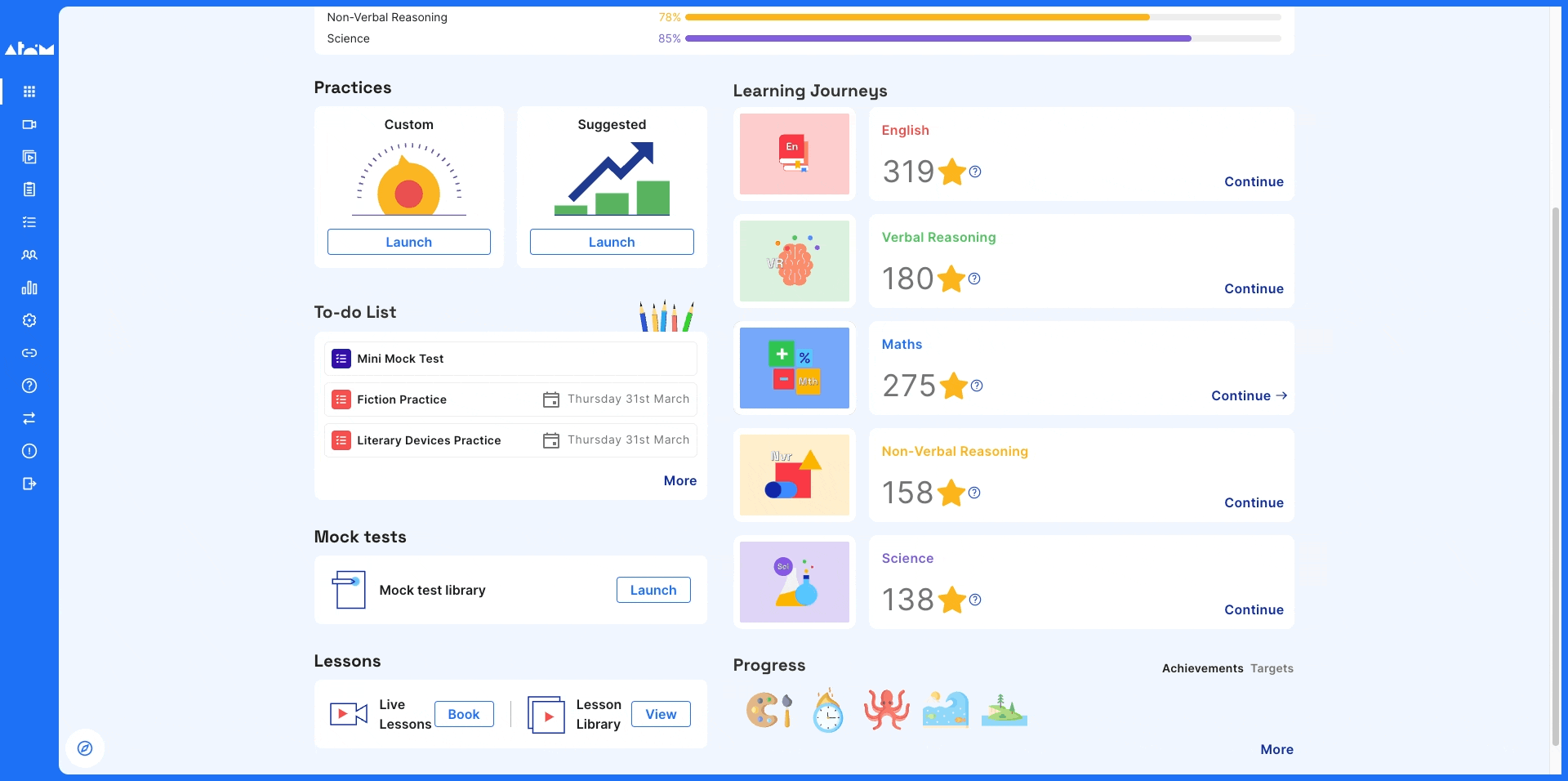 Preparation is key
Familiarisation with the question formats and known styles ahead of the exam is essential to help your child build exam confidence.
An exam preparation subscription with Atom Nucleus enables your child to access quality, unlimited practice material with full score breakdowns to help your child feel confident by the time the exam day comes around. Best of all, your child can take unlimited practice tests that replicate those set by Bromley High School for one monthly subscription: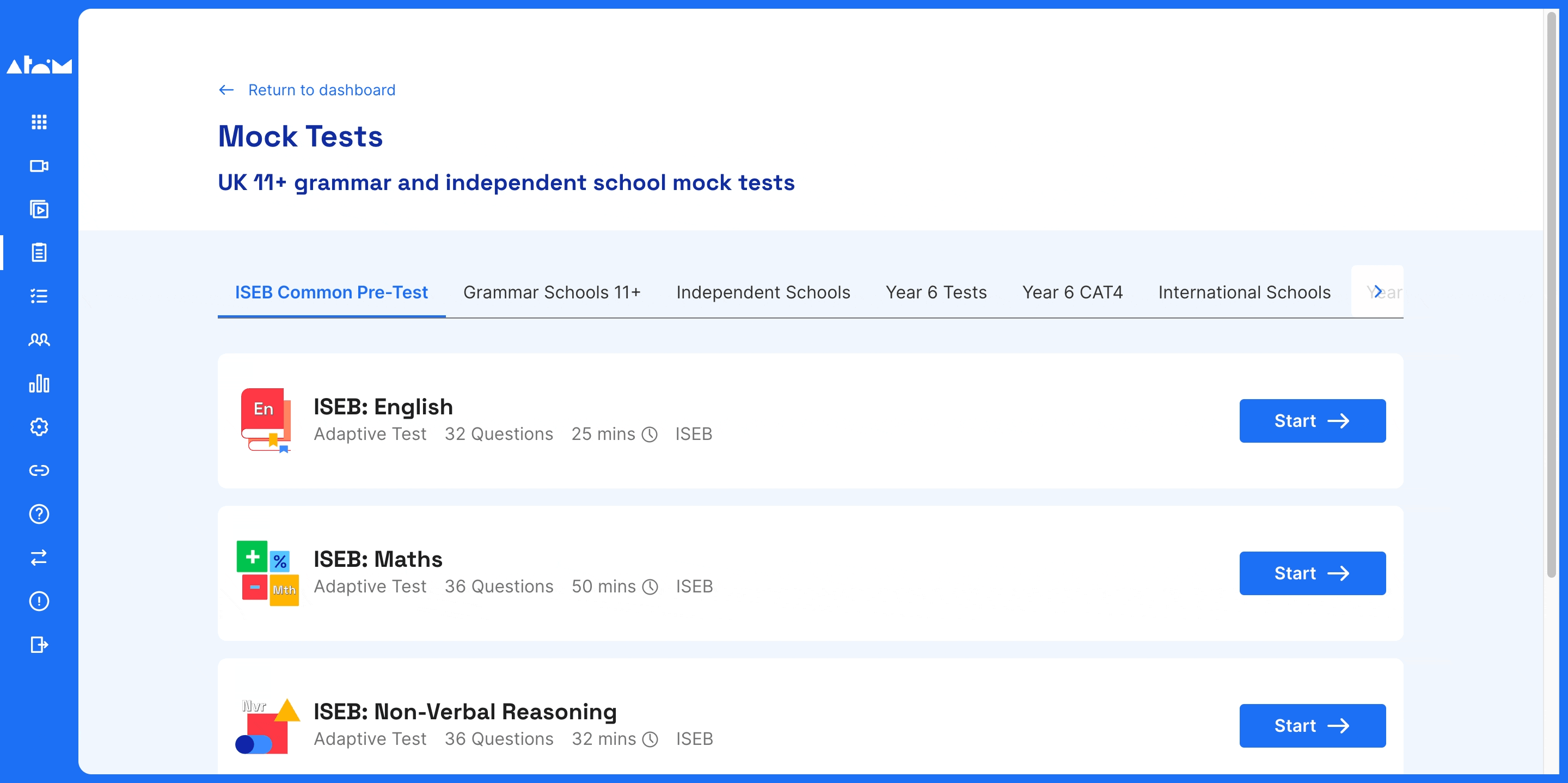 When working through challenging topics, your child will need immediate clarity with any misconceptions so that they feel truly secure in the exam.
Atom Nucleus includes video tutorials, help sheets and examples with every question to help your child build confidence and competence across all the areas assessed.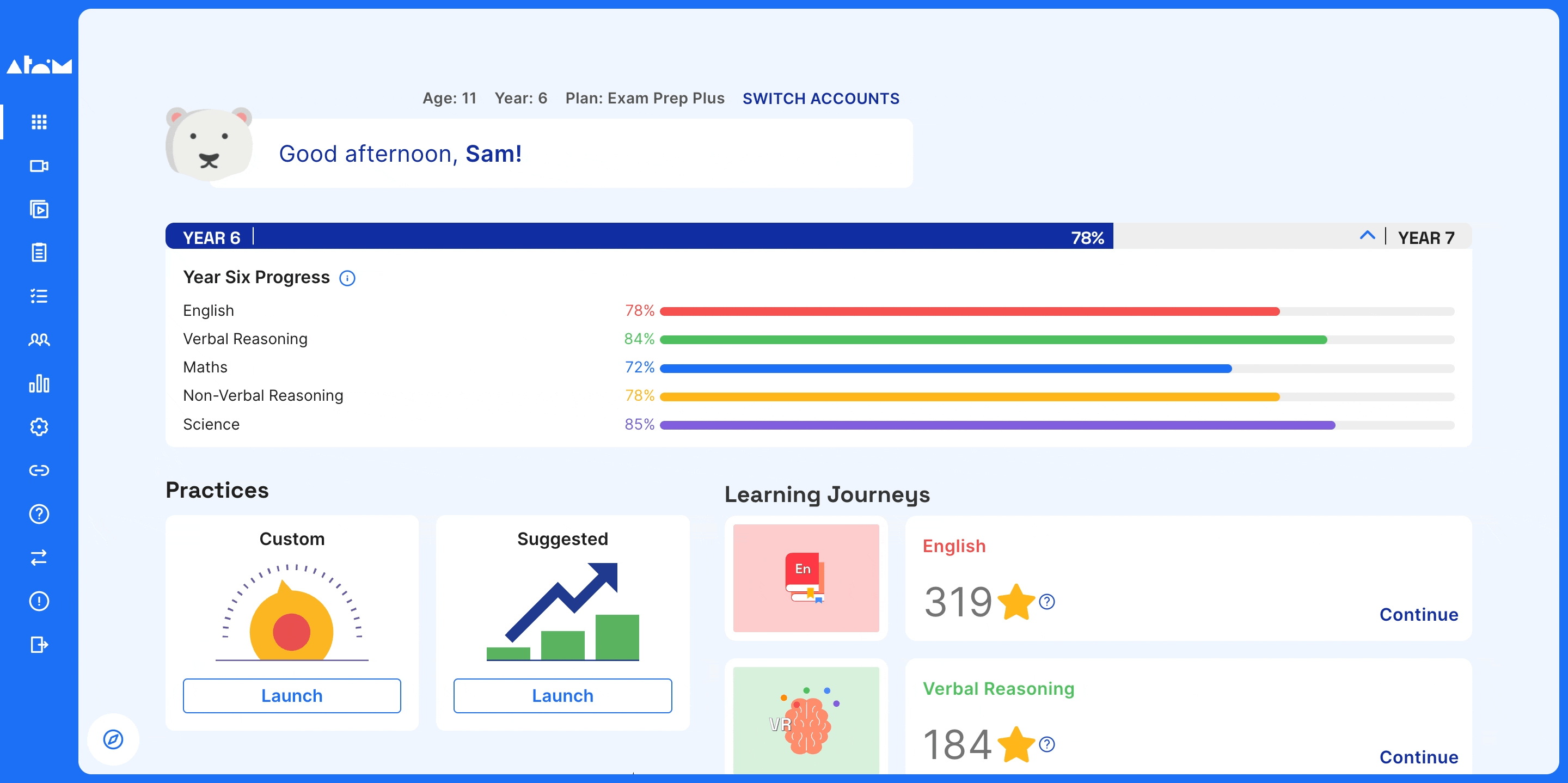 Engage with their progress
Celebrate your child's improvement in areas of challenge together. An accurate and ongoing assessment of their areas of strength and development is helpful.
As an Atom subscriber, you'll have a parent dashboard which offers data-driven insights into your child's progress. You can use this effectively to help your child set targets, see a detailed breakdown of their progress by subtopic and set custom practices to target those they find most challenging.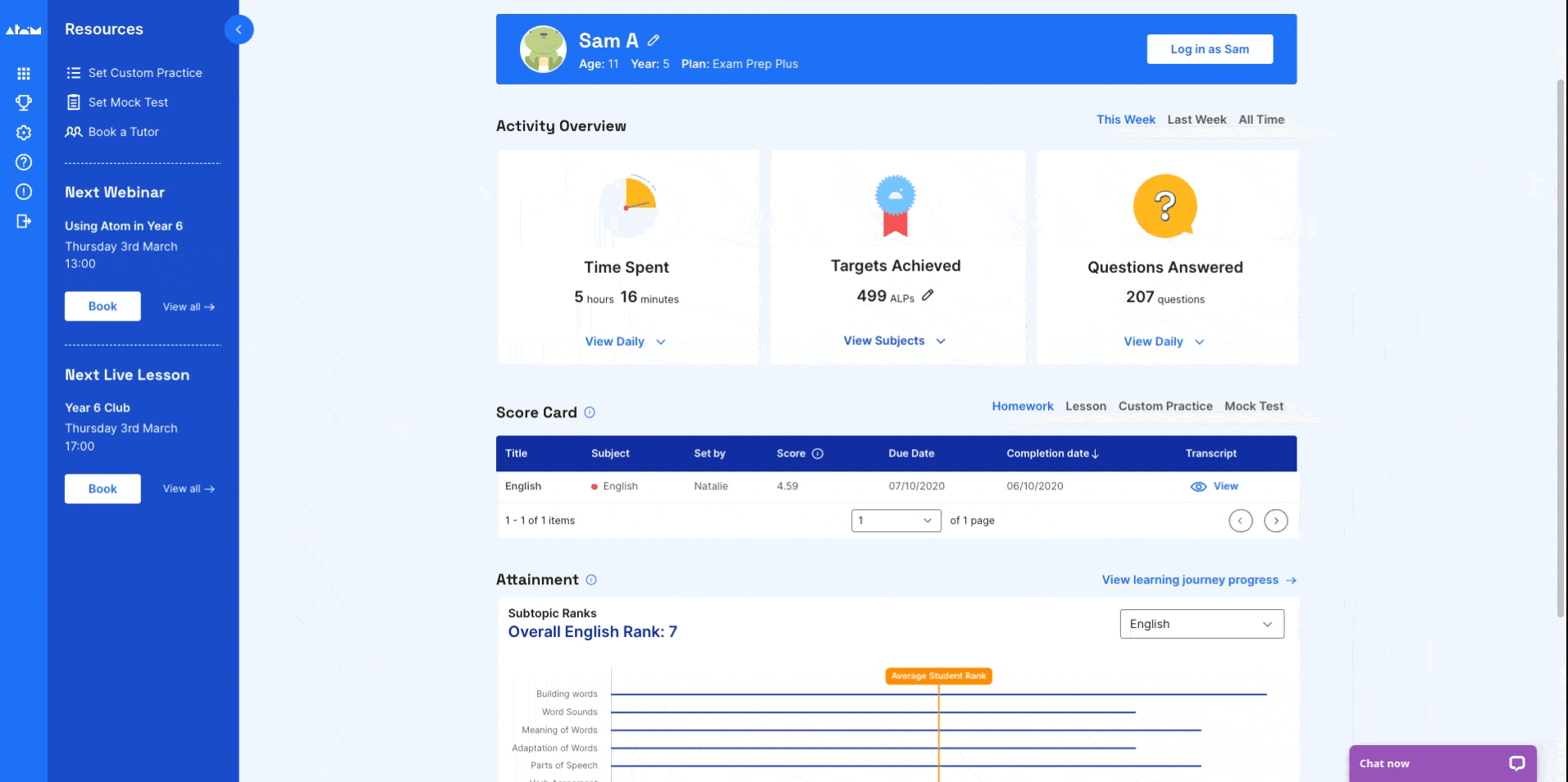 ---
Get started with Atom Learning
It's our mission to help your child feel prepared and confident before the exam day. Begin your free 5-day free trial of Nucleus today to help your child succeed.

We know how crucial this time is, so our team is on hand to support you and your family every step of the way. You can book a call with one of our Education Experts to ask any questions you might have about 11 plus entry to Bromley High School:
If you're looking for exclusive tips and resources to help your child master key subjects, excel in exams and build academic confidence, join Atom's email list: