Colfe's School is an independent day school for boys and girls aged 11–18. Originally established in 1574 and re-founded in 1652, it's one of the oldest schools in London. While pupils travel to Colfe's School from all over South East London, there is a strong sense of local community with most pupils coming from the London Boroughs of Lewisham, Bromley, Bexley and Greenwich.
The school is academically-selective and takes the whole child into account during the admissions process. Research conducted by Durham University has established that a pupil of any given ability will perform better at Colfe's School than 86% of other independent schools. This is evident in the school's excellent exam results; in 2021, nearly a quarter of GCSE grades were level 9 alone (above A*) and over 46% were 9–8 (A*).
Pastoral care at Colfe's School is award-winning (the pastoral programme received the award for 'Best Strategic Initiative' at the TES Independent School Awards in 2016). As well as traditional pastoral systems including form groups and houses, all Year 7 pupils participate in Tougher Minds – a unique approach between Colfe's and the Tougher Minds consultancy to give children the skills needed to successfully manage their personal wellbeing.
Beyond the classroom, there is a wide range of co-curricular opportunities for pupils to develop existing skills and discover new talents. Collaborations with renowned arts organisations such as Goldsmiths College, Trinity Laban Conservatoire and the National Youth Theatre allow musicians and thespians to learn from the best, while every single Year 7 pupil represents the school in one of many competitive sports (netball, rugby, hockey, swimming, cricket, football, athletics, cross-country, tennis and biathlon).
Key information for Colfe's School
Headmaster: Mr R F Russell

Address: Colfe's School, Horn Park Lane, Lee, SE12 8AW

London Borough: Greenwich

Admissions contact: [email protected], 020 8781 7000

Age range and gender: 11–18, co-educational

Number of pupils: 811

Number of places in Year 7: Up to 96

Ratio of applicants to places: Undisclosed (competitive)

Open day date: Saturday 24th September 2022 and Saturday 5th November 2022

Overview of selection procedure: Entrance exam, interview and school reference

Registration opens: Currently open – apply through the Colfe's School website

Registration closes: Friday 25th November 2022

Assessment date: Wednesday 4th January 2023
Colfe's School fees and financial assistance
The school fees at Colfe's School from September 2022 will be £6,375 per term (£19,125). The school fees include tuition, basic stationery, materials and textbooks, library books and activities such as orchestra and choir, as well as most societies. The school fees doe not include lunch, which is an optional additional payment of £280 per term.
Colfe's School offers financial assistance in the form of academic merit-based and means-tested scholarships. The number of these varies from year to year, but on average around a quarter of pupils benefit from some form of fee-assistance in each year group. Academic merit-based scholarships normally offer up to 50% of reduction in fees, while means-tested scholarships can provide eligible candidates with a fully-funded place at the school.
The following scholarships are available for 11 plus entry to Colfe's School:
Academic Scholarships

Art Scholarships

Drama Scholarships

Music Scholarships

Sports Scholarships
Colfe's School term dates
The term dates at Colfe's School for 2022–23 are:
Autumn term: 5th September – 15th December 2022

Half term: 17th–28th October 2022

Spring term: 5th January – 31st March 2023

Half term: 13th–17th February 2023

Summer term: 25th April – 7th July 2023

Half term: 29th May – 2nd June 2023
Admissions process for Year 7 entry to Colfe's School
About two thirds of pupils who join Colfe's School in Year 7 (age 11) come from a wide selection of local primary and independent schools. These pupils join those who move up from Colfe's Junior School, resulting in five or six forms with no more than 24 children per class.
If you would like to register your child for Year 7 entry to Colfe's School in 2023, you will need to submit the online registration form and pay the registration fee before the deadline of Friday 25th November 2022.
All registered candidates will be invited to a full day of assessment on Wednesday 4th January 2023. The day is split into two halves:
In addition, Colfe's School will request a confidential written report on each candidate from their current school. Children who perform well on the assessment day will be shortlisted for an interview with a senior member of staff (the date for this will be agreed following the exam day in January).
Academic Scholarships are automatically awarded to pupils who demonstrate exceptional ability in the entrance exam and who the school believes will make a significant contribution to life at Colfe's. If a candidate performs exceptionally well at interview, this is also taken into consideration.
Co-curricular Scholarships (Art, Drama, Music and Sport) are awarded based on individual auditions and assessment following the main entrance exam:
Art Scholarships: The first stage is submission of a digital portfolio. Shortlisted candidates are invited to a small group art session at Colfe's School and a meeting with the head of art.

Drama Scholarships: The first stage is submission of a monologue recording (no more than 2 minutes) and an introduction from the candidate. Shortlisted candidates will be invited to the second stage, which consists of an audition with the school's director of drama.

Music Scholarships: Potential 11 plus Music Scholars should be playing to at least Grade 4 standard. The first stage is submission of a single, unedited video recording of two contrasting pieces, after which shortlisted candidates will be invited to a live audition (including sight reading and aural tests) and interview with the director of music.

Sports Scholarships: Potential candidates will need to submit a personal statement, details of their preferred sport and one or more written recommendations from a coach or teacher. The next stage is a first-round practical assessment (following the main entrance exam), where applicants will need to demonstrate a high level of fitness and participate in core sports. Shortlisted applicants will be invited to attend a second-round practical assessment, where they will be assessed on their ability in their chosen sport(s), their fitness and motor coordination, reactions to feedback and potential to contribute to the school's sports programme. They may also be invited to attend a group interview session with the director or assistant director of sport.
Colfe's School entrance exam
All children who are registered for Year 7 entry to Colfe's School in 2023 will take the school's entrance exam on Wednesday 4th January 2023. This is an online exam, taken on a computer at Colfe's School, which takes approximately one hour and 45 minutes to complete (including breaks). The following skills are assessed:
Maths: 30 minutes. This is a non-calculator paper. Candidates will be tested on their knowledge and understanding of the Key Stage 2 maths curriculum up to the end of Year 5. Take a look at our guide to 11 plus maths for details of what this includes.

SPAG (spelling, punctuation and grammar): 10 minutes. Candidates will answer multiple-choice questions and complete grammar exercises.

Reading: 25 minutes. Candidates will be required to read a passage and answer a mixture of multiple-choice and short-answer questions to demonstrate their understanding. For more guidance, take a look at our guide for developing your child's reading comprehension skills.

Writing: 30 minutes. Pupils will be assessed on their creative writing skills, with marks awarded for developing a given story, originality, descriptive writing, vocabulary, sentence variety and accuracy. You may find our guide to creative writing in the 11 plus helpful.
For more information, take a look at the sample papers on Colfe's School's website.
How to help your child prepare for the selection process at Colfe's School
Build foundational knowledge
Candidates for 11 plus entry to Colfe's School are assessed across the Key Stage 2 national curriculum, including core English and maths skills. Atom Nucleus can help your child consolidate everything they need to know for the exam. With over 90,000 teacher-created questions and helpful learning resources spanning English and maths from Year 3 to Year 6, one Atom subscription will give your child all the materials needed to get to grips with the curriculum before the exam day.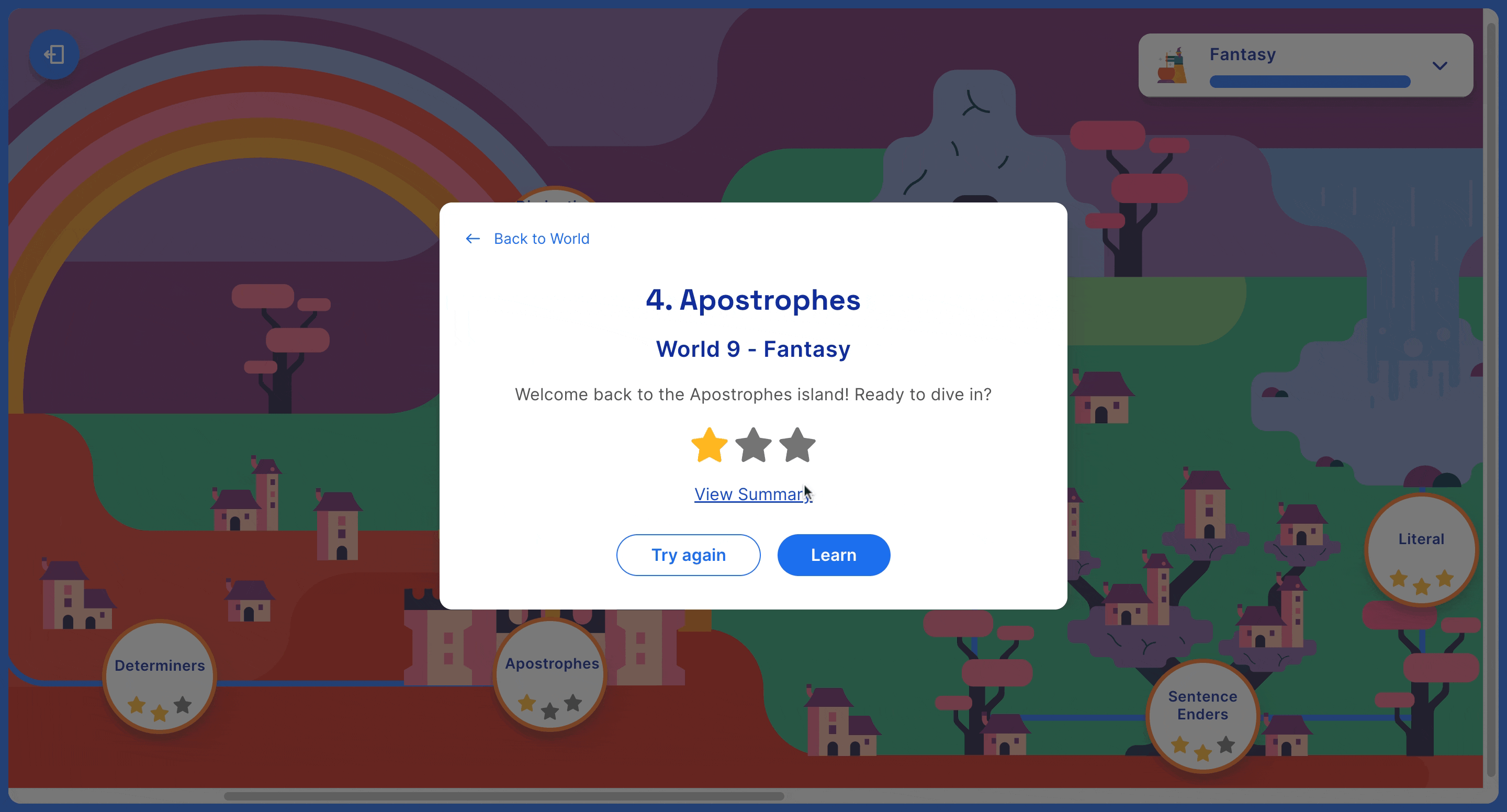 Preparation is key
Familiarisation with the question formats and known styles ahead of the exam is essential to help your child build exam confidence.
An exam preparation subscription with Atom Nucleus enables your child to access quality, unlimited practice material with full score breakdowns to help your child feel confident by the time the exam day comes around. For one monthly subscription cost, your child can take unlimited practice tests that replicate the 11 plus and independent school entry exams.
When working through challenging topics, your child will need immediate clarity with any misconceptions so that they feel truly secure in the exam.
Atom Nucleus includes video tutorials, help sheets and examples with every question to help your child build confidence and competence across all the areas assessed.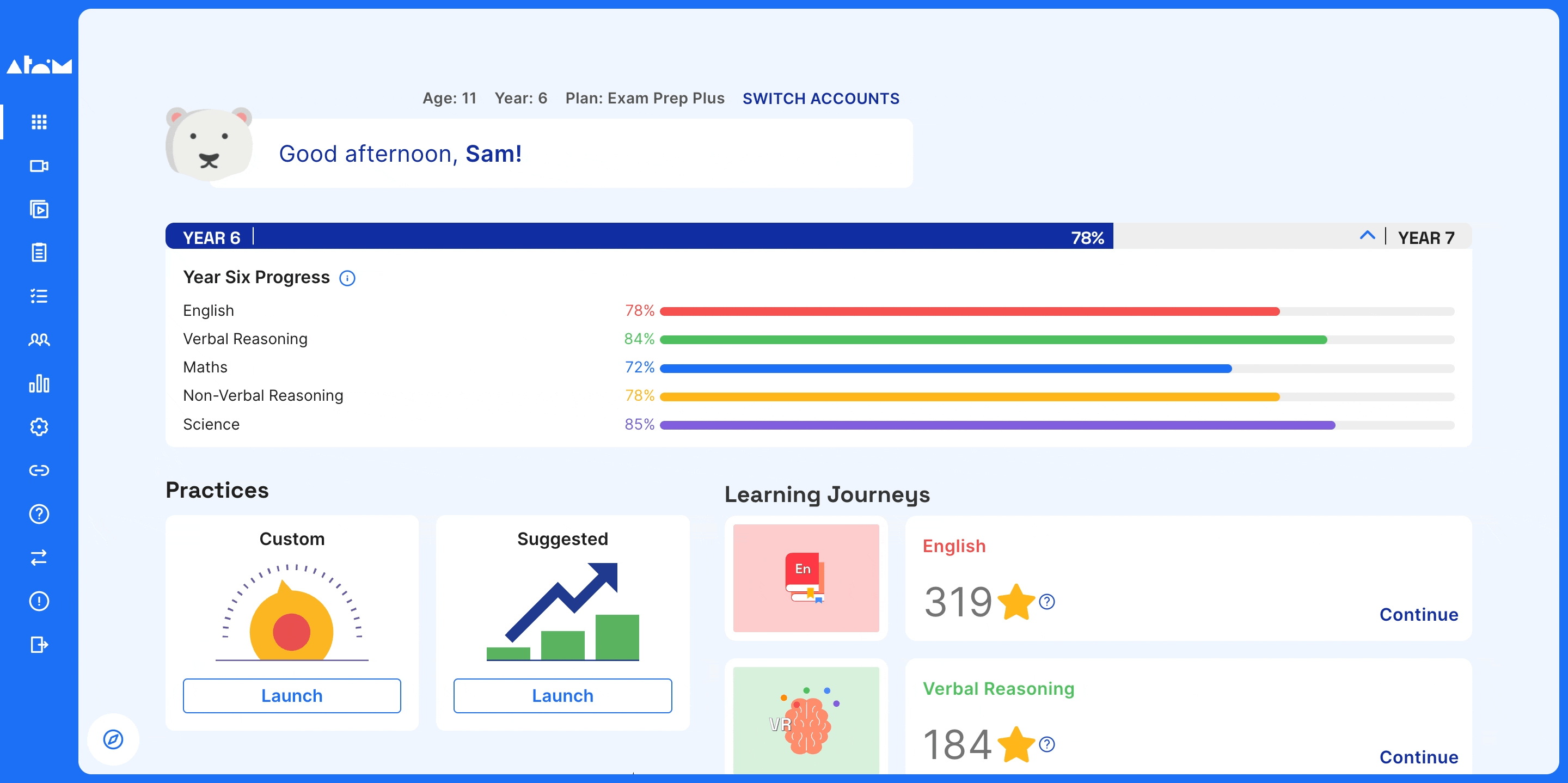 Engage with their progress
Celebrate your child's improvement in areas of challenge together. An accurate and ongoing assessment of their areas of strength and development is helpful.
As an Atom subscriber, you'll have a parent dashboard which offers data-driven insights into your child's progress. You can use this effectively to help your child set targets, see a detailed breakdown of their progress by subtopic and set custom practices to target those they find most challenging.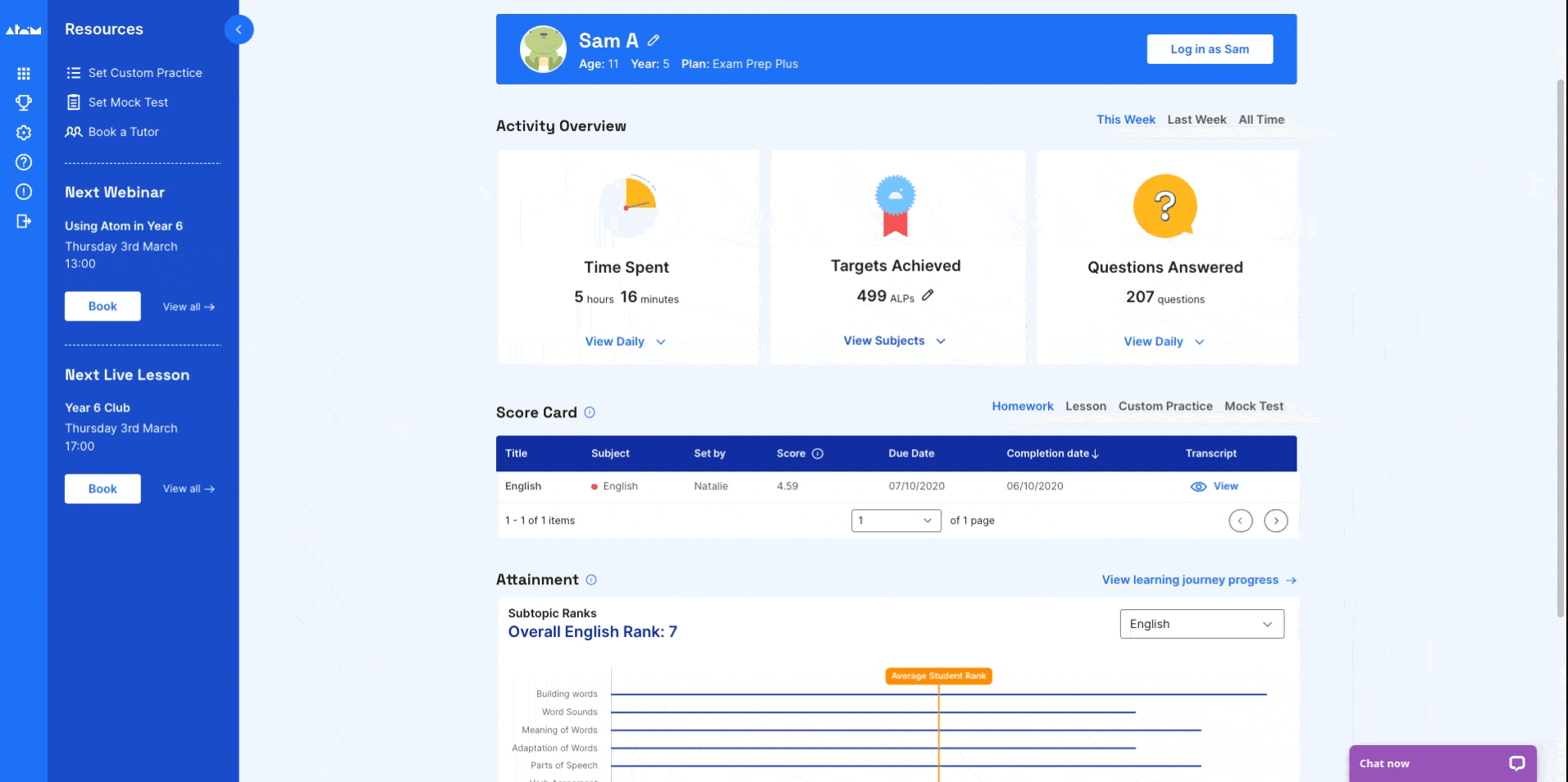 ---
Get started with Atom Learning
It's our mission to help your child feel prepared and confident before the exam day. Begin your free 5-day free trial of Nucleus today to help your child succeed.

We know how crucial this time is, so our team is on hand to support you and your family every step of the way. You can book a call with one of our Education Experts to ask any questions you might have about 11 plus entry to Colfe's School:
If you're looking for exclusive tips and resources to help your child master key subjects, excel in exams and build academic confidence, join Atom's email list: