pxEDulwich College is a large independent school for boys with both day and boarding options. The community comprises DUCKS (a co-educational kindergarten and infants' school), the junior school (Years 3–6) and the senior school (Years 7–13).
The school was founded as the 'College of God's Gift' in 1619 by actor Edward Alleyn with the intention of educating 12 poor scholars. Philanthropy continues to be high on the agenda at Dulwich College, with the school aiming to provide financial assistance to 50% of its pupils in the future.
Dulwich College has a distinguished tradition of excellent education and students leave to join highly competitive universities. However, students are also taught the importance of social responsibility – as evidenced by the school's partnerships with schools and organisations in its area and its international network.
In 2019, 63.4% of all A levels and 64% of all GCSEs were graded A* or A.
Key information for Dulwich College
Headteacher: Dr Joseph Spence

Address: Dulwich College, Dulwich Common, London, SE21 7LD

London Borough: Southwark

Admissions contact: Mrs Sarah Betts – [email protected], 020 8299 9263

Age range and gender: 2–18, boys only from Year 3 onwards

Number of pupils: 1,820

Number of places in Year 7: 125 (70 external applicants, 50 moving up from Dulwich College Junior School)

Ratio of applicants to places: 8:1

Open day date: Tuesday 13th September, Friday 23rd September, Saturday 1st October (main event) and Thursday 13th October 2022. Book a place online.

Overview of selection procedure for Year 7 entry: entrance exam, interview and headteacher's report

Registration deadline: Monday 31st October 2022 at midday

Assessment date for Year 7 entry: Wednesday 14th December 2022

Scholarship assessment date: November – January (dependent on discipline)
Dulwich College fees and financial assistance
The fees at Dulwich College for 2021-22 are £7,224 per term (day pupils) or £21,672 per year. The fees for boarders range from £14,136 to £15,078 per term (weekly/full boarders). The Governors review the school fees each year.
Dulwich College is committed to providing financial assistance to academically strong boys to need full or partial financial support. Over £4 million is provided to support students (across all age groups) every year. Dulwich College's Bursary Committee carries out a full and confidential means-tested assessment of applicants' family financial circumstances.
As a guide, children who succeed in the assessment process and have a household income of £35k or less will be eligible for a 100% bursary. There are a range of thresholds dependent on available household income, with 10% available for households with an income of £100k.
There are also scholarships available at Dulwich College:
Academic Scholarships: between 10% to one-third of tuition fees

Art Scholarships: up to 10% of tuition fees

Choral and Organ Scholarships: free tuition in singing and one instrument

Music Scholarships: up to one-third of tuition fees and free tuition on two instruments

Sport Scholarships: between 10% to one-third of tuition fees
Dulwich College term dates
The term dates at Dulwich College in 2022-23 are:
Autumn term (Michaelmas): 2nd September – 13th December 2022

Half term: 15th – 30th October 2022

Spring term (Lent): 9th January – 31st March 2023

Half term: 11th – 19th February 2023

Summer term: 25th April –6th July 2023

Half term: 27th May – 4th June 2023
Admissions process for Dulwich College
There are around 70 places available for boys applying to Year 7 entry at Dulwich College each year. These children are joined by the boys moving up from Dulwich College Junior School, resulting in a year group of approximately 125 pupils.
If you would like to register your son for admission to Year 7 at Dulwich College in September 2023, you will need to complete the online registration form before Monday 31st October 2022 at 12 noon. This costs £160 per child (free for children in receipt of the Pupil Premium).
All candidates will sit the school's own entrance exam, which covers tests in maths, English, verbal reasoning, non-verbal reasoning, and spatial reasoning, on Wednesday 14th December 2022. 160 boys will then be invited back to an interview at Dulwich College on either Wednesday 25th January or Wednesday 1st February 2023.
Children who are applying for a scholarship will have additional steps in the admissions process:
Academic Scholarship: automatic consideration on the basis of the child's performance in the entrance exam

Art Scholarship: submission of written work, a portfolio, an interview and a practical task

Choral and Organ Scholarship: audition

Music Scholarship: audition (play two prepared pieces, read a short piece at sight and respond to aural tests)

Sports Scholarship: an interview, sports performance and a fitness test
Parents will receive the results of their son's application from Thursday 9th February 2023.
Dulwich College entrance exam format
All candidates who have applied for Year 7 entry to Dulwich College in 2023 will take the school's own written tests on Wednesday 14th December 2022.
English: 1 hour and 20 minutes. Children will have 10 minutes to read a written passage, and 70 minutes to write answers to questions based on their understanding of the passage (reading comprehension). The final question is a creative writing task; children will be rewarded for their use of sensory language, an expressive vocabulary, varied sentence types, clear paragraphing, and SpaG (spelling, punctuation and grammar).

Maths: 1 hour. Children will be tested on the skills and knowledge they will have learnt in Key Stage 2 maths. However, note that the emphasis is on testing the child's ability to think, rather than just knowledge – i.e. there will be some questions on 'easy' topics which require a willingness to think and persevere with a problem.

Verbal, non-verbal and spatial reasoning: while Dulwich College has not yet disclosed the timing or structure of this exam, most verbal, non-verbal and spatial reasoning tests at 11 plus entry are multiple-choice questions. These subjects are not typically taught in school and assess the child's ability to reason and solve problems with written and visual information (e.g. letters, words, numbers, shapes, diagrams, and pictures).
Explore our exam guides to help your son prepare for the Dulwich College entrance exam:
Based on their performance in the tests, 160 boys will then be invited to an interview at Dulwich College in early 2023. The aim of this is for each child to give further evidence of his academic strengths and talk about his interests and abilities, which will help the interviewer determine how he might contribute to school life.
How to help your child prepare for the selection process at Dulwich College
All boys who are offered a place at Dulwich College are in the top 15% of the academic ability for their year group across the UK, and it is recommended that they are working at Greater Depth in English and maths. Check with your child's school to find out if your son falls within this range.
To prepare for the entrance exam at Dulwich College, we suggest starting preparation early – ideally at the end of Year 4 or beginning of Year 5. It is key that your son is confident with the Key Stage 2 National Curriculum in English and maths, as this forms the basis of the entrance tests. Dulwich College has specimen papers available for this.
As all candidates will take reasoning tests in addition to English and maths, we recommend that your son familiarises himself with the style and content of the questions well in advance of the exam. Atom Nucleus, our online learning platform for home, incorporates all the known verbal reasoning and non-verbal reasoning question styles to help your child fully understand the content – as well as videos and downloadable help sheets: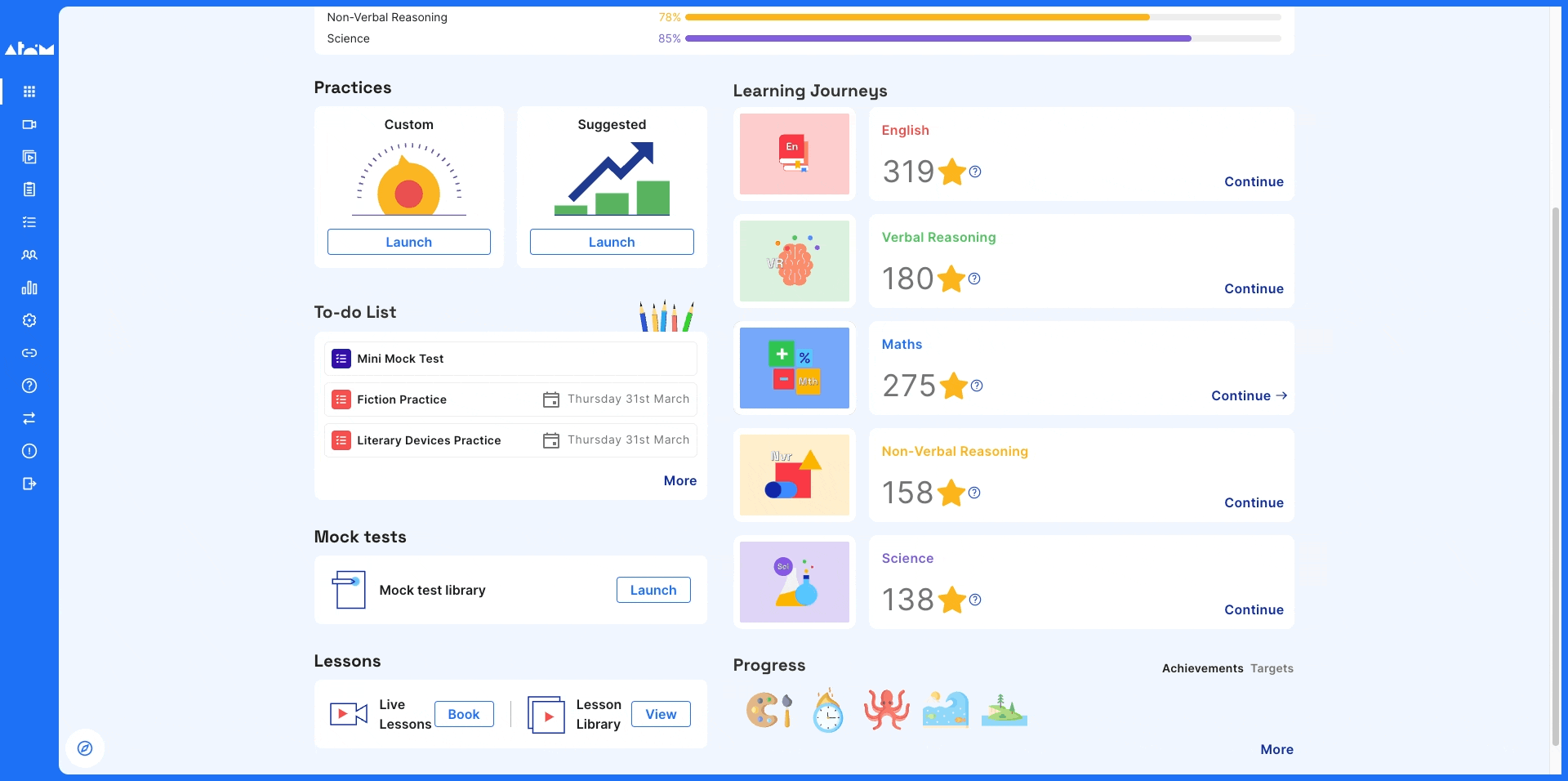 Atom Learning can help
We have over 90,000 teacher-written practice questions that cover the entire Key Stage 2 national core curriculum. Our online learning platform, Atom Nucleus, also includes video tutorials, help sheets, live exam preparation courses and adaptive mock tests – including those relevant to Dulwich College. It's our mission to help your child feel prepared and confident on exam day.
Begin your free 5-day free trial of Nucleus today to unlock success in the classroom, entrance exams and more.
---
We know how crucial this time is, so our team is on hand to support you and your family every step of the way. You can book a call with one of our Education Experts to ask any questions you might have about 11 plus entry to Dulwich College:
If you're looking for exclusive tips and resources to help your child master key subjects, excel in exams and build academic confidence, join Atom's email list: