Forest School is a large independent day school for children aged 4 to 18 located on the edge of Epping Forest in North East London. The school has a unique diamond structure to its education; boys and girls are taught together from the ages of 4 to 7, then separately until the age of 16, at which point they are taught together in the sixth form.
Forest School puts the individual child at the centre of everything it does. The school takes a proactive approach to the promotion of mental health and wellbeing; it has partnered with Place2Be to provide counselling to its pupils and every member of the teaching staff attends Mental Health First Aid Training delivered by MHFA England. Meanwhile, pupils have well-being lessons, PDM (Personal Decision Making), and drop-down days, alongside other mental health initiatives.
The academic curriculum at Forest School is extensive and exam results are impressive – in 2021, 85% of Year 11 pupils achieved A*/A/9/8/7 and 84% of A level students secured A*–B grades.
Forest School has an ongoing commitment to its community through collaboration and partnership, demonstrated by its support of Hackney Empire's Creative Futures programme and provision of academic and pastoral mentoring for students at the London Academy of Excellence.
Key information for Forest School
Warden (Head): Marcus Cliff Hodges

Address: Forest School, College Place, London E17 3P7

London Borough: Waltham Forest

Admissions contact: [email protected], 020 8520 1744 (option 4)

Age range and gender: 7–18 (boys and girls)

Number of pupils: 1,484

Number of places in Year 7: 140

Ratio of applicants to places: 4:1

Open day date: Saturday 17th September 2022 – book a place online

Overview of selection procedure: Exam, reference and interview

Registration opens: Currently open – apply online

Registration closes: Friday 25th November 2022

Assessment date: Friday 6th January 2023

Scholarship assessment date: Wednesday 7th, Thursday 8th and Saturday 10th December 2022
Forest School fees and financial assistance
The fees for Forest School from September 2022 are £7,475 per term. This includes the cost of lunches, resources, off-site visits (excluding residential trips) and co-curricular activities. Younger siblings in a family are eligible for a 5% fee reduction, as are pupils who are children of a clergy.
Forest School is working towards increasing the number of pupils who can access its education, regardless of their family income. Fee-assistance is provided by assisted places (for pupils who perform well in the admissions process, do not qualify for a scholarship, and cannot afford to pay school fees) and bursaries (means-tested awards for pupils who have been offered a scholarship but cannot afford the full fees). Both forms of fee-assistance can provide 100% of fee reduction.
There are many scholarships available at Forest School, which carry a maximum of 20% of fee remission (although most are usually 5% or 10%) and can be combined with a bursary if the candidate is eligible. Some candidates may be offered both scholarships and exhibitions, or some just a scholarship or an exhibition.
Academic Scholarships: up to a maximum of 20% fee remission.

Art Scholarships: up to a maximum of 20% fee remission. Art Exhibitions are separate monetary awards of £200 that are given in the form of vouchers for a designated art shop.

Drama Scholarships: up to a maximum of 20% fee remission. A pupil may be awarded a Drama Exhibition, which is a monetary award that pays for the cost of one year's Speech and Language tuition with one of Forest School's specialist LAMDA or Trinity teachers.

Music Scholarships: up to a maximum of 20% fee remission. Music Exhibitions are separate monetary awards that pay for the cost of 30 45-minute instrumental or vocal lessons.

Sports Scholarships: between 5% and 20% of school fees.
Forest School term dates
The term dates at Forest School for 2023–24 are:
Michaelmas term (autumn): 4th September – 15th December 2023

Half term: 23rd October – 3rd November 2023

Lent term (spring): 9th January – 22nd March 2024

Half term: 12th–16th February 2024

Trinity term (summer): 15th April – 5th July 2024

Half term: 27th–31st May 2024
Admissions process for Year 7 entry to Forest School
Approximately 140 places are available for boys and girls applying from external schools to Year 7 at Forest School. If you would like to register your child, you will need to complete the online registration form and pay a non-refundable registration fee of £150 before midday on Friday 25th November 2022.
All registered candidates are interviewed before the entrance exam – a process put in place by Forest School to ensure that the entry procedures are inclusive and fair to all candidates. Interviews will be held via Microsoft Teams on Saturday 3rd December. Following this, all candidates will sit the school's entrance exam, at Forest School, on Friday 6th January 2023.
Prospective pupils who have applied for a scholarship by the deadline on Friday 2nd December 2022 will be invited to preliminary assessments.
Academic Scholarships: Applicants who achieved high marks in the main entrance exam on Friday 6th January 2023 will be invited back to the school for an Academic Scholarship interview during the week commencing Monday 16th January. There is no need to apply for an Academic Scholarship – all registered candidates are automatically considered for these.

Art Scholarships: The first-round assessments on the morning of Wednesday 7th December 2022 will consist of a two-hour art workshop. Shortlisted candidates will then be invited back for a second-round assessment during the morning of Monday 23rd January 2023, for which they will need to prepare a short portfolio of their work. They will also have an interview with the head of art.

Drama Scholarships: The first-round auditions will take place during the afternoon of Wednesday 7th December 2022 and candidates will take part in two workshops – one an exploration of characterisation and physical theatre and the other an approach to text work. Shortlisted candidates will be invited back to a second-round audition on the afternoon of Monday 23rd January 2023, for which they will need to prepare a short monologue from a published play.

Music Scholarships: All candidates who have applied for a Music Scholarship will be invited to a Music Scholarship Day on Saturday 10th December 2022. Children will have the opportunity to experience music at the school and meet the music teachers, as well as rehearse alongside existing Forest School young musicians in a choral workshop, orchestral/band rehearsal and masterclasses. Shortlisted candidates will be invited back to Forest School for an audition on Tuesday 24th January 2023, which will consist of a performance, aural tests and sight-reading.

Sports Scholarships: All candidates are invited to an assessment day on Thursday 8th December 2022, where they will be assessed from two chosen sports from football, cricket, swimming, hockey and netball (girls) and a third activity which is confirmed on the day. Shortlisted candidates are then invited back for a second assessment on Thursday 19th January 2023 (boys) and Friday 20th January 2023 (girls).
Offers of places will be emailed to families on Thursday 16th February 2023. Forest School will be holding taster days and tours for candidates who have received an offer throughout February 2023.
The deadline for acceptance of an offer is 10am on Monday 6th March 2023.
Forest School 11 plus exam
All children who have registered for a Year 7 place at Forest School for 2023 entry will take the school's 11 plus entrance exam on Friday 6th January 2023. There are two papers in total:
Maths
A one-hour non-calculator paper with questions on numerical skills and reasoning. The questions will become harder towards the end.
Pupils that achieve higher marks will be those who understand basic arithmetic techniques and can reason accurately through problems. Children who show all their working will be rewarded with marks.
English
The 11 plus English paper at Forest School has a time limit of 1 hour and 10 minutes. It consists of two sections:
Reading (35 minutes): children will be asked to write answers to a series of questions about the passage. They will be assessed on their understanding of the passage and how vocabulary is used in context, their ability to interpret layers of meaning and locate relevant quotations, how well they cross-reference ideas and their skills in analysing and evaluating the ways writers use language. You may find our guide to developing your child's exam comprehension skills helpful.

Writing (25 minutes): children will be asked to complete a writing task based on the passage read in the first section. They can choose to write either fiction or non-fiction – they will be assessed on their ability to answer the question, for writing imaginatively, clear organisation of their work and their ability to accurately use clear sentences and punctuation. If your child is applying for Forest School, you may wish to share this creative writing guide with them to help them prepare for the exam.
A combined sample paper for the 11 plus English and maths exam is available on the Forest School website.
How to help your child prepare for the selection process at Forest School
Build foundational knowledge
The 11 plus exam at Forest School assesses candidates' knowledge and understanding of the Key Stage 2 national curriculum in English and maths. Your child can consolidate everything they know with Atom Nucleus, with over 90,000 teacher-created questions and helpful learning resources that span English and maths from Year 3 to Year 6.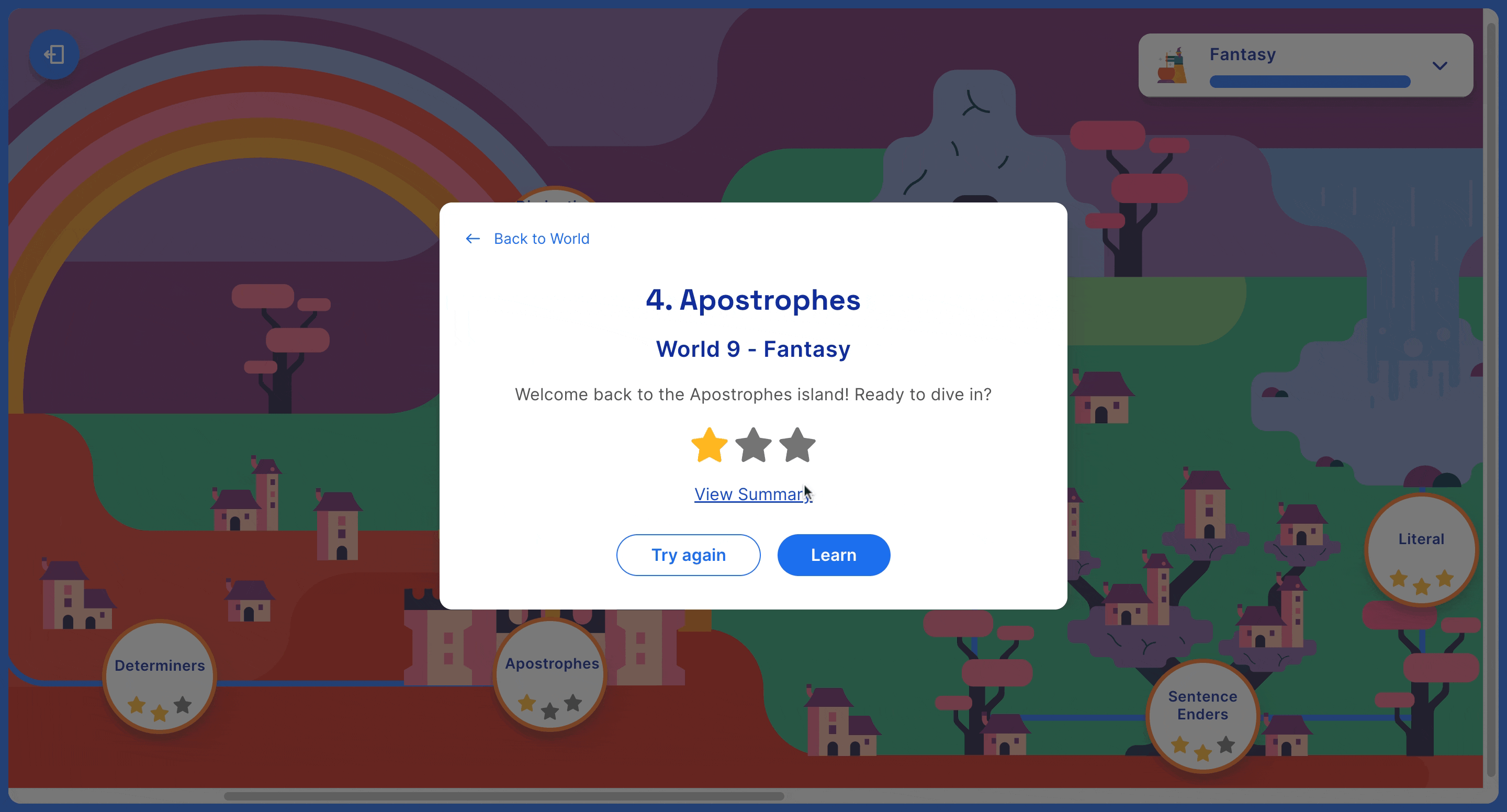 Preparation is key
Familiarisation with the question formats and known styles ahead of the exam is essential to help your child build exam confidence. An exam preparation subscription with Atom Nucleus enables your child to access quality, unlimited practice material with full score breakdowns to help your child feel confident by the time the exam day comes around.
When working through challenging topics, your child will need immediate clarity with any misconceptions so that they feel truly secure in every topic. Atom Nucleus includes video tutorials, help sheets and examples with every question to help your child build confidence and competence across all the areas assessed.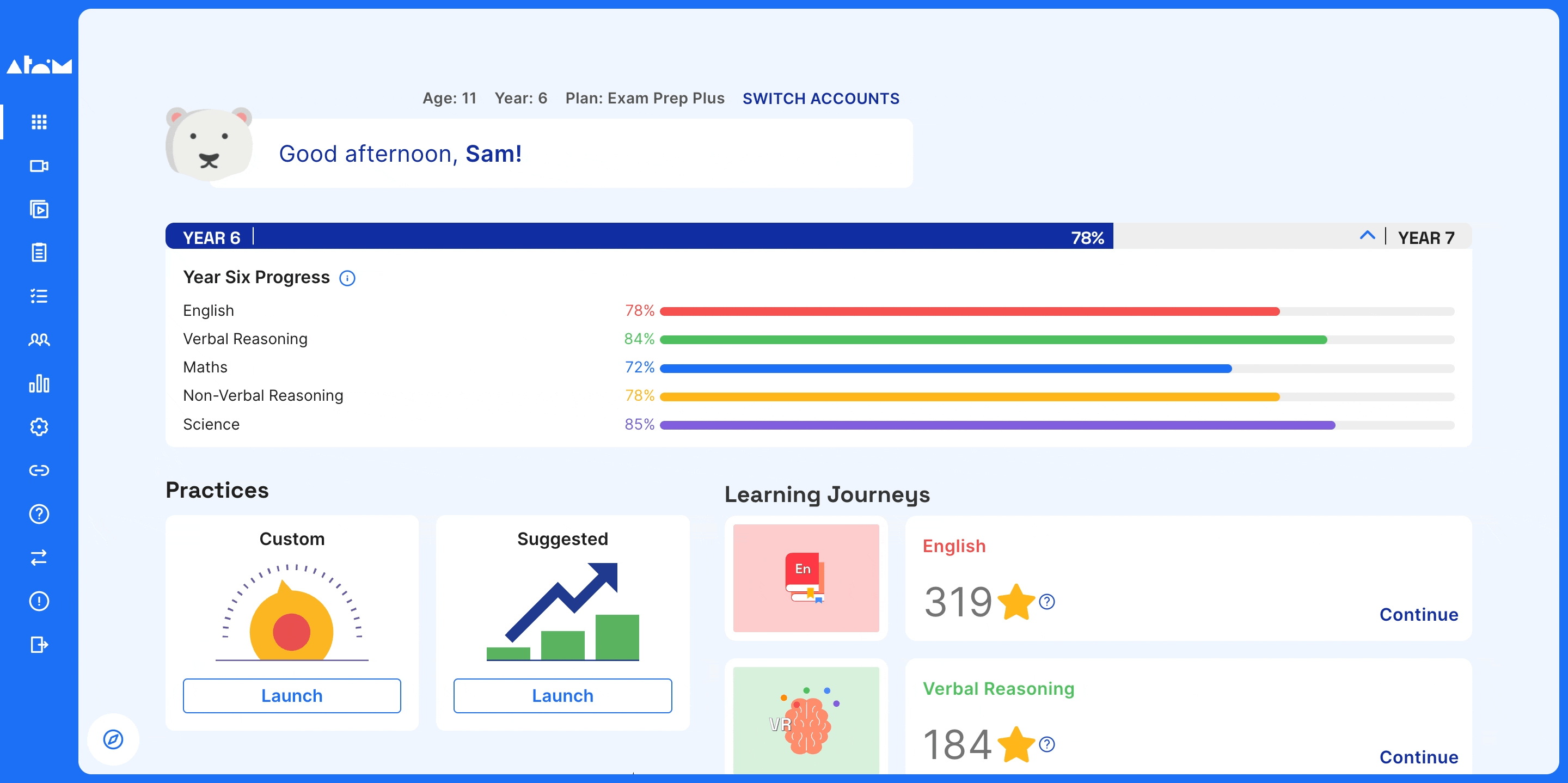 Engage with their progress
Celebrate your child's improvement in areas of challenge together. An accurate and ongoing assessment of their areas of strength and development is helpful.
As an Atom subscriber, you'll have a parent dashboard which offers data-driven insights into your child's progress. You can use this effectively to help your child set targets, see a detailed breakdown of their progress by subtopic and set custom practices to target those they find most challenging.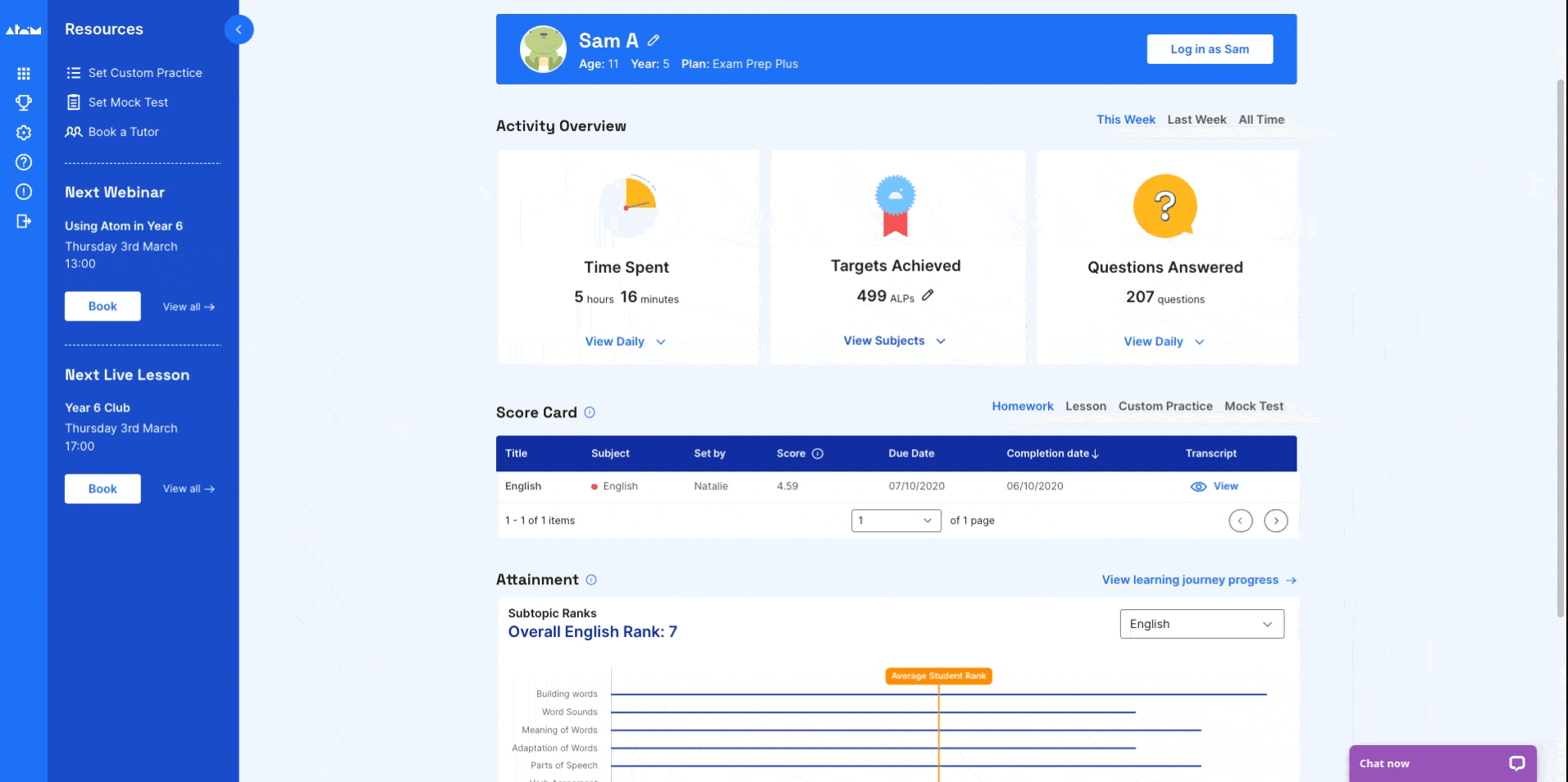 ---
Get started with Atom Learning
It's our mission to help your child feel prepared and confident before the exam day. Begin your free 5-day free trial of Nucleus today to help your child succeed.
We know how crucial this time is, so our team is on hand to support you and your family every step of the way. You can book a call with one of our Education Experts to ask any questions you might have about 11 plus entry to Forest School:
If you're looking for exclusive tips and resources to help your child master key subjects, excel in exams and build academic confidence, join Atom's email list: