Guildford High School is an independent day school for girls aged 4 to 18 in Guildford, Surrey. The school has a collection of accolades, including 'Independent School of the Decade' (The Sunday Times), Independent Girls Sporting School of the Year (School Sport Magazine) and 'Best School for Pastoral Care' (The Week).
The school offers "an inspiring, first-class education for academically able and characterful girls". When girls join the school in Year 7, they study current affairs, oracy and philosophy in addition to traditional subjects. The emphasis on these subjects is discussion, debate, synthesis and evaluation of information. Guildford High School's academic excellence is evident in girls' exam results; in 2020, over 90% of all GCSEs were the very top grades of 9-8 (A* equivalent) and over 55% of A levels were graded A*. These exam results rank Guildford High School in fifth place out of the top 10 private schools in England.
Guildford High School places pastoral care at the heart of its education. The senior school's ASPIRE programme (agency, safety, positivity, inclusivity, relationships and economy) addresses the issues faced by young people in the world. Pupils in Year 7 are taught positive live values and how these shape character and influence wellbeing, while older pupils take part in lessons that prepare them for life beyond school – such as budgeting, student loans, cooking, travel and first aid.
Pupils at Guildford High School have a wide range of co-curricular opportunities, with over 70 different clubs to choose from, over 30 weekly instrumental ensembles and choirs, drama productions every term and 30 different sports to enjoy. Inclusivity is at the heart of the school's sporting programme and Guildford High School has been named the top girls' school for sport for the last eight years.
Directory of private schools in Surrey
---
Key information for Guildford High School
Headmistress: Mrs Fiona Boulton

Address: Guildford High School, London Road, Guildford, Surrey GU1 1SJ

County: Surrey

Admissions contact: [email protected], 01483 543853

Age range and gender: 4–18 (girls only)

Number of pupils: 1,002

Number of places in Year 7: 100 (60-75 for external applicants, joined by approximately 40 moving up from Guildford Junior School)

Ratio of applicants to places: Undisclosed (competitive)

Open day date: Plenty of dates in September and October 2022 – book a place online

Overview of selection procedure: CEM Select test, interview and school report

Registration opens: Currently open for 2023 entry – register online

Registration closes: 1st November 2022

Assessment date: 20th November 2022 and 6th January 2023

Scholarship assessment date: January 2023
Guildford High School fees and financial assistance
For the academic year 2022-23, the school fees at Guildford High School are £6,405 per term by direct debit. Lunch is compulsory for Year 7 pupils and costs £300 per term.
Guildford High School aims to offer places to deserving candidates at 11 plus entry, irrespective of background and financial circumstance. Means-tested financial assistance is available to pupils joining Year 7 and is provided by the United Church Schools Trust. A maximum of 3 100% funded places (and several smaller awards) are awarded each year. All eligible candidates will need to meet the school's eligibility criteria and it is worth noting that girls living within a 5-mile radius of the school will be given priority over applicants who live further away.
Guildford High School awards Academic Scholarships and Music Scholarships at 11 plus entry. Both are worth up to 5% of school fees.
Guildford High School term dates
The term dates at Guildford High School for 2022–23 are:
Autumn term (Michaelmas): 6th September – 16th December 2022

Half term: 24th October – 4th November 2022

Spring term (Lent): 4th January – 24th March 2023

Half term: 13th–17th February 2023

Summer term (Trinity): 17th April – 7th July 2023

Half term: 29th May – 2nd June 2023
The term dates at Guildford High School for 2023–24 are:
Autumn term (Michaelmas): 5th September – 15th December 2023

Half term: 23rd October –3rd November 2023

Spring term (Lent): 3rd January – 22nd March 2024

Half term: 12th–16th February 2024

Summer term (Trinity): 15th April –5th July 2024

Half term: 27th–31st May 2024
Admissions process for Year 7 entry to Guildford High School
If you would like your daughter to be considered for Year 7 entry to Guildford High School in 2023, you will need to complete the online registration form and pay a non-refundable registration fee of £150 before 1st November 2022.
Between completing the registration form and the exam day, Guildford High School will be in touch with your daughter's current school to request a recent school report.
All registered candidates will be invited to take the CEM Select online test at Guildford High School on Sunday 20th November 2022 (more details below). They will also attend the school's interview day on 6th January 2023. Applicants will be involved in a variety of activity sessions in addition to the interview with a member of staff, which will explore creative thinking and analytical skills.
All girls are considered for an Academic Scholarship at Guildford High School on the basis of their performance in the 11 plus exam and the interview. There is no need to submit a separate application for this.
Girls who can play an orchestral instrument at Grade 4-5 level are invited to apply for a Music Scholarship. Candidates who wish to apply will need to submit the Music Scholarship application form on the school website. They will then be invited to a music audition in January 2023, which will include two performances (one on their orchestral instrument and normally one on the piano), sight-reading and aural tests and an interview.
Guildford High School typically writes to families with the outcome of the child's offer within two weeks of the entrance exam.
Guildford High School 11 plus exam
All children who are registered for the 11 plus exam at Guildford High School will take the CEM Select test at the school on Sunday 20th November 2022.
CEM Select is an online test administered by the Centre for Evaluation and Monitoring. Unlike some other online entrance exams, it is non-adaptive, meaning that all candidates will see the exact same questions throughout the test.
The test takes one hour and assesses verbal reasoning, non-verbal reasoning and numerical skills – as well as English comprehension, which is not immediately obvious. There are six separately timed sections within the test:
Comprehension (verbal reasoning)

Anagrams (verbal reasoning)

Missing words (verbal reasoning)

Shuffled sentences (verbal reasoning)

General mathematics (numerical reasoning)

Pictures (non-verbal reasoning)
For more detailed information about the 11 plus exam at Guildford High School, take a look at our parents' guide to CEM Select.
How to help your child prepare for the selection process at Guildford High School
Consolidate key knowledge
The 11 plus exam at Guildford High School assesses candidates' knowledge and understanding of English comprehension, maths, verbal reasoning, non-verbal reasoning. With Atom Nucleus, your daughter can consolidate everything she has learnt in Key Stage 2 – as well as learn how to answer verbal reasoning and non-verbal reasoning questions – with over 90,000 teacher-created questions and engaging learning resources.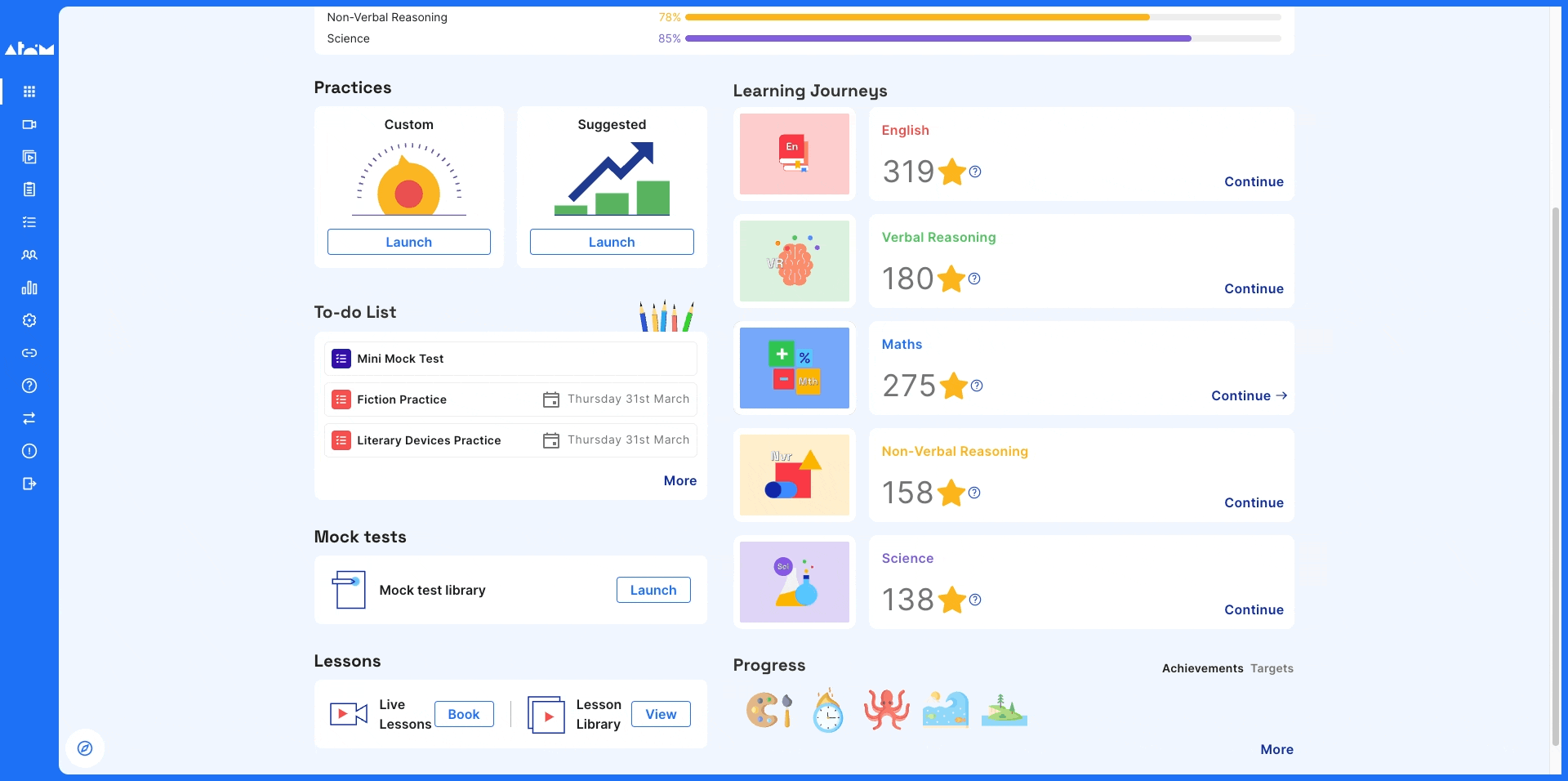 Prepare with mock tests
Familiarisation with the question formats and known styles ahead of the exam is essential to help your child build exam confidence. An exam preparation subscription with Atom Nucleus enables your child to access quality, unlimited practice material with full score breakdowns to help your child feel confident by the time the exam day comes around.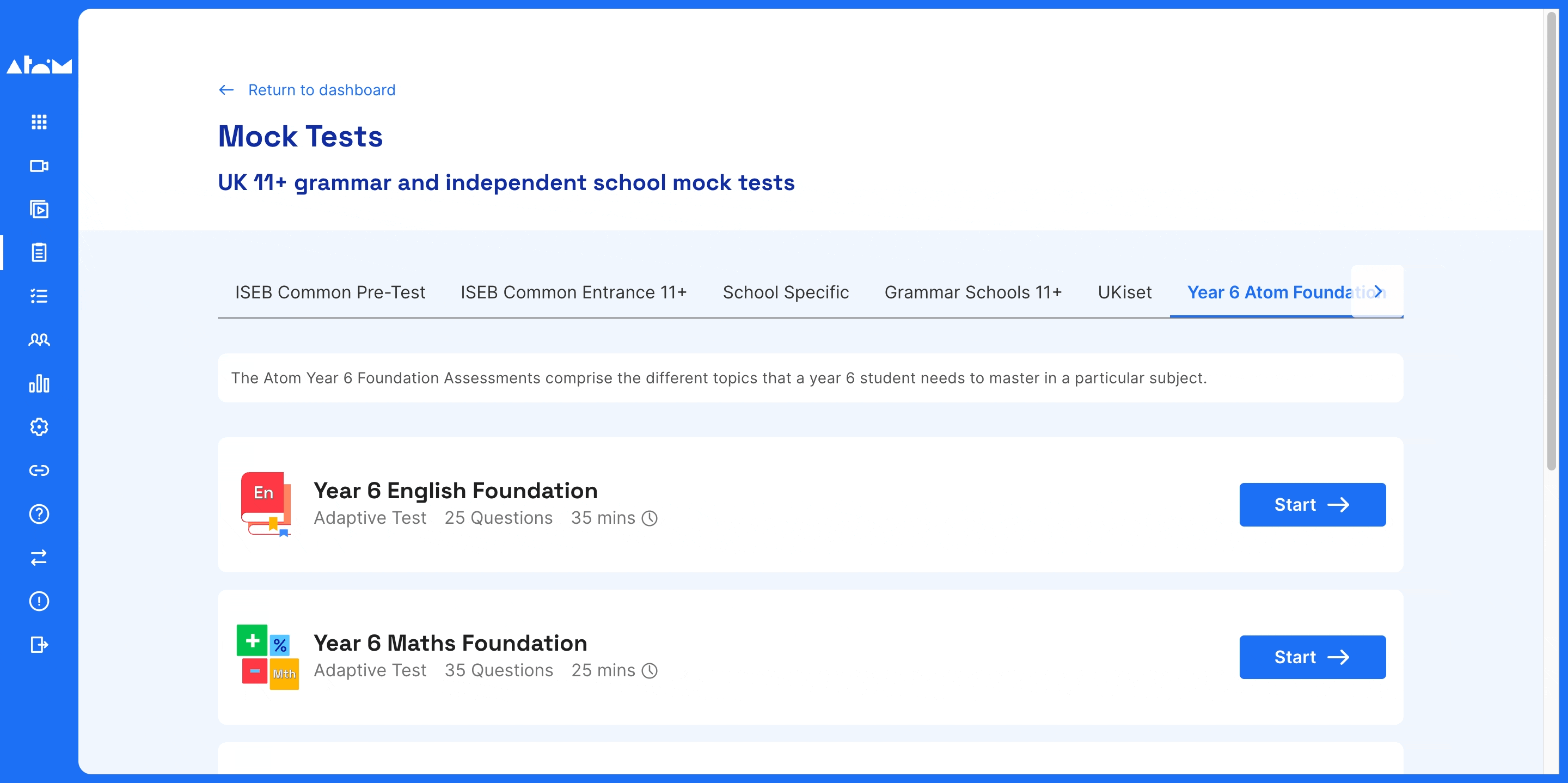 When working through challenging topics, your child will need immediate clarity with any misconceptions so that they feel truly secure in every topic. Atom Nucleus includes video tutorials, help sheets and examples with every question to help your child build confidence and competence across all the areas assessed.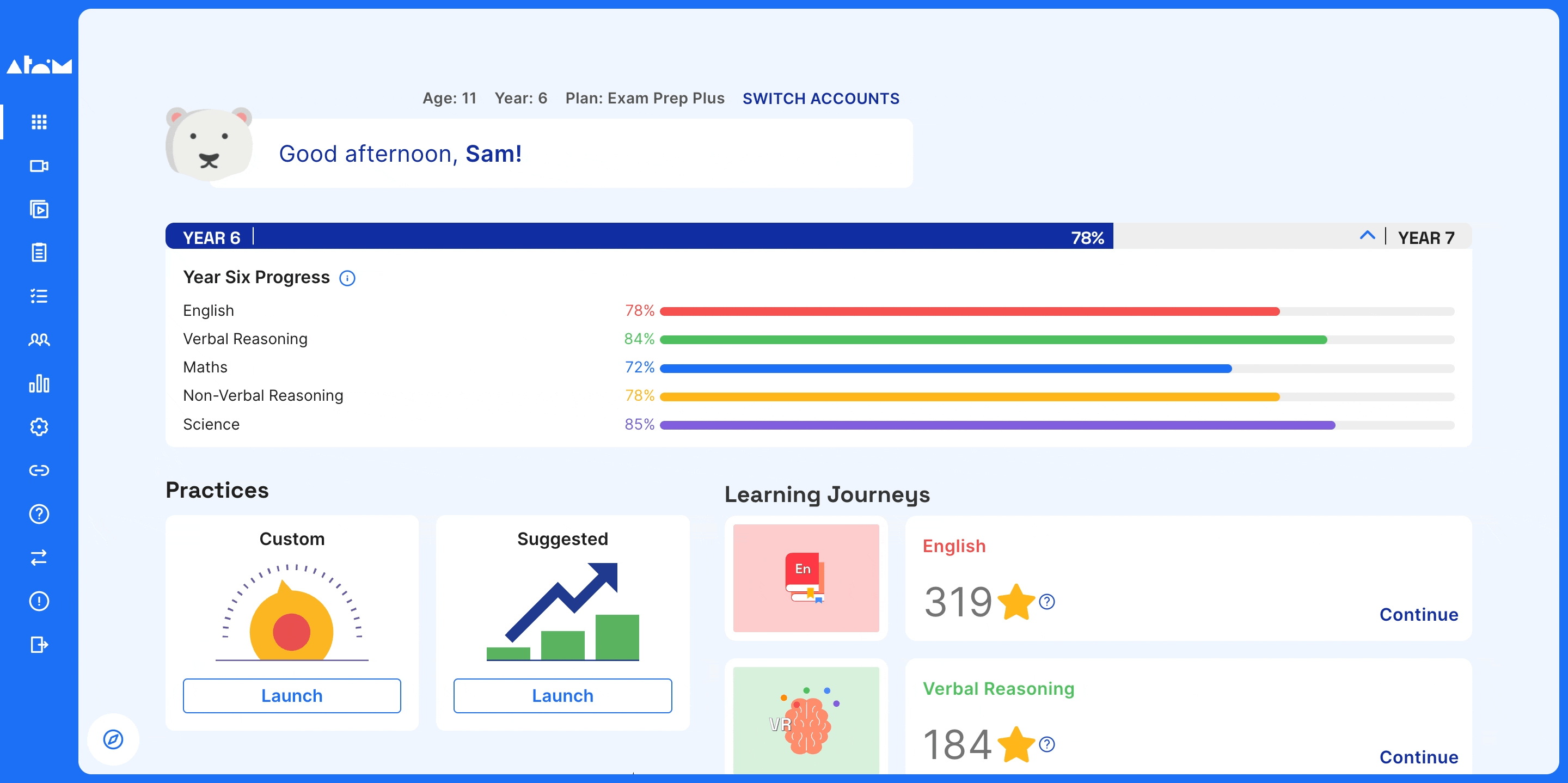 Engage with your child's progress
Celebrate your child's improvement in areas of challenge together. An accurate and ongoing assessment of their areas of strength and development is helpful.
As an Atom subscriber, you'll have a parent dashboard which offers data-driven insights into your child's progress. You can use this effectively to help your child set targets, see a detailed breakdown of their progress by subtopic and set custom practices to target those they find most challenging.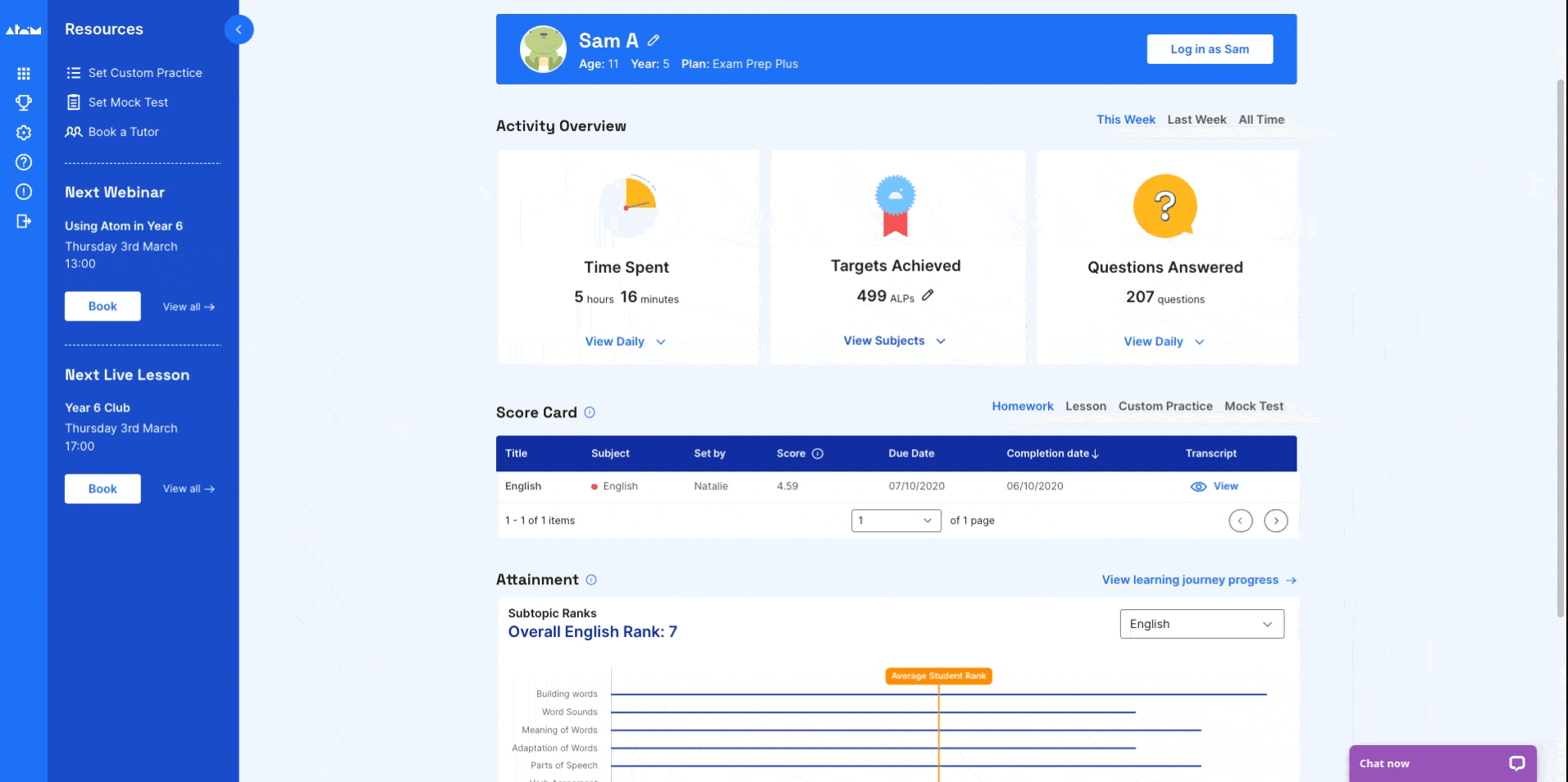 ---
Get started with Atom Learning
It's our mission to help your child feel prepared and confident before the exam day. Begin your free 5-day free trial of Nucleus today to help your child succeed.
We know how crucial this time is, so our team is on hand to support you and your family every step of the way. You can book a call with one of our Education Experts to ask any questions you might have about 11 plus entry to Guildford High School:
If you're looking for exclusive tips and resources to help your child master key subjects, excel in exams and build academic confidence, join Atom's email list: