Kensington Park School is an independent day and boarding school for boys and girls ages 11–18 in Bayswater, West London. The school is surrounded by some of the capital's most notable landmarks; the main school is just a few minutes walk from Kensington Gardens, while the sixth form is located opposite the Natural History Museum at Queen's Gate. Sixth form students at Kensington Park School benefit from strong links with Imperial College London, including the use of facilities such as the university dining rooms and modern fitness centre.
Students are encouraged and expected to become self-aware, caring, confident and independent so that they can engage, lead and shape their own future after finishing their formal education. They study a modern curriculum which is complemented by an innovative co-curricular programme and tech-rich learning environment. All students have access to a personal device and state-of-the-art facilities in which to learn and develop new talents. Some of the school's many clubs and societies include a cooking club, creative writing society, STEM club, yoga, enterprise club, Chinese culture and Mandarin, space and astronomy club and plenty of sports societies.
Tutors are key figures in the lives of pupils at Kensington Park School. In the first two years (Years 7 and 8), there is a horizontal tutor system where students remain with their tutees and build relationships with others in their peer group. From Year 9 onwards there is a move to vertical tutoring – tutors remain with their tutees for three years and guide them through their GCSEs, while younger students are able to gain insight and learn from the experiences of their older peers in the tutor group.
Key information for Kensington Park School
Head: Mr J Peter Middleton

Address: Kensington Park School, 40-44 Bark Place, Bayswater, London W2 4AT

London Borough: Kensington & Chelsea

Admissions contact: Ms Marie Lovett – [email protected], 020 7616 4400

Age range and gender: 11–18, co-educational

Number of pupils: 244

Number of places in Year 7: Maximum 35

Ratio of applicants to places: Undisclosed

Open day date: Autumn term 2022 (date TBC)

Overview of selection procedure: Entrance exam, school report, reference and interview

Registration opens: Currently open – download a registration form online

Registration closes: November 2022 (date TBC)

Assessment date: TBC
Kensington Park School fees and financial assistance
The current tuition fees at Kensington Park School are £8,766.70 per term for day applicants who are residents in the UK. This includes lunch, all textbooks and practical lab fees and timetabled lessons. Boarding fees range between £6,334 and £10,000 per term (£19,000–£30,000 per annum), depending on the number of boarders sharing the room.
Kensington Park School is able to offer a sibling discount of 5% on tuition fees for younger siblings when both siblings are enrolled at the school. Pupils may also apply for a scholarship, which offers a reduction in tuition fees. Scholarships are available at 11 plus entry in the areas of academia, art, drama, music and sport.
Kensington Park School term dates
The term dates at Kensington Park School for 2022–23 are:
Autumn term: 5th September – 15th December 2022

Half term: 17th–28th October 2022

Spring term: 9th January – 24th March 2023

Half term: 13th–17th February 2023

Summer term: 17th April – 30th June 2023

Half term: 29th May – 2nd June 2023
Admissions process for Year 7 entry to Kensington Park School
Kensington Park School is looking for well-rounded individuals who show genuine intellectual curiosity and interests that go beyond the academic curriculum.
If you would like to register your child for a place in Year 7 at Kensington Park School from 2023, you will need to complete the registration form, along with copies of your child's school report and passport, and pay the £250 non-refundable registration fee. The deadline for this is normally in November, the year before entry.
Once you have registered your child, they will be invited to take part in the school's entrance exam and interview. The interview is conducted on a one-to-one basis and allows the school to explore what interests your child, what drives and motivates them, and what they care about. It also gives children the opportunity to ask any questions they might have about Kensington Park School.
Academic Scholarships are automatically awarded to pupils who demonstrate an outstanding performance in the entrance exam. For co-curricular scholarships, candidates will need to submit further information and may be invited to an additional assessment:
Art Scholarships: Candidates will need to demonstrate a strong portfolio as part of their application and they may be invited in for a practical assessment.

Drama Scholarships: Candidates will need to submit a recommendation letter from their drama teacher, along with a video of a drama performance.

Music Scholarships: Candidates will need to send a reference from their current music teacher and submit a portfolio of evidence. They will be invited to perform two contrasting pieces of music or song.

Sports Scholarships: Candidates will need to send a reference from their sports coach and a portfolio of evidence. They may also be asked to attend a trial day, or receive a visit from Kensington Park School's director of sport, to observe their performance in their chosen sport.
The school will write to families with the outcome of their child's application within seven days of their interview.
Kensington Park School entrance exam
All applicants to Kensington Park School for Year 7 entry will take two exam papers, which are written by the school's academic team and based on the national curriculum:
English and maths

Non-verbal reasoning
Kensington Park School does not reveal details about its assessment and past/sample papers are not available. However, you may find the following resources helpful:
How to help your child prepare for the selection process at Kensington Park School
Build foundational knowledge
For 11 plus entry to Kensington Park School, candidates are tested across the Key Stage 2 curriculum in the core subjects of English and maths – in addition to non-verbal reasoning, which is not taught at school.
Atom Nucleus can help your child consolidate everything they need to know for the exam, with access to over 90,000 interactive questions, helpsheets and tutorial videos – all designed to help your child build the foundational knowledge needed for exam success.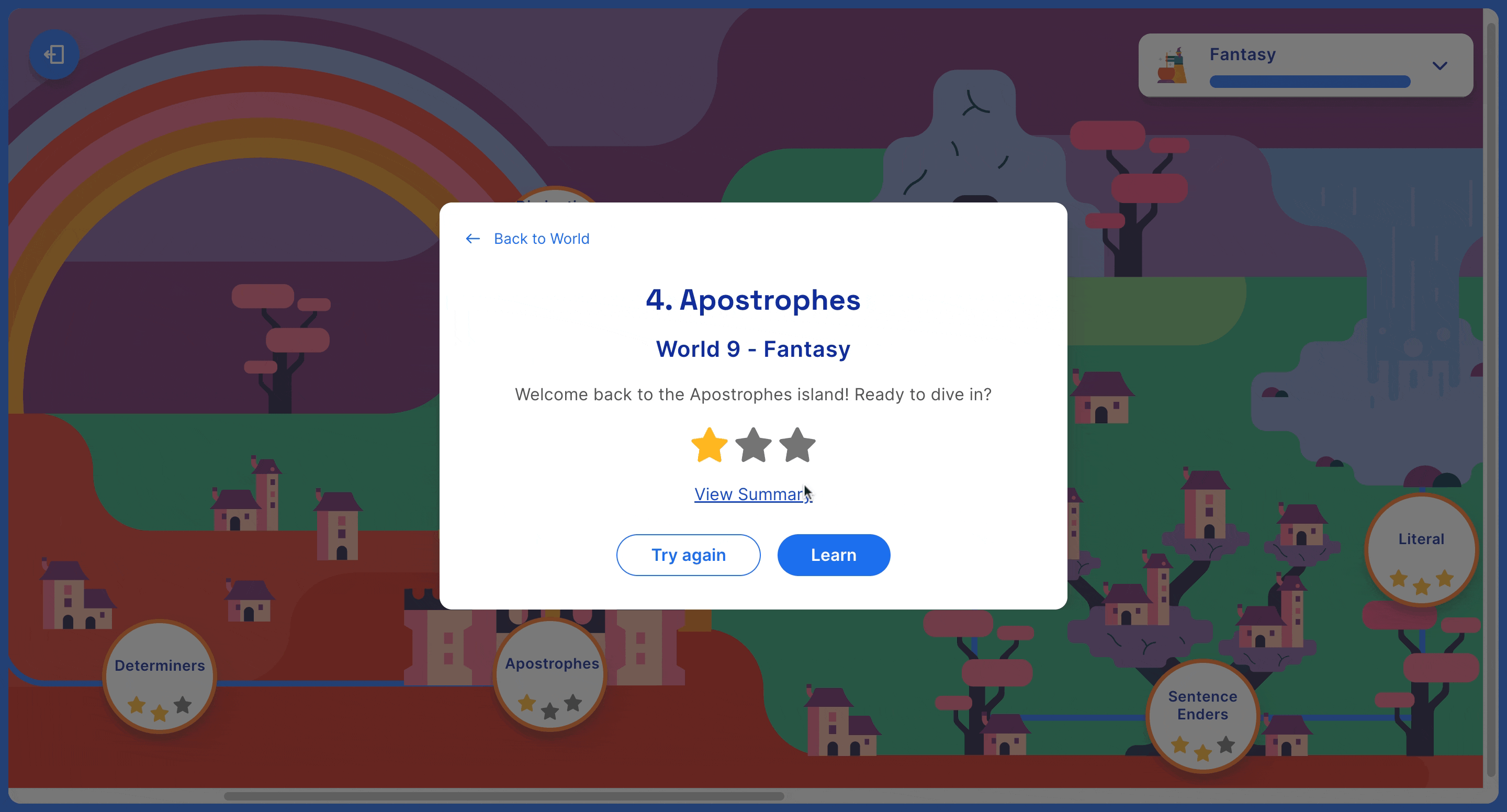 Preparation is key
Familiarisation with the question formats and known styles ahead of the exam is essential to help your child build exam confidence.
An exam preparation subscription with Atom Nucleus enables your child to access quality, unlimited practice material with full score breakdowns to help your child feel confident by the time the exam day comes around. Best of all, your child can take unlimited practice tests that replicate independent school entrance exams, all for one monthly subscription.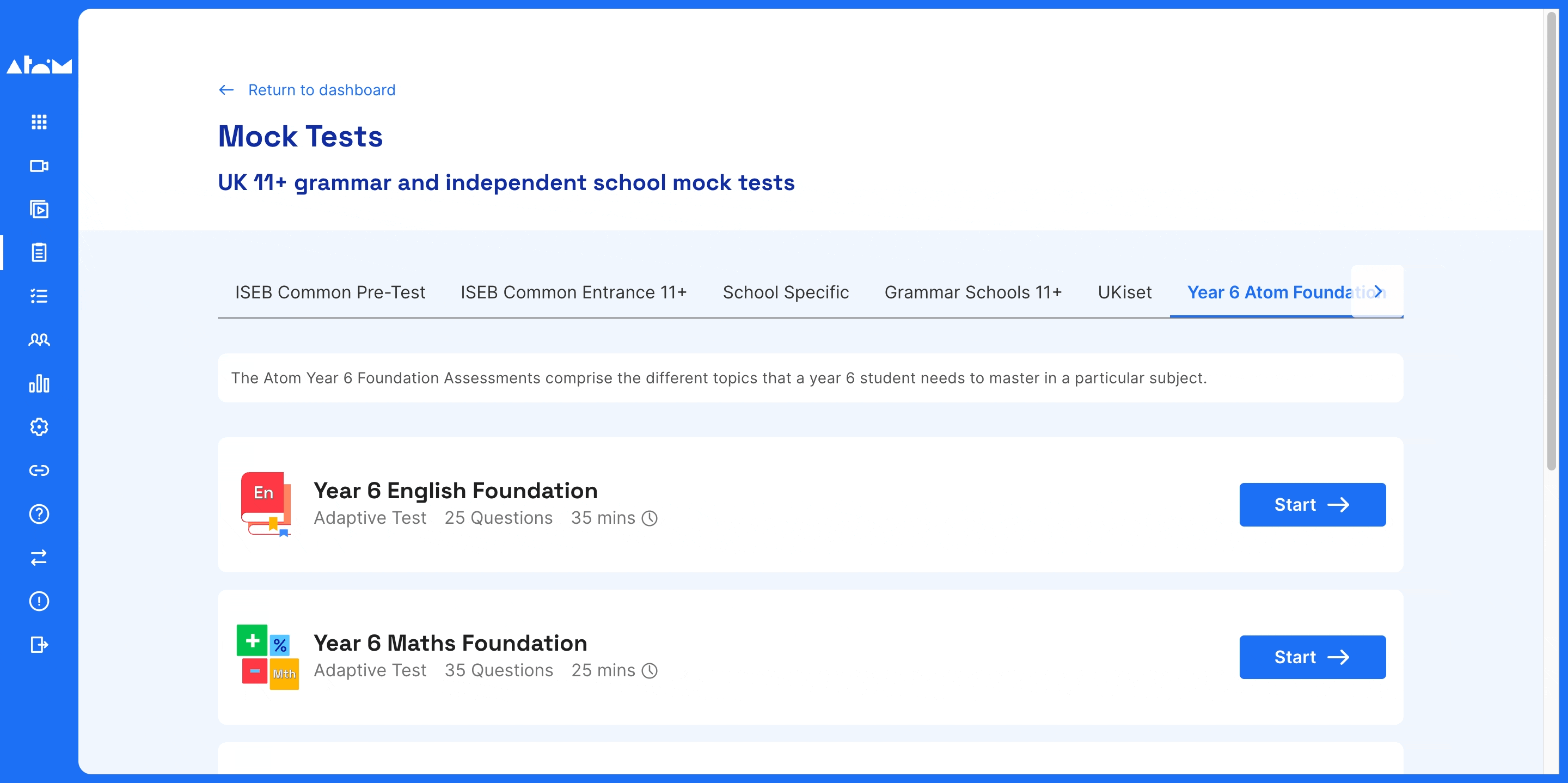 When working through challenging topics, your child will need immediate clarity with any misconceptions so that they feel truly secure in the exam.
Atom Nucleus includes video tutorials, help sheets and examples with every question to help your child build confidence and competence across all the areas assessed.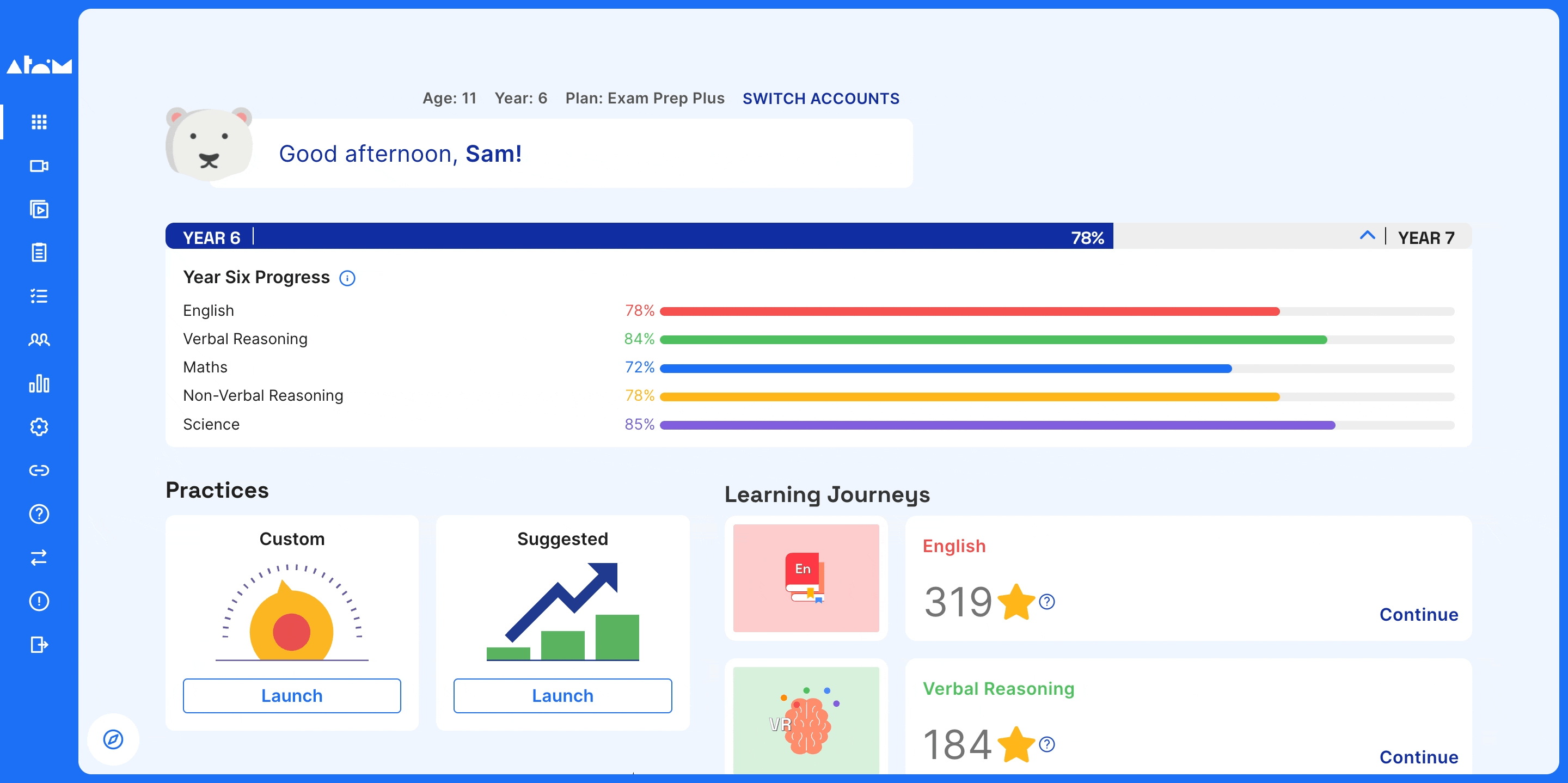 Engage with their progress
Celebrate your child's improvement in areas of challenge together. An accurate and ongoing assessment of their areas of strength and development is helpful.
As an Atom subscriber, you'll have a parent dashboard which offers data-driven insights into your child's progress. You can use this effectively to help your child set targets, see a detailed breakdown of their progress by subtopic and set custom practices to target those they find most challenging.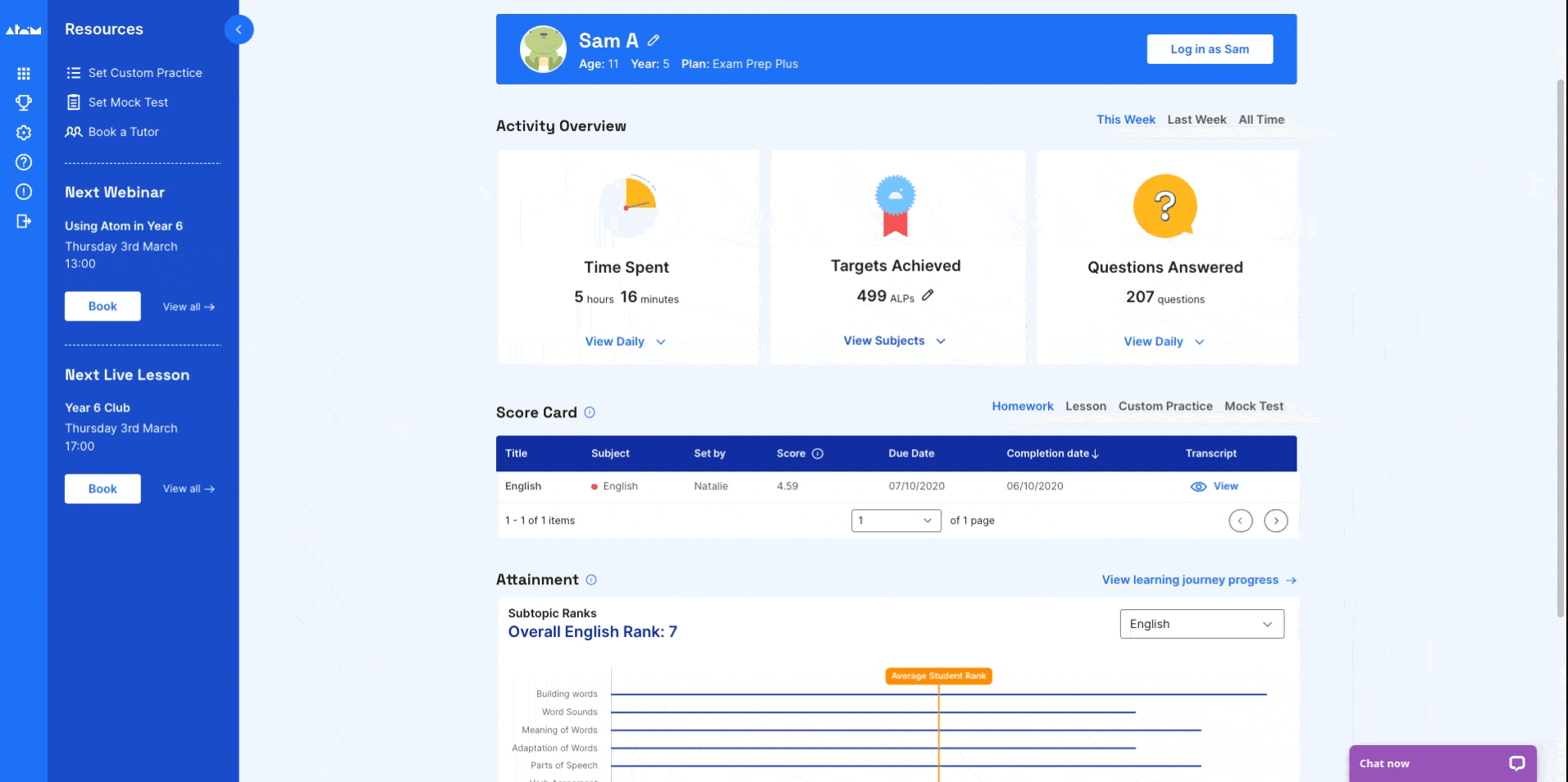 ---
Get started with Atom Learning
It's our mission to help your child feel prepared and confident before the exam day. Begin your free 5-day free trial of Nucleus today to help your child succeed.

We know how crucial this time is, so our team is on hand to support you and your family every step of the way. You can book a call with one of our Education Experts to ask any questions you might have about 11 plus entry to Kensington Park School:
If you're looking for exclusive tips and resources to help your child master key subjects, excel in exams and build academic confidence, join Atom's email list: