Putney High School is an independent day school for girls aged 4 to 18 in Putney, South West London. It's a member of the Girls' Day School Trust (GDST).
The school offers a broad curriculum with a modern edge, with a focus on teaching students to develop intellectual agility. The Athena Programme is the school's own unique programme of academic extension which encourages students to pursue academic interests beyond the syllabus. There is also a Breathe Programme, which focuses students' thoughts on their wellbeing, their community and the wider world.
Putney High School is one of the top girls' schools in the country for its exam results. In 2021, 92% of A level grades were A* or A and 99% of GCSE grades were 9–7 (A*–A equivalent). Girls leave Putney for a stellar selection of universities, including those in the UK's Russell Group and top colleges in the USA.
Putney High School has been the recipient of several independent school awards, including Independent School of the Year in 2019 (Independent School Parent) and The Week Schools Guide 2021's 'Best for Art and Creativity' and it has been shortlisted for the TES Independent Senior School of the Year for 2022.
Key information for Putney High School
Headteacher: Mrs Suzie Longstaff

Address: Putney High School, 35 Putney Hill, London SW15 6BH

London Borough: Wandsworth

Admissions contact: Sarah Adams – [email protected], 020 8788 4886

Age range and gender: 4–18, girls only

Number of pupils: 1,073

Number of places in Year 7: approximately 110 (around 60 places for external candidates, joining those moving up from Putney Junior School)

Ratio of applicants to places: 10:1

Open day date: 8th October 2022 and smaller tours on 11th and 12th October. Book online for all events.

Overview of selection procedure for Year 7 entry: Entrance exam, Athena Assessment, interview and headteacher's reference

Registration opens: currently open – apply on the Putney High School website

Registration closes: Wednesday 2nd November 2022 at midday

Assessment date for Year 7 entry: Friday 25th November 2022 and Wednesday 18th January 2023

Scholarship assessment date: mid-January 2023
Putney High School fees and financial assistance
The 2022-23 fees at Putney High School are £7,213 per term for senior school pupils (Years 7 to 11). Lunch is charged separately (£284 per term) and is compulsory.
Bursaries (financial assistance) are available to girls in Year 7 and beyond and typical range between 30% and 100% of school fees. Bursaries are means-tested and are awarded to girls who excel in the admissions process. As a guide, higher-value bursaries are awarded to pupils from families with a total income of less than £42,500; if your annual household income exceeds £92,500, it is unlikely that your daughter will qualify for a bursary. To apply for a bursary, you will need to complete a separate bursary application form and submit it by the same date as the registration form.
Academic Scholarships, Music Scholarships and Sport Scholarships are available to pupils in Year 7 at Putney High School. The value of these varies but all carry considerable prestige. It is also possible to supplement a scholarship with a bursary.
Putney High School term dates
The term dates for Putney High School in 2023-24 will be:
Autumn term: 6th September – 8th December 2023

Half term: 16th – 27th October 2023

Spring term: 4th January – 28th March 2024

Half term: 9th – 16th February 2024

Summer term: 16th April – 12th July 2024

Half term: 27th May – 3rd June 2024
Admissions process for Putney High School
If you would like to register your daughter for a place in Year 7 at Putney High School for 2023–24, you will need to complete the online registration form and pay the non-refundable registration fee of £125. If you receive income support or housing benefits, please contact the admissions office before applying as this fee may be waived. You will need to submit the registration form before midday on Wednesday 2nd November 2022.
All 11 plus candidates will then take the 11 plus entrance exam at Putney High School on Friday 25th November 2022. Shortlisted candidates will then be invited to a second and final test known as the Athena Assessment on Wednesday 18th January 2023, and will have a one-to-one interview with a member of staff on the same date.
If your daughter is applying for a scholarship at Putney High School, additional processes are required:
Academic Scholarship: All 11 plus candidates are automatically considered for an Academic Scholarship based on their performance in the entrance exam, the interview and any information provided by the pupil's current school. No application is required for this scholarship.

Music Scholarship: You will need to submit a Music Scholarship Application Form, a Music Scholarship Reference Form and a short video clip of the child performing a piece of their choice by Wednesday 2nd November 2022 at midday. Shortlisted candidates will then be invited to a 20-minute audition in mid-January 2023, where they will need to perform on one or more instruments and carry out sight-reading and aural tests of approximately grade 5 standard. Find more information about Music Scholarships on the school website.

Sports Scholarship: You will need to submit a Sports Scholarship Application Form, a Sports Scholarship Reference Form and video footage of the child's sporting performance by Wednesday 2nd November 2022 at midday. Shortlisted candidates will then be invited to an assessment day in mid-January 2023, which will include skills tests, fitness tests, ball skills, small-sided game play, netball, cricket, lacrosse and football and an informal and friendly interview. Find more information about Sports Scholarships on the school website.
Results will be sent to parents/carers in mid-February 2023 and offers will need to be accepted by early March.
Putney High School entrance exam format
Putney High School uses its own 11 plus entrance exam to assess potential Year 7 pupils. This is a bespoke online assessment in English and Maths and takes approximately one hour in total.
Shortlisted candidates are invited to a second and final assessment – the Athena Assessment.
Putney High School does not provide detail about its entrance exam and there are no sample papers available. However, you might find the following Atom resources helpful:
How to help your child prepare for the selection process at Putney High School
Build foundational knowledge
The 11 plus assesses a huge amount of content! Atom Nucleus takes your child through personalised learning journeys across the entire Key Stage 2 core curriculum, with over 90,000 teacher-created questions.
Preparation is key
Familiarisation with the question formats and known styles ahead of the exam is absolutely essential. Access to quality, unlimited practice material ensures that your child will feel confident when tackling the test. Atom gives your child access to unlimited mock tests that mirror the content, format and structure of online adaptive 11 plus tests: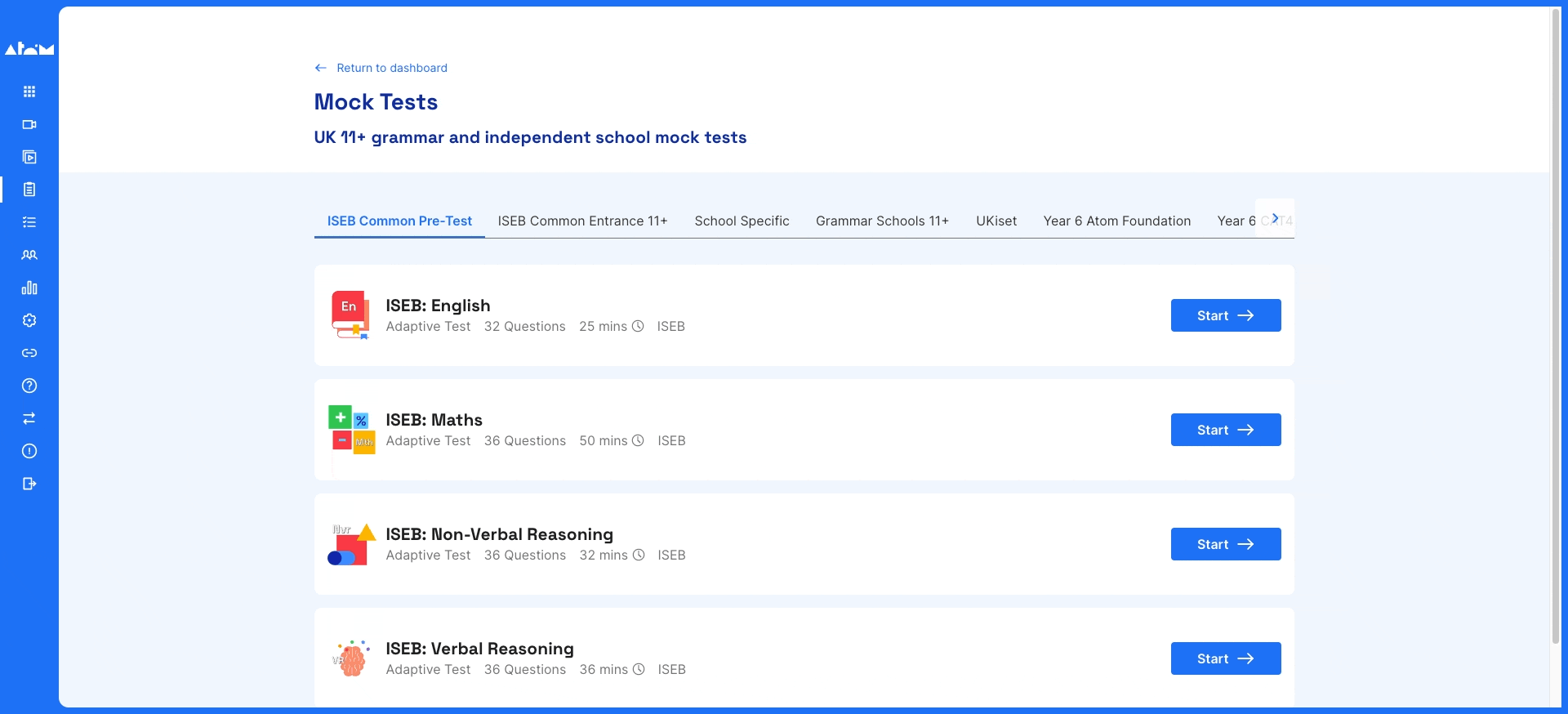 When working through challenging topics, your child will need immediate clarity with any misconceptions so that they feel truly secure in every topic. Atom gives your child access to video tutorials, help sheets and examples for each question to help build confidence and competence across all areas of the Key Stage 2 core national curriculum.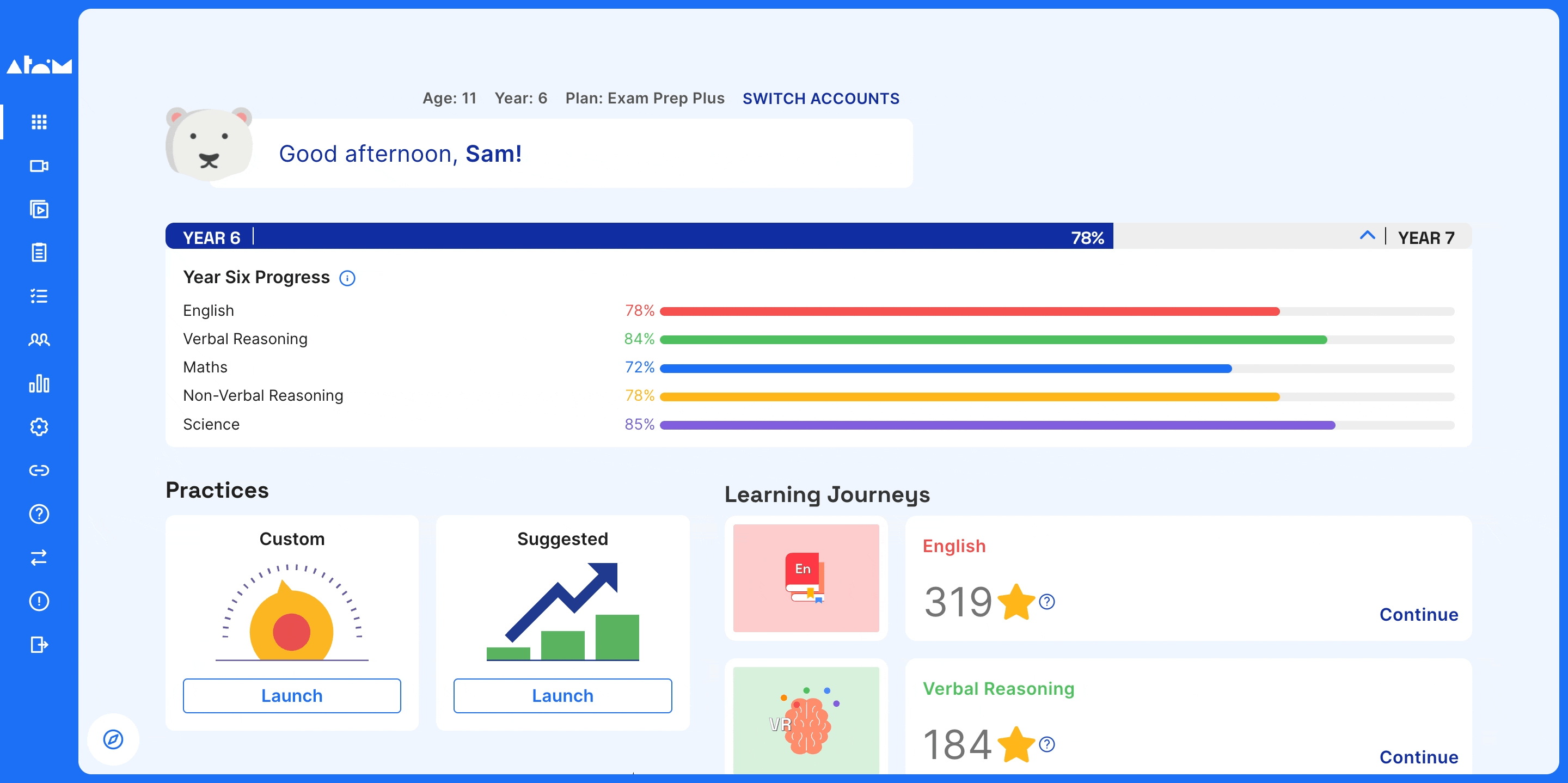 Engage with their progress
Celebrate your child's improvement in areas of challenge together. An accurate and ongoing assessment of their areas of strength and development is helpful. Atom's Parent Portal offers data-driven insights into your child's progress to help you prepare effectively, including targets achieved, a detailed breakdown of progress by subtopic and the ability to set custom practices to target your child's most challenging subtopics.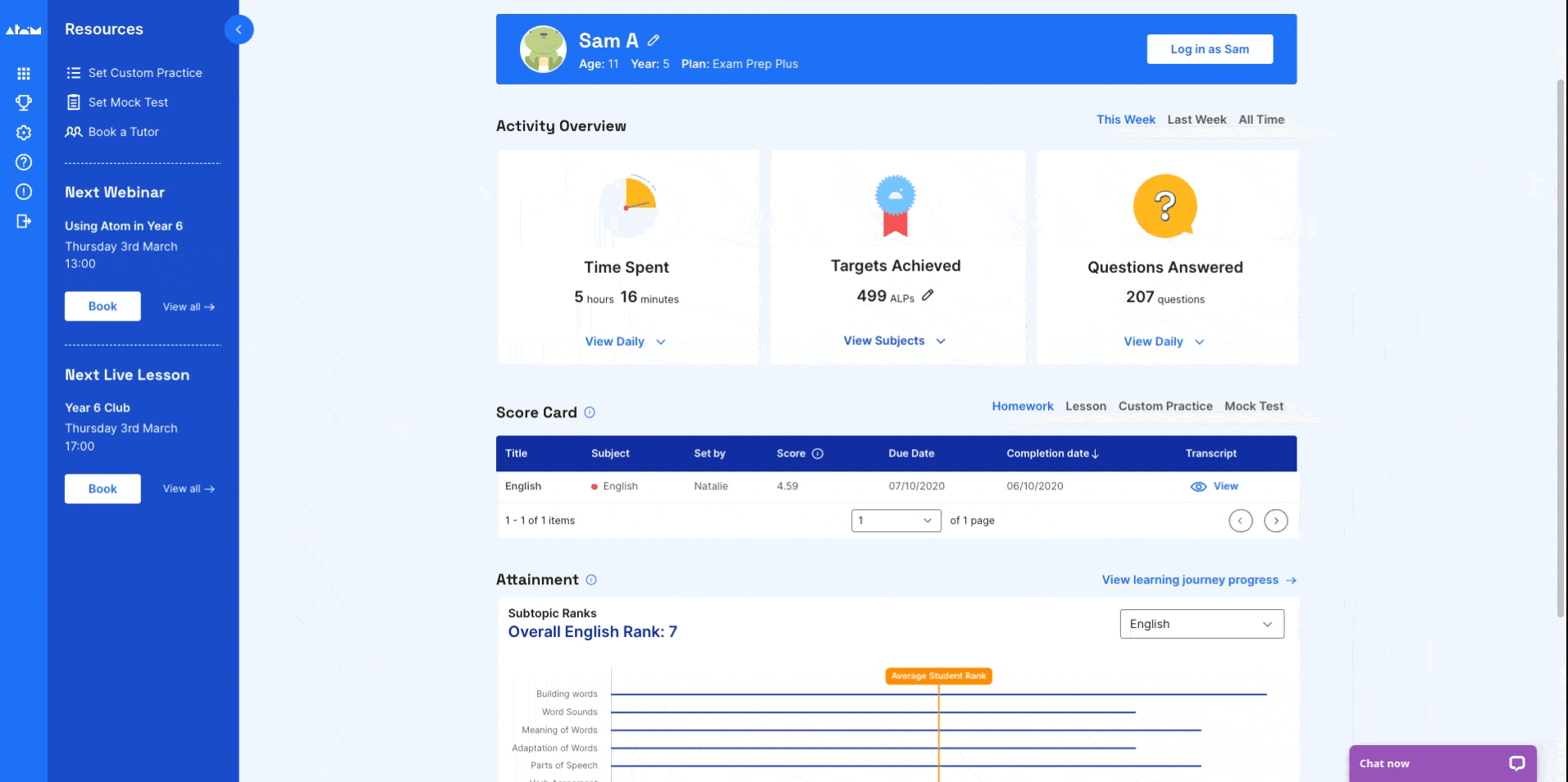 ---
Atom Learning can help
It's our mission to help your child feel prepared and confident on exam day. Begin your free 5-day free trial of Nucleus today to unlock success in the classroom, entrance exams and more.
We know how crucial this time is, so our team is on hand to support you and your family every step of the way. You can book a call with one of our Education Experts to ask any questions you might have about Year 7 entry to Putney High School:
If you're looking for exclusive tips and resources to help your child master key subjects, excel in exams and build academic confidence, join Atom's email list: