Trinity School is an independent day school for boys with a co-educational sixth form in Croydon, South London. It was founded in 1882 as part of the legacy of Archbishop John Whitgift, who was granted permission from Queen Elizabeth I in 1596 to establish a Foundation in Croydon and provide education for the young.
It is expected that students at Trinity School will never think anything is beneath them, be excellent but not arrogant, and be consciously inclusive rather than exclusive. The school aims for its students to become the very best version of themselves.
Trinity students regularly achieve exceptional exam results. In 2021, 86.4% of all A level grades were A*–A and 94.4% of GCSE grades were A*–A/9–7. Over 90% of leavers in 2021 gained a place at their first-choice university, including Russell Group universities and 13 places at Oxbridge.
Key information for Trinity School
Headteacher: Alasdair Kennedy

Address: Trinity School, Shirley Park, Croydon CR9 7AT

London Borough: Croydon

Admissions contact: Online contact form

Age range and gender: boys 10–18, girls 16–18

Number of pupils: 1,240

Number of places in Year 7: Approximately 80

Ratio of applicants to places: Undisclosed

Open day date: Saturday 1st October 2022

Overview of selection procedure for Year 7 entry: Entrance exam, reference and interview

Registration opens: Thursday 1st September 2022

Registration closes: Monday 31st October 2022

Assessment date for Year 7 entry: Thursday 5th January 2023

Scholarship assessment date: Monday 16th January – Friday 20th January 2023
Trinity School fees and financial assistance
The annual school fees for Trinity School in 2022–23 are £20,437. This cost includes the majority of curricular trips and field days, but does not cover lunches, uniform, sports and PE kit, external exam entry fees, individual music and LAMDA tuition and some non-academic trips.
Over half of Trinity School parents do not pay the full fee due to the generous financial assistance available. Bursaries can be awarded based on the child's performance in the entrance exam and the financial circumstances of his parents. All bursary applications are processed through the Whitgift Foundation, which provides the majority of Trinity School's bursary support alongside the Trinity Bursary Fund.
Trinity School also offers scholarships to boys who demonstrate talent in particular disciplines:
Academic Scholarships: up to 50% of school fees

Art Scholarships: up to 50% of school fees

Design & Technology Scholarships: up to 50% of school fees

**Drama Scholarships:**bold text up to 50% of school fees

Music Scholarships: up to 50% of school fees, free music tuition on up to two instruments and a free loan of orchestral instruments from the school (if required)

Sport Scholarships: up to 50% of school fees
Trinity School term dates
The 2022-23 term dates for Trinity School are:
Autumn term: 1st September – 16th December 2022

Half term: 17th October – 28th October 2022

Spring term: 9th January – 29th March 2023

Half term: 13th – 17th February 2023

Summer term: 18th April – 7th July 2023

Half term: 29th May – 2nd June 2023
Admissions process for Trinity School
Online registration for Trinity School opens on 1st September 2022. However, you may register your interest in advance. When registration opens, you will need to pay a non-refundable registration fee of £90 per child and provide details of how to obtain a reference for your child from their current school.
All boys will take the 11 plus entrance exam at Trinity School on Thursday 5th January 2023, consisting of papers in English, maths and verbal reasoning. In addition, candidates will be interviewed on a confirmed date during January.
If your son is applying for a scholarship, the following process will additionally take place. Note that academic scholarships are automatically granted to candidates who perform exceptionally in the admissions process – there is no need to apply.
Art Scholarship: applicants will need to submit a portfolio of their work, followed by an assessment day and interview with a member of the Art and Photography department on Wednesday 18th January 2023.

Design & Technology Scholarship: applicants will need to submit an electronic portfolio of their work before they are invited to an assessment morning on Thursday 19th January 2023. This will involve creative and skill-based design tasks and an interview with a member of the DT department.

Drama Scholarship: applicants will need to submit a personal statement form and record themselves performing a short monologue from a play or dramatic poem. They will then be invited to an afternoon audition on Thursday 19th January 2023 and will deliver their piece to two teachers and other candidates. They will also need to answer questions about their chosen piece in an interview and participate in a group task with other applicants.

Music Scholarship: applicants will undergo an audition in the week commencing Monday 16th January 2023. This will include two performances on their principal instrument, a sight-reading test and answering questions to show their musicianship.

Sport Scholarship: applicants will be invited to a physical assessment day on Monday 16th January 2023; shortlisted applicants will then be recalled for a second round on Friday 20th January 2023.
Shortlisted candidates will have a one-to-one academic interview with a member of Trinity School's teaching staff. This is an opportunity for them to get to know your son better and may cover general topics or topics specific to English or maths. The conversation will also focus on your son's strengths at school, his interests and any weaknesses which may have been identified in the entrance exam.
Parents will receive a letter with the outcome for their son from 9th February 2023. There will be tours for successful applicants on 22nd February 2023 to help you decide whether to accept the place. The deadline for replies will be the last week of February or the first week of March.
Trinity School entrance exam format
All candidates for Year 7 entry to Trinity School will sit three papers on Thursday 5th January 2023:
English: 1 hour exam consisting of a comprehension task and an essay

Maths: 1 hour exam covering the Key Stage 2 national curriculum

Verbal reasoning: 1 hour exam
You may find the following articles helpful in relation to Trinity School's 11 plus exam:
How to help your child prepare for the selection process at Trinity School:
As the entrance exam for Trinity School will include Key Stage 2 National Curriculum content in English and maths, make sure that your child is familiar with everything they have covered in these subject areas at school up until the end of Year 5. Atom Nucleus, our online platform for home, covers the entire KS2 core curriculum in an interactive, engaging way: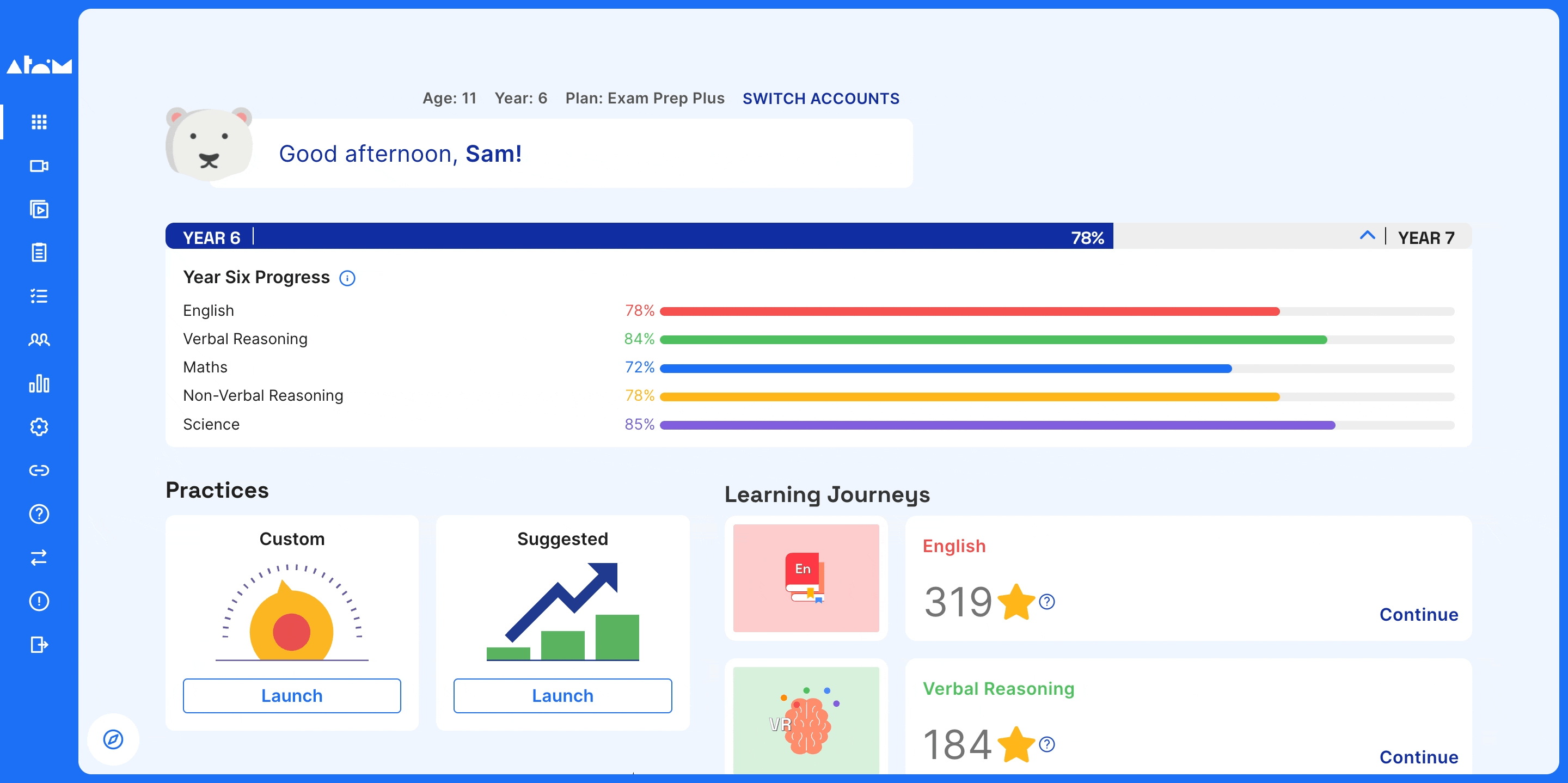 Studying verbal reasoning will put your child in good stead for the verbal reasoning paper at Trinity School. This type of content is not taught in Key Stage 2, so it is essential that your child understands the style of the questions and how to answer them before putting them into practice with a mock test.
Your child can explore all the possible verbal reasoning question styles on Atom Nucleus (and you will be able to track their progress and identify areas for improvement on your own Parent Portal). After your child has completed the verbal reasoning learning journey, they will be able to put their knowledge into practice with unlimited mock tests: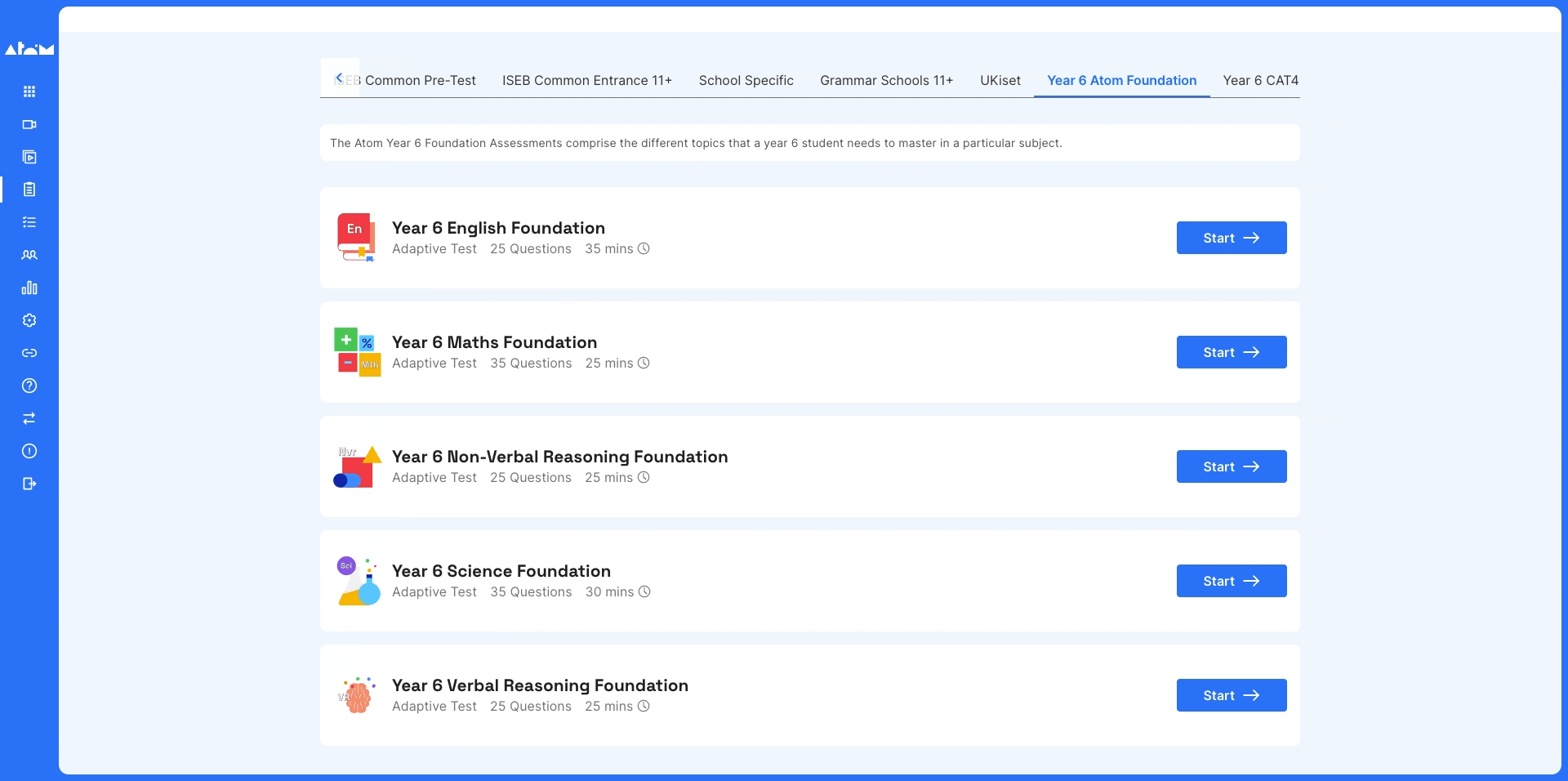 Regular reading time alongside revision will help your child boost their vocabulary and concentration. As the exam day gets closer, we suggest that your child completes online mock tests to help practice time management. Atom Learning has 11 plus practice papers available in English and maths:
Atom Learning can help
We have over 90,000 teacher-written practice questions, video tutorials, help sheets, live exam preparation courses and unlimited mock tests that mirror the format of many 11 plus papers. It's our mission to help your child feel prepared and confident on exam day.
Begin your free 5-day free trial of Nucleus today to unlock success in the classroom, entrance exams and more.
---
We know how crucial this time is, so our team is on hand to support you and your family every step of the way. You can book a call with one of our Education Experts to ask any questions you might have about Year 7 entry to Trinity School:
If you're looking for exclusive tips and resources to help your child master key subjects, excel in exams and build academic confidence, join Atom's email list: