As a language teacher, I know from experience and my background in psycholinguistics that a positive attitude to learning improves people's ability to retain information. Instilling a love of learning helps to reduce self-limiting beliefs and encourages children to tap into their unique learning style and use it in their favour. I always apply these principles to 11 plus preparation with my students to help them approach the exam with confidence.
Is it hard to pass the 11 plus?
For most children, the 11 plus is relatively hard to pass as it is designed to select the highest performers. It can be daunting to think about preparing for grammar school exams, which in many areas are renowned for high competition and low acceptance rates. But don't be discouraged by this, as with careful preparation and the right attitude, your child will go into the exam feeling confident and prepared.
What is a good score in the 11 plus?
There is no single pass mark on the 11 plus. The score required to be considered for a grammar school place depend on various factors, which can include:
The results of this year's cohort

The results of the previous year

The exam board administering the test

The admissions criteria of the school and how oversubscribed it is
Although this varies from region to region and year on year, an average pass mark is 80–85%. However, 'passing' the 11 plus does not guarantee a grammar school place.
When your child takes the 11 plus, their score across all subjects will be converted into a standardised age score (SAS). Your child's SAS gives a fairer comparison of results by taking into account candidates' age in years and full months (e.g. 10 years and 9 months). In this way, it ensures that children born later in the year are not disadvantaged.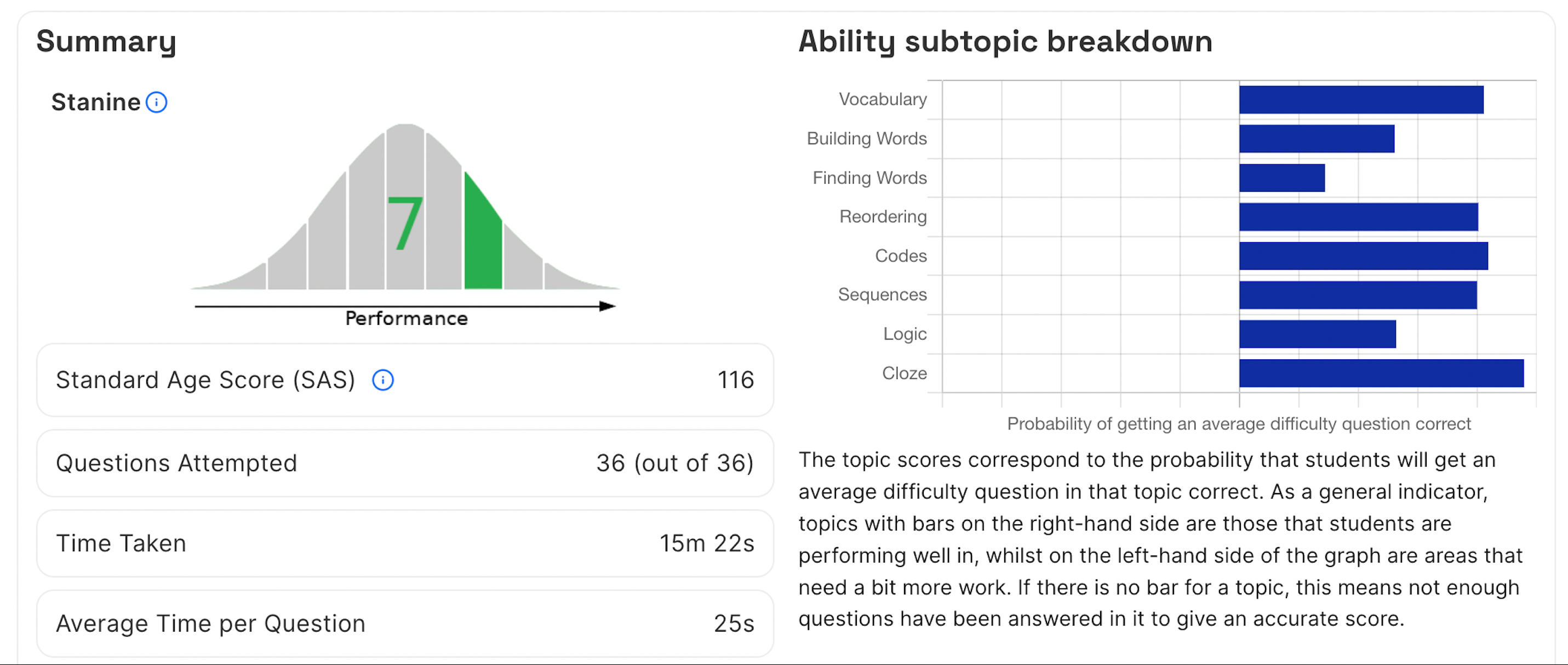 Your child's performance and Standardised Age Score on Atom Nucleus's parent dashboard
Schools usually rank the SAS of every child who took the test that year from highest to lowest. They will then offer places to a set number of the highest scoring pupils (e.g. the top 200 scorers). Other admissions criteria such as distance from the school will also be taken into account.
Some schools do cite a pass mark, but achieving the pass mark does not guarantee an offer of a place. Often, it simply means that you can list the school on your application form. These schools will usually still rank all scores above the pass mark, and offer places to a set number of the highest scorers.
Find information about grammar school admissions in your area here.
Katya's five top tips
1. Familiarise with reasoning
The 11 plus exam usually includes maths, English, verbal reasoning and non-verbal reasoning, although the exact configuration of the papers will depend on the school. While pupils will be familiar with maths and English from their primary school education, reasoning tests might appear a little alien as generally these aren't part of the school curriculum. I would always recommend that parents spend time familiarising their child with reasoning problems so that they are not distracted by the unfamiliarity of those question styles in the exam.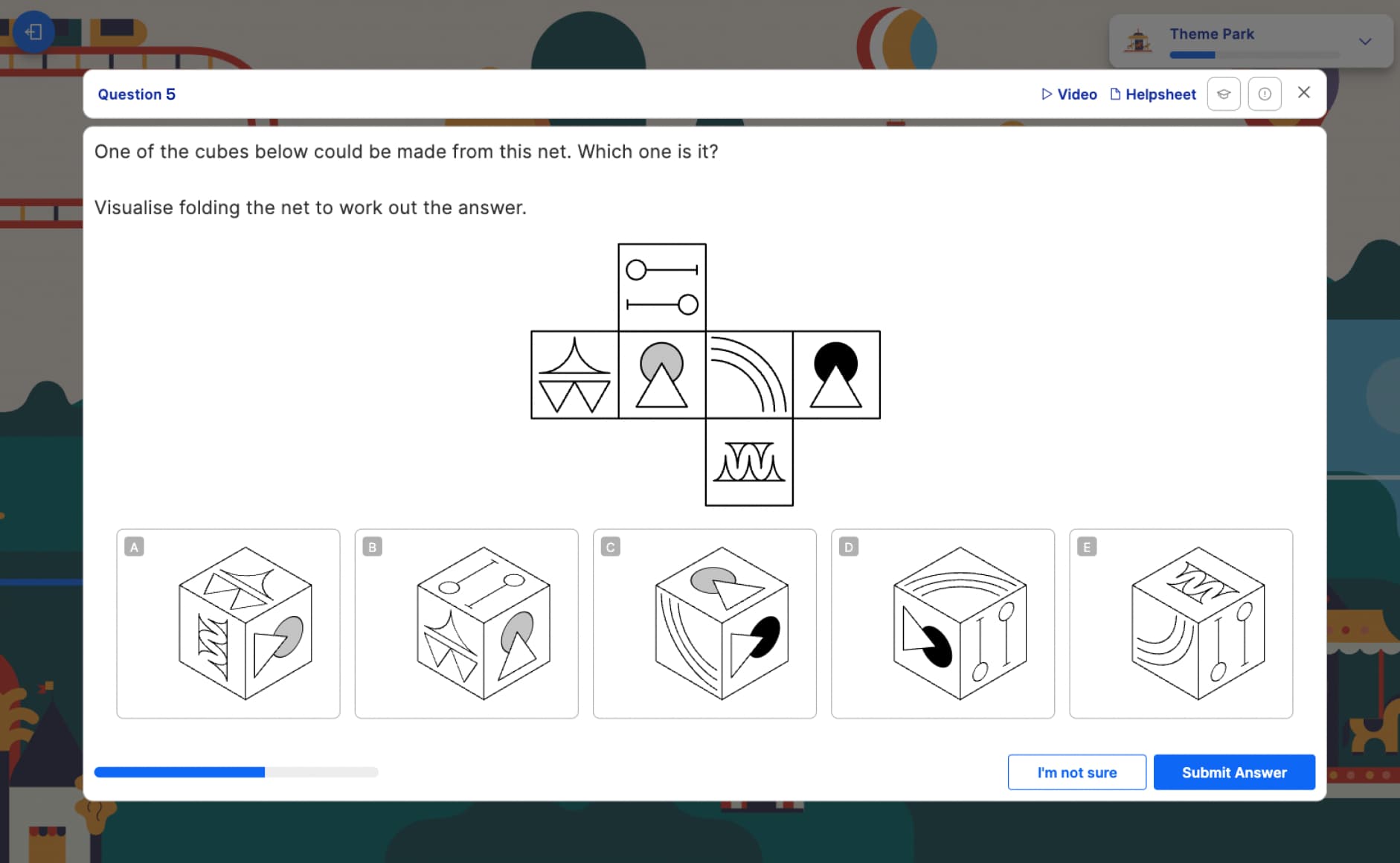 An example of a non-verbal reasoning question on Atom Nucleus
2. Quality over quantity
Often, families preparing for the 11 plus focus on doing as many practice papers as possible. While practice papers are helpful, the quality of practice is more important than the quantity. The most important first strategy is to build a stable knowledge of the entire 11 plus curriculum, before focusing on completing practice papers.
3. Get into a growth mindset
When the goal is to score as highly as possible on as many practice papers as possible, limiting beliefs about learning can develop, particularly when under stress and in high-competition situations. For example, 'I must ensure I make fewer mistakes' presupposes 'I make too many mistakes and I must not'.
On the other hand, an exploratory attitude with a problem-solving focus allows for mistakes to be made and supports learning with curiosity rather than fear. It develops awareness, control and responsibility for learning and growing from mistakes. Using supportive language such as 'what can we do to solve the problem' helps to model a growth mindset both in exam preparation and daily life.
4. Build resilience
Learning causes physical changes in the brain. To truly remember and recognise something the brain has to be in a state of 'moderate' stress to produce and retain new connections, which in turn has to be supported by a healthy growth mindset to ensure the best possible results. Teach your child that it's fine to forget knowledge they are trying to recall or get confused while trying to understand something. It's more important to acknowledge the mistake and make sure to be back on the task with the intention to move forward.
5. Keep a progress diary
A simple habit of keeping a 'Mistakes, Wins and Progress' diary is a great tool to build awareness and encourage ownership over learning development. It's important to allocate time for keeping such a diary similar to regular homework. Keeping track of mistakes – and understanding what caused a mistake – is the biggest work there can be on the path to achieving set goals. Some mistakes are made due to low concentration, some due to needing to build more knowledge. Both require different solutions to progress.
---
Excel in the 11 plus with Atom Tuition
If you think your child could benefit from one-to-one tuition for their 11 plus preparation, Atom Tuition can help. Our team of dedicated client managers will speak with you about your child and their needs, matching you with the perfect tutor to help your child achieve their full potential in the 11 plus. You'll get:
A carefully-selected tutor who has undergone enhanced DBS checks and has a proven track record for success

Weekly reporting and termly assessments, with 24/7 access to your child's progress data

Discounted access to our award-winning online platform Atom Nucleus for continuous learning between sessions

100% satisfaction guaranteed; if you feel that your introductory lesson isn't a positive experience, we'll give you a free replacement with another tutor or a full refund
Ready to book a trial lesson? Fill out this simple form and one of our tuition advisors will get back in touch soon.