Wycombe Abbey is an independent day and boarding school for girls aged 11 to 18 in High Wycombe, Buckinghamshire. It was established in 1896 as one of the first schools for girls in the country by Dame Frances Dove – a trailblazer who promoted equal opportunities for girls in the Victorian era.
The school is located on a 170-acre campus in the Chiltern Hills and encompasses a lake, woods, gardens and several Grade II listed buildings. Wycombe Abbey is a global leader in girls' boarding education – girls have space to thrive within the school grounds and learn to become independent while being inspired, academically and socially, all days of the week. Beyond the classroom, there are extensive opportunities to meet others and learn new skills in music, art, dance, drama, sport, enterprise and more.
The five academic qualities at Wycombe Abbey – risk-taking, resourcefulness, determination, reflection and development – are embedded in the school's education. Girls have a supportive yet challenging learning environment that encourages them to develop intellectual curiosity.
The success of the school's approach is evident in its exam results; in 2021, 99% of GCSE grades were 9/8/7/A*/A and 64% of A level grades were A* alone. Students leave Wycombe Abbey to continue their education at high-ranking universities around the world, including Oxbridge (approximately one-third each year), Russell Group and Ivy League universities, including Brown, Duke, Columbia, Harvard, Stanford and Yale.
Key information for Wycombe Abbey
Head Mistress: Mrs Jo Duncan

Address: Wycombe Abbey, Frances Dove Way, High Wycombe, Buckinghamshire, HP11 1PE

County: Buckinghamshire

Admissions contact: Mrs Catriona Sutherland-Hawes – [email protected], 01494 897 008

Age range and gender: 11–18 (girls only)

Number of pupils: 656

Number of places in Year 7: Approximately 80

Ratio of applicants to places: 5:1

Open day date: 17th September 2022. Spaces have been filled but a waiting list is in place – email [email protected] to be added. Alternatively, register your interest to attend a coffee morning.

Overview of selection procedure: Online CAT4 test, assessment day, interview and reference

Registration opens: Currently open for 2024 entry (closed for 2023 entry)

Registration closes: 1st June 2022 (2023 entry), 1st June 2023 (2024 entry)

Assessment date: November 2023 (2024 entry)

Scholarship assessment date: January in the year of entry
Wycombe Abbey fees and financial assistance
The fees at Wycombe Abbey for 2022–23 are £14,700 per term (boarding pupils) or £11,050 per term (day pupils). All fees include tuition, school lunches, personal accident insurance, the cost of most games activities, the majority of educational materials and many curricula and co-curricular trips. Boarding fees additionally include lodging and laundry.
Wycombe Abbey aims to be as accessible as possible to girls whose families could not otherwise afford the full cost of fees and provides means-tested bursaries where possible. Families with a combined gross income of less than £150,000 may be eligible for a fee reduction – this is likely to be 100% for a combined disposable income of less than £30,000.
Wycombe Abbey also awards scholarships at 11 plus entry:
Academic Scholarships: up to 5% of the fees per annum

Academic Exhibitions: £600 per annum

Music Scholarships: free tuition on two instruments (or one instrument and voice)

Music Exhibitions: free tuition on one instrument (not voice)

Choral Awards: free voice tuition
Wycombe Abbey term dates
The term dates at Wycombe Abbey for 2022–23 are:
Autumn term: 5th September – 14th December 2022

Half term: 17th – 30th October 2022

Spring term: 9th January – 23rd March 2023

Half term: 13th–17th February 2023

Summer term: 18th April – 30th June 2023

Half term: 29th May – 2nd June 2023
Admissions process for Year 7 entry to Wycombe Abbey
Registration for 11 plus entry to Wycombe Abbey in 2023 is now closed. Note that this guide gives provisional detail on the admissions process for 11 plus entry in 2024.
If you would like to register your daughter for Year 7 at Wycombe Abbey in 2024, you will need to complete the online registration form and pay the £250 non-refundable registration fee before 1st June 2023.
Candidates applying or a Music Scholarship (including exhibitions and awards) will need to email an audio-visual recording of a performance on each instrument and/or voice studied to Wycombe Abbey admissions before 1st September 2023.
All registered candidates will be invited to take an online Cognitive Abilities Test (CAT4) either at their current school or at a recognised UK test centre (or local British Council Office). All candidates will also be invited to an assessment day at Wycombe Abbey in November 2023, which will include an individual interview with a member of staff, small group activities with other candidates and written entrance exams.
Following the assessment day, firm offers will be made in December 2023. If your daughter is successful in securing a place at Wycombe Abbey, you will need to provide written acceptance of the offer and pay the deposit before March 2024 (date TBC).
Girls who have received a firm offer will be invited to take the Wycombe Abbey Scholarship Examinations in January 2014. These include papers in English, maths, science, humanities and a language aptitude test and determine which girls will be awarded an Academic Scholarship.
Meanwhile, girls who have applied for a Music Scholarship and who have been shortlisted based on their audio-visual recording will be invited to an audition at Wycombe Abbey in February 2024. This will comprise performance(s), sight-reading, aural tests and a discussion of the candidate's musical experience and interests.
Wycombe Abbey 11 plus exam
Cognitive Abilities Test (CAT4)
Registered candidates for 11 plus entry to Wycombe Abbey will take an online Cognitive Abilities Test (CAT4) during a ten-day window in November. Arrangements will need to be made to take this at your daughter's current school; alternatively, the test can be taken at a recognised UK test centre or a local British Council Office. Wycombe Abbey's admissions department will provide the appropriate access codes which will enable your daughter to take the test.
The CAT4 test is a 72-minute exam, taken online, with multiple-choice questions. The main skills that will be assessed are how the candidate solves problems using words and numbers, identifying patterns with pictures and diagrams and how they well they can mentally transform visual images.
Children are assessed in four main areas (known as 'batteries'), which each break down into two subsections:
Verbal reasoning: consists of verbal classification and verbal analogies (8 minutes each)

Non-verbal reasoning: consists of figure classification and figure matrices (10 minutes each)

Quantitative reasoning: consists of number analogies and number series (10 minutes and 8 minutes allotted respectively)

Spatial ability: consists of figure analysis and figure recognition (9 minutes each)
Read our in-depth exam guide on the CAT4 test to find out more.
Wycombe Abbey Assessment Day
All registered candidates for Wycombe Abbey will also be invited to an assessment day on the school site, which will take place in November. This event helps the school to assess each girl's academic ability and suitability for life at Wycombe Abbey.
Girls will have an individual interview with a member of staff and they will take part in small group activities with other candidates. They will also sit entrance exams in English and maths – each of which will have a time limit of 1 hour. If your daughter is registered for the school, you will receive sample papers in the autumn term ahead of the exam day.
How to help your child prepare for the selection process at Wycombe Abbey
Build foundational knowledge
The 11 plus exam at Wycombe Abbey covers a huge range of content. Candidates are tested in their verbal, non-verbal and numerical abilities in the CAT4 test, followed by their knowledge, understanding and application of Key Stage 2 English and maths during the school's assessment day.
Atom Nucleus can help your child consolidate everything they know from the Key Stage 2 curriculum. With over 90,000 teacher-created questions and helpful learning resources across English, maths, verbal reasoning and non-verbal reasoning, one Atom subscription will give your daughter all the materials needed to get to grips with the curriculum before the exam day.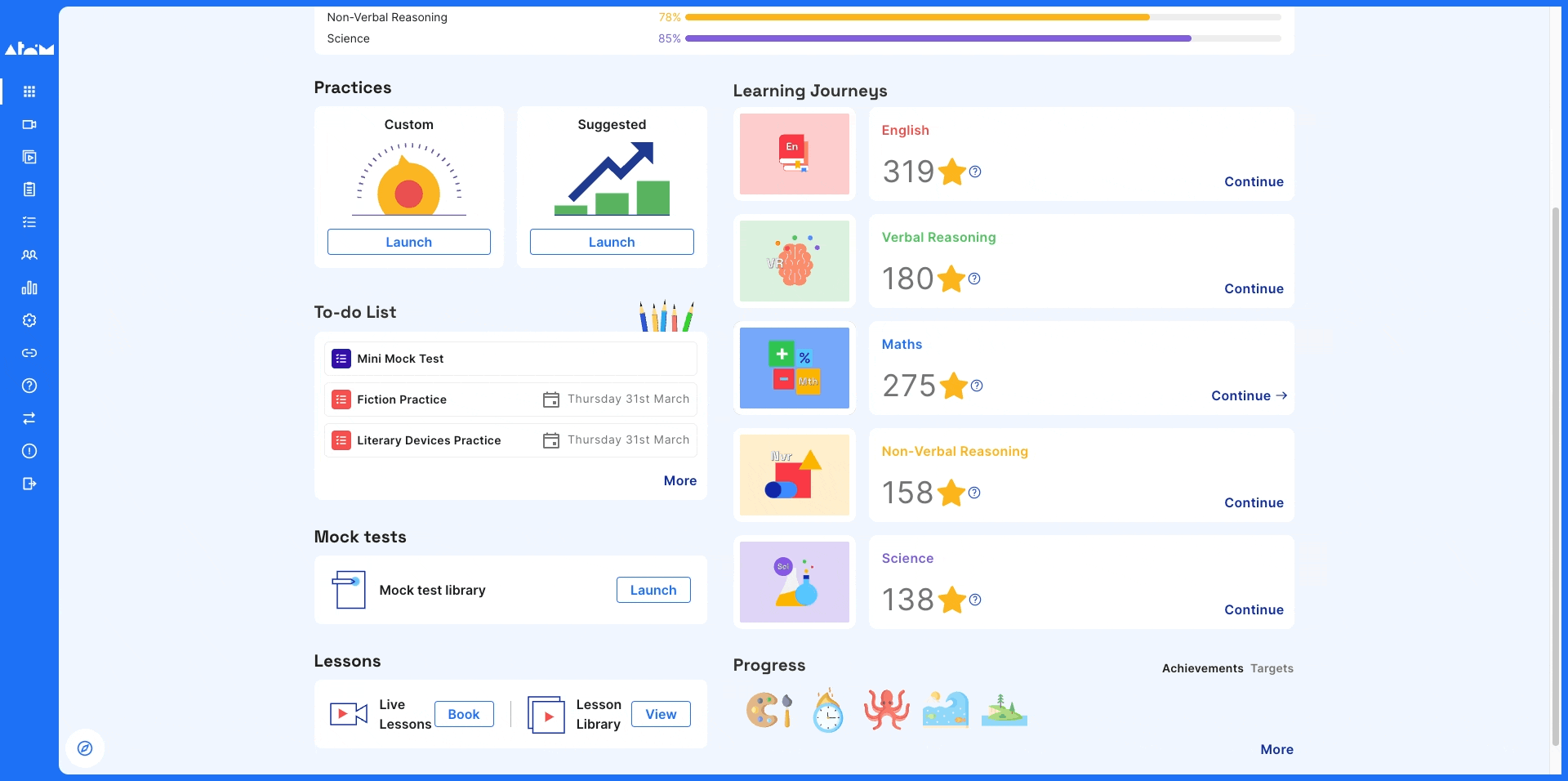 Preparation is key
Familiarisation with the question formats and known styles ahead of the exam is essential to help your child build exam confidence.
An exam preparation subscription with Atom Nucleus enables your child to access quality practice material with full score breakdowns to help your child feel confident by the time the exam day comes around. Best of all, your child can take unlimited practice tests – including the CAT4 test – for one monthly cost.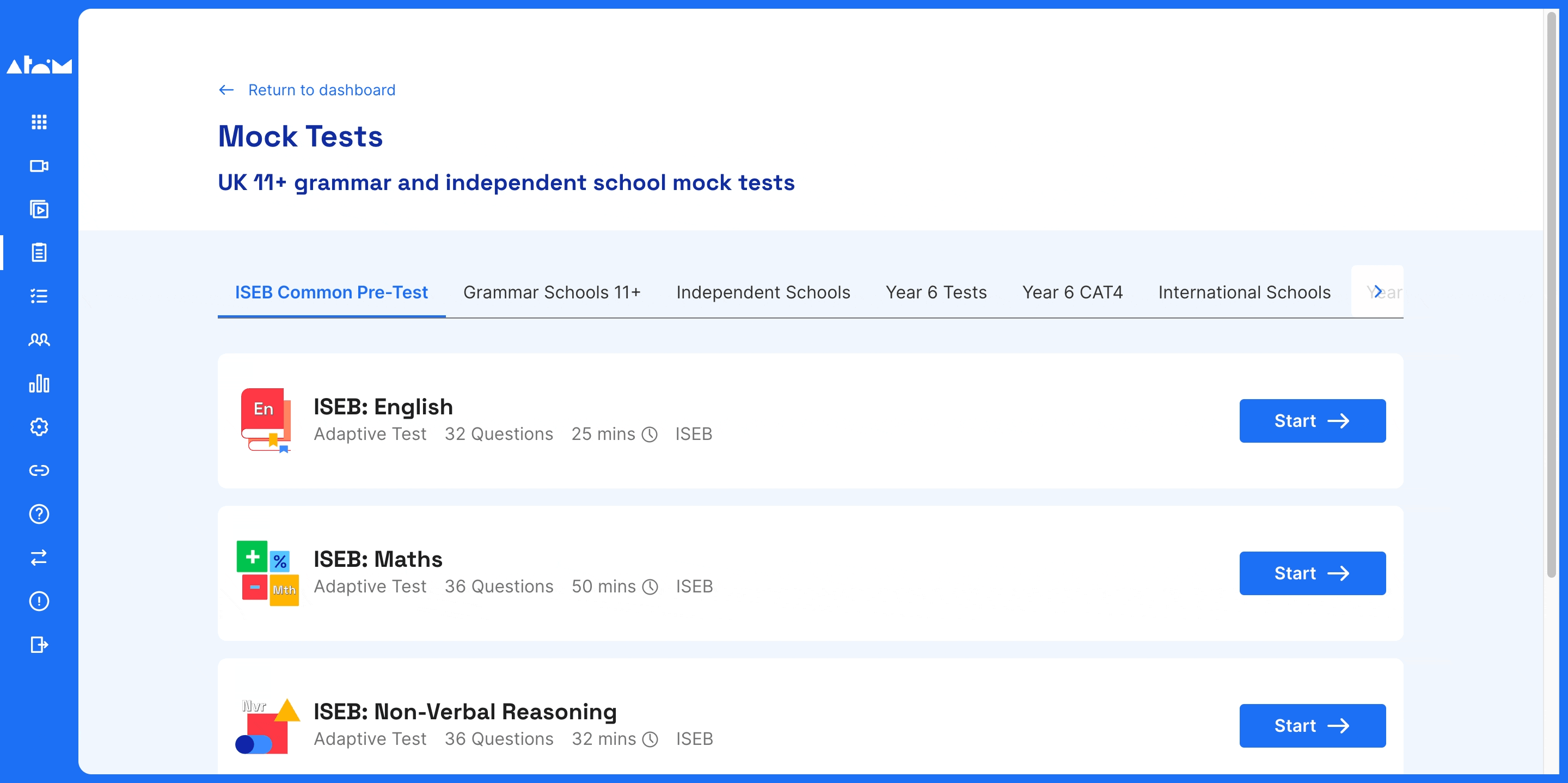 When working through challenging topics, your child will need immediate clarity with any misconceptions so that they feel truly secure in every topic. Atom Nucleus includes video tutorials, help sheets and examples with every question to help your child build confidence and competence across all the areas assessed.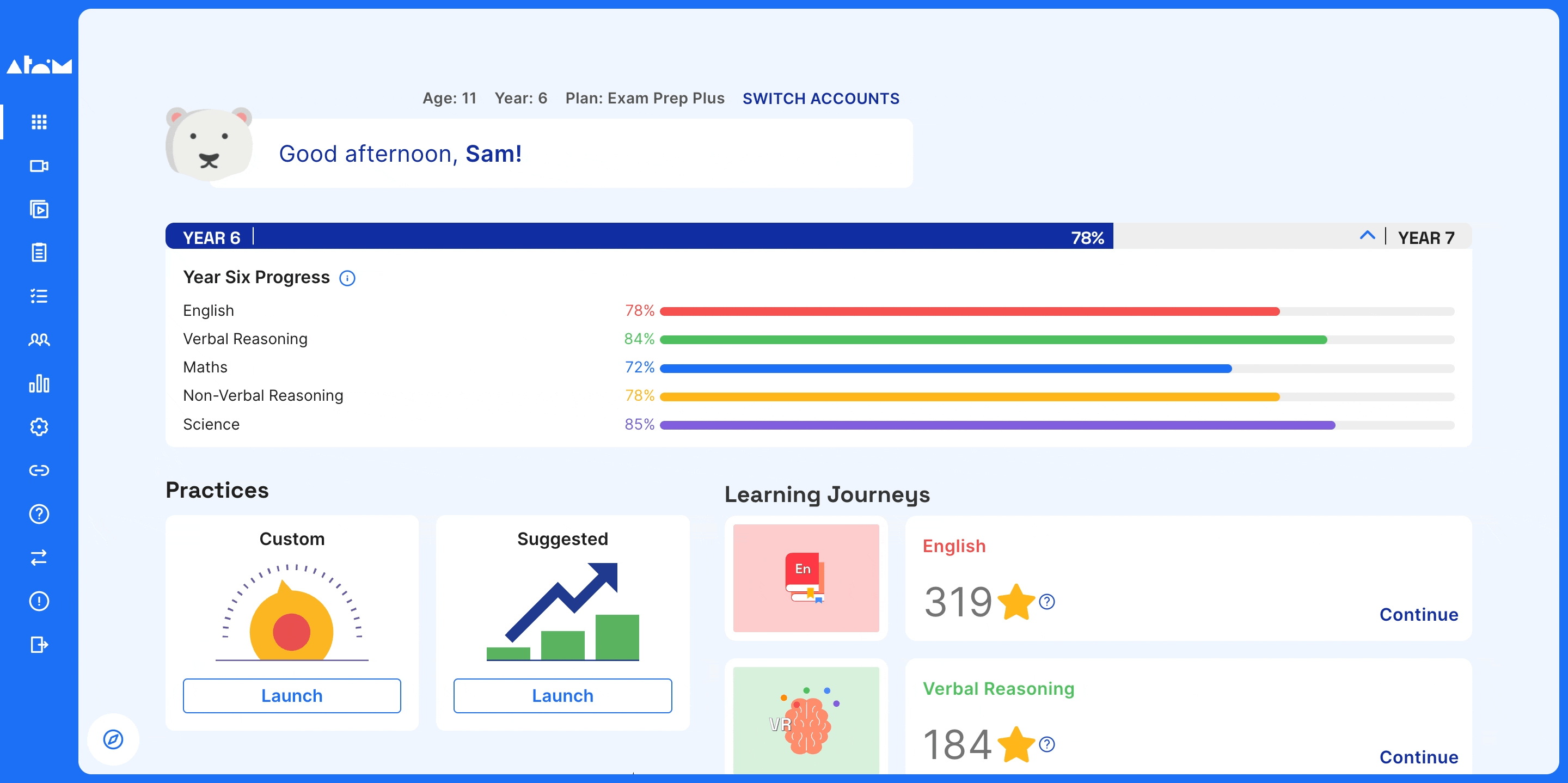 Engage with their progress
Celebrate your child's improvement in areas of challenge together. An accurate and ongoing assessment of their areas of strength and development is helpful.
As an Atom subscriber, you'll have a parent dashboard which offers data-driven insights into your child's progress. You can use this effectively to help your child set targets, see a detailed breakdown of their progress by subtopic and set custom practices to target those they find most challenging.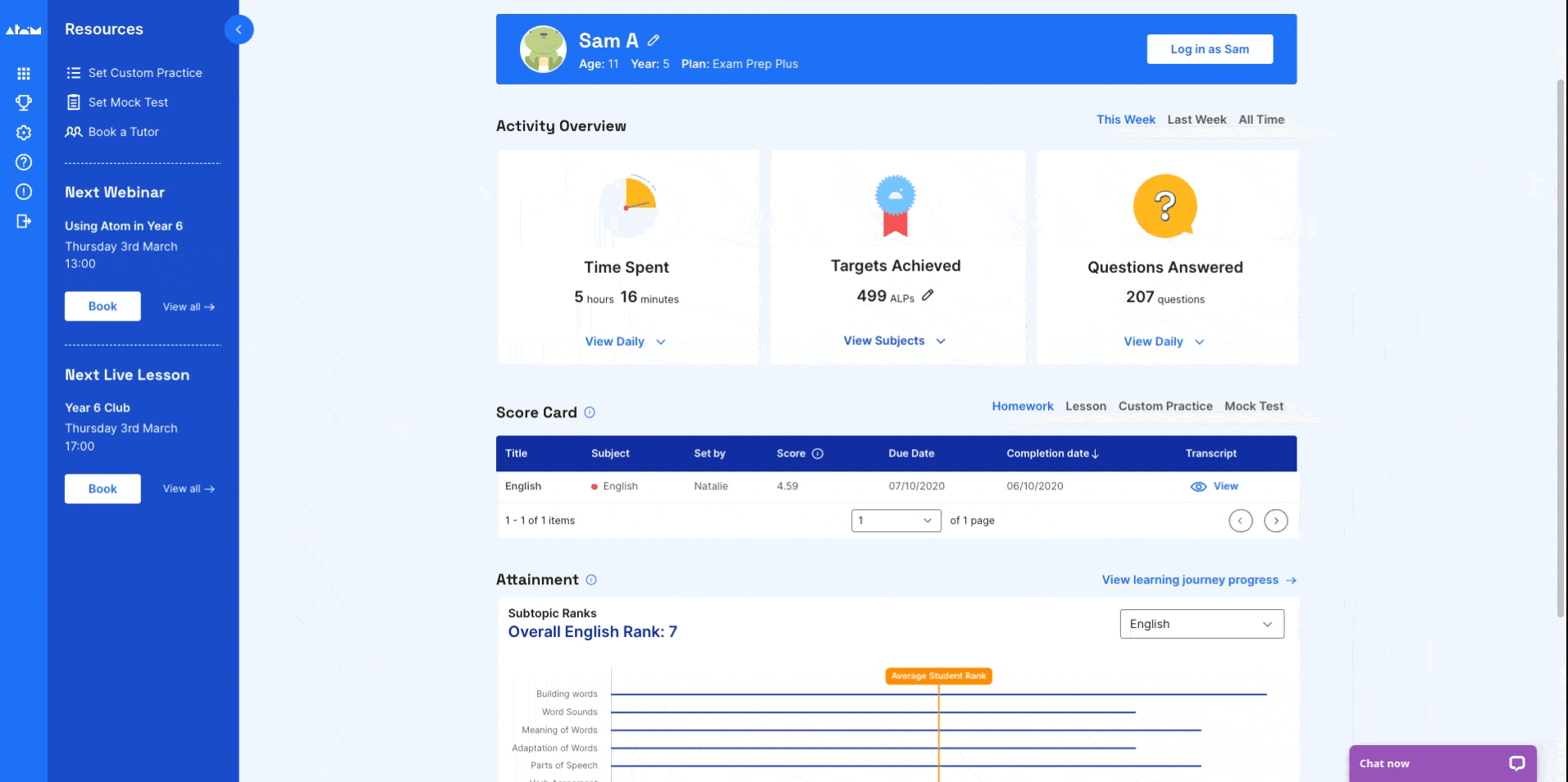 ---
Get started with Atom Learning
It's our mission to help your child feel prepared and confident before the exam day. Begin your free 5-day free trial of Nucleus today to help your child succeed.

We know how crucial this time is, so our team is on hand to support you and your family every step of the way. You can book a call with one of our Education Experts to ask any questions you might have about 11 plus entry to Wycombe Abbey:
If you're looking for exclusive tips and resources to help your child master key subjects, excel in exams and build academic confidence, join Atom's email list: