Bancroft's School is a large independent day school for boys and girls aged 7–18 in the north-east London Borough of Redbridge. It was set up by the Drapers' Company in 1737 in Mile End (the site of the current Queen Mary University of London) as a boys' school, with girls first admitted in 1973.
The six core values of curiosity, kindness, integrity, courage, balance and excellence are integral to life at Bancroft's School. The school is self-described as 'unashamedly aspirational' and devoted to scholarship and intellectual inquiry. Bancroft's School has high academic standards, which are evident in pupils' exam results; in 2021, 82% of GCSEs were graded 9 or 8 (A* equivalent) while 98% of A level grades were A*–B.
Beyond the classroom, pupils at Bancroft's School have over 100 different clubs and societies to choose from, including pupil-led societies such as Ethical Eating, Law Society and Japanese Cultural Appreciation Society. The Combined Cadet Force (CCF) is one of the most popular activities at the school with training including flying, gliding and orienteering. The Duke of Edinburgh's Award and Scout Group are also extremely popular.
Bancroft's School is committed to its founding principles and hopes to attract a greater number of pupils from a diverse range of backgrounds. The Bancroft's Foundation was established in 2012 to mark the school's 275th anniversary with the sole purpose of generating funding for assisted places (bursaries) with over £2 million raised to date.
Key information for Bancroft's School
Head: Mr Simon Marshall

Address: Bancroft's School, High Road, Woodford Green, Essex IG8 0RF

London Borough: Redbridge

Admissions contact: [email protected], 020 8585 4821

Age range and gender: 7–18 (co-educational)

Number of pupils: 1,112

Number of places in Year 7: 60 external places

Ratio of applicants to places: Approximately 8:1

Open day date: Saturday 12th November 2022. Visit the school website as booking will open closer to the date.

Overview of selection procedure: Entrance exam, school report and interview

Registration opens: Currently open – apply on the school website

Registration closes: Thursday 1st December 2022

Assessment date: Tuesday 10th January 2023
Bancroft's School fees and financial assistance
The school fees for Bancroft's School from September 2022 will be £6,916 per term (£20,748 per year). The fees include school lunches, personal accident insurance, all curriculum-related books, materials and some curriculum-related external trips.
Bancroft's School is committed to widening access to bright and talented children through Assisted Places (bursaries). These are means-tested based on a confidential financial assessment of household income, which is reassessed every year.
The school also offers Music Awards to musically-talented pupils in Year 7, although they are only awarded towards the end of the school year. Pupils will need to apply in the January of Year 7 and will undergo an assessment before the Easter holidays. Successful candidates will receive two free instrumental lessons per week.
There are no scholarships available with fee-remission.
Bancroft's School term dates
The term dates for 2022-23 at Bancroft's School are:
Autumn term: 7th September – 16th December 2022

Half term: 24th October – 4th November 2022

Spring term: 11th January – 31st March 2023

Half term: 13th–17th February 2023

Summer term: 24th April – 6th July 2023

Half term: 29th May – 5th June 2023
The provisional term dates at Bancroft's School for 2023–24 are:
Autumn term: 4th September – 15th December 2023

Half term: 23rd October – 3rd November 2023

Spring term: 9th January – 28th March 2024

Half term: 12th–16th February 2024

Summer term: 22nd April – 5th July 2024

Half term: 27th May – 3rd June 2024
Admissions process for Year 7 entry to Bancroft's School
To apply for Year 7 entry to Bancroft's School in 2023, you will need to register your child through the school's online registration form and pay the non-refundable registration fee of £125 before the deadline of Thursday 1st December 2022. If you would like your child to be considered for an assisted place (means-tested financial assistance), you should not complete this registration form and complete the school's Initial Assessment of Income Form instead and submit this before the deadline of Wednesday 16th November 2022. If the school then confirms that your child is eligible for an assisted place, you will then be invited to complete a different registration form and pay a reduced registration fee of £20.
All registered candidates will be invited to the testing day at Bancroft's School on Tuesday 10th January 2023. Children who are successful and who have a strong school report will then be invited back to Bancroft's School for an interview on Saturday 28th January 2023. Candidates will talk to members of the school's senior staff about academic subjects, their achievements and their interests. The school is specifically looking for children who are enthusiastic, intelligent, curious and will make the most of school life and Bancroft's excellent facilities.
Bancroft's School will email and post letters to families with the outcome of their child's application on Thursday 16th February 2023. Successful candidates and their families will also be invited back to see the school again for an offer-holders event on Thursday 23rd February to help guide their decision to accept a place. The closing date for acceptance of places is Monday 6th March 2023.
Bancroft's School 11 plus exam
The 11 plus exam for Bancroft's School consists of three tests:
Reasoning
Children will sit an online reasoning test which is provided by CEM (Centre for Evaluation and Monitoring). It includes questions that measure:
Verbal ability: vocabulary, grammar and comprehension

Numerical ability: arithmetic and problem-solving

Non-verbal ability
The three types of response are multiple-choice, drag and drop and complete the word (type in the letters).
Have a go at a CEM reasoning familiarisation test.
English
The 11 plus English test at Bancroft's School has a time limit of 30 minutes. Children are asked to write a piece of imaginative writing following a prompt. They will be assessed on their ideas and style, ability to craft sentences and their accuracy and use of vocabulary. A sample paper is available on the school website.
Does your child struggle to write creatively? Take a look at our parents' guide to creative writing and suggestions for your children.
Maths
The 11 plus maths test at Bancroft's School also has a time limit of 30 minutes, with 40 marks available. Questions are non-calculator and are designed to get more challenging throughout the paper. Children will be assessed on their knowledge and understanding of the Key Stage 2 national curriculum for maths.
Have a go at Bancroft's School's 11 plus maths sample paper.
How to help your child prepare for the selection process at Bancroft's School
Build foundational knowledge
The 11 plus exam at Bancroft's School assesses candidates' knowledge and understanding of the Key Stage 2 national curriculum in English and maths. Your child can consolidate everything they know with Atom Nucleus, with over 90,000 teacher-created questions and helpful learning resources that span English and maths from Year 3 to Year 6.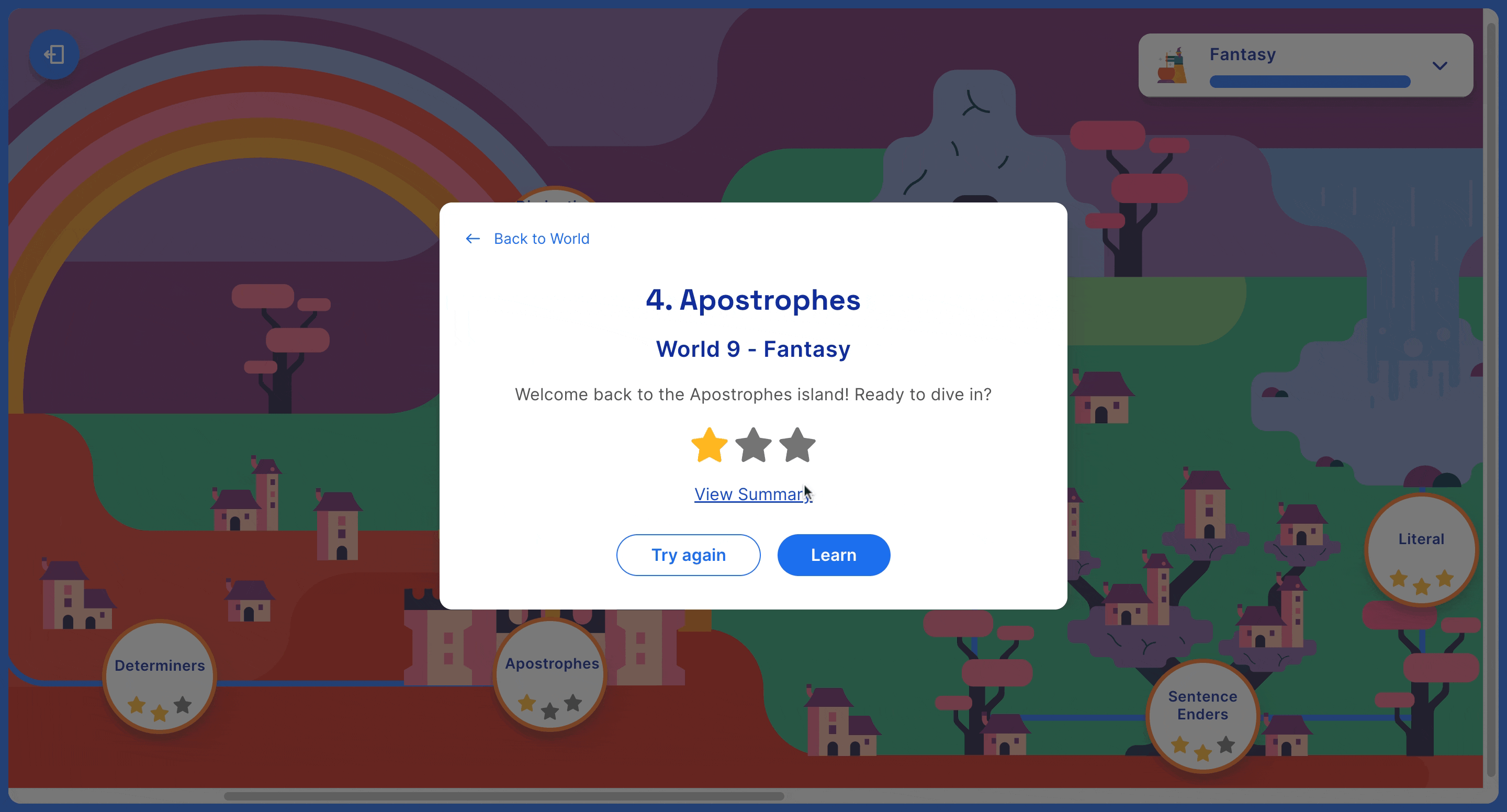 Preparation is key
Familiarisation with the question formats and known styles ahead of the exam is essential to help your child build exam confidence. An exam preparation subscription with Atom Nucleus enables your child to access quality, unlimited practice material – including reasoning – with full score breakdowns to help your child feel confident by the time the exam day comes around.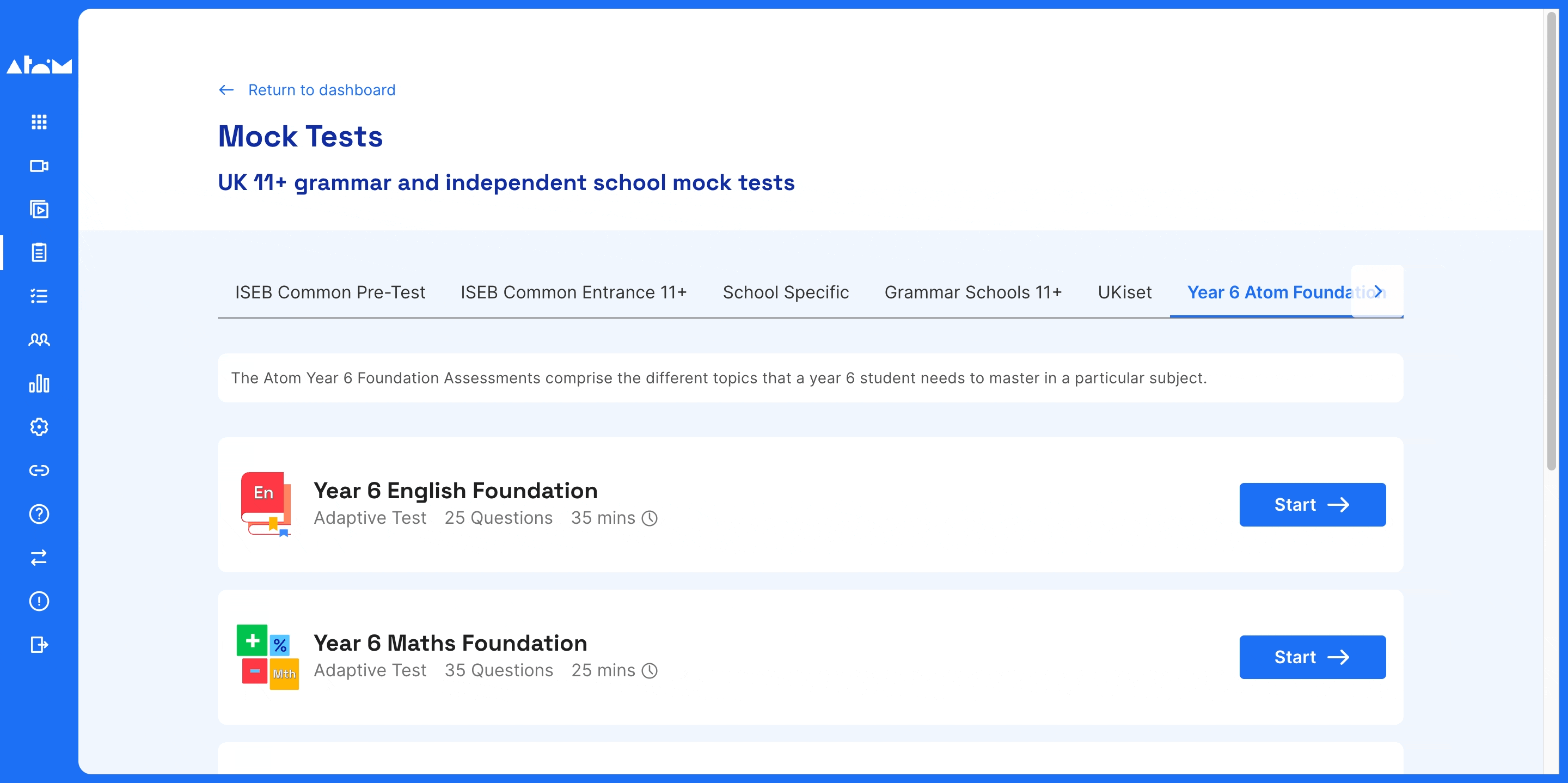 When working through challenging topics, your child will need immediate clarity with any misconceptions so that they feel truly secure in every topic. Atom Nucleus includes video tutorials, help sheets and examples with every question to help your child build confidence and competence across all the areas assessed.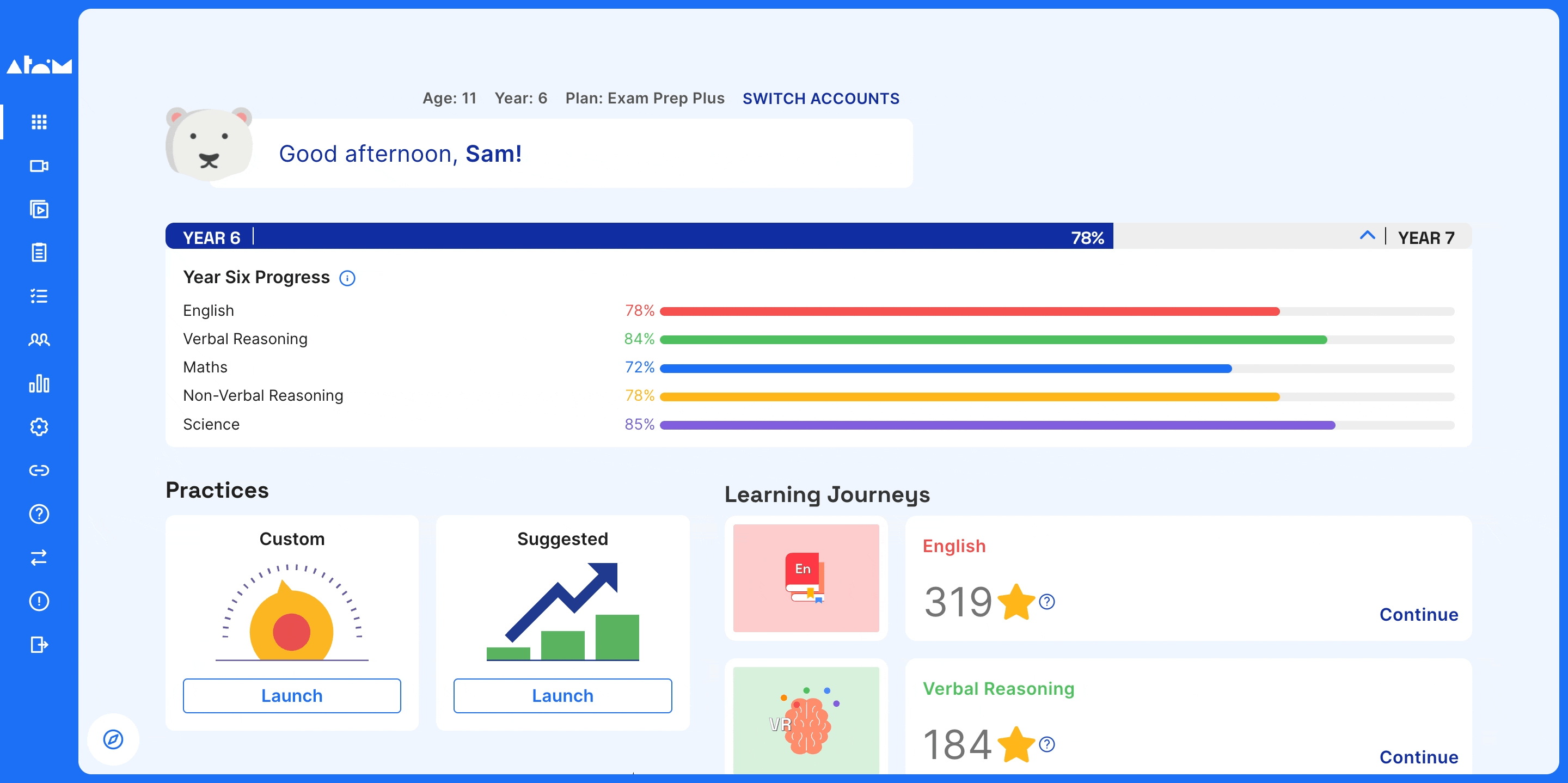 Engage with their progress
Celebrate your child's improvement in areas of challenge together. An accurate and ongoing assessment of their areas of strength and development is helpful.
As an Atom subscriber, you'll have a parent dashboard which offers data-driven insights into your child's progress. You can use this effectively to help your child set targets, see a detailed breakdown of their progress by subtopic and set custom practices to target those they find most challenging.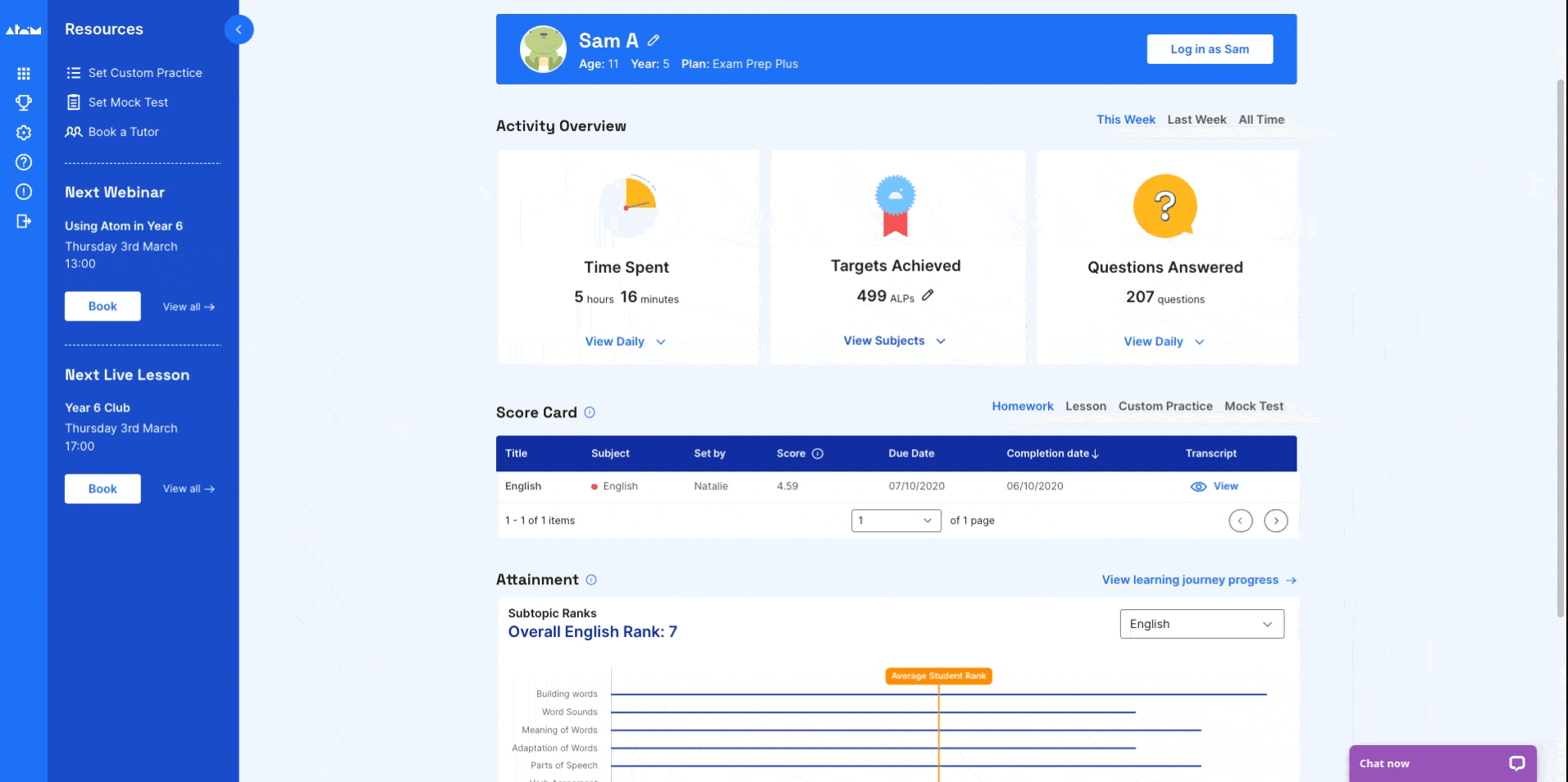 ---
Get started with Atom Learning
It's our mission to help your child feel prepared and confident before the exam day. Begin your free 5-day free trial of Nucleus today to help your child succeed.
We know how crucial this time is, so our team is on hand to support you and your family every step of the way. You can book a call with one of our Education Experts to ask any questions you might have about 11 plus entry to Bancroft's School:
If you're looking for exclusive tips and resources to help your child master key subjects, excel in exams and build academic confidence, join Atom's email list: