Brighton Girls is an independent day school for girls aged 4–18 in the city of Brighton and Hove, East Sussex. The school is a founding member of the GDST (Girls' Day School Trust) and has significance in the history of girls' education in the UK. At Brighton Girls, the values are kind and bold; girls are encouraged to be confident, passionate and kind for themselves and for their society.
There are over 100 clubs and activities on offer at Brighton Girls, including boxing, eco, coding and skateboarding, and sports teams compete locally, regionally and nationally in netball, hockey, football, cricket, gymnastics and athletics. Girls from Years 7 to 11 are encouraged to take part in the Temple Project Qualification (TPQ) each year – an enrichment programme which provides grounding for the sixth form Extended Project Qualification encourages girls to pursue their own interests, develop intellectual curiosity and complete their own projects.
Pupils at Brighton Girls study a broad yet balanced curriculum. There is a range of subjects to choose from at GCSE, including computer science, dance, food preparation and nutrition, and philosophy, religion and ethics. Sixth form students run a successful STEM programme for younger pupils, which includes projects such as robots and First Lego League, 3D design and print, and preparing for the CREST Awards or the Big Bang Competition. Exam results at Brighton Girls are consistently high; in 2022, 61% of A levels were A*/A and 69% of GCSE results were 9–7.
Key information for Brighton Girls
Head: Ms Rosie McColl

Address: Brighton Girls, The Temple, Montpellier Road, Brighton, East Sussex, BN1 3AT

County: East Sussex

Admissions contact: Mrs Karrie Duddy – [email protected], 01273 280 280

Age range and gender: 4–18, girls only

Number of pupils: 550

Open day date: Saturday 24th September 2022 and weekly autumn open doors tours every Wednesday from 28th September 2022.

Overview of selection procedure: entrance exam

Registration opens: currently open for 2023 entry – apply online

Registration closes: 31st October 2022

Assessment date: December 2022
Brighton Girls fees and financial assistance
The current tuition fees at Brighton Girls are £5,199 per term (Years 7–9). Lunches cost an additional £225 per term and activities and trips cost £34, creating a total termly fee of £5,458.
Means-tested bursaries, known at Brighton Girls as Brighton Awards, are available to talented pupils whose families would not otherwise be able to afford the school fees. To be considered for a Brighton Award, the girl must have performed exceptionally well at the Year 7 assessment day and the girl's parents must be eligible according to the GDST financial means assessment. As a guide, higher-value bursaries are awarded to pupils from families with a total income of less than £37,500 per year (with no capital assets other than their home); families with an annual income of greater than £87,500 are highly unlikely to be considered. The application deadline for a Brighton Award for 2023 entry is 31st October 2022.
Brighton Girls offers academic scholarships and Temple scholarships to girls at 11 plus entry. Temple scholarships are available in the areas of music, sport (which includes skateboarding, gymnastics, and football), drama and art. Scholarships carry a maximum value of £1,000 fee remission per year.
Brighton Girls also offers a sibling discount of 20% for the third and subsequent daughter in a family who is enrolled at the school at the same time.
Brighton Girls term dates
The term dates at Brighton Girls for 2022–23 are:
Autumn term: 7th September – 15th December 2022

Half term: 24th October – 4th November 2022

Spring term: 4th January – 31st March 2023

Half term: 13th–18th February 2023

Summer term: 18th April – 7th July 2023

Half term: 29th May – 2nd June 2023
Admissions process for Year 7 entry to Brighton Girls
If you are considering Brighton Girls for your daughter's secondary education, you are encouraged to visit the school first either through a formal open event or by arranging a private tour. Once you have decided to begin the application process, you will need to complete the online application form and pay the non-refundable application fee of £100 by 31st October 2022 (for 2023 entry). Bursary applications and scholarship applications also need to be made by the same date.
After your daughter has been registered, she will be invited to a taster event at some point throughout the academic year to offer her the opportunity to get to know the school and to experience daily life at Brighton Girls.
All registered candidates for 2023 entry will be required to attend the Year 7 assessment day in December 2022. Every candidate is automatically assessed for an academic scholarship through the papers they will take on this day – however, if you have registered your daughter for a Temple scholarship, there will be additional assessment processes:
Temple scholarship: art: girls will need to submit a portfolio of current work by Monday 10th January 2022. Applicants will be invited to a short informal interview in January 2023.

Temple scholarship: dance: applications are welcomed from girls who have attained Grade 3 or equivalent in at least one genre. Girls will be invited to an audition workshop in January 2023, which will include a contemporary-based class, a choreographic task, and an interview.

Temple scholarship: drama: girls will be invited to take part in a practical drama workshop, lasting 40 minutes to 1 hour, in January 2023. They will take part in improvisational tasks within a group, perform a solo monologue, and have an interview.

Temple scholarship: music: applications are welcomed from girls who are working at Grade 4 or 5 standard. Applicants will be invited to audition in January 2023, which will include two performances, questions regarding musicianship and the testing of aural skills, and a short interview. A separate vocal scholarship is also available – applicants will be asked to sing two pieces at interview, instead of performing on an instrument.

Temple scholarship: sport: candidates should have experience in a variety of sport and are able to perform in at least one of Brighton Girls' major sports (athletics, gymnastics, hockey and netball). Applicants will be invited to an assessment session in January 2023. In addition to the main sports scholarship, Brighton Girls offers scholarships specifically for football, gymnastics, and skateboarding. The same assessment process applies.
Places for Year 7 are offered in early February in the year of entry. If your daughter is successful in gaining a place and you would like to accept, you will need to complete a parent contract, a direct debit form, and pay a deposit of £500 (refundable when your daughter leaves the school). You will then be invited to a welcome day in June.
Brighton Girls Early Doors
Brighton Girls offers a unique admissions process for girls in Year 5 known as Early Doors, which has been designed to take the pressure off applying for Year 7 entry in Year 6. The main steps of the Early Doors process are as follows:
Visit: Attend tours, taster, and meet the head opportunities at Brighton Girls.

Apply: For entry to Year 7 in February 2024, the deadline will be in February 2023.

Interview: Brighton Girls will arrange for your daughter to have an interview with the head, and they will take up references from your child's current school.

Testing: Your daughter will be invited to take part in an assessment day in March 2023.

Offers: Conditional offers will be made for 11 plus entry in 2024 at the end of March 2023. Applicants who are awarded firm or conditional places will then be able to apply for scholarships prior to September 2024 entry in the usual timetable.

Acceptance: All acceptances and associated documents will need to be returned by the end of April 2023.

Visit: Pupils who have accepted a place will be invited to take part in special school events and activities held throughout the year.

Scholarships: Academic scholarships can be applied for in the autumn term of 2023. Temple scholarships have their own criteria and application forms – these deadlines will be published in autumn 2023.
Brighton Girls 11 plus exam
Candidates for Year 7 entry to Brighton Girls take four test papers at an assessment day in December, the year before entry:
How to help your child prepare for the selection process at Brighton Girls
Build foundational knowledge
The 11 plus exam at Brighton Girls' assesses candidates' knowledge and application of the Key Stage 2 national curriculum with questions in English and maths, and beyond anything they may already learn at school with questions in verbal and non-verbal reasoning.
Your child can consolidate everything they need to know, and learn new skills, with Atom Nucleus – you'll get access to over 90,000 teacher-created questions and helpful learning resources that span the four subjects.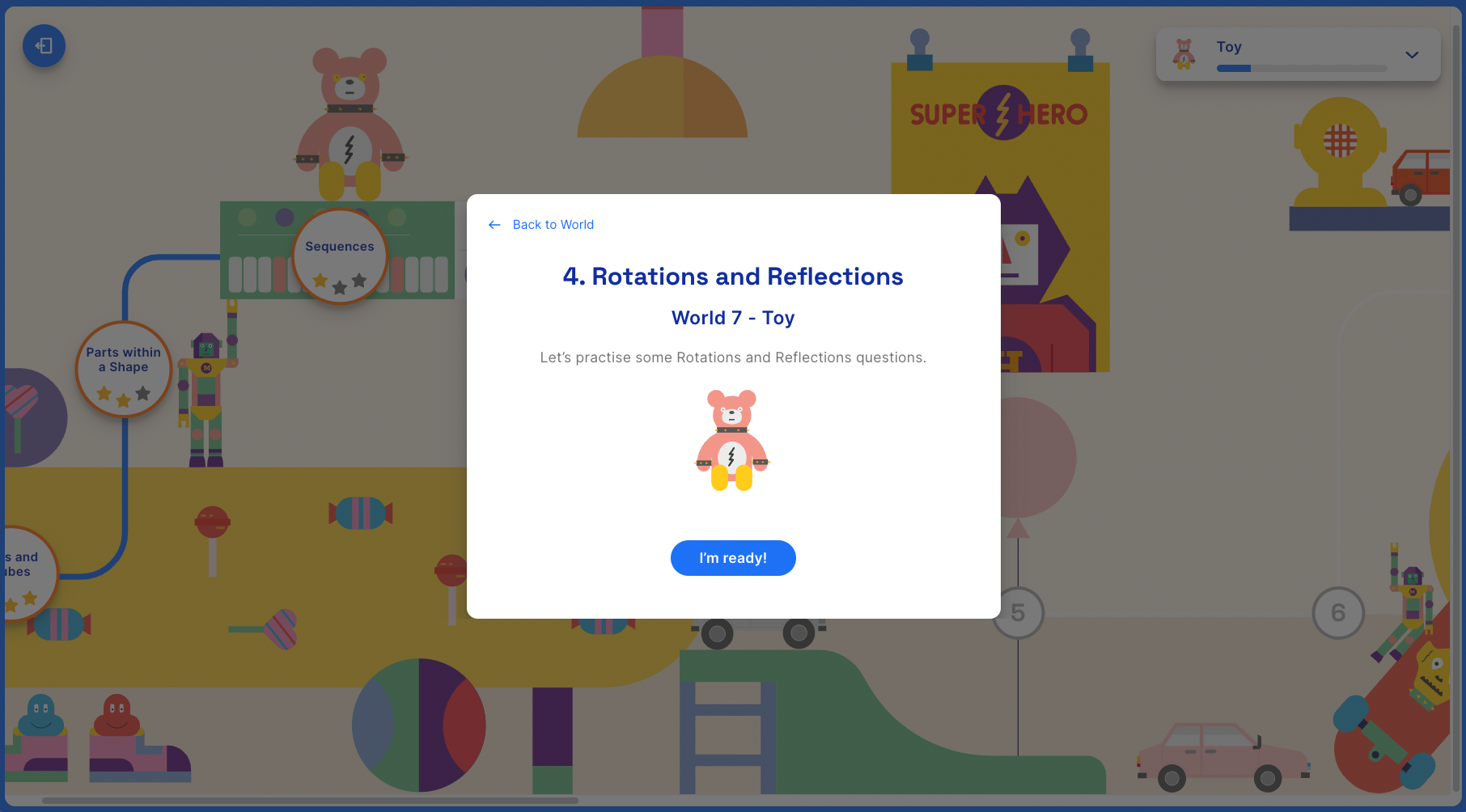 Preparation is key
Familiarisation with the question formats and known styles ahead of the exam is essential to help your child build exam confidence. An exam preparation subscription with Atom Nucleus enables your child to access quality, unlimited practice material with full score breakdowns to help your child feel confident by the time the exam day comes around.
Atom Nucleus provides subscribers with access to unlimited online practice tests in Key Stage 2 English and maths, as well as verbal reasoning and non-verbal reasoning, helping them tackle exam-style questions, build time-management skills, and develop academic confidence ahead of the exam.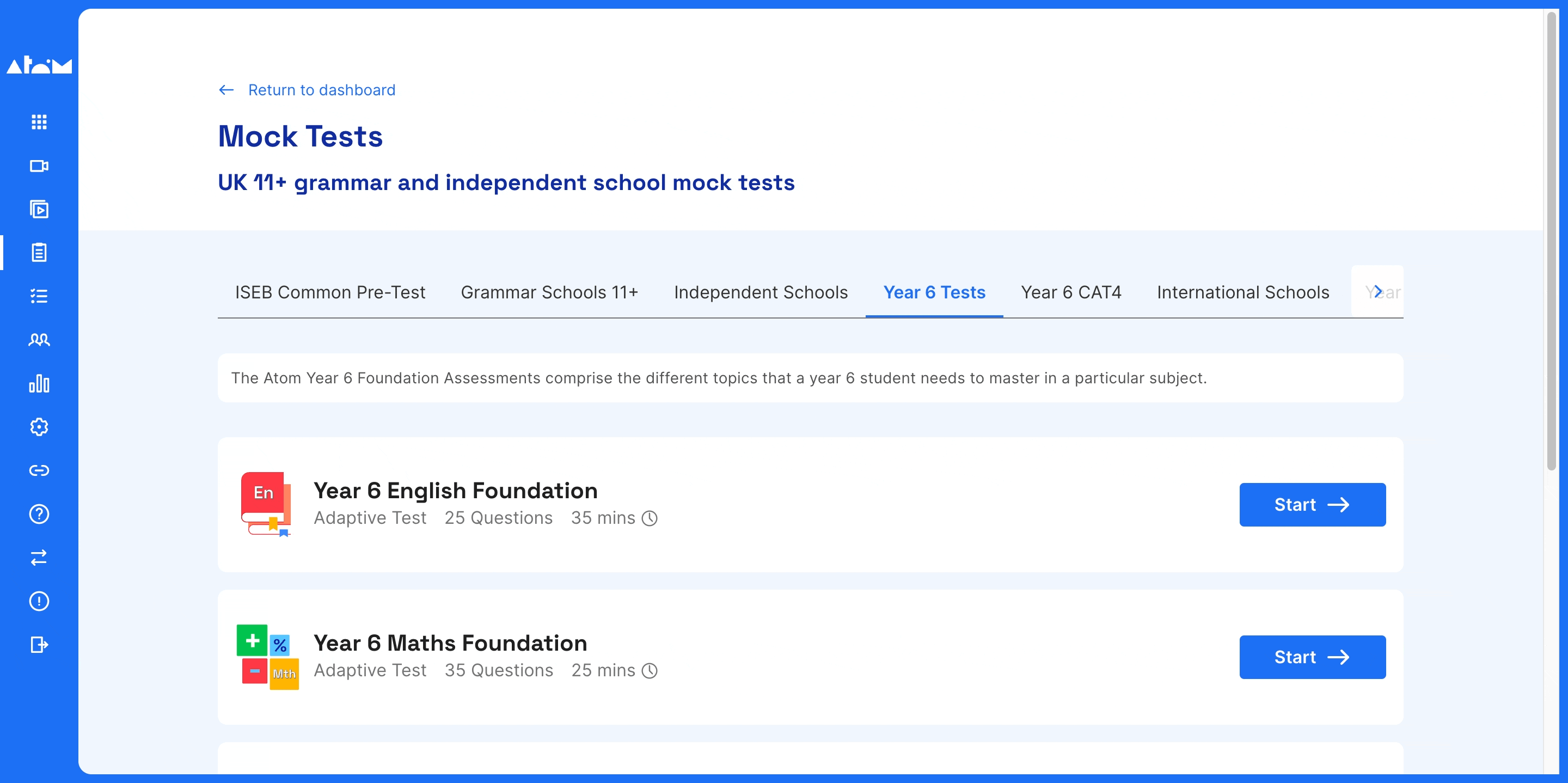 When working through challenging topics, your child will need immediate clarity with any misconceptions so that they feel truly secure in every topic. Atom Nucleus includes video tutorials, help sheets and examples with every question to help your child build confidence and competence across all the areas assessed.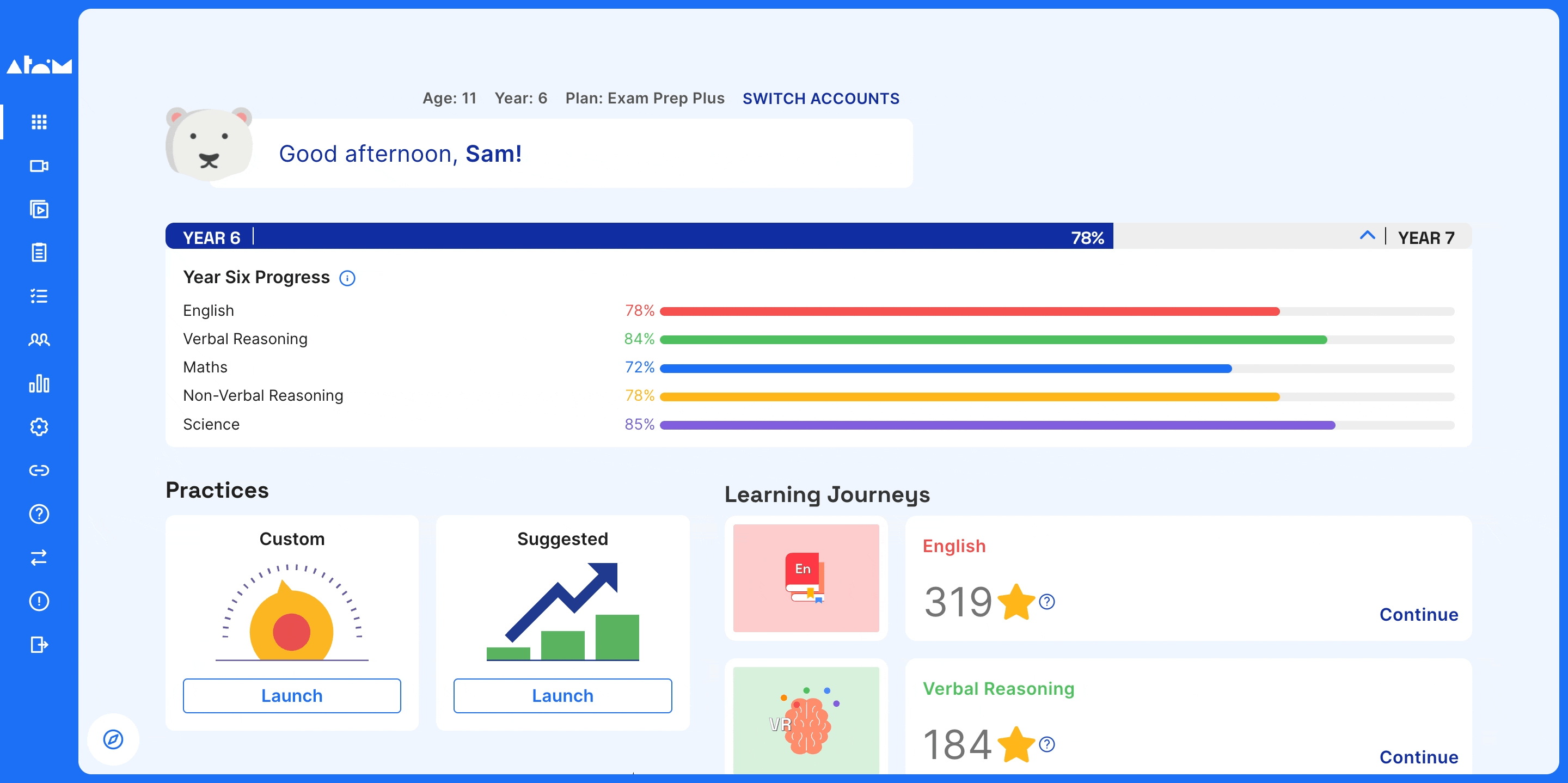 Engage with their progress
Celebrate your child's improvement in areas of challenge together. An accurate and ongoing assessment of their areas of strength and development is helpful.
As an Atom subscriber, you'll have a parent dashboard which offers data-driven insights into your child's progress. You can use this effectively to help your child set targets, see a detailed breakdown of their progress by subtopic and set custom practices to target those they find most challenging.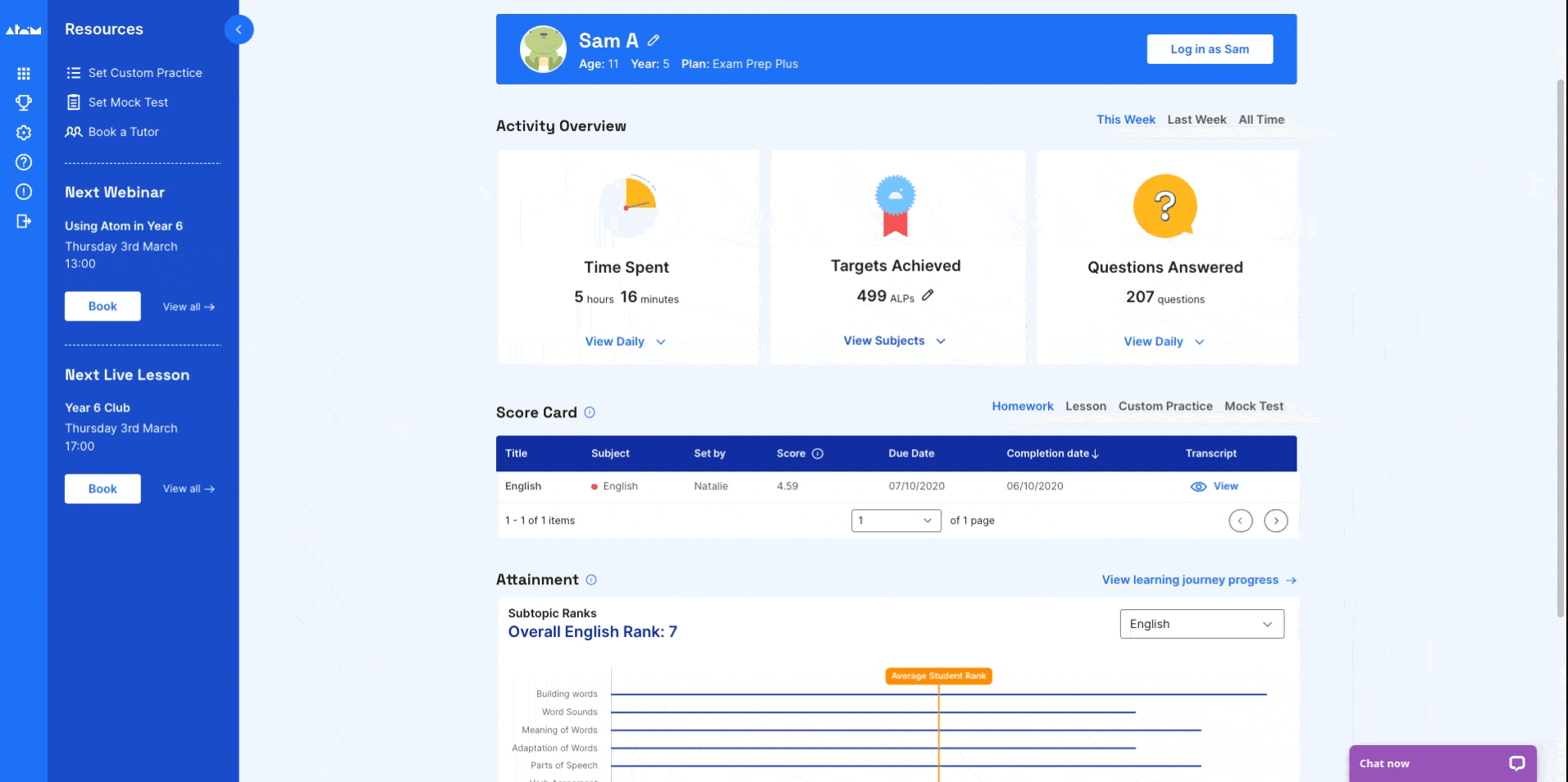 ---
Get started with Atom Learning
It's our mission to help your child feel prepared and confident before the exam day. Begin your free 5-day free trial of Nucleus today to help your child succeed.
We know how crucial this time is, so our team is on hand to support you and your family every step of the way. You can book a call with one of our Education Experts to ask any questions you might have about 11 plus entry to Brighton Girls:
If you're looking for exclusive tips and resources to help your child master key subjects, excel in exams and build academic confidence, join Atom's email list:

Parent WhatsApp groups
Preparing for entrance exams in 2023? Why not join our Exam Preparation group on WhatsApp? Get access to free resources and advice, and ask our Education Experts any questions you have about the admissions process and your child's upcoming exams.