Emanuel School is an independent day school for boys and girls aged 10–18 in South West London. The school was originally founded by Lady Anne Dacre – cousin of Queen Elizabeth I – in 1594 in Westminster, before moving to its current site on the edge of Wandsworth Common in 1883.
Pupils at Emanuel School enjoy a wealth of co-curricular activities alongside their curriculum, with opportunities in art and design, drama, music and sport. The Duke of Edinburgh Award is extremely popular in the middle school (Years 10–11), while the newly established series of Goddard Lectures offer pupils an opportunity to hear from individuals who are experts in their field.
Emanuel School is committed to charity work and outreach. The school's Primary Ambitions partnership sees Emanuel students work with pupils at 25 local primaries, delivering lessons and activities that the primary pupils may not otherwise be able to enjoy. In 2021, the school was awarded Independent School of the Year for community outreach by the Independent School Parent.
Key information for Emanuel School
Headteacher: Robert Milne

Address: Emanuel School, Battersea Rise, London SW11 1HS

London borough: Wandsworth

Admissions contact: Mrs L Walker – [email protected], 020 8870 4171

Age range and gender: 10–18 (co-educational)

Number of pupils: 1,050

Number of places in Year 7: 144 (96 places for external applicants, joined by 48 who move up from the school's Year 6 cohort)

Ratio of applicants to places: 10:1

Open day date: Thursday 23rd June and Saturday 17th September 2022

Overview of selection procedure for Year 7 entry: Entrance exams, headteacher's reference, school reports and interview

Registration opens: June 2022 (exact date TBC)

Registration closes: October 2022 (exact date TBC)

Assessment date for Year 7 entry: TBC

Scholarship assessment date: TBC
Emanuel School fees and financial assistance
The fees for Emanuel School in 2022-23 are £7,151 per term.
Emanuel School is committed to widening access by offering fee assistance (bursaries). The level of fee-remission is means-tested and dependent on financial need, but it can be up to 100% of the school fees (including the cost of school lunches and uniform). Only families with an annual household income of less than £70,000 would normally qualify for a bursary, although this threshold increases by £15,000 for each child studying at Emanuel School.
Emanuel School also offers scholarships to pupils who demonstrate talent in academia, art, drama, music and sport. All scholarships are worth up to a 10% reduction in the school fees (or 25% in exceptional circumstances) and can be supplemented with a bursary, dependent on financial need. Music scholars will also receive free tuition on two instruments up to a maximum value of £1,500 per year. It is possible for a student to hold more than one scholarship.
Emanuel School term dates
The 2022-23 term dates for Emanuel School are:
Autumn term: 2nd September – 15th December 2022

Half term: 17th – 28th October 2022

Spring term: 10th January –24th March 2023

Half term: 13th – 17th February 2023

Summer term: 17th April – 7th July 2023

Half term: 29th May – 2nd June 2023
Admissions process for Emanuel School
If you would like to register your child for a place at Emanuel School for Year 7 entry in 2023, you will need to complete the online registration form. This will open in June 2022 and the deadline will be October 2022. A registration fee of £155 will need to be paid at the time of submitting the form – if your annual household income is less than £26,000, this fee may be waived.
Applications for bursaries and scholarships will open in September 2022. The deadline for these forms will be in November and all applicants will need to submit their Year 5 school report by the same date.
All applicants to Emanuel School will sit the 11 plus entrance exam (date TBC), which consists of papers in English, maths and verbal reasoning. Candidates will also have a short interview with a member of staff.
Scholarship applicants will need to undergo the following additional processes:
Academic Scholarships: all children who sit the entrance exam will automatically be considered for an Academic Scholarship – a separate application is not required.

Art Scholarships: candidates will need to submit a physical portfolio of their work. Shortlisted candidates will be invited to Emanuel School for an Art Scholarship assessment day in January 2023, which will consist of a series of observational drawing exercises.

Drama Scholarships: candidates will need to submit a statement of interest about why they would like to be a drama scholar and a theatre review (maximum 500 words each). Shortlisted candidates will then be invited to an audition at Emanuel School in January 2023, where they will perform a short monologue in front of other candidates and take part in a series of group improvisation exercises.

Music Scholarships: 11 plus music scholarship applicants will be invited to an open day at Emanuel School in early January 2023, following which a shortlist will be contacted to attend an audition. Each candidate will be asked to play one piece on their principal instrument (most candidates will be expected to offer at least two instruments as part of their application). Candidates may also undergo aural tests and sight-reading.

Sports Scholarships: candidates will need to submit an application form which details the teams/squads they are involved in and include a reference from their sports coach. Selected Sports Scholarship candidates will then be invited to an assessment day at Emanuel School where they will be tested on their sport-specific skills and athletic potential.
Offer letters will be sent to parents in mid-February 2023.
Emanuel School entrance exam format
All candidates for Year 7 entry to Emanuel School will take three test papers:
English (1 hour): reading comprehension and writing composition.

Maths (1 hour): non-calculator paper covering the skills and knowledge taught in the Key Stage 2 national curriculum. This includes number skills, fractions and ratios, decimals, shapes, units and data. A full topic list is available on Emanuel School's website.

Verbal reasoning (45 minutes): questions based on papers by GL Assessments.
You may find the following resources helpful:
How to help your child prepare for the selection process at Emanuel School
Build foundational knowledge
As the entrance exam for Emanuel School will include Key Stage 2 National Curriculum content in English and maths, make sure that your child is familiar with everything they have covered in these subject areas at school.
Atom Nucleus, our online platform for home, covers the entire KS2 core curriculum – meaning your child can get ahead and start learning Year 6 content. Our adaptive platform teaches pupils in an interactive, engaging way: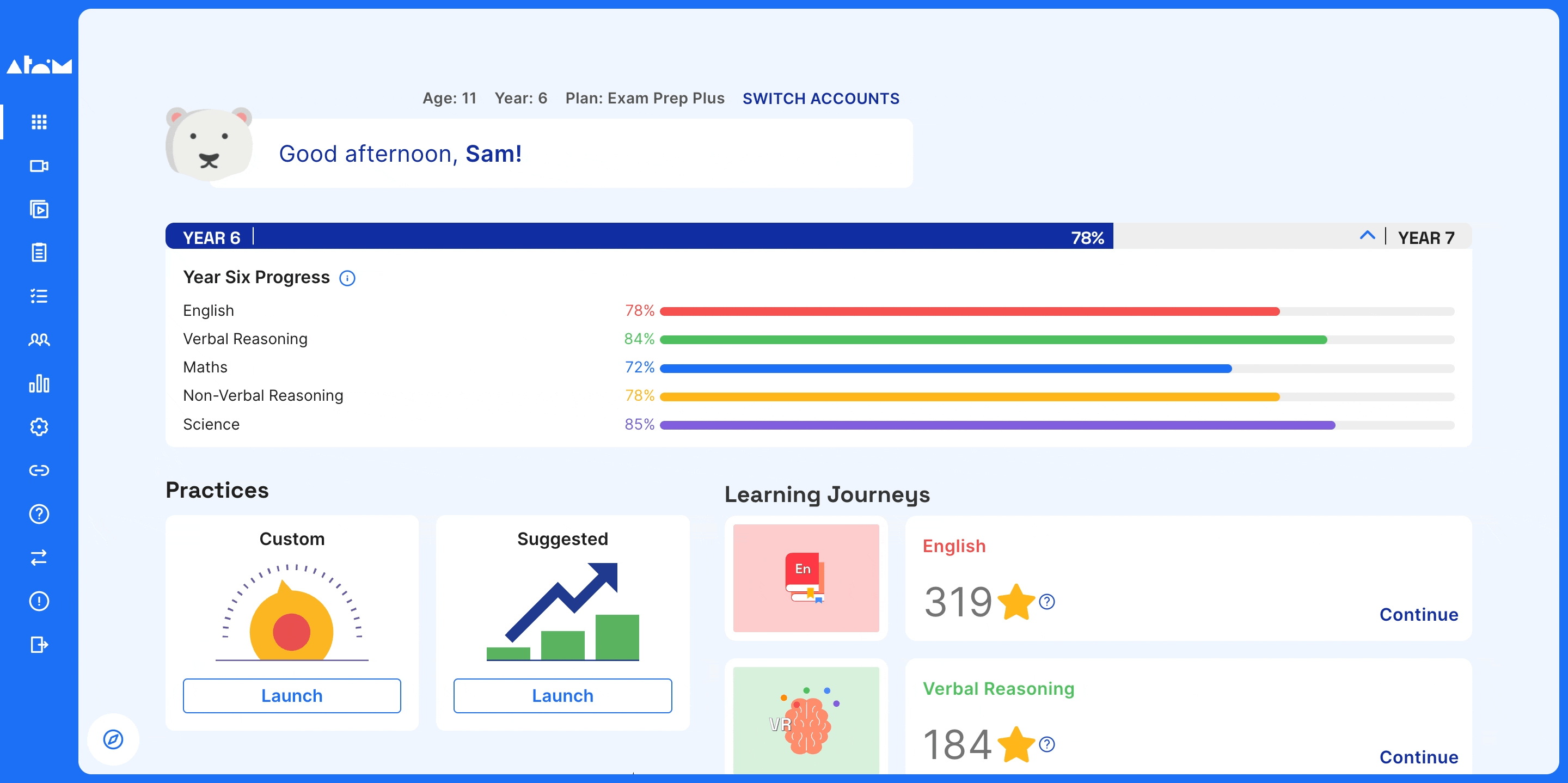 Preparation is key
The entrance exam at Emanuel School also includes verbal reasoning. This type of content is not taught in Key Stage 2, so it's essential that your child understands the style of the questions and how to answer them before putting them into practice with a mock test.
Your child can explore all the possible verbal reasoning question styles on Atom Nucleus (and you will be able to track their progress and identify areas for improvement on your own Parent Portal). After your child has completed the verbal reasoning learning journey, they will be able to put their knowledge into practice with unlimited mock tests:
Engage with their progress
Celebrate your child's improvement in areas of challenge together. An accurate and ongoing assessment of their areas of strength and development is helpful. Atom's Parent Portal offers data-driven insights into your child's progress to help you prepare effectively, including targets achieved, a detailed breakdown of progress by subtopic and the ability to set custom practices to target your child's most challenging subtopics.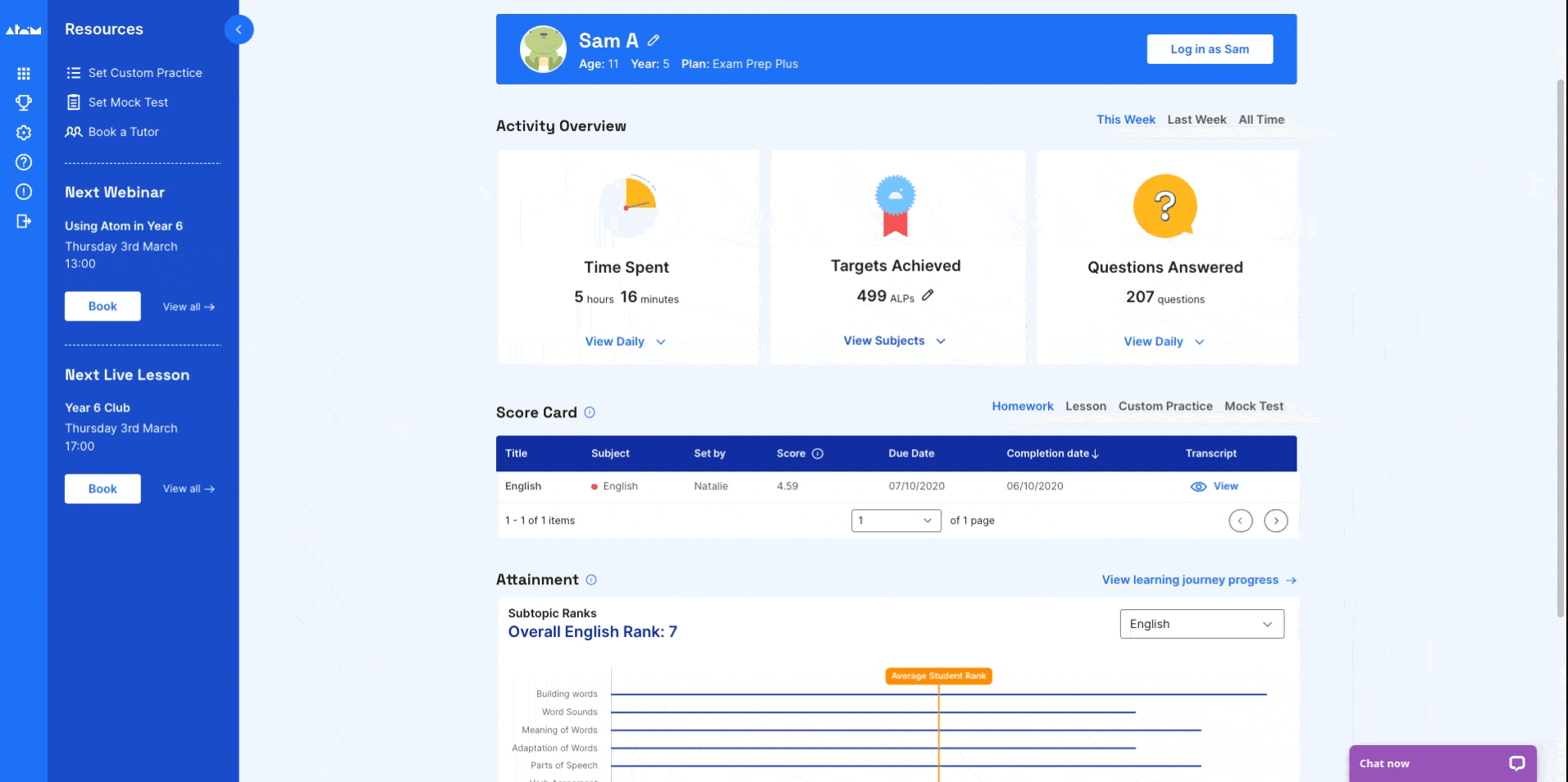 ---
Atom Learning can help
We have over 90,000 teacher-written practice questions, video tutorials, help sheets, live exam preparation courses and unlimited mock tests that mirror the format of Emanuel School's 11 plus entrance exam. It's our mission to help your child feel prepared and confident on exam day.
Begin your free 5-day trial of Nucleus today to unlock success in the classroom, entrance exams and more.
We know how crucial this time is, so our team is on hand to support you and your family every step of the way. You can book a call with one of our Education Experts to ask any questions you might have about Year 7 entry to Emanuel School:
If you're looking for exclusive tips and resources to help your child master key subjects, excel in exams and build academic confidence, join Atom's email list: