Highgate School is a co-educational independent day school in North London. Located near Archway and Highgate tube stations on the Northern Line and on the doorstep of Hampstead Heath, the school educates over 1,400 children aged 3–18 in three sections (pre-preparatory, junior and senior school).
The school was founded over 450 years ago in 1565 as a boys' school, by Sir Roger Cholmeley, a 'well beloved and faithful subject' of Queen Elizabeth I. Famous alumni include poets laureate Nicholas Rowe and John Betjeman (the latter taught by TS Eliot during his tenure teaching at the junior school), and mathematician John Venn (creator of the Venn diagram). The school became co-educational in 2004.
In 2019, Highgate School won the Independent School of the Year Awards, and the following year was awarded Independent School of the Year 2020 at the TES Awards. In 2021, it was announced as the Sunday Times London Independent School of the Decade. Academic results are consistently stellar with 96% achieving grades 7–9 at GCSE and 91% A–A* at A level in 2021. Alumni routinely progress onto degree courses at Russell Group universities and Oxbridge.
Pupil wellbeing is at the heart of Highgate School's ethos. There is a dedicated wellbeing team and staff aim to ensure pupils feel safe, happy, supported and welcomed in the school community. Most teaching takes place on the school's North Road site, where Victorian buildings sit alongside modern facilities including a 200-seat auditorium and dedicated recital space, science labs, modern language classrooms, and ICT suites.
Pupils are encouraged to discover their extracurricular interests with over 150 activities and clubs to choose from, 30 specialist sports coaches, excellent facilities and a programme of local, national and international trips.
Key information for Highgate School
Headteacher: Adam Pettitt

Address: Highgate School, North Road, London N6 4AY

London Borough: Haringey

Admission contact: [email protected], 020 8347 3564

Age range and gender: 3–18, co-educational

Number of pupils: 1,400 (approx.)

Number of places in Year 7: 185 (with 105 reserved for Highgate Junior School pupils)

Ratio of applicants to places: Undisclosed

Open day dates: Saturday 8th October 2022 (morning) – register your interest here

Overview of selection procedure for Year 7 entry in 2023: Exam, interview, reference

Registration opens: Summer 2022 – apply online

Registration closes: Wednesday 9th November 2022 at noon

Assessment date for Year 7 entry in 2023: Monday 5th December 2022

Interview date for Year 7 entry in 2023: Monday 16th–Friday 20th January 2023

Result of application emailed to parents: 10th February 2023
Highgate School fees and financial assistance
The current fees for Highgate Senior School are £7,840 per term, £23,520 per annum. This includes lunch, books, stationary, and any compulsory field work or day visits that take place during school time. When accepting a place at Highgate School a deposit of £4,000 is payable, which is retained until the child leaves the school.
What's not included in the school fees
The fees do not include the entry fees for public exams (GCSE and A level).
Individual music lessons are charged at £328 per term for 35 minutes, and £469 per term for 50 minutes. Instrument hire is £85 per term.
Highgate School bursaries
Highgate School offers substantial means-tested fee-assisted places. There are currently 88 bursary holders in the senior school, most receiving awards to cover 90–100% of their fees. Bursary applications are judged taking into account:
Highgate is unlikely to award a bursary if the family gross income is more than four times the annual school fees, or if the family have lived abroad within the last two years. If you wish to apply for a bursary, you must make this clear on your application form, which must be submitted by Wednesday 9th November at 12 noon.
Your application will be acknowledged and the school will send you a financial assessment form and guidance about its completion. The financial assessment form must be returned to the school before the entrance exams on Monday 5th December 2022.
If your child is invited to an interview, you will be contacted by a member of the admissions team to arrange a meeting. They will review your completed financial assessment form and require copies of various financial documents.
Highgate School scholarships and awards
Academic scholarships at Highgate School are honorary and do not bring with them any financial reward. Highgate School does not award academic scholarships until the end of Year 7. Usually six academic scholarships will be awarded to children coming from other schools and six to children who have come up from the junior school.
Two further scholarships are awarded at the end of Years 8, 9 and 10 on the basis of exam results, classwork and homework, and teachers' assessment of effort and performance. There are also a small number of lesser awards, Academic Exhibitions, awarded at the end of each year.
Music awards are available for children joining the school in Year 7 of up to 20% of school fees and free tuition on two instruments. Parents must fill in a music award application form (which will be available on the admissions page) and submit it along with their school application form by 9th November.
Highgate School term dates
The term dates at Highgate School for 2022–23 are:
Michaelmas (autumn) term: 5th September – 16th December 2022

Half term: 17th – 28th October 2022

Lent (spring) term: 9th January – 31st March 2023

Half term: 13th–17th February 2023

Summer term: 19th April – 7th July 2023

Half term: 29th May – 2nd June 2023
Admissions process for Year 7 entry to Highgate School
1. Registration
If you would like to register your child for Year 7 entry to Highgate Senior School in 2023, you'll need to complete the online application form before the deadline of 12 noon on 9th November 2022 (while your child is in Year 6). Applications open in summer 2022. The fee for each application is £150 and is non-refundable, although bursary applicants with a household income of under £30,000 do not need to pay the full application fee.
If you wish to apply for a music award, this application form must also be submitted at the same time. If you wish to apply for a bursary, you will need to indicate this on your application form.
Once you've submitted the application form and fee, you'll receive an acknowledgement and your child will be registered for the entrance exam. The school will also request a confidential reference from the headteacher of your child's current school.
2. Exam
Your child will be invited to sit the entrance exam on Monday 5th December 2022. The entrance exam is unique to Highgate School and covers English, maths, and non-verbal reasoning. Learn more about how to prepare below.
3. Activities and interviews
Based on the results of the entrance exam and prep/primary school references, a large proportion of children are invited back for the second stage of assessment. This stage consists of a group interview where children complete a problem and take part in a creative project as part of a small team, as well as a practical taster lesson. As well as enabling the school to get to know your child further, your child will get a taste of school life and learn more about what to expect.
This is not a second academic test, but is a factor in the selection process. The group interviews test children's listening skills, collaboration and problem solving ability. Both during the sessions and at playtimes, the school will be aiming to gauge your child's intellectual curiosity, their instincts and attitudes to co-curricular life, their interpersonal skills and behaviour, to choose those who will most benefit from the Highgate School environment.
Interviews are scheduled for Monday 16th to Friday 20th January 2023.
If your child has applied for a music award, they will be invited to audition around this time. In 2022 the music award auditions took place on 11th and 17th January.
4. Offers
Offer letters are posted to successful candidates on 9th February 2023, with an email sent the following day. Responses must be received and deposits paid by early March. Highgate School sends more offers than there are places available, so it's advised to respond to your offer as quickly as possible.
5. Welcoming new parents and pupils
In June, Highgate School holds a variety of events for new pupils and their families to welcome them and support children to make a smooth transition to secondary school. In August, before the start of term, all Year 7 pupils visit an activity centre for a day of team-building and group activities to support them to form friendships and get to know the staff.
Highgate School entrance exam
The Highgate School entrance exam is done on paper at the school.
What is assessed?
English (45 minutes), consisting of comprehension and analysis (4 questions, 30 minutes); followed by creative writing (1 question, 15 minutes)

Maths (approx. 20 questions, 45 minutes)

Non-verbal reasoning (45 minutes)
There is a short break between each paper.
How to prepare for the Highgate School exam
English
The Highgate School English paper usually consists of 5 questions. The first four cover reading comprehension, and the last is a creative writing exercise.
The 30 minutes allowed for the comprehension section includes the time for your child to read a passage of text, then answer questions about it. The school is looking for the very best candidates to:
Read for explicit and implicit meaning

Analyse how a writer achieves effects through the use of language and grammar features

Identify parts of speech and stylistic devices
15 minutes are allowed for the creative writing section. There will be a prompt, and the examiners will be looking for your child to:
Express themselves with concession and precision

Respond to a task with creativity and ambition

Have a secure grasp of spelling, punctuation and grammar

Employ a range of vocabulary
Get tips for preparing for creative writing exams here.
Maths
The Highgate School maths paper covers topics taught in the key stage 2 national curriculum. The school is looking for pupils who have a secure knowledge of arithmetic, a clear understanding of the concepts covered in key stage 2, and a confident control of the associated mathematical techniques.
There is a mix of short questions and longer ones. To get top marks, some questions will require children to explain their reasoning in writing.
Topics covered:
Number: place value, properties of numbers, positive and negative integers, fractions, decimals and percentages

Calculations: pencil and paper procedures, estimation and approximation, checking results

Solving problems using appropriate operations

Shape and space: shapes, lines and angles, perimeter and area
A limited selection of familiarisation papers for maths and English are available on Highgate School's website. Familiarisation papers are a useful tool to help your child know what format to expect on exam day.
Non-verbal reasoning
For their non-verbal reasoning paper, Highgate School uses GL Assessments. Find example GL non-verbal reasoning questions here, and learn how to prepare for non-verbal reasoning exams here.
If you're looking for a fun and effective way for your child to prepare for the Highgate School entrance exam, try Atom Nucleus. It's an online learning platform with 90,000+ interactive questions, helpsheets and videos so your child can work independently.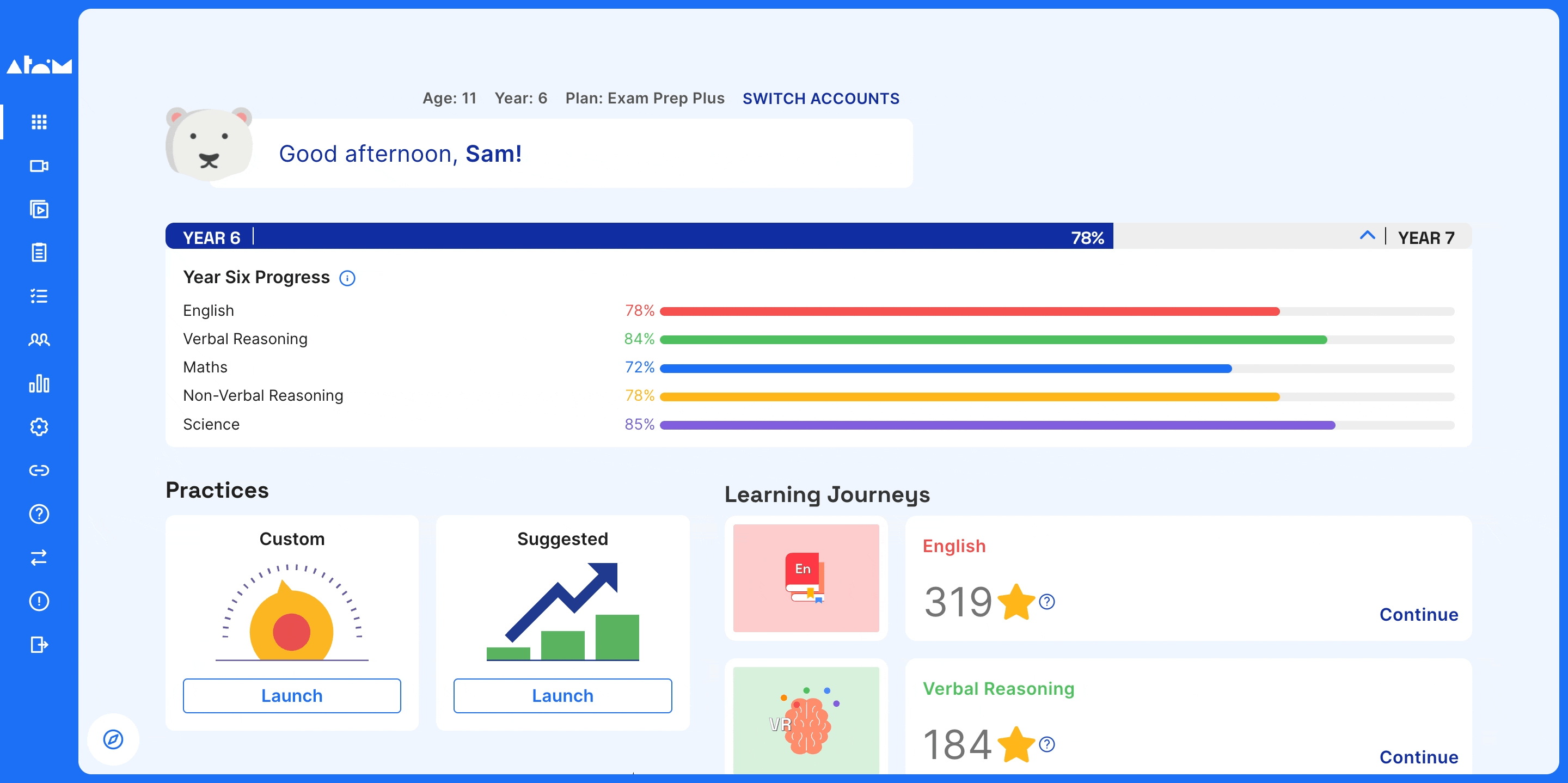 Plus, your Atom Nucleus subscription includes unlimited practice papers.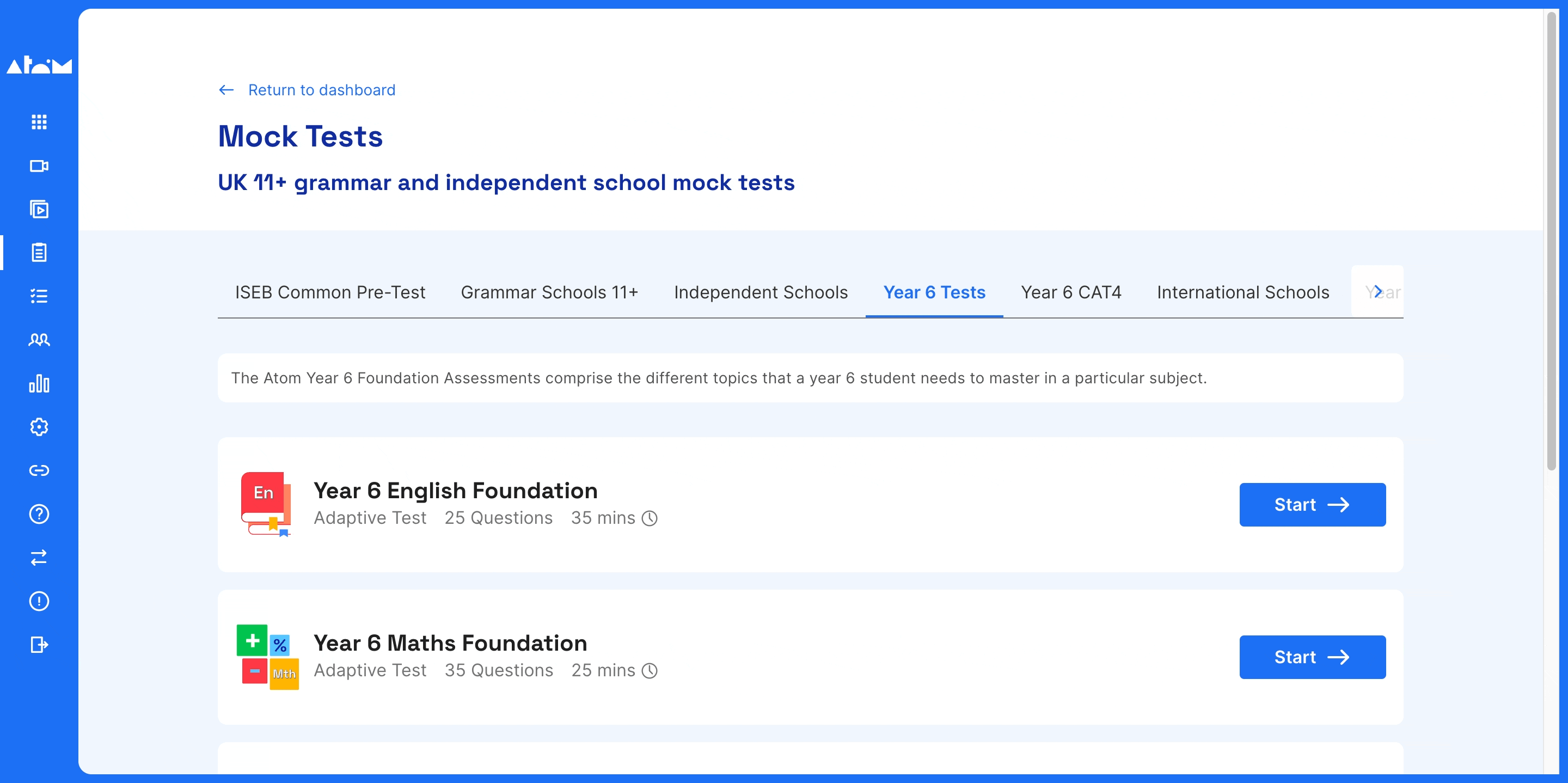 Atom's algorithm adapts to your child, keeping them challenged, motivated and on track to master all the English, maths, and reasoning topics they need for school entrance exams. Check their progress at a glance from your parent dashboard, and see how they're performing against peers.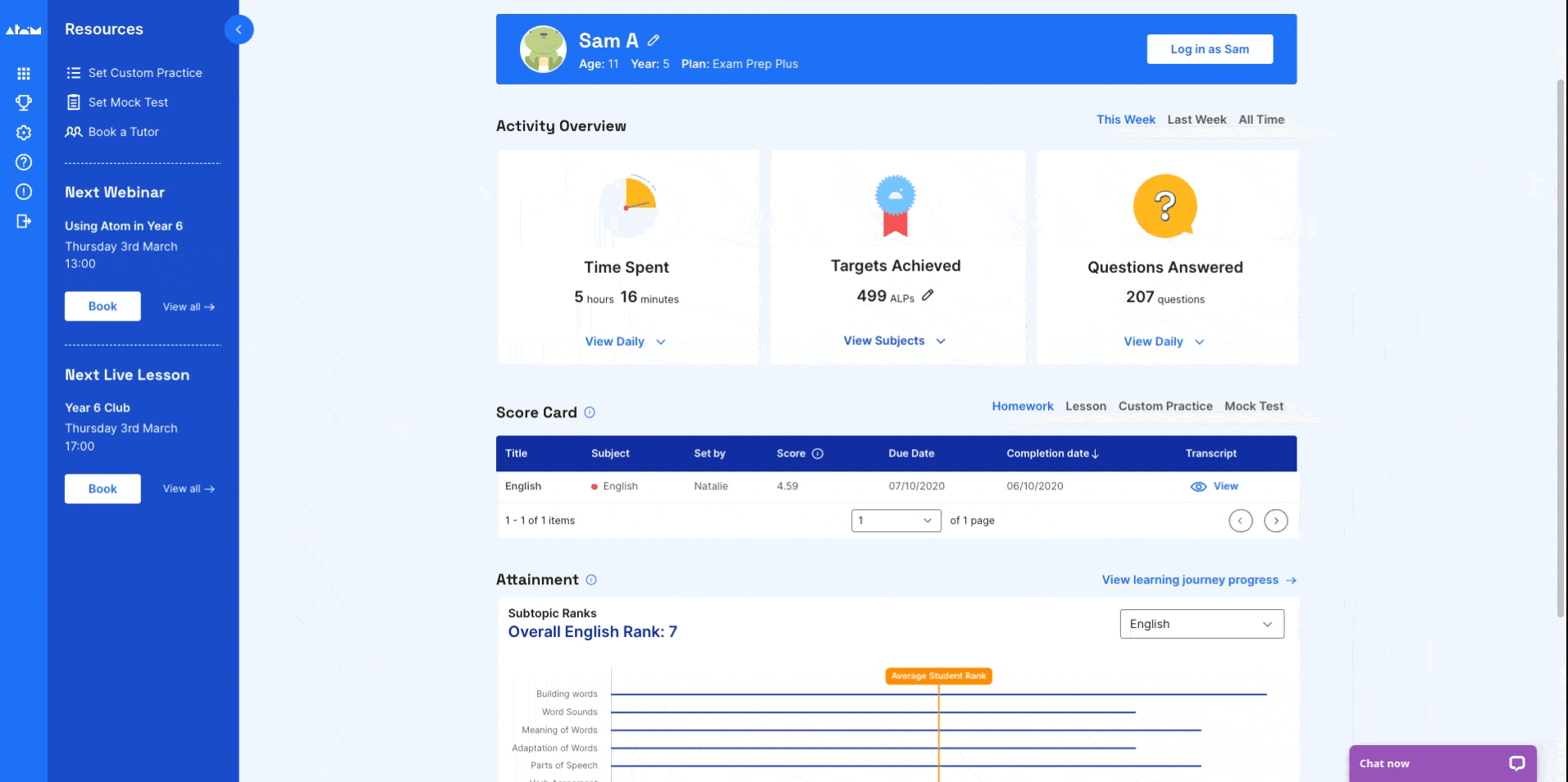 Start your free 5-day free trial of Nucleus today to start your child's journey to success in the Highgate School exam.
---
Our Education Experts are on hand to support you. You can speak with us using the LiveChat icon on the bottom right of your screen, or by calling 020 3973 9226.
If you're looking for exclusive tips and resources to help your child master key subjects, excel in exams and build academic confidence, join Atom's email list: