Hymers College is an independent co-educational day school in Kingston upon Hull in the East Riding of Yorkshire, educating about 950 pupils from age 8 to sixth form. The school was founded in the 1890s after the death of Reverend Dr John Hymers, who left money in his will for the founding of a local school. It was initially open to boys, and from the 1970s onwards started to include girls, becoming fully co-educational in 1989.
Offering historic heritage combined with modern facilities, the school's campus is situated in 45 acres of beautiful grounds on the site of the old Botanical Gardens in central Hull. Facilities include a specialist art and design centre, IT centre, a theatre, music school, new science labs and a full suite of sports facilities including pool and gym.
Hymers College academic results live up to the school motto of 'high merit, high reward'. In 2021, 64.8% of GCSE grades were 9–7 (A*/A), and 42.5% A–A* at A level. The school's ethos encourages pupils to be intellectually curious, act with integrity, and show a sense of responsibility to their local communities and the world beyond. All year groups work together on projects to raise money for local, national and worldwide charities, and it is the only independent school in the country to be a training provider for the National Citizen Scheme.
Key information for Hymers College
Hymers College fees and financial assistance
The current tuition fees for the senior school at Hymers College are £4,344 per term (£13,032 per annum). Hymers College operates a fee remission scheme to provide bursaries which enable children to attend the school when parents are unable to pay the full fees. Financial support up to the full value of tuition fees may be available, dependent on the child's academic ability and an assessment of the family's income and assets.
Hymers College devotes 12% of its overall income to bursaries. According to the school's website, as a guide, if your household income (including employed and self-employed income) is below circa £58,000 per year, you may be eligible for some fee assistance. If family income is below £19,000 per year, you may not need to pay any tuition fees.
To apply for a school place under the fee remission scheme, tick the relevant box on the school application form. Hymers College does not offer scholarships.

Hymers College term dates
The term dates at Hymers College for 2022–23 are:
Autumn term: 7th September – 15th December 2022

Half term: 21st–31st October 2022

Spring term: 5th January – 31st March 2023

Half term: 13th–17th February 2023

Summer term: 17th April – 7th July 2023

Half term: 29th May –2nd June 2023
Admissions process for Year 7 entry to Hymers College
If you would like to register your child for Year 7 entry to Hymers College, you will need to download the registration form, complete it and return it to [email protected], along with a copy of your child's birth certificate. On the registration form, you can tick a box to indicate whether you would like to apply for a bursary. You are also asked to provide contact details for your child's current school so that Hymers College can obtain a confidential reference.
There is also a non-refundable registration fee of £25 which is payable via bank transfer (the school's bank details are on the registration form). Although no specific deadline date is given, the school's admissions policy states that you will need to register your child by December of the year before entry.
Once you have registered, your child will be invited to sit the Hymers College 11 plus entrance exam. Your child will also have an interview with the headteacher as part of the assessment process.
Hymers College entrance exams
Hymers College is looking for 'intelligent, well-rounded pupils with a genuine interest in education in the broadest sense of the word, with interests that stretch beyond the confines of the academic curriculum.' The entrance tests are designed to assess 'developed academic ability' and the school will also assess your child on the basis of a group problem-solving activity.
Your child will first be invited to sit a dyslexia screening assessment to determine whether they need extra time for the written exams. Following this, they will be invited to the school for the morning to complete computer-based tests in numeracy, vocabulary and reasoning. They will then sit formal written exams in English and maths.
The computer-based tests are administered by CEM (Centre for Evaluation and Monitoring) – you can learn more about CEM 11 plus exams here. These tests assess your child's skills in verbal reasoning, non-verbal reasoning and numerical reasoning.
Verbal reasoning
Verbal reasoning tests your child's ability to solve problems with written information. This will include marks awarded for logical thinking and their knowledge of English vocabulary. Take a look at our guide to 11 plus verbal reasoning for more information about typical questions included in the exam.
Non-verbal reasoning
Non-verbal reasoning involves analysing visual information and solving problems using shapes, diagrams and pictures. Learn more in our top tips for non-verbal reasoning exams, and download free preparation worksheets and questions here.
English
The written English paper may examine your child's skills in:
Children who don't have English as their first language and are applying from abroad are also required to sit an IELTS Test and score 5.5 in all elements.
Maths
The written maths paper is likely to assess your child's knowledge and application of the Key Stage 2 national curriculum. The paper may include questions on the main topics of number, measurement, geometry, algebra, and statistics. For more information, take a look at 11 plus maths: everything you need to know.
How to help your child prepare for the selection process at Hymers College
Build foundational knowledge
The 11 plus exam at Hymers College assesses candidates' knowledge and understanding of the Key Stage 2 national curriculum and beyond, with questions in English, maths and reasoning.
Your child can consolidate everything they know with Atom Nucleus, with over 90,000 teacher-created questions and helpful learning resources that span all the topics your child will need to know and understand in order to succeed in the exam.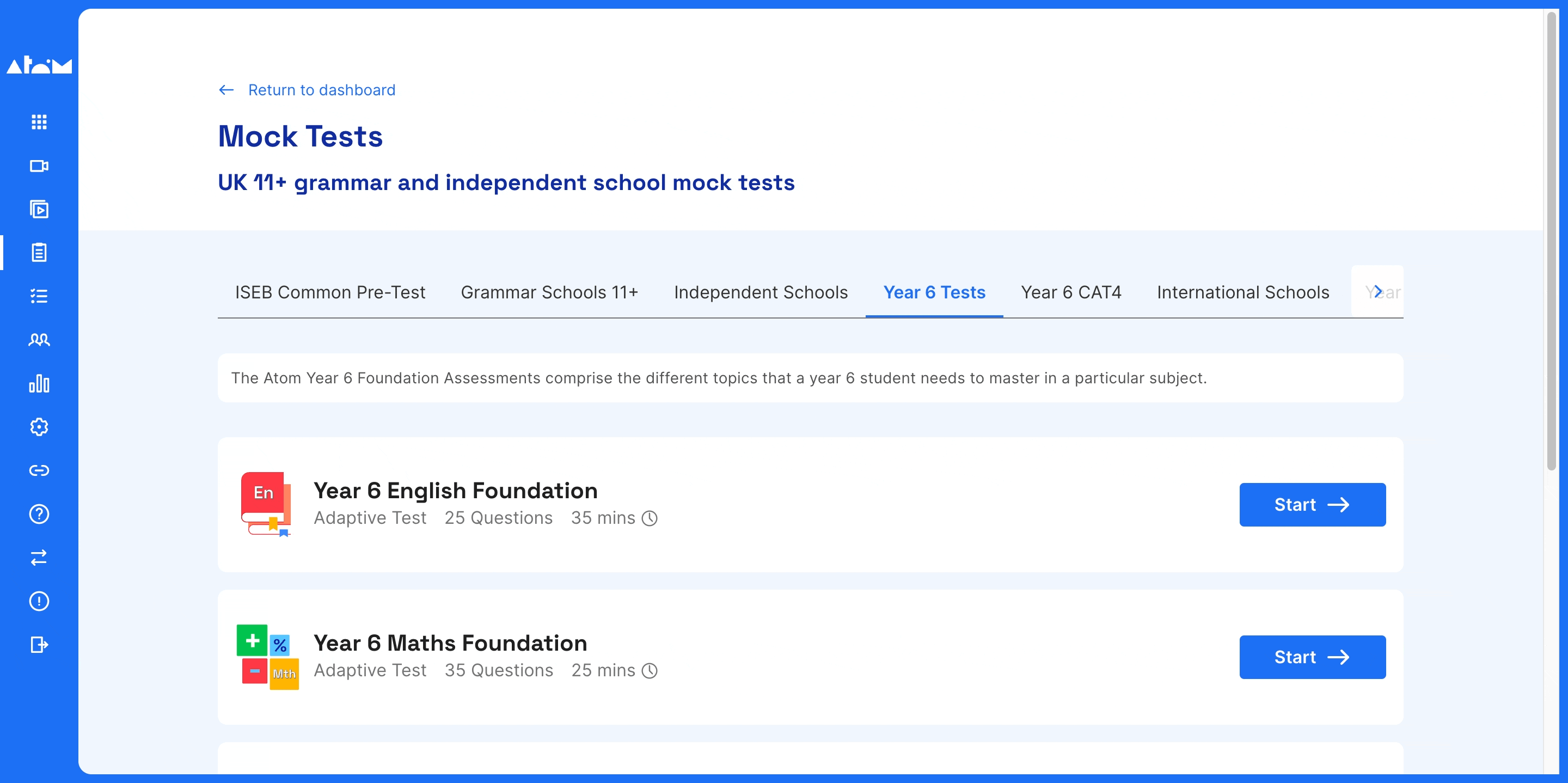 Preparation is key
Familiarisation with the question formats and known styles ahead of the exam is essential to help your child build exam confidence. An exam preparation subscription with Atom Nucleus enables your child to access quality, unlimited practice material with full score breakdowns to help your child feel confident by the time the exam day comes around.
Subscribers have access to unlimited CEM 11 plus mock exams for English, maths and verbal reasoning to develop key time-management skills and get a feel for the types of questions they will encounter on the test day.
When working through challenging topics, your child will need immediate clarity with any misconceptions so that they feel truly secure in every topic. Atom Nucleus includes video tutorials, help sheets and examples with every question to help your child build confidence and competence across all the areas assessed.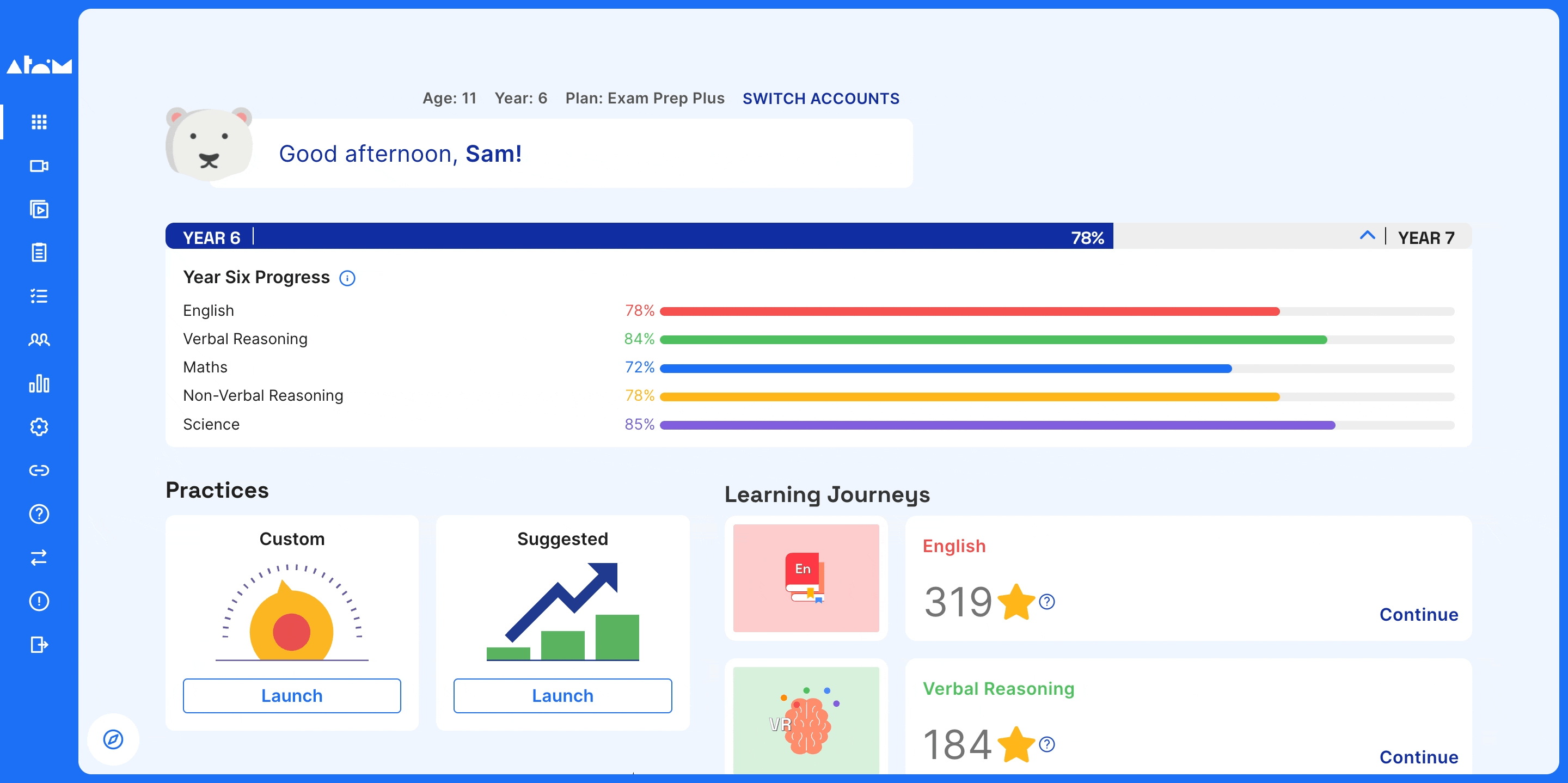 Engage with their progress
Celebrate your child's improvement in areas of challenge together. An accurate and ongoing assessment of their areas of strength and development is helpful.
As an Atom subscriber, you'll have a parent dashboard which offers data-driven insights into your child's progress. You can use this effectively to help your child set targets, see a detailed breakdown of their progress by subtopic and set custom practices to target those they find most challenging.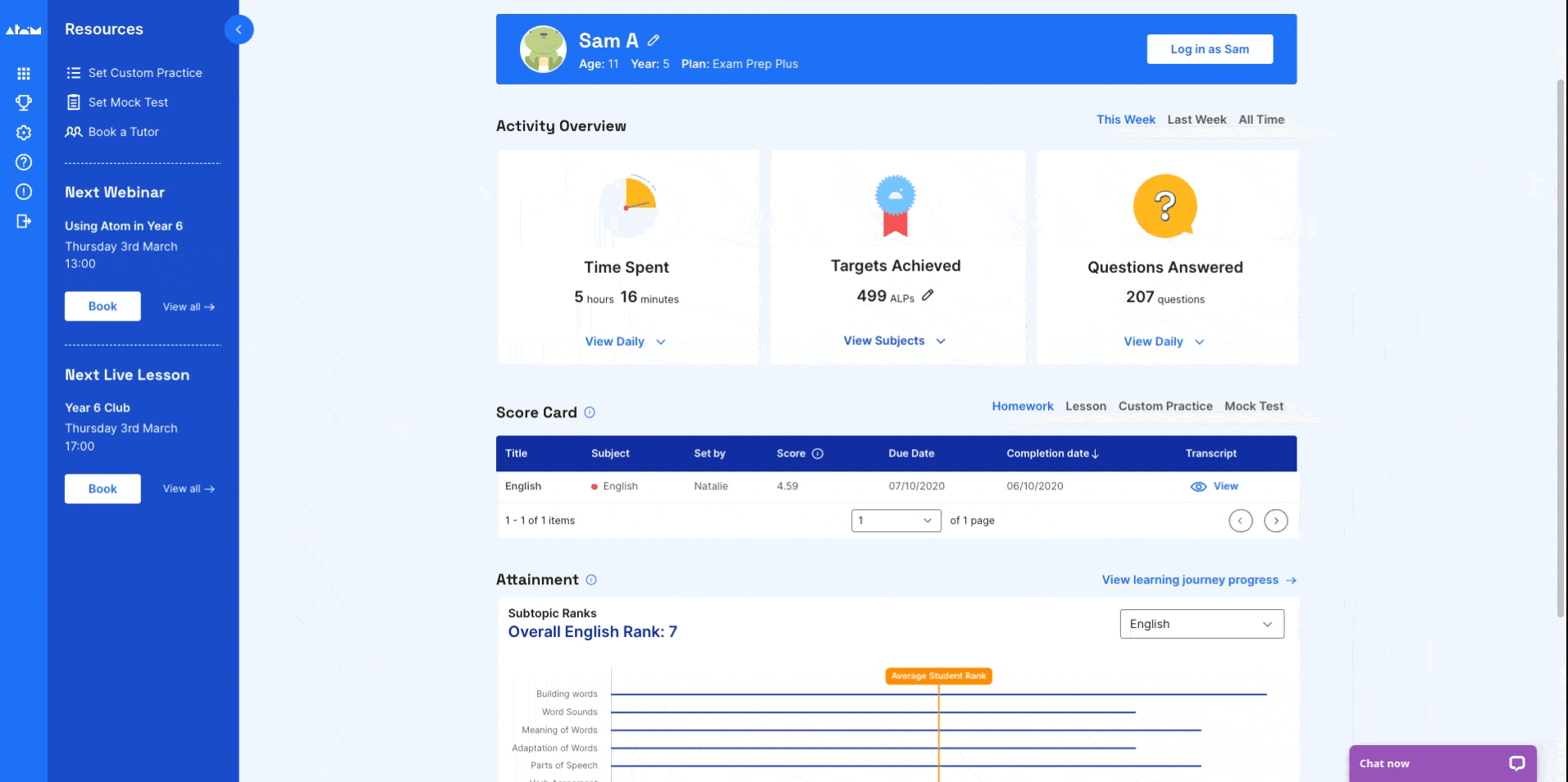 ---
Get started with Atom Learning
It's our mission to help your child feel prepared and confident before the exam day. Begin your free 5-day free trial of Nucleus today to help your child succeed.
We know how crucial this time is, so our team is on hand to support you and your family every step of the way. You can book a call with one of our Education Experts to ask any questions you might have about 11 plus entry to Hymers College:
Parent WhatsApp groups
Preparing for entrance exams in 2023? Why not join our Exam Preparation group on WhatsApp? Get access to free resources and advice, and ask our Education Experts any questions you have about the admissions process and your child's upcoming exams.