The London borough of Kingston upon Thames is home to two grammar schools, both closely linked. The Tiffin Schools were founded in 1880 when plans were drawn up for two schools to cater to 150 boys and 150 girls. 142 years later the schools still stand albeit on a much larger scale, with both accommodating around 1,400 pupils each. Confusingly, there is also Kingston Grammar School – however this is a highly selective, fee-paying independent school.
The Tiffin schools both use the 11 plus in the same format – read on to find out more about the 2022–23 test process, what to expect, and how best to prepare.
Kingston upon Thames Grammar Schools 11 Plus Test at a glance
Registration open: June 2022

Registration closes: 1st September 2022

Exam board: GL Assessment (plus school-written material)

Test dates: Thursday 29th and Friday 30th September (stage one), Thursday 10th November 2022 (stage two)

Results: October 2022

National School Allocation Day: 1st March 2023 (or next working day)

Appeals: contact the schools directly

Admissions information: individual school website
Which schools use the Kingston upon Thames 11 plus test?
The two grammar schools in Kingston upon Thames are academies, meaning their admissions criteria and appeals process will be different from schools under the Local Authority. It is advised you familiarise yourself with the schools' admissions criteria – distance from home to school is a factor for admission.
What is the 11 plus?
Taken in September of Year 6, the 11 plus is an exam that assesses children's academic potential and suitability for grammar schools. Your child must pass the 11 plus to get into selective grammar schools, although passing the test does not guarantee admission to a school. The exam will be taken at the destination grammar school.
How do I register my child for the test?
You have until 12 noon on 1st September 2022 to register your child to sit the 11 plus test for Kingston upon Thames grammar schools. Both of the schools require submission of supplementary information, so it's worth making sure you are aware of each of your target schools' admission procedures ahead of any deadlines.
As both schools participate in the Pan-London Co-ordinated Admissions Scheme, you must also complete an online application form available on the Kingston upon Thames Borough website.
What is covered in the Kingston upon Thames Grammar Schools 11 plus ?
The Tiffin Girls' and Tiffin School's tests are both split into two stages:
Stage 1 comprises multiple-choice English and maths questions.

Stage 2 comprises written English and maths questions.
What is the pass mark for the Kingston upon Thames Grammar Schools 11 plus?
The lowest qualifying scores for the past three years range between 103–106. The schools choose applicants from the top 300 ranking scores. Note that the stage 1 test is for sifting only, and does not contribute to the final decision of an offer of a place. It is only stage 2 test scores that determine your child's ranking.
How competitive is the Kingston upon Thames Grammar Schools 11 plus test?
Around 1,500 students apply for 180 places per school, and only around 450 applicants are invited back for the stage 2 test.
When should I begin preparing my child for the 11 plus?
Usually, the 11 plus preparation journey begins at the end of Year 4 or the beginning of Year 5. This relies on your child exceeding age-related expectations and being ready to begin exam preparation.
How can I help my child prepare for the Kingston upon Thames Grammar Schools 11 plus?
Take a look at these free preparation resources. We've put these together to ensure your child has everything they need to excel in the 11 plus:
Here are some more of our top tips on how to help your child prepare for the 2022 exam:
Build strong foundational knowledge: the 11 plus assesses a large amount of content. Atom Nucleus offers tailored learning journeys, specific to your target school, with over 90,000 teacher-created questions.
Familiarisation is key: Access to quality, unlimited practice material ensures confidence when tackling the test. Practising full-length tests will ensure your child goes into test day feeling confident and prepared to ace their exam!
Atom Nucleus gives your child access to unlimited mock tests that mirror the content, format and structure of the Kingston 11 plus exams.
Access to immediate support: when working through challenging topics, your child will need immediate clarity with their misconceptions.
With Atom Nucleus, give your child access to video tutorials, helpsheets and examples for each question to build confidence and competence in all the areas covered in the Kingston 11 plus exam.
Read widely: expanding your child's vocabulary across traditional and contemporary texts will support their understanding of complex words, standing them in good stead for the English comprehension section of the test. Learn more about engaging your child with reading here.
Engage with their progress: celebrate your child's improvement in their areas of challenge together. An accurate and ongoing assessment of your child's areas of strength and development is helpful.
Atom Nucleus gives you a detailed breakdown of progress by subtopic, compared to the average student in their year: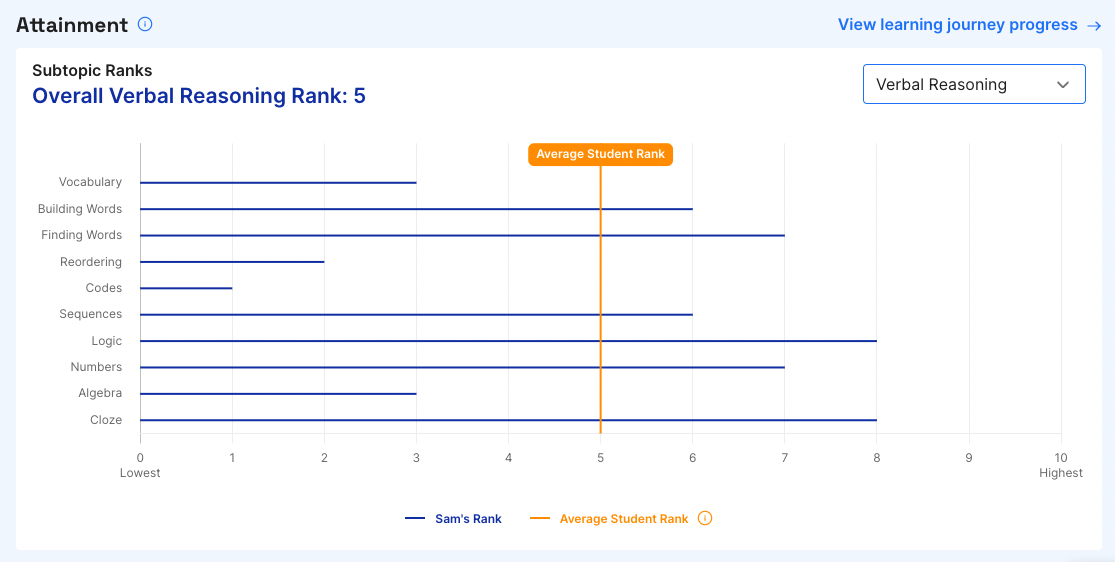 Set Custom Practices to target your child's most challenging subtopics, with functions to personalise timings and question types:
Start your 5-day free trial of Atom Nucleus today and begin your child's fun, personalised 11 plus preparation journey.

---
We know how crucial this time is, so our team is on hand to support you and your family every step of the way.
You can email us any time on [email protected]. Chat with a member of our team by clicking the LiveChat icon in the bottom right of your screen. Or give us a call on 020 3973 9226.
You can also book a call with one of our Education Experts to ask any questions you may have about the Kingston 11 plus:
If you're looking for exclusive tips and resources to help your child master key subjects, excel in exams, and build academic confidence, join Atom's email list: