Leicester Grammar School is a co-educational day school for children aged 10–18. It was founded in 1981 alongside the city cathedral, before moving to a purpose-built 75-acre site in Great Glen, South Leicestershire, which was opened by the late Queen Elizabeth II in 2008.
The school has a track record of academic excellence. It was named the Sunday Times East Midlands Independent Secondary School of the Year in 2020 and received the TES Independent School Award for 'Governing Body of the Year' in 2015. The school's most recent exam results are exceptionally high; in 2022, 91% of A level grades were A*–B and 80.8% of GCSE results were A*/A/9/8/7.
Pastoral care and wellbeing are at the heart of Leicester Grammar School's ethos. Small class sizes mean that every pupil is cared for as an individual, while a joint strategy between the senior and junior schools is in progress to improve the mental health and wellbeing of all children, staff and parents. In 2022, Leicester Grammar School was awarded the Wellbeing Award for Schools for its national standard for positive mental health and emotional wellbeing.
Key information for Leicester Grammar School
Principal: Mr John Watson

Address: Leicester Grammar School, London Road, Great Glen, Leicester, Leicestershire, LE8 9FL

County: Leicestershire

Admissions contact: Mrs Natalie Hunt – [email protected], 0116 2591900

Age range and gender: 3–18, boys and girls

Number of pupils: 1,294

Number of places in Year 7: 120

Open day date: Saturday 8th October 2022

Overview of selection procedure: entrance exam, interview, and school reference

Registration opens: currently open for 2023 entry – apply online

Registration closes: Monday 5th December 2022

Assessment date: Wednesday 4th January 2023
Leicester Grammar School fees and financial assistance
The fees at Leicester Grammar School from 2022 are £4,913 per term. Fees do not cover school uniform items, bus fares to and from the school, lunches, school trips, or individual music tuition. A sibling discount is available for the second child (5%), third child (7.5%) and fourth child (10%).
Leicester Grammar School offers means-tested financial assistance to families who would not otherwise be able to afford the school fees. This assistance, known as a bursary, is available for up to 100% of termly fees (depending on the parental income).
The school also recognises pupils who can demonstrate exceptional talent in a particular area through academic, art, and music scholarships for 11 plus entry. These carry a financial award of 5–10% of school fees.
Leicester Grammar School term dates
The term dates at Leicester Grammar School for 2022–23 are:
Autumn term: 5th September – 14th December 2022

Half term: 17th–28th October 2022

Spring term: 5th January – 30th March 2023

Half term: 20th–24th February 2023

Summer term: 18th April – 5th July 2023

Half term: 29th May – 2nd June 2023
Leicester Grammar School's term dates in 2023–24 are:
Autumn term: 6th September – 15th December 2023

Half term: 16th–27th October 2023

Spring term: 8th January – 22nd March 2024

Half term: 19th–23rd February 2024

Summer term: 9th April – 4th July 2024

Half term: 27th–31st May 2024
Admissions process for Year 7 entry to Leicester Grammar School
If you would like to register your child for Year 7 entry to Leicester Grammar School in 2023, you will need to complete the online application form before Monday 5th December 2022.
All registered candidates will then be invited to take the school's entrance exam on Wednesday 4th January 2023. Some candidates may be called for an interview the week following the exam – the three reasons for this are if the candidate has scored highly in the exam and is under consideration for an academic scholarship; if they have achieved close to the pass mark but the school would like to gain further information about the child to decide whether to offer them a place; or if the candidate's parent(s) have applied for bursary assistance.
Eligible candidates are awarded academic scholarships based on the outcome of their performance in the entrance exam and in their interview – there is no need to make a separate application. Candidates who have applied for an art or music scholarship will undergo additional testing:
Art scholarships: the deadline for art scholarship applications is Monday 12th December 2022. Candidates should submit a digital portfolio of their artwork, which will be reviewed by the head of art. Shortlisted candidates will then be invited to Leicester Grammar School for a drawing assessment in January 2023.

Music scholarships: eligible candidates are those who are playing at around Grade 4 standard on their principal instrument. Candidates will need to apply by Monday 12th December 2022 and provide a specialist reference from their current school music teacher and instrumental teacher(s), after which shortlisted candidates will be invited to a music audition. Auditions will be arranged at a mutually convenient time following the main 11 plus entrance exam, and will consist of two contrasting performances, sight-reading and aural tests.
Leicester Grammar School will write to families with the outcome of their child's application in the early spring term of 2023.
Leicester Grammar School 11 plus exam
Children who are registered for entry to Leicester Grammar School in 2023 will take the 11 plus entrance exam on Wednesday 4th January 2023. This consists of tests in reasoning, maths, and English:
Reasoning test
The 11 plus reasoning test is computer-based and takes 60 minutes to complete. The test is administered by CEM Select and tests candidates' knowledge and application of English comprehension, maths, verbal reasoning and non-verbal reasoning.
A parents' guide to CEM Select
Maths test
The 11 plus maths test at Leicester Grammar School is a non-calculator written exam lasting 50 minutes. The first part of the paper is in multiple-choice format, and the second part requires written answers. Children are not assessed on their working out.
Candidates are tested on their knowledge and application of the Key Stage 2 national curriculum for maths, which includes the following topics:
Number: simple calculations involving whole numbers, fractions, decimals and percentages, and number patterns

Shape and space: ability to identify common 2D and 3D shapes and recognise their properties, ability to use different units of measurement, and understanding of coordinates in one quadrant

Handling data: interpreting data from graphs and charts
Some questions, such as elementary logic and simple probability, may be included in the test to assess candidates' intuitive understanding. These areas are not typically included in the national curriculum.
11 plus maths: everything you need to know
English test
Year 7 applicants for Leicester Grammar School also take a one-hour English paper. This includes reading comprehension and a short written task in relation to the comprehension passage. Candidates will receive marks for their imagination, spelling, punctuation, vocabulary and grammar, information retrieval skills, the ability to infer and read between the lines, and some grasp of 'writer's craft'.
Creative writing in the 11 plus: parents' guide
How to help your child prepare for the selection process at Leicester Grammar School
Build foundational knowledge
The 11 plus exam at Leicester Grammar School assesses a huge range of content across the Key Stage 2 curriculum and beyond, with a mixture of online and written tests in English comprehension, creative writing, maths, verbal reasoning and non-verbal reasoning.
With Atom Nucleus, your child can consolidate everything they need to know by accessing over 90,000 interactive questions in all relevant subjects, helpful learning resources including help sheets and tutorial videos, and live lessons for every topic.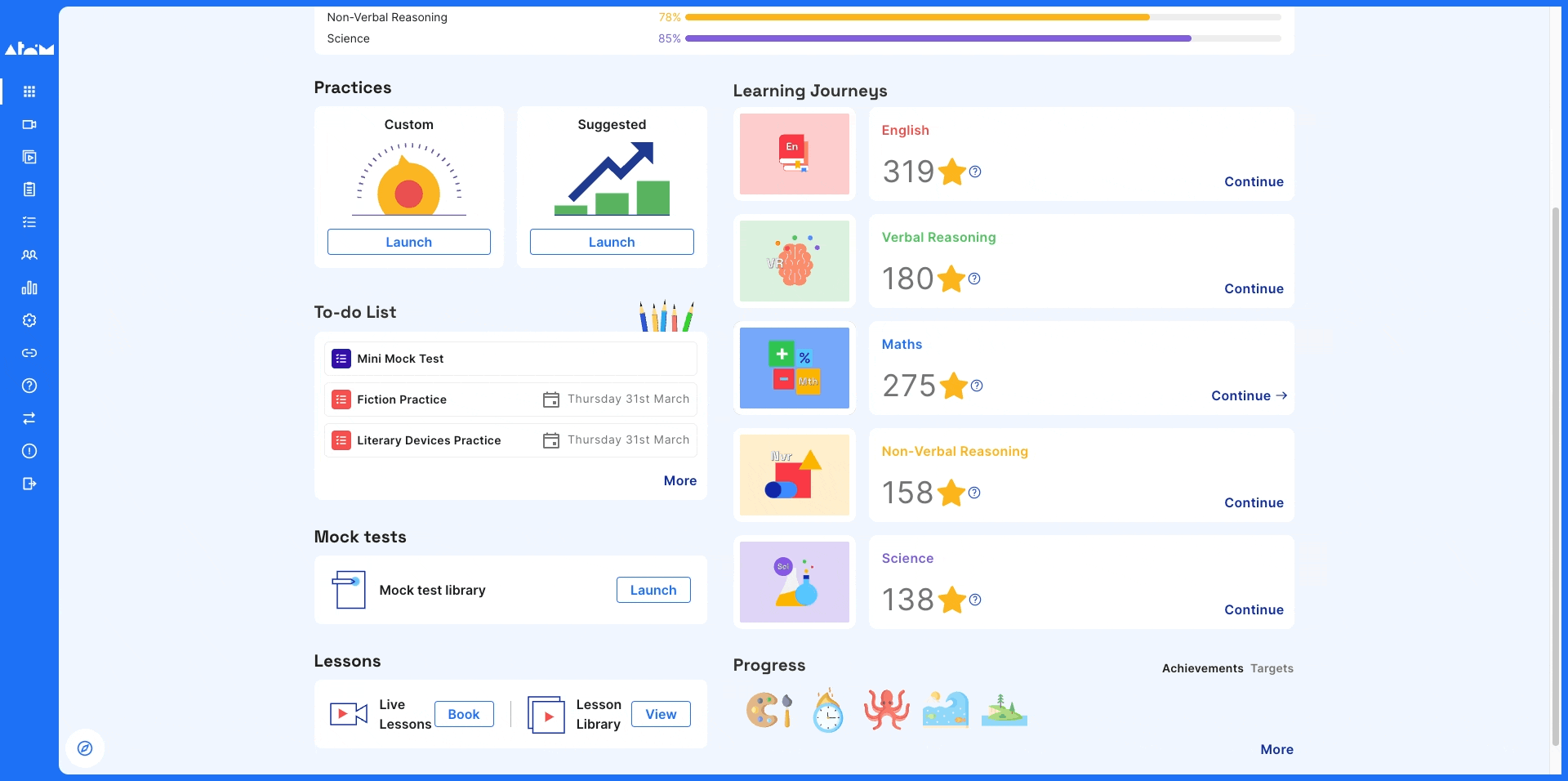 Preparation is key
Familiarisation with the question formats and known styles ahead of the exam is essential to help your child build exam confidence. An exam preparation subscription with Atom Nucleus enables your child to access quality, unlimited practice material with full score breakdowns to help your child feel confident by the time the exam day comes around.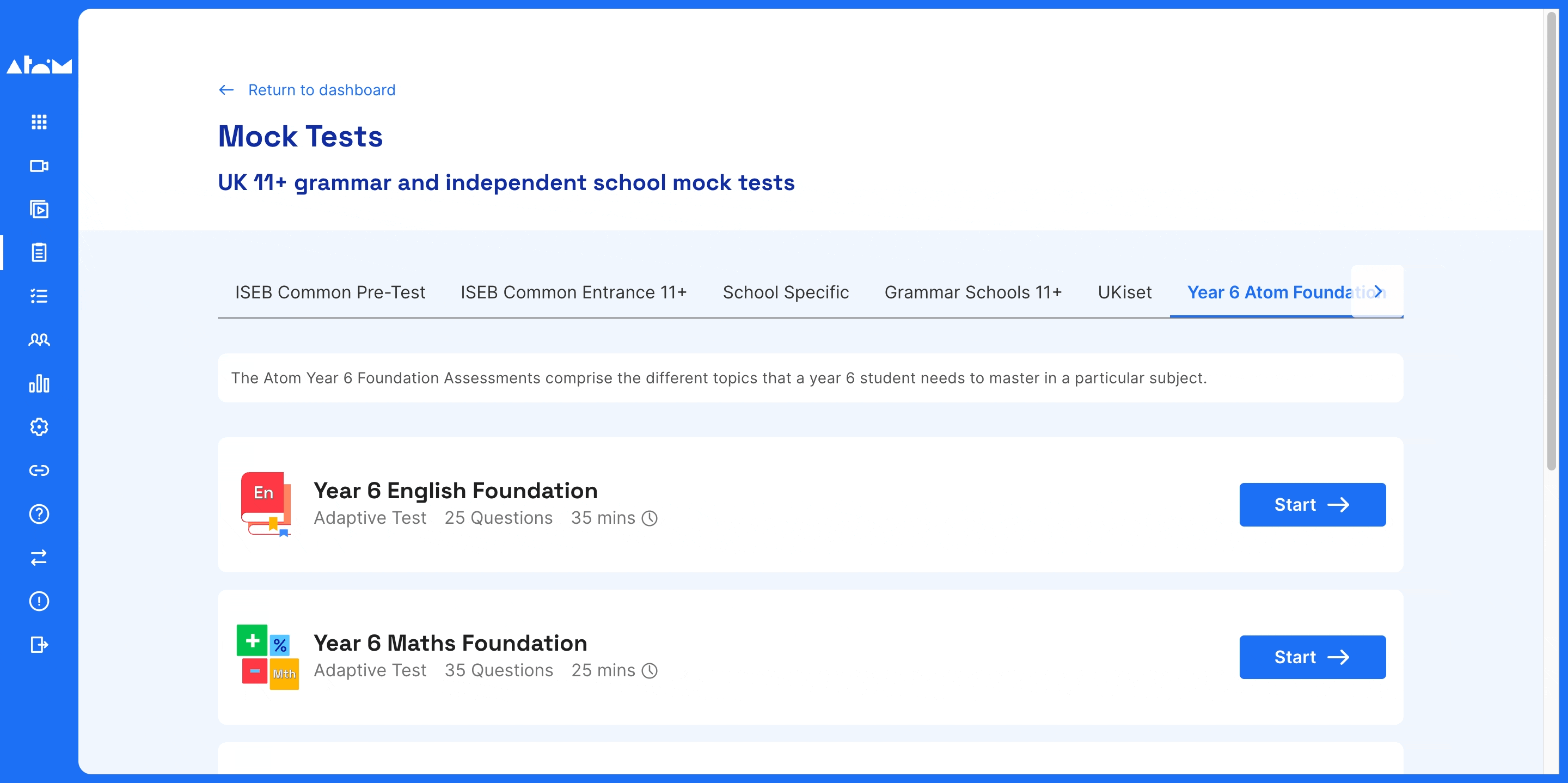 When working through challenging topics, your child will need immediate clarity with any misconceptions so that they feel truly secure in every topic. Atom Nucleus includes video tutorials, help sheets and examples with every question to help your child build confidence and competence across all the areas assessed.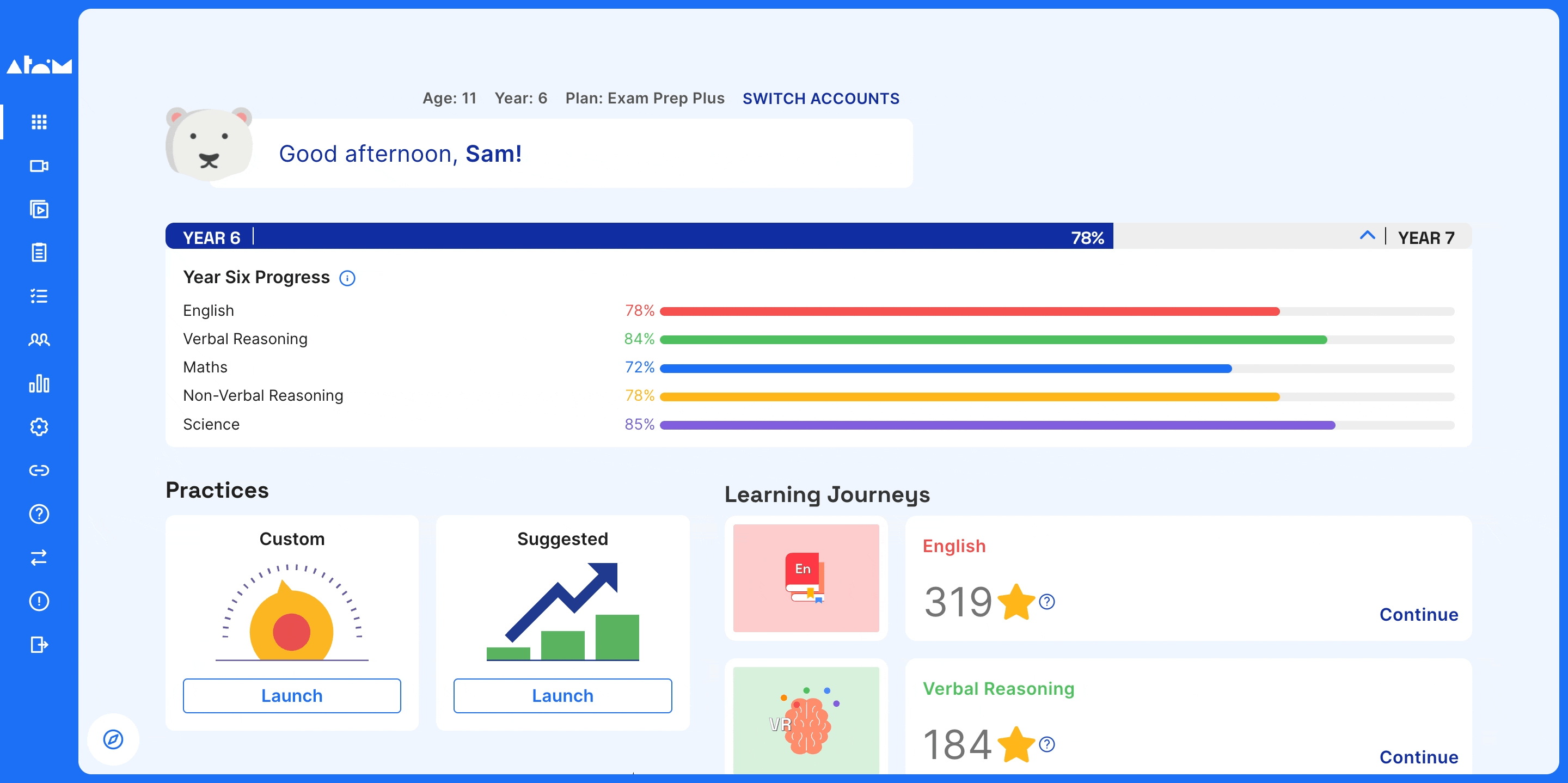 Engage with their progress
Celebrate your child's improvement in areas of challenge together. An accurate and ongoing assessment of their areas of strength and development is helpful.
As an Atom subscriber, you'll have a parent dashboard which offers data-driven insights into your child's progress. You can use this effectively to help your child set targets, see a detailed breakdown of their progress by subtopic and set custom practices to target those they find most challenging.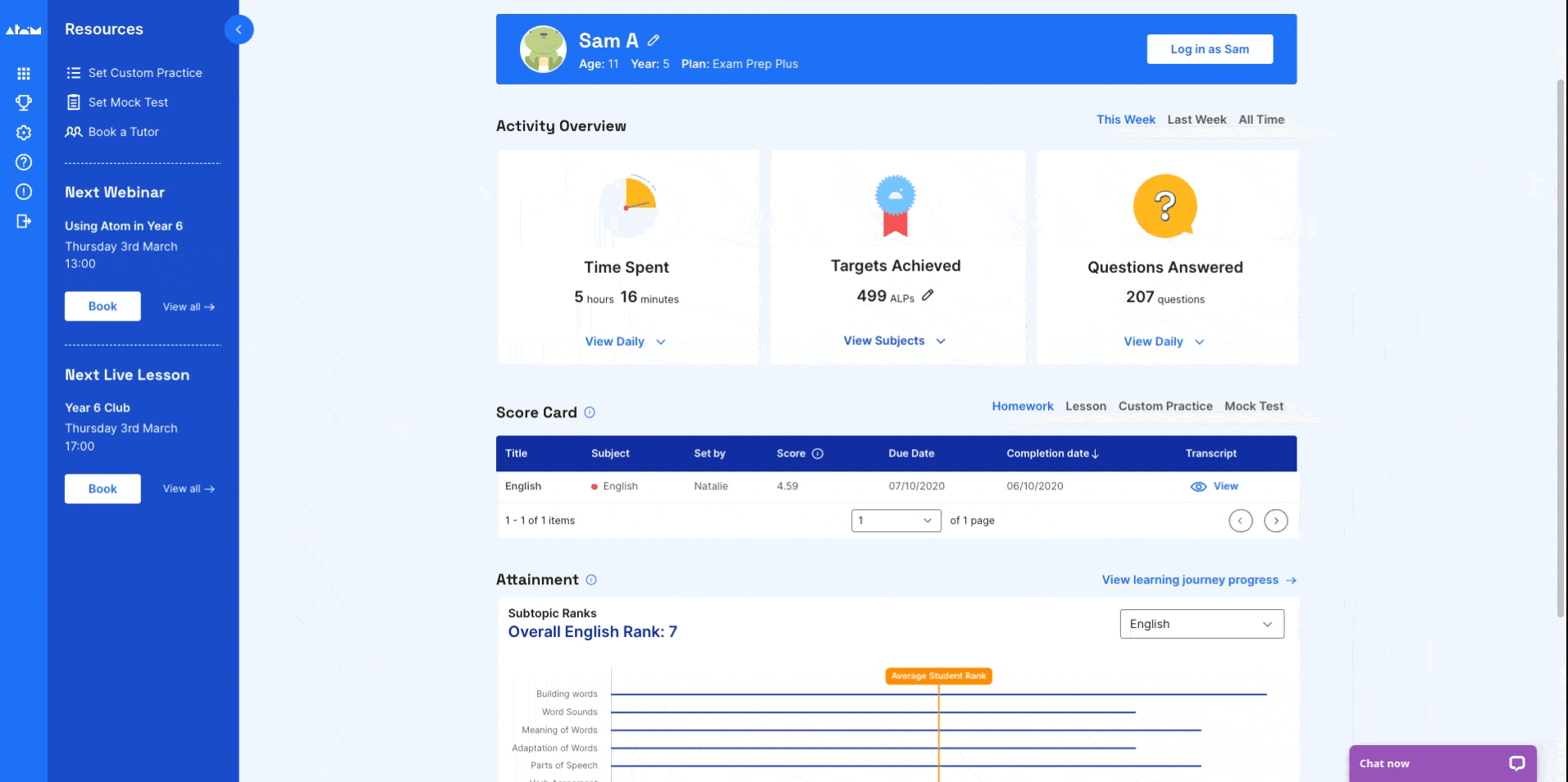 ---
Get started with Atom Learning
It's our mission to help your child feel prepared and confident before the exam day. Begin your free 5-day free trial of Nucleus today to help your child succeed in their entrance exam.
We know how crucial this time is, so our team is on hand to support you and your family every step of the way. You can book a call with one of our Education Experts to ask any questions you might have about 11 plus entry to Leicester Grammar School:
If you're looking for exclusive tips and resources to help your child master key subjects, excel in exams and build academic confidence, join Atom's email list:

Parent WhatsApp groups
Preparing for entrance exams in 2023? Why not join our Exam Preparation group on WhatsApp? Get access to free resources and advice, and ask our Education Experts any questions you have about the admissions process and your child's upcoming exams.