Looking for a complete guide to Queen Elizabeth's School entrance exam? We've collated all the information you will need about the testing process, how to register and how to help your child to prepare for the test.
Queen Elizabeth's School is a non-fee-paying boys' grammar school in the London Borough of Barnet. Founded in 1573, it is consistently one of the highest performing schools in the UK across both state and independent settings. The school boasts high A-level results each year, with the 2021 results being no exception with 98% of all grades being A*-B.
As well as offering an outstanding academic programme, the school is committed to developing well-rounded students of excellence, encouraging the boys to shine in music, sports, arts, and languages. Understandably, Queen Elizabeth's (QE) School is heavily oversubscribed each year, using its own selective entrance exam to assess your child's potential to thrive with the demanding curriculum.
Queen Elizabeth's School 11 plus at a glance
Registration opens: 2nd May 2022

Open day: 7th July 2022 (booking required)

Registration closes: 15th July 2022

Exam date: 21st or 22nd September 2022

Exam board type: GL Assessment

Results: 3rd October 2022 (provisional results date)

National school offer day: 1st March 2023 (or next working day)

Admissions information: [email protected]

Appeals: heard by an independent appeal panel established by governing body
Queen Elizabeth's School term dates
The term dates for 2022-23 at Queen Elizabeth's School are:
Autumn term: 1st September – 16th December

Half term: 24th – 28th October

Spring term: 3rd January – 31st March

Half term: 13th – 17th February

Summer term: 17th April – 21st July

Half term: 29th May – 2nd June
How to register for Queen Elizabeth's School 11 plus test
The QE School is an academy, meaning they operate under their own admission policies set out by the governing body. However, the school does participate in the scheme for co-ordinated admission operated by Barnet and follows their registration and allocation of places deadlines.
You can register your child to sit the QE School entrance exam on the school's website. Registration opens on 2nd May 2022 and closes on 15th July 2022. If your child is not registered before this date, they will be unable to be considered for the September 2023 intake. Your child will sit the 11 plus test in September of Year 6.
The school offers an open day for prospective parents on 7th July 2022, booking is required and priority will be given to those who are registered to sit the test.
Queen Elizabeth's School 11 plus exam format
QE School's entrance exam is provided by GL Assessment. The test is split into two papers of approximately 45 minutes each, which are taken on the same day.
Paper 1: English

Paper 2: maths

The GL English paper will cover verbal reasoning and reading comprehension: these questions will be multiple choice style. Verbal reasoning questions assess your child's understanding of vocabulary and the ability to manipulate information related to words and occasionally numbers.
The maths paper covers the content learnt across Key Stage 2 national curriculum, relying on secure reasoning and problem-solving skills. Your child must answer multiple choice questions assessing their arithmetic skills as well as multi-step problems in tight time restrictions. Your child will need to be secure in their number facts and timely with their written calculation methods.
For more information about what is covered on the 11 plus and how to prepare, check out Atom's complete guide to the 11 plus here.
What is the pass mark for Queen Elizabeth's School 11 plus?
The pass mark for QE School is 210 when combining scores from both the English and maths paper.
The raw scores are standardised to remove any potential disadvantage younger, summer-born children may have in comparison to autumn-born children. These scores are then ranked from highest to lowest.
There are 180 places available for the 2023 Year 7 intake. The top 180 scoring boys will be offered places. There is no specific catchment area unless there is a tied score for the 180th place between two pupils – in these cases the pupil who lives closest to the school will be given priority.
How competitive is Queen Elizabeth's School 11 plus test?
The entrance exam for QE School is known to be competitive, with thousands of boys each year vying for a place in the top 180 scoring candidates. There is a waiting list your child can be placed on if they meet the qualifying standard but are not offered a place. The list is held until December 2023. Boys will only be admitted to the waiting list if their first preference choice was QE School.
There is also an independent appeals system, although it is very rare for decisions to be overturned.

When should I start preparing my child for QE School 11 plus test?
Usually, the 11 plus preparation journey begins at the end of Year 4 or beginning of Year 5. As the 11 plus entrance exams for Barnet grammar schools are aimed at the top 30% of each cohort, it's a good idea to ensure your child is secure in their understanding of the curriculum content before beginning targeted exam preparation. If needed, core curriculum programmes will help to boost attainment and confidence before tackling exam preparations.
How to prepare for the Queen Elizabeth's School 11 plus
Once your child is comfortable with the national curriculum content, it's time to begin focused exam preparations. Familiarisation materials are available on the GL website which can give your child an idea of what to expect on test day.
Mock Tests are another valuable way to practice so that your child knows exactly what to expect when they come to sit the test. With Atom's Exam Preparation Plus package, your child will gain access to unlimited Mock Tests in the format and style of Queen Elizabeth's School 11 plus exams.

Read widely: expanding your child's vocabulary across traditional and contemporary texts will support their understanding of complex words and those not heard in everyday conversation. This will stand them in good stead for the English section of the test. Find free resources for engaging your child with reading here.
Focus on their needs: tailoring exam practice to your child's needs is the best way to stay on track. Atom's adaptive learning algorithm personalises your child's optimal learning journey to master everything they need to achieve entry into their target school. Data-driven insights give you a window into your child's progress and where to focus next.
Overall progress and targets achieved: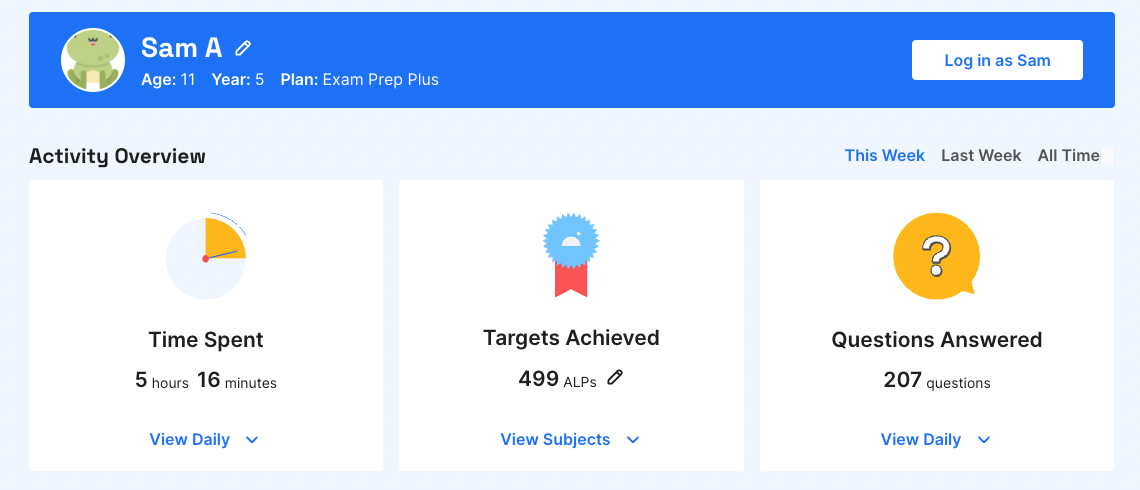 A detailed breakdown of progress by subtopic, compared to the average student in their year: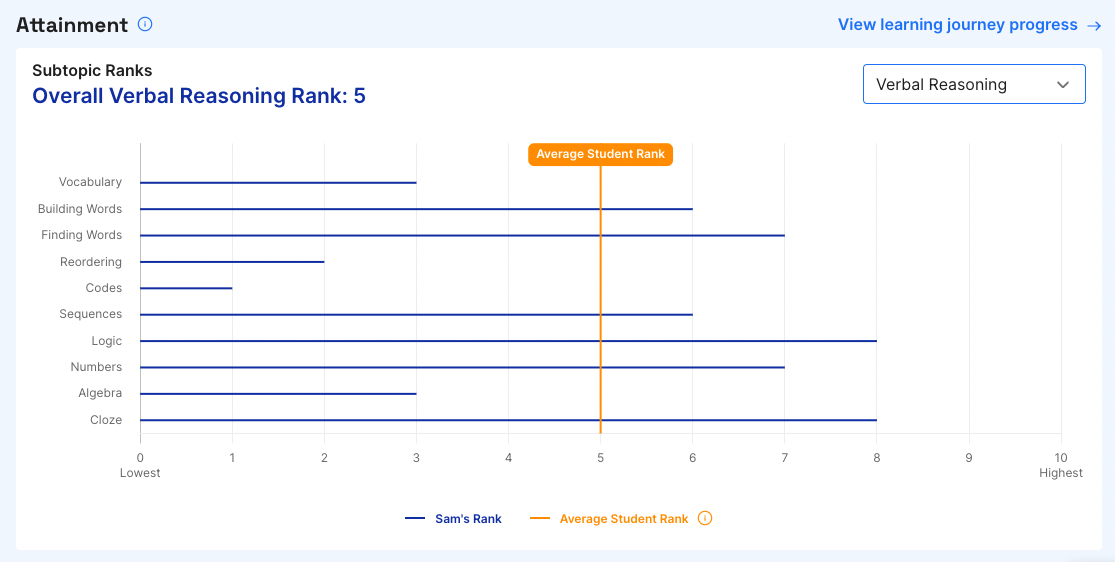 Set Custom Practices to target your child's most challenging subtopics, with functions to personalise timings and question types:
Start your 5-day free trial of Nucleus today to help your child feel fully prepared for success in the Queen Elizabeth's School 11 plus exam.
---
We know how crucial this time is, so our team is on hand to support you and your family every step of the way. You can book a call with one of our Education Experts to ask any questions you may have about preparing for grammar school in Barnet: