Ripon Grammar School is a day and boarding selective school, for both boys and girls, in Ripon, North Yorkshire. It has been named as the Sunday Times Parent Power's top state school in the north for nine years in a row.
The school has served its local community since the seventh century and following its re-founding in 1555. It offers boarding for its students – unusual for a state school – which costs only about a third of the fees for private (independent) schools.
Students at Ripon Grammar School produce outstanding academic results; in 2021, 81% of A levels were graded A*–B and over 97% of GCSEs were graded 9–5 (the A*–B equivalent). The school's results put it within the top 2% of state schools for Progress 8 schools (pupil progress from leaving primary school to the end of Year 11).
Ripon Grammar School is rated 'Outstanding' by Ofsted.
11 plus information for Ripon Grammar School
Address: Ripon Grammar School, Clotherholme Road, Ripon, North Yorkshire, HG4 2DG

County: North Yorkshire

Admissions contact: [email protected], 01765 602647

School type: Co-educational grammar

Number of pupils: 900

Number of places in Year 7: 117 (including 14 for boarders)

Open day date: Thursday 23rd June 2022

11 plus exam dates: Saturday 10th or Sunday 11th September 2022

Exam board type: GL Assessments
Ripon Grammar School term dates
The term dates for Ripon Grammar School in 2022-23 are:
Autumn term: 6th September – 16th December

Half term: 24th – 28th October

Spring term: 4th January – 31st March

Half term: 13th – 17th February

Summer term: 18th April – 21st July

Half term: 29th May – 2nd June
Admissions process for Ripon Grammar School
North Yorkshire County Council is responsible for the organisation of the 11 plus entrance exam for Ripon Grammar School.
All applicants to the school will need to take the 11 plus exam, as the school admits children who are of academic potential. Invitations will be issued to the children who have registered for the exam during the week commencing 30th August 2022, detailing the timings and the day of the test (either 10th or 11th September 2022 – children will attend one session on one day).
You will receive written confirmation of your child's selection result during the week of 14th October 2022. If your child has achieved the required standard in the exam, this will give you enough time to decide whether to name Ripon Grammar School as a preferred school for your child on your Common Application Form (CAF).
There are 117 places available for children in Year 7 in 2023, of which 14 are boarding places. Applicants for both day and boarding places will follow the same admissions procedure. However, an applicant for a day place cannot change to a boarding place and vice versa.
Children who have an Education, Health and Care Plan (EHCP) which names Ripon Grammar School will be admitted. In case of oversubscription, North Yorkshire County Council will then apply the following oversubscription criteria for pupils who have achieved the required standard in order:
Looked after children and previously looked after children

Children who have special social or medical reasons for admission, as determined by North Yorkshire County Council

Children living within the normal area (catchment area) of the school

Children of staff at the school (where they have bene employed for more than two years at the time of admission)

Children living outside the normal area of the school
What is the catchment area for Ripon Grammar School?
The catchment area for Ripon Grammar School is determined by the Local Authority, which is North Yorkshire. See a detailed map on the council website.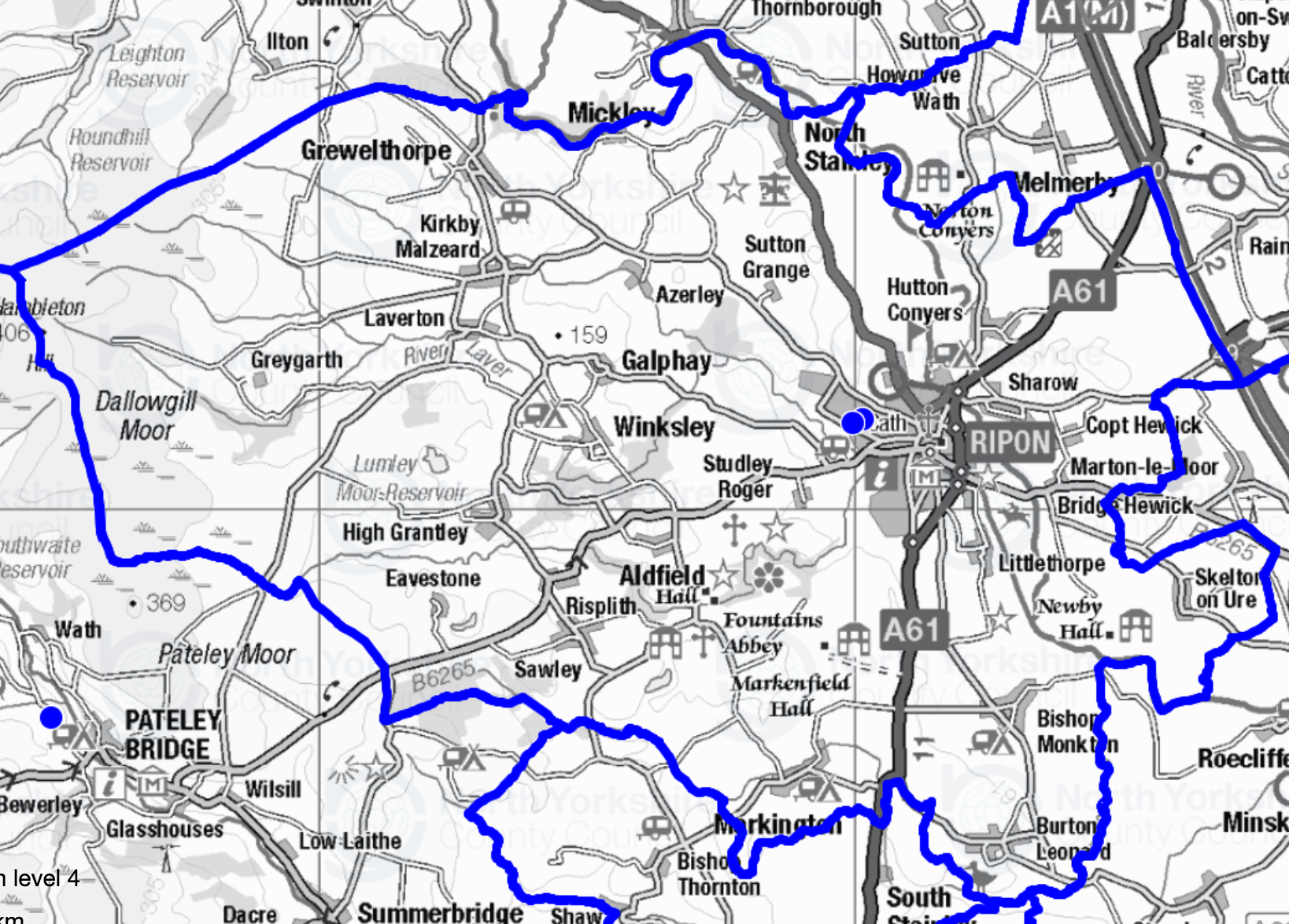 How to apply for Ripon Grammar School
If you would like to register your child for a place at Ripon Grammar School, you will first need to register for the selection tests (11 plus) before 26th June 2022. The application is made on the North Yorkshire County Council website.
As a state school, you will also need to name Ripon Grammar School on your Local Authority Common Application Form (CAF). The closing date for this, regardless of which LA you reside in, is 31st October 2022. Parents of children who live in North Yorkshire will be able to apply here.
When is the Ripon Grammar School 11 plus exam taken?
Registration for the 11 plus test at Ripon Grammar School is currently open and will close on Sunday 26th June 2022. Children will sit the 11 plus test on either Saturday 10th September or Sunday 11th September and results will be issued to parents during the week commencing 10th October.
Offers of places will then be sent to parents during the first week of March in 2023.
Join Atom's free specialist Grammar School Preparation webinars, and learn how to structure the next few months to maximise your child's progress:
Ripon Grammar School 11 plus exam format
The 11 plus exam at Ripon Grammar School is provided by GL Assessment.
Pupils will take two multiple-choice papers:
There is a short break between the two tests. At the beginning of each section, candidates will be provided with brief instructions before following straight onto the next section. They will not be able to go back and answer questions on previous sections once the time has elapsed, so it is important that your child is familiar and confident with the timings of the exam.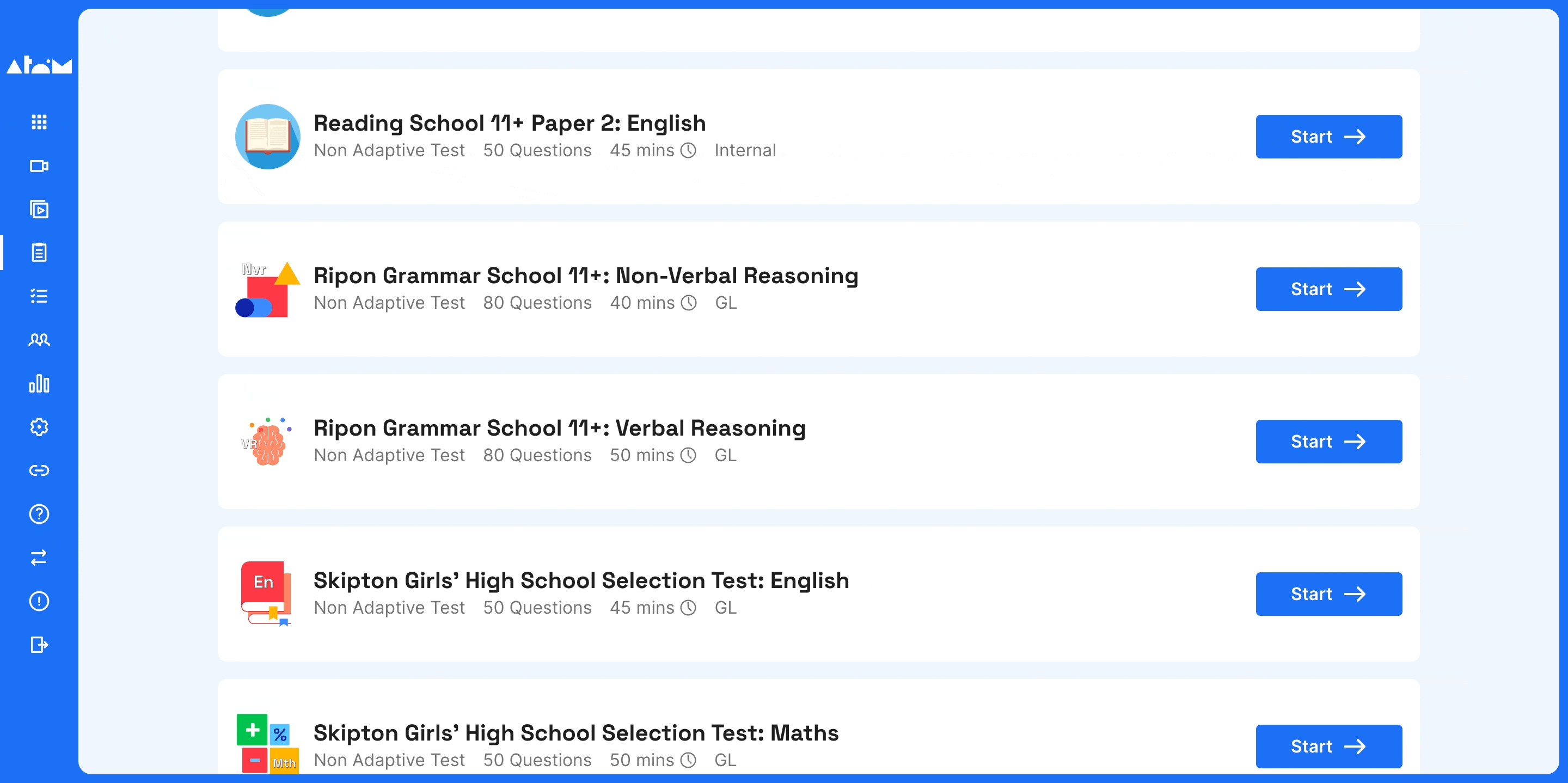 Atom Nucleus has Mock Tests that replicate the 11 plus exam at Ripon Grammar School
How to prepare for the Ripon Grammar School 11 plus
It's best to start preparing as early as possible for the 11 plus exam at Ripon Grammar School to give your son the maximum amount of time to master the Key Stage 2 core curriculum before the exam.
A good way to prepare is to practice as many questions as possible in the format of the GL exams. Carrying out mock tests helps students practice answering questions under pressure and improve their exam technique and time management.
We can help
At Atom Learning, we have over 90,000 teacher-written practice questions and unlimited mock tests that mirror the format and structure of the 11 plus exam at Ripon Grammar School. We also offer live exam prep courses and lessons to help build their skills in a friendly, encouraging, and interactive way.
You can start your 5-day free trial of Nucleus today to ensure your child is fully confident and prepared for the 11 plus.
---
We know how crucial this time is, so our team is on hand to support you and your family every step of the way. You can book a call with one of our Education Experts to ask any questions you may have about the GL Assessments 11 plus or Ripon Grammar School:
If you're looking for exclusive tips and resources to help your child master key subjects, excel in exams, and build academic confidence, join Atom's email list: