Whitgift School is an independent day and boarding school for boys aged 10–18 in Croydon, South London.
The school was founded in 1596 by John Whitgift, the Archbishop of Canterbury, and moved to its current site – Haling Park – which was once home to the Lord High Admiral of the Fleet sent against the Spanish Armada. The 45-acre site is home to extensive (and unusual) facilities, including a school shop, 2,000-seat conference centre and woodland copse. The school's own water gardens (opened by Sir David Attenborough in 2005) are home to black-headed swans, three species of flamingo, wallabies and the exotic Mandarin duck.
Boys at Whitgift are taught to think independently and develop a lifelong passion for learning. Traditional subjects are complemented by a cross-curricular programme of skills, including Global Citizenship and IGNITE – a programme designed to help students develop research skills and higher-order thinking from a young age.
In 2021, 93% of all GCSE grades awarded were 9, 8 or 7 (equivalent to the old A*/A). Sixth form students can opt to take A levels, the BTEC or International Baccalaureate – and the 2020 results ranked Whitgift a Global Top IB School.
Whitgift School was named the Independent Boys' School of the Year in 2020 by the Independent School Parent Awards.
Key information for Whitgift School
Headteacher: Chris Ramsey

Address: Whitgift School, Haling Park, South Croydon, CR2 6YT

London Borough: Croydon

Admissions contact: [email protected], 020 8688 9222

Age range and gender: 10–18 (boys only)

Number of pupils: 1,283

Number of places in Year 7: 120

Ratio of applicants to places: 5:1

Open day date: Saturday 24th September and Thursday 29th September 2022. Smaller group tours will be held on Tuesday 4th October, Wednesday 12th October and Tuesday 1st November. Register your interest on the school website.

Overview of selection procedure for Year 7 entry: Entrance exams, headteacher's reference, school reports and entrance exam

Registration opens: Mid-August 2022

Registration closes: Friday 11th November 2022

Assessment date for Year 7 entry: Friday 6th January 2023

Scholarship assessment date: TBC
Whitgift School fees and financial assistance
Whitgift's school fees for 2022-23 are £7,423 per term for day students, £11,991 per term for weekly boarders and £14,543 per term for full boarders.
There is a generous (but limited) annual budget for bursaries at Whitgift School. Parents of prospective day students whose family income is less than £85,000 a year may be eligible for a bursary. To apply for a bursary, you will need to register your interest by completing the John Whitgift Foundation bursary interest form and questionnaire. Bursaries are not available for boarding applicants.
Whitgift School also awards scholarships to recognise academic potential and exceptional talent in specific areas. All scholarships (Academic, Art, Drama, Music and Sport) carry a reduction of up to 50% of the school fees.
Whitgift School term dates
The 2022-23 term dates for Whitgift School are:
Autumn term (Michaelmas): 5th September – 16th December 2022

Half term: 17th – 28th October 2022

Spring term (Lent): 9th January – 31st March 2023

Half term: 13th – 17th February 2023

Summer term (Trinity): 18th April – 5th July 2023

Half term: 29th May – 2nd June 2023
Admissions process for Whitgift School
Online registration for Whitgift School will open in late summer 2022. If you would like to register your son for a place in Year 7 at Whitgift, you will need to complete this form before the deadline Friday 11th November 2022 and pay the non-refundable registration fee – this is £130 for all applicants.
Parents of bursary applicants will need to submit the necessary bursary application form during the open window of Monday 5th September – Friday 25th November. If you are eligible for a bursary, you may be able to waive the registration fee.
All applicants to Whitgift School will take an entrance exam on Friday 6th January 2023, consisting of papers in English, maths and critical thinking. Applicants who achieve a suitable standard in this exam, and their parent(s), will then be called back to the school for an interview – both the pupil and the parent(s) will be interviewed separately by a senior member of staff.
Candidates who are applying for a scholarship will be invited to additional assessment days if they reach a suitable standard in the main entrance test:
Academic Scholarship: all boys who sit the entrance exam will automatically be considered for an Academic Scholarship – a separate application is not required.

Art Scholarship: parents will need to complete the specific scholarship form and upload it when completing the application form. Candidates will then be asked to bring a portfolio of their work to Whitgift School for preliminary assessment (applicants do not have to present it). Shortlisted candidates will then be invited to a half-day practical assessment and a final interview with the Head of Art.

Drama Scholarships: parents will need to complete the specific scholarship form and upload it when completing the application form. This will include a piece from the candidate, including a short, written assessment of a piece of live theatre that they have enjoyed. Shortlisted candidates will be invited to an audition at Whitgift School, where they will perform two 2-minute monologues.

Music Scholarships: parents will need to complete the specific scholarship form and upload it when completing the application form. Applicants will also need to submit a video recording of two contrasting 2-3 minute pieces in which they showcase their abilities. Shortlisted candidates will then be invited to Whitgift School for an audition, where they will play two pieces (on one or two instruments), play a short piece of music at sight, sing a melodic phrase and undertake other aural tests.

Sport Scholarships: parents will need to complete the specific scholarship form and upload it when completing the application form. This will include a list of teams your son has represented, representational honours and testimonials from relevant sports coaches. Shortlisted candidates will be invited to a sports assessment day at Whitgift School, which will include generic ball handling and spatial awareness skills, fitness testing, core sport sessions and specific sport testing.
Offer letters will be sent to parents on Friday 10th February 2023.
Whitgift School entrance exam format
All candidates for Year 7 entry to Whitgift School will take three test papers on Friday 6th January 2023:
English
Maths (1 hour)
This non-calculator paper will assess boys' understanding of the KS2 national curriculum and will be aimed at Level 5. Topics will include:
Adding, subtracting and using negative numbers in context

The four basic operations applied to decimals, including long division by a whole number

Area of a triangle

Estimation of measures used in everyday situations

Averages of sets of discrete data

Pie charts

Simple probability
Critical thinking
This paper will assess your child's reasoning ability and how well he can solve multi-step problems. You may find our guide to 11 plus verbal reasoning helpful.
How to help your child prepare for the selection process at Whitgift School
As the entrance exam for Whitgift School will include Key Stage 2 National Curriculum content in English and maths, make sure that your child is familiar with everything they have covered in these subject areas at school. Whitgift School suggests that your child is working at a Level 5 – to give you an idea, the top 10% of children will achieve a Level 5 at the end of Year 6.
Atom Nucleus, our online platform for home, covers the entire KS2 core curriculum – meaning your son can get ahead and start learning Year 6 content. Our adaptive platform teaches pupils in an interactive, engaging way: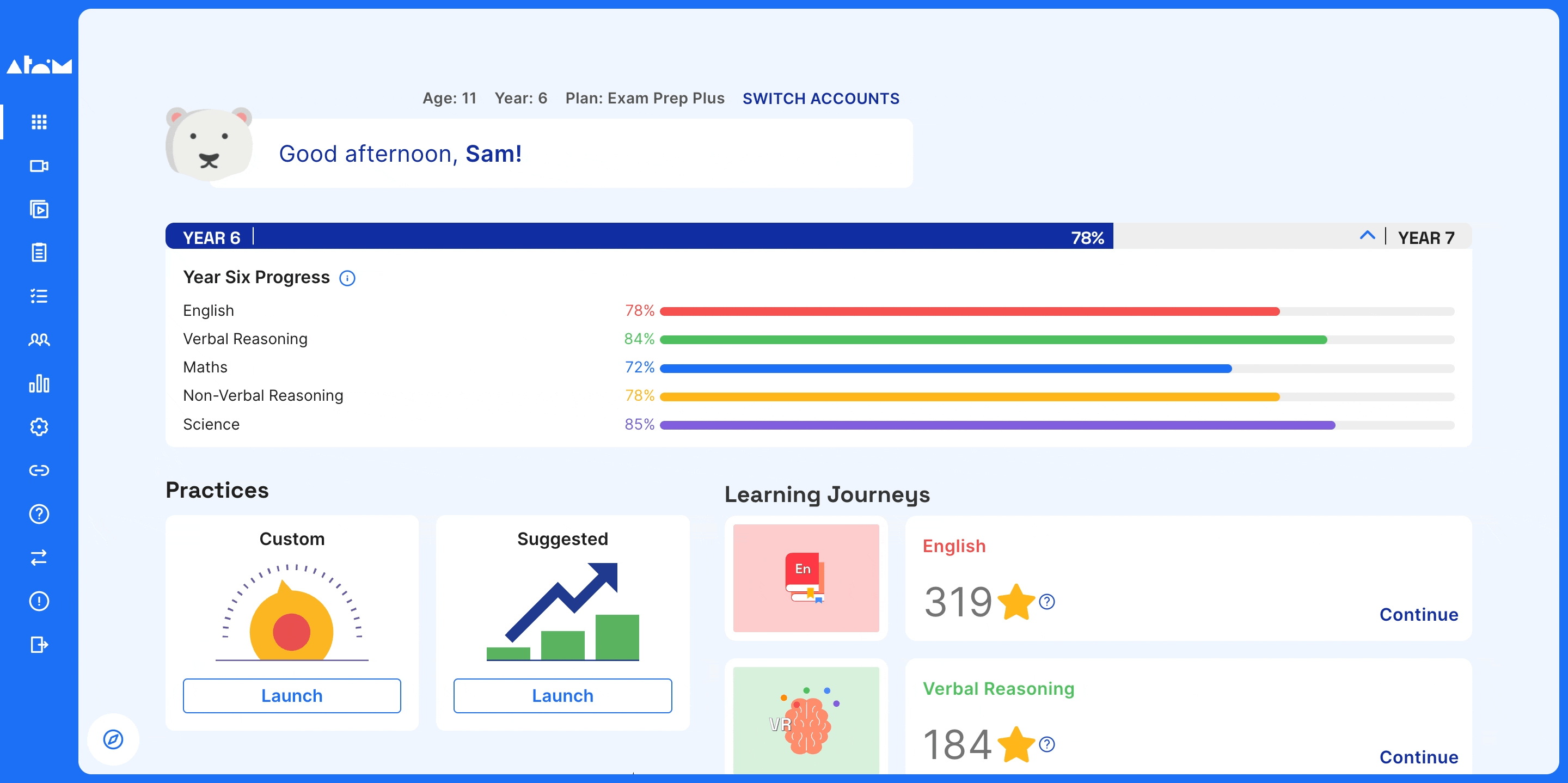 Studying verbal reasoning will put your child in good stead for the critical thinking exam at Whitgift School. This type of content is not taught in Key Stage 2, so it is essential that your child understands the style of the questions and how to answer them before putting them into practice with a mock test.
Your child can explore all the possible verbal reasoning question styles on Atom Nucleus (and you will be able to track their progress and identify areas for improvement on your own Parent Portal). After your child has completed the verbal reasoning learning journey, they will be able to put their knowledge into practice with unlimited mock tests: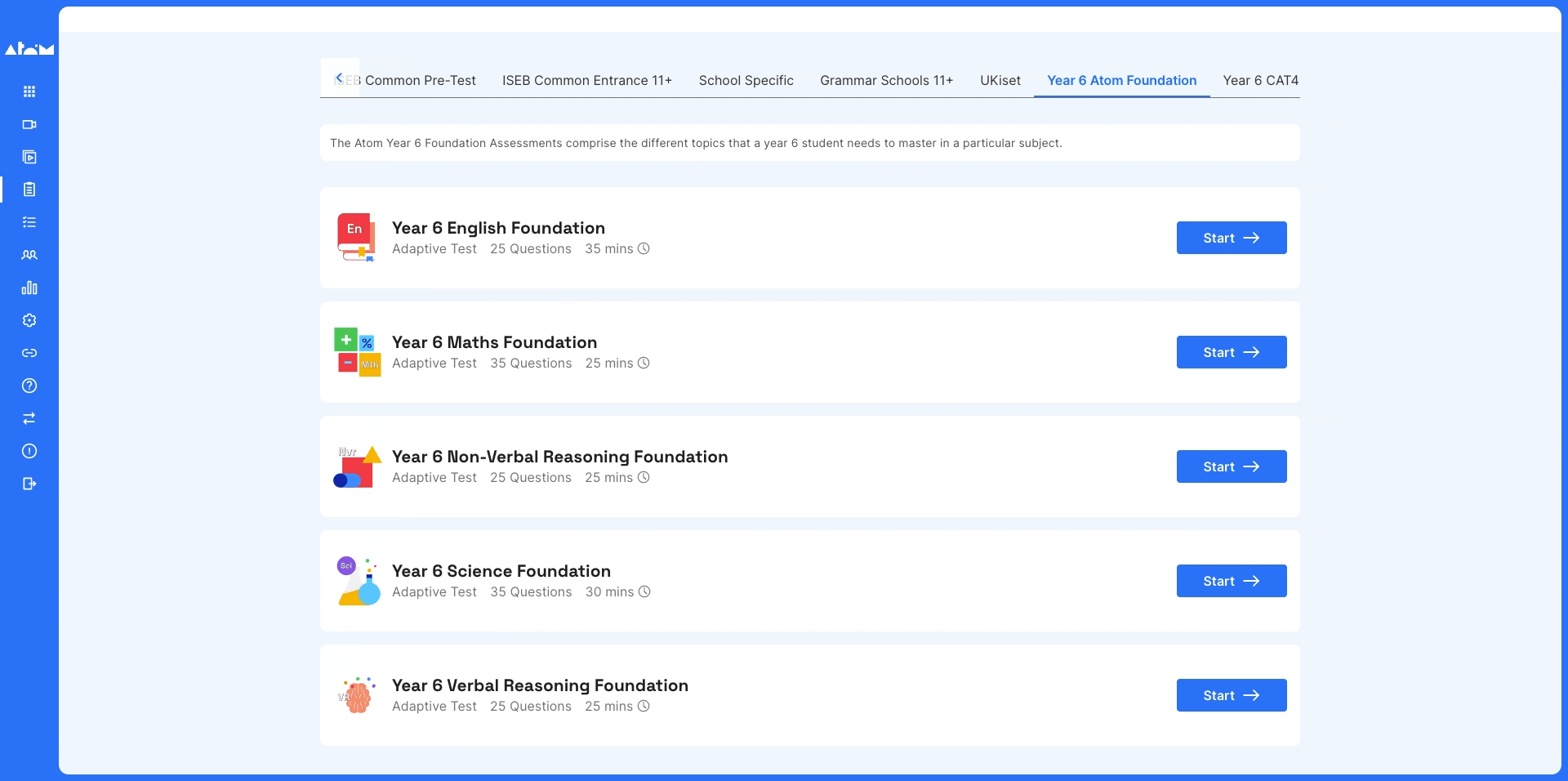 Regular reading time alongside revision will help your child boost their vocabulary and concentration. As the exam day gets closer, we suggest that your child completes online mock tests to help practice time management. Atom Learning has 11 plus practice papers available in English and maths:
Atom Learning can help
We have over 90,000 teacher-written practice questions, video tutorials, help sheets, live exam preparation courses and unlimited mock tests that mirror the format of many 11 plus papers. It's our mission to help your child feel prepared and confident on exam day.
Begin your free 5-day free trial of Nucleus today to unlock success in the classroom, entrance exams and more.
---
We know how crucial this time is, so our team is on hand to support you and your family every step of the way. You can book a call with one of our Education Experts to ask any questions you might have about Year 7 entry to Whitgift School:
If you're looking for exclusive tips and resources to help your child master key subjects, excel in exams and build academic confidence, join Atom's email list: