If you're applying to a senior school that uses the ISEB Common Pre-Test, this guide will help you and your family know what to expect at each stage. Read on to:
Learn how to prepare

See example questions for each subject

Download ISEB preparation resources

Understand how the exam is changing in autumn 2022
What is the ISEB Common Pre-Test?
The ISEB (Independent Schools Examination Board) Common Pre-Test is an online exam that students take to gain entry into independent senior schools.
It's the only one of the 'big three' entrance exams that is adaptive. This means that the questions become more difficult depending on how your child is performing.
Used by many of the UK's top independent schools, the ISEB is different to any other style of entrance exam, so there are unique strategies for succeeding at it.
ISEB exam dates
Children usually take the ISEB either in November or January of Year 6, if they are applying for Year 7 entry into senior school. Children can only sit the test once per academic year.
The exact exam date is determined by the senior school you are applying to and will usually be available on the school's website during the application period. Children usually take the exam at the senior school, or at their current primary/prep school or a test centre, and international students can take the test overseas.
Which schools use the ISEB?
Here is the full list of schools that use the ISEB Common Pre-Test for entry.
If you're applying to more than one school which uses the ISEB as their entrance exam, your child's results will be shared between the schools. This means that your child only sits the exam once to apply to multiple schools.
Changes to the ISEB in 2022
Previously administered by GL Assessments, from 2022 the ISEB is administered by a new provider.
What is changing in 2022?
From autumn 2022, the following changes are in place.
Registration process:
Accessibility:
Your child can hide the timer so it is not visible on the exam screen if they choose.

Your child can adjust the font size and select a colour overlay to help with visibility of the questions.

All children are now allowed to use pencil and paper for notes and rough working throughout the whole test (in previous years, this was only allowed for certain subjects).
Format:
Your child will get two separate scores for English rather than it being counted all as one test. The two sections are comprehension and SPaG (spelling, punctuation and grammar).

The English comprehension section consists of several shorter texts with fewer questions for each, rather than one long text.

The English comprehension section no longer requires children to click through several pages to read the whole passage. They can now read the whole text simply by scrolling.
Content:
A new non-verbal reasoning question type has been added ('how many cubes') – see below for more information.

The content bank is being expanded to add more individual questions. However, except for 'how many cubes', the question types which your child needs to prepare for remain the same.
What is covered on the ISEB?
The ISEB Common Pre-Test assesses four subjects:
The English and maths sections are based on the Key Stage 2 national curriculum taught up to the end of Year 5. They assess your child's ability to recall what they have been taught and apply this knowledge to solve problems.
Verbal and non-verbal reasoning are designed to test your child's academic potential through question types that they are not familiar with. They focus on the ability to acquire new information and apply it to new situations.
ISEB timings
There is a total of 2 hours 15 minutes allotted for the ISEB. The timings of each test are:
Maths: 40 minutes

English: 40 minutes

Non-verbal reasoning: 30 minutes

Verbal reasoning: 25 minutes
Your child can sit the four subjects all together or at separate times. If taking them all on the same day, they are allowed a short break between each section.
What format is the ISEB Common Pre-Test?
The ISEB is a multiple choice test, sat entirely online on a computer. It's helpful for you and your child to be aware of its unique features:
No back button: because the test is adaptive, children can't go back to review or change their answers. They must as sure as possible about the answer they have chosen before moving on to the next question. They will not be able to check their work at the end like they're often urged to do at school.

The next button won't appear until an answer is selected: This can throw children off at first, but it is a good thing! It will ensure your child doesn't move on from a question without selecting an answer.

Progress bar: This is useful for your child to be aware of so they can see how much of the test they have completed so far and how much is left.

Timer: There will be a timer on the top right-hand corner of the test. Your child has the option to hide this if it is distracting or makes them feel anxious.
Because of this unique format, it's a good idea for your child to practice questions in the exact format and style of the ISEB. There is one test walkthrough available on the ISEB website. Alternatively, you can find unlimited ISEB practice papers on Atom Nucleus.
Sample ISEB Common Pre-Test questions
Take a look at these sample questions from the ISEB Common Pre-Test to help you and your child get familiar with the question content and format.
ISEB maths questions
The maths section of the ISEB is up to 40 minutes long. The content is based on the Key Stage 2 national curriculum taught up to the end of Year 5 – although children in Year 6 often find this section challenging. The questions range from arithmetic to multi-step problem solving.
The topics tested on the maths section of the ISEB are:
Number and place value

Calculations (addition, subtraction, multiplication, division)

Fractions, decimals and percentages

Measurement

Geometry

Statistics
Some questions cover more than one topic. The number questions come up most commonly.
Learn how to prepare for maths entrance exams here.
Your child is allowed a pen and paper during the maths test to jot down any calculations or notes that they want to make. This working paper is not marked.
These examples from ISEB maths practice tests on Atom Nucleus show the maths questions are set out.
Fractions example question:
Measurement example question: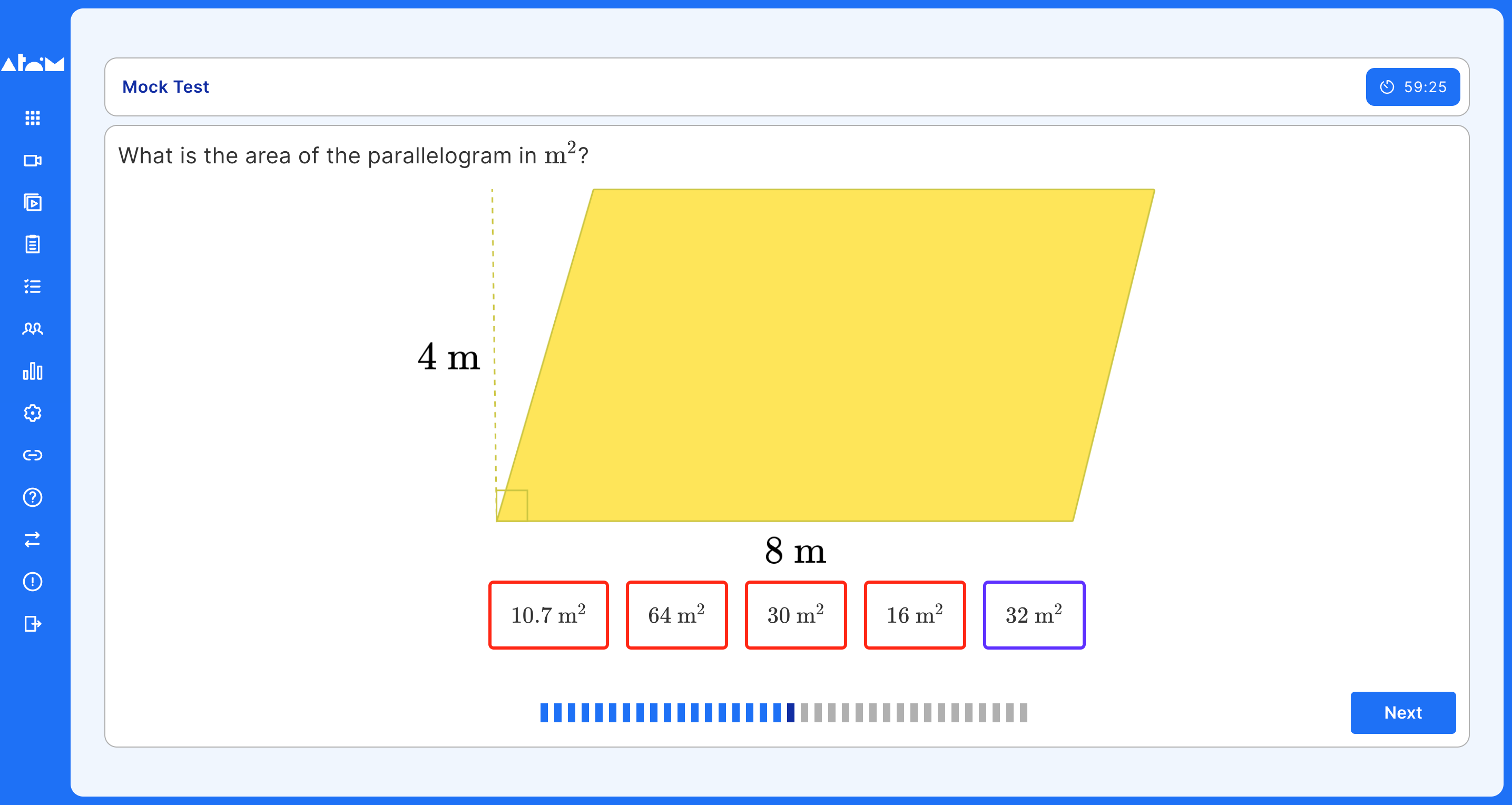 ISEB English questions
The English section of the ISEB is also up to 40 minutes long, and based on the Key Stage 2 national curriculum taught up to the end of Year 5. It is split into two sections: comprehension, and SPaG (spelling, punctuation and grammar).
Comprehension
The comprehension section assesses your child's ability to analyse and interpret text. Your child will see several short passages (between 300–500 words) – these may be fiction, non-fiction, or poetry from a range of time periods.
Each passage has a series of multiple-choice questions designed to assess the following skills:
Literal (retrieval of information)

Deduction

Inference

Vocabulary, explaining the meaning of words in context

Summarising ideas

Literary devices (personification, alliteration, similes, metaphors)

Making comparisons (across the text, between characters, between formality)
These examples from ISEB English practice tests on Atom Nucleus show how the comprehension questions are structured. In the new version of the test from autumn 2022, children will no longer need to click through numbered buttons to read the text. They will be able to read the whole passage simply by scrolling.
Inference example question:
Literary devices example question: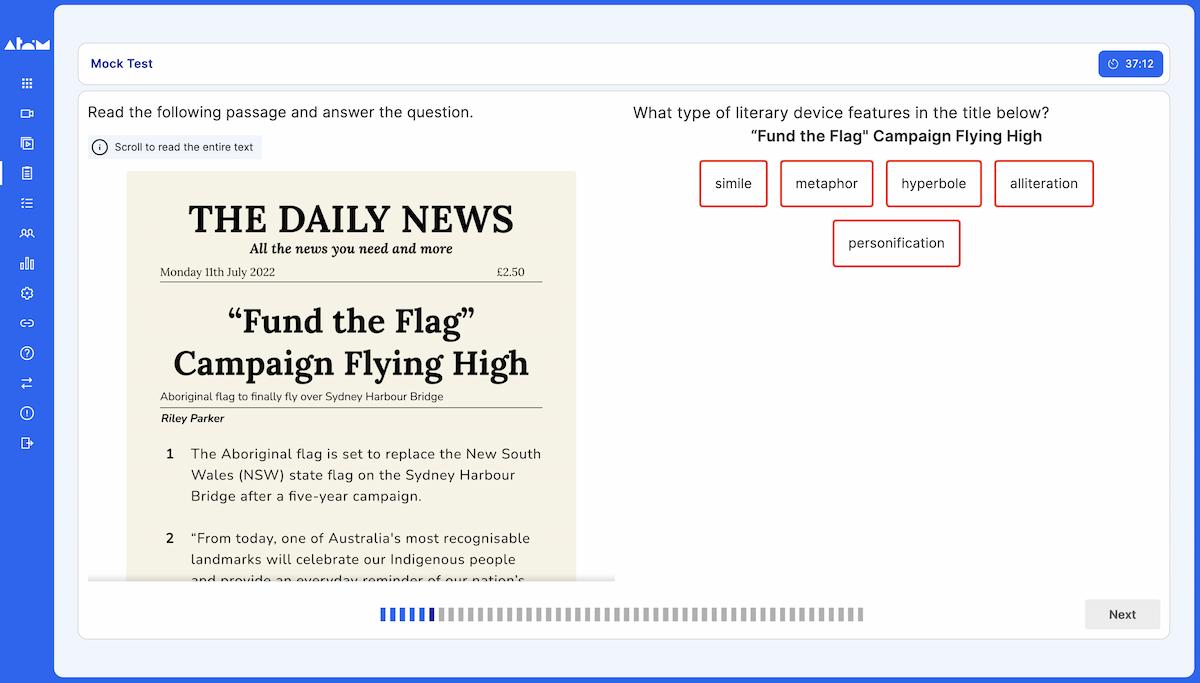 Spelling, punctuation and grammar
In this section, your child is assessed on their knowledge of English grammar, vocabulary, punctuation and spelling.
Vocabulary: knowledge of word meaning, word families, prefixes and suffixes

Punctuation: knowledge of how punctuation should be used

Grammar: identifying nouns, verbs, adjectives, adverbs and prepositions, clauses, formal and informal language, identifying correct verb agreement and sentence structure

Spelling: knowledge of spelling patterns and common exception words
There are three types of question in this section:
Cloze sentences (your child will have to fill in a blank space in a sentence)

Jumbled sentences (your child will have to rearrange a sentence into the correct order)

'Spot the mistake' questions
What to practise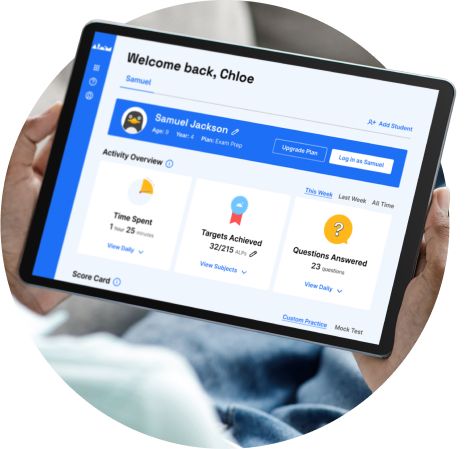 If you're subscribed to the online learning platform Atom Nucleus, have your child practise the following Atoms in their learning journey. These fun and interactive challenges will build confidence and knowledge in everything they need to ace the ISEB grammar section:
Compound words, Plurals, Prefixes, Suffixes, Letter strings, Silent letters, Apostrophes, Colons and semicolons, Commas, Direct and reported speech, Hyphens and parentheses, Sentence enders, Adjectives and adverbs, Conjunctions, Determiners, Modal verbs, Nouns, Prepositions, Pronouns, Verbs, Phrases, Sentences and main clauses, Subordinate clauses, Active and passive voice, Person: subject/verb agreement, Subjects and objects, Subjunctive verb forms, Tenses: progressive and perfect, Tenses: simple past, present and future.
ISEB non-verbal reasoning questions
The non-verbal reasoning section of the ISEB assesses your child's logic, critical thinking and problem-solving skills using figures and diagrams. It is about 30 minutes long. There are two question types, which require your child to:
Analyse 2D figures and diagrams to look for patterns (similarities and differences, completing the diagram, code matching)

Manipulate 3D figures and diagrams to visualise them in a different way
The topics that appeared in the 2021 ISEB non-verbal reasoning paper were:
Pairing shapes

Match to a pair

Find a code
New types of non-verbal reasoning questions added in 2022 are 'how many blocks?' and 'silhouettes'.
There's no way to know which question types will appear on the ISEB in future years, so it's best to make sure your child is familiar and confident with all non-verbal reasoning question types. You can learn more about preparing for non-verbal reasoning here.
These images from ISEB non-verbal reasoning practice papers on Atom Nucleus show how the questions are formatted.
Non-verbal reasoning example questions: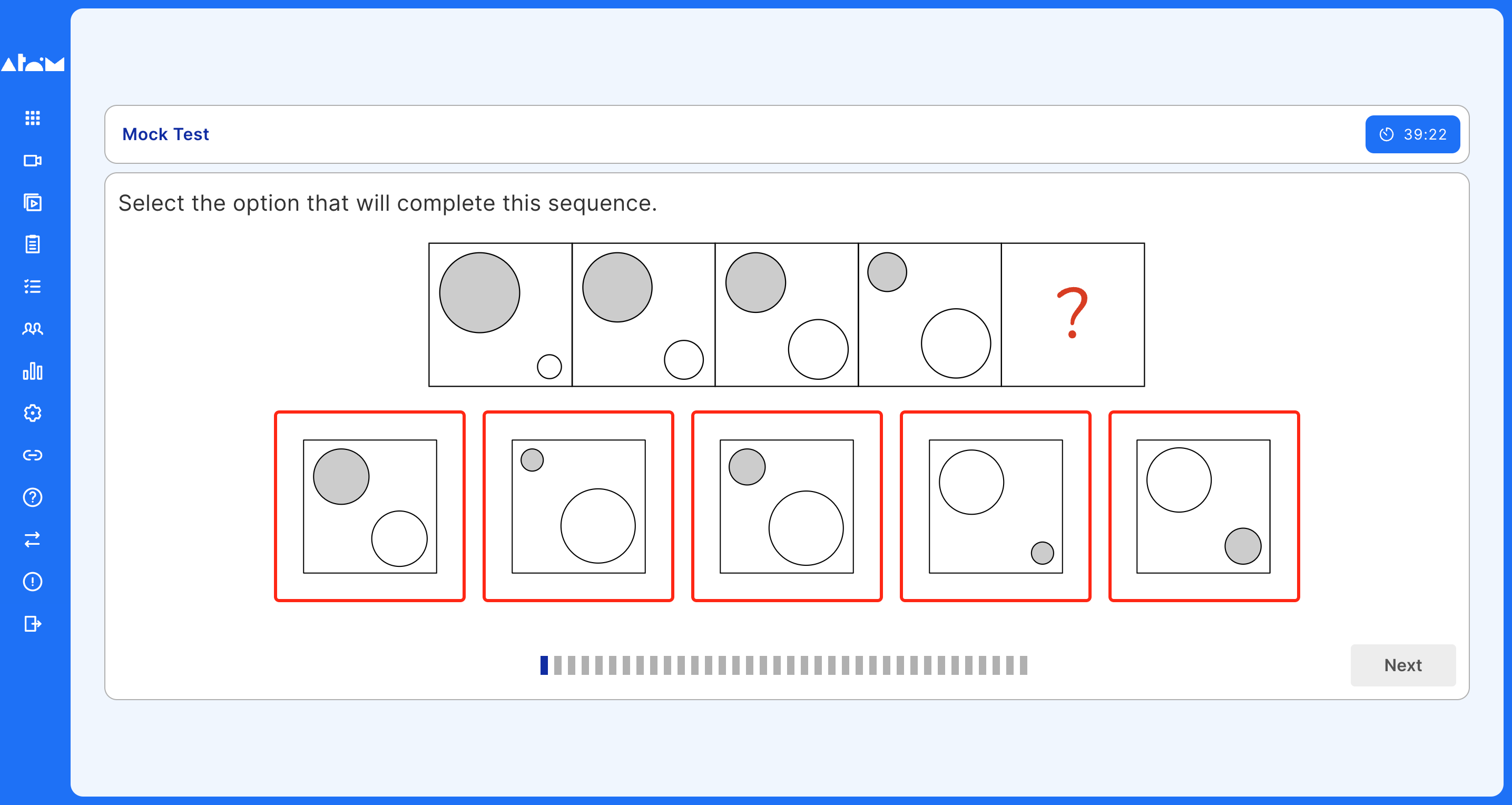 ISEB verbal reasoning questions
Verbal reasoning puts your child's logic and comprehension to the test. This portion of the exam takes up to 25 minutes and uses letter, word and language-based questions to assess the following:
Problem solving techniques

Trial and error skills

Working logically

Recognising suitable solutions

Knowledge of vocabulary and definitions
As with the maths section, your child will have a pen and paper for notes and working out, which will not be marked.
The topics that appeared on the 2021 ISEB verbal reasoning paper were:
Letter codes

Homographs

Join the words

Transfer a letter

Number codes
However, there's no guarantee that the same topics will reappear in future tests. Atom Nucleus is designed to give your child a secure understanding of all possible verbal reasoning question types, and have fun while they learn too.

These examples from the unlimited ISEB verbal reasoning practice papers on Atom Nucleus show some common question styles.
Verbal reasoning example questions: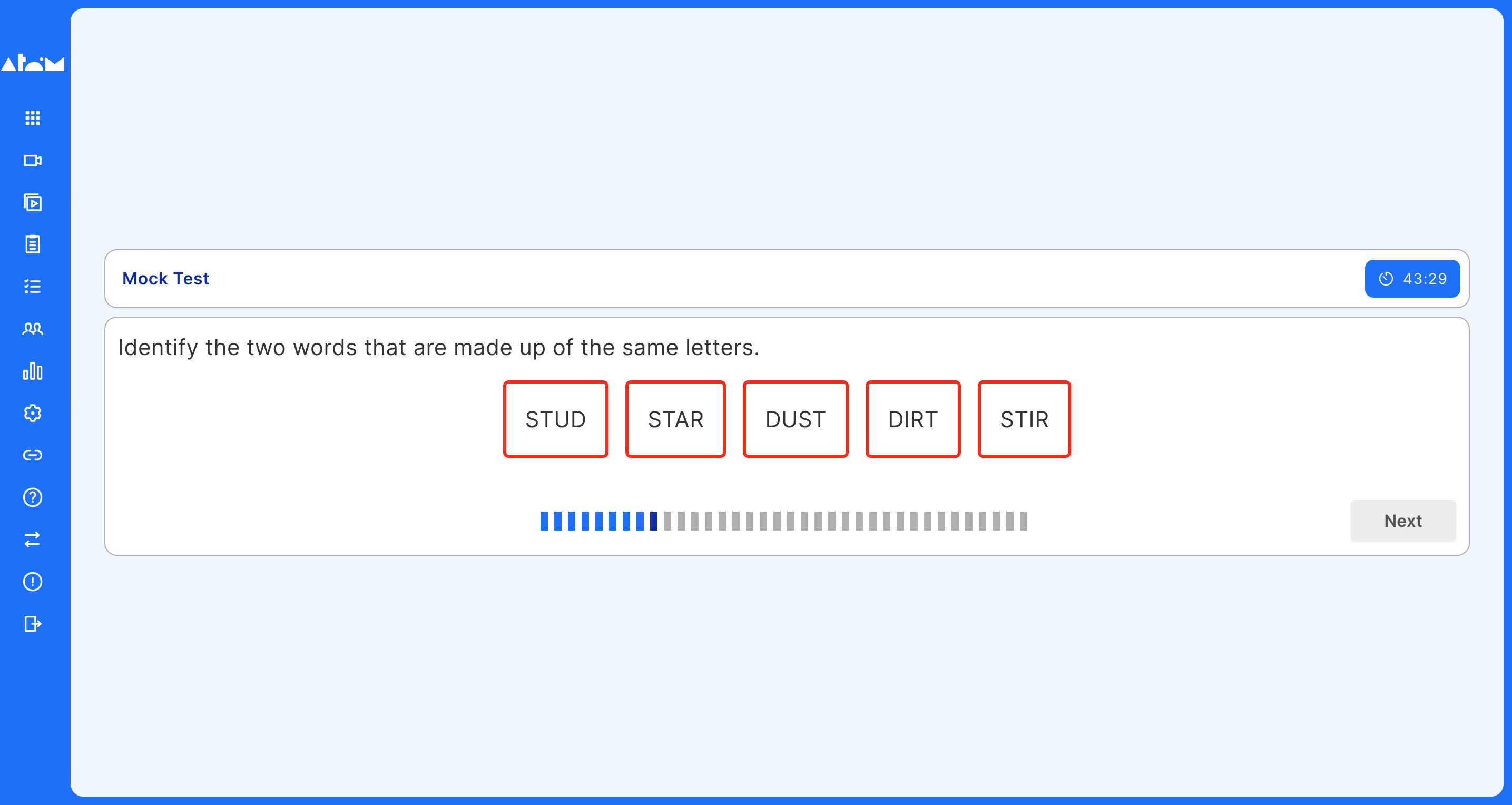 You can find more tips and techniques in the verbal reasoning exam preparation guide.
What's the pass mark for the ISEB?
The ISEB Pre-Test has no set pass mark because every school has different requirements. Your child will be given a standardised age score (SAS), calculated based on:
Correct and incorrect answers

The level of difficulty of each question they answered

Their date of birth (this stops the younger children in the school year from having a disadvantage)
You won't see your child's ISEB results, as they are sent directly to the school.
Wondering what is a good ISEB Pre-Test score to aim for? As a general guide, 100 is an average score, 142 at the top end, and under 85 is considered low. For the most competitive schools, a reasonable score to aim for is 120+.
How can I support my child to sit the ISEB?
The ISEB is designed to give schools an indication of whether their learning environment is a good fit for your child. Schools often use the ISEB alongside a second round of school-specific exams, an interview stage, and a reference from your child's current school.
When deciding whether to apply for a school that uses the ISEB as an entrance exam, here are some things to consider:
Does your child regularly attain 'exceeding expectations' on their school reports?

Are your child's test results above average in English and maths?

How much tutoring will your child need to pass the exam? If they'll need a large amount of support, will they be able to keep up with the academic demands of the target school?

Talk to your child's teacher. How do they think your child is likely to perform on the ISEB? They will have a clear idea of your child's areas of strength and challenge.

Use an adaptive learning platform like Atom Nucleus to get data-driven insights into your child's academic performance, and spot learning gaps and areas for improvement.
My child has SEND, is the test appropriate for us?
With the 2022 updates, the new test platform is designed to be fully accessible to all children. Here's an overview of the new accessibility features:
Your child can select a coloured overlay to improve the visibility of the questions. This is designed to support children who face visual discomfort and disturbance when reading.

Your child can adjust the font size.

All the questions have been written to improve the experience for pupils, with less reliance on short-term working memory.
Where appropriate, children with SEND can be given extra time of 25% to complete each section of the test. Other access arrangements can include:
A reader for the tests

Supervised rest breaks

A separate exam room
You can request extra time or other access arrangements for your child when you register on the ISEB website. You should also inform the senior schools about your child's specific needs to discuss what arrangements should be made for them during their entry assessment. Schools must approve the arrangements before the test and will advise what documentation you'll need to provide and upload with your ISEB registration.
Is the ISEB accessible for children with English as an additional language?
Yes, the ISEB is designed to be accessible to children with English as an additional language (EAL). You should discuss this with your chosen senior schools. You may be able to request adjustments such as extra time or a bilingual dictionary.
ISEB registration dates and how to apply
Registration opens in September 2022 for children applying to enter Year 7 in September 2023. You can sign up for email updates and registration reminders here.
As of 2022, you now need to register your child for the ISEB directly. Previously, children were registered by the senior schools they had applied to.
Registration is free and takes places on the ISEB website admissions portal. You only need to register your child for the test once, no matter how many different schools they are applying to. You can return to the admissions portal to edit or add to your child's registration.
We recommend checking with your chosen schools for their individual admissions processes and closing dates. You will need to apply directly to each school as well as registering for the ISEB.
Once registered, your child will sit the ISEB in either early November or mid January. In previous years, the closing dates to register candidates were 1st October (for the autumn exam) and 1st December (for the spring exam).
The ISEB can only be taken once within a year – any additional tests will not be valid and the first result will stand.
How to prepare for the ISEB
We recommend taking a balanced approach to your child's ISEB exam preparation. Your child should build knowledge and confidence in the curriculum before starting ISEB practice papers.
Because verbal and non-verbal reasoning are given limited curriculum time at school, preparing at home is key. Introduce your child to verbal and non-verbal reasoning practice early so that when exam day comes they can focus on problem solving rather than being distracted by confusion over the unfamiliar style of questions.
For advice on how to familiarise your child with verbal and non-verbal reasoning, watch our specialist webinar, Supporting your child's reasoning skills.
ISEB preparation lessons with Atom
Atom's free Live Lessons are a fun and interactive way to get your child engaged with ISEB Pre-Test preparation. Learn more and register your child below: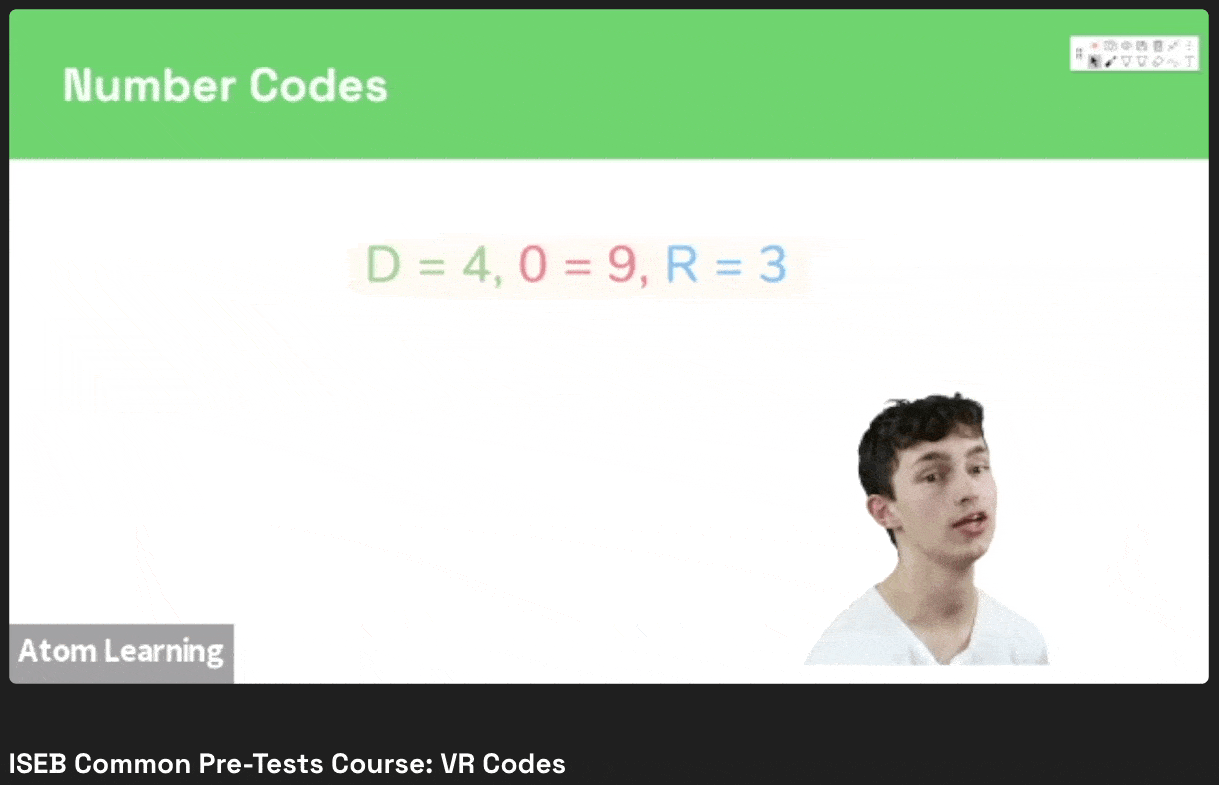 ISEB practice papers
Then, begin to introduce practice tests to familiarise your child with the exam techniques specific to the ISEB. This is an opportunity to practice answering accurately, getting comfortable with no back button, pacing themselves and taking their time on each question.
Unlimited ISEB practice papers on Atom Nucleus: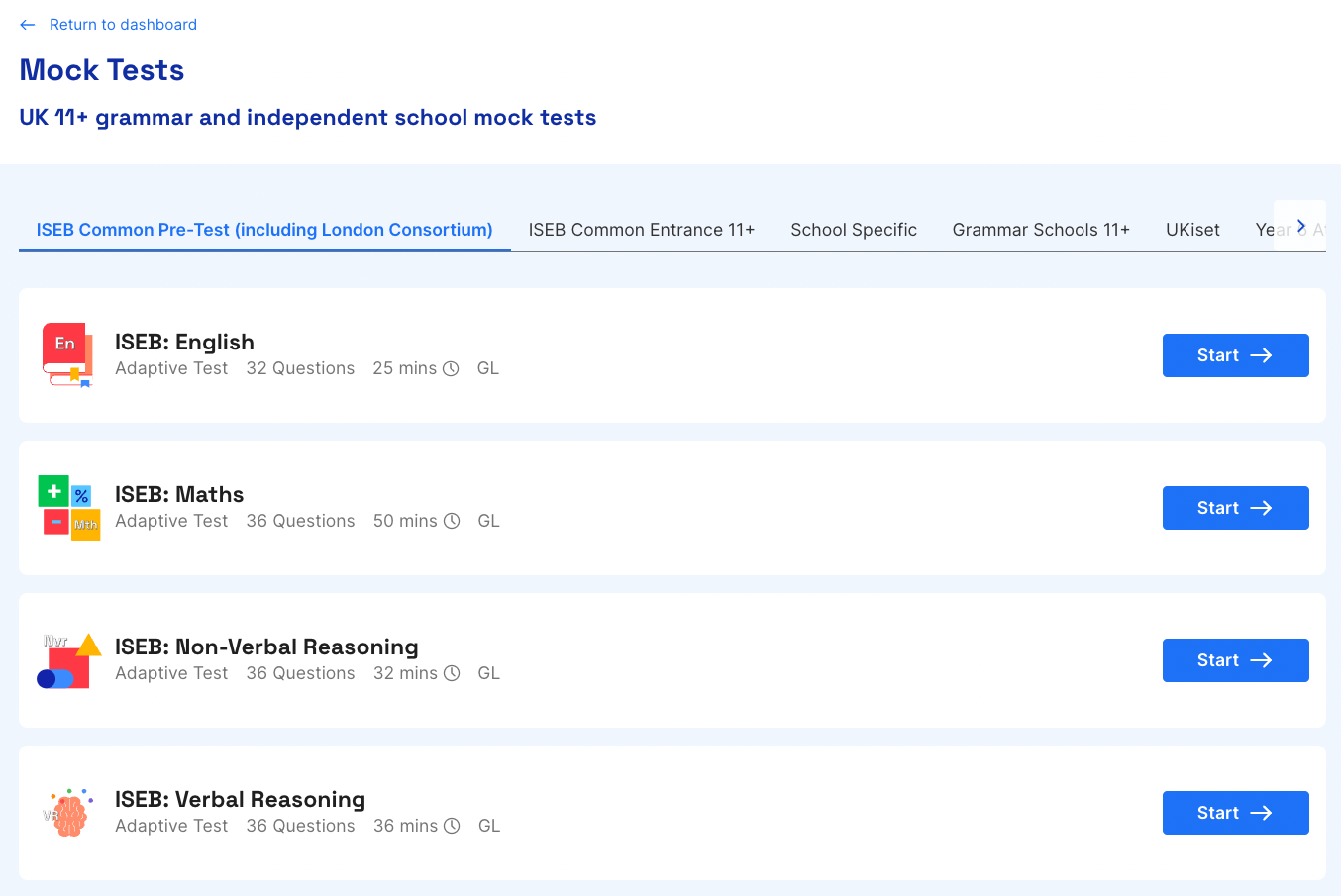 The ISEB website has a walkthrough which gives limited examples of questions from the four subjects. You can use this to help familiarise your child with the style of the test and determine the ideal visual adjustments for your child (font size, colour overlay) ahead of time.
When to start preparing
We recommend starting exam preparation as early as possible to minimise the pressure on your child. An ideal time to start preparation is the summer term of Year 4, as this will allow time to embed and scaffold their knowledge of the exam curriculum to the required breadth and depth.
Best exam techniques for the ISEB
Because of the unique nature of the ISEB Common Pre-Test, there are specific strategies and techniques for success. Our ISEB assessment specialists have shared their insider knowledge here, as well as tips to share with your child to help them ace the test with confidence:
---
ISEB FAQs: your questions answered
We asked our parent community what they needed to know to prepare for the ISEB. We've shared our answers to our most frequently asked questions below:
Will my child be allowed a pencil and paper to do working out/make notes?
Yes, children are allowed to use pencil and paper for their rough work throughout all sections of the ISEB. (Until 2022, pencil and paper were allowed for the verbal reasoning and maths tests only.)
Will my child be penalised for not completing all the questions?
Yes, but the penalty is very small. Because the ISEB is adaptive, more focus is placed on the level of difficulty that a student reaches than on completing all of the questions.
If there's not much time left, should my child skip the questions they find difficult and attempt as many questions as possible?
There is no option to skip a question on the ISEB exam - no 'next' button will appear until your child selects an answer. If they're running out of time they shouldn't rush, as accuracy is much more important than speed on the ISEB.
If your child is unsure of an answer, they should slow down and do their best to get the answer correct. If they really aren't sure, they can use the process of elimination to narrow down the multiple choice options and make an educated guess.
Should my child try to work as quickly as possible to answer the most questions?
No. Students should take their time, work carefully throughout the test, and always double check before moving onto the next question. The ISEB has a fixed number of questions – once your child has answered all the questions, the test will end, even if there is time left. And because the test is adaptive there is no back button to review earlier answers.
Why did my child get a higher score in the mock test where they answered more questions wrong?
As ISEB tests are adaptive, the questions become more challenging towards the end, and are worth more marks the harder they get. Your child's score depends on the difficulty of the questions they answered correctly and incorrectly, not the number of questions they answered correctly.
What happens after the test?
Your child's score will be shared with all senior schools they have applied to. The schools do not generally share these with parents, but will use them to decide whether to move your child forward in the admissions process.
Many schools will then ask students to attend an interview for the second round of the admissions process, or sit another school-specific exam. To prepare for these scenarios, or to find out what this may entail for your school, we'd recommend seeking advice from organisations with strong links with schools, such as here at Atom Learning. You can talk with an Education Expert by tapping the LiveChat icon in the bottom right of your screen.
Interview preparation courses
Register your child for an interview preparation course here. Running in November and December, this will give your child everything they need to know to ace their senior school interview, including how to craft compelling answers and be prepared for tricky questions.
---
We're here to help
For more tips, watch our specialist webinar on the ISEB Common Pre-Test, where Jade will talk you through everything you need to know about the preparation process:
Get in touch
Our Education Experts are on hand to answer any questions you may have about the ISEB Common Pre-Test or the application process for your target schools. You can speak with us by tapping the LiveChat icon in the bottom right of your screen, email us, or give us a call on 020 3973 9226.
Atom Nucleus for ISEB preparation
Atom Nucleus is designed to support your child to build knowledge and confidence in each of the ISEB exam topics. Our adaptive algorithm keeps your child on their optimal learning pathway, designed to stretch, challenge and motivate them.
Our unlimited mock tests mirror the content and scoring of the real ISEB exams. They are designed to familiarise your child with exactly what to expect – and give you clear data on how your child is performing compared to peers, so you know they're on track for the exam.
Discover best-in-class, teacher-produced exam practice for the ISEB Common Pre-Test. Start your free trial today to learn more about how Atom Nucleus can empower your child to perform their best on exam day.

Testimonials
Parent WhatsApp groups
Preparing for entrance exams in 2023? Why not join our Exam Preparation group on WhatsApp? Get access to free resources and advice, and ask our Education Experts any questions you have about the admissions process and your child's upcoming exams.