Hampton School is a large independent day school for boys aged 11–18 on a 28-acre site in South West London. It prides itself on being friendly, lively and unpretentious. There are many close links with Lady Eleanor Holles (LEH) – the neighbouring independent girls' school.
The school believes that education is about developing a spirit of intellectual enquiry, as well as acquiring specific knowledge and skills. From the second year and above, boys are encouraged to take part in the Hampton Extended Learning Project – a programme of extended learning where pupils undertake projects including extended essays in areas of personal interest, as well as creative projects. The GCSE curriculum is extensive; as well as traditional academic subjects, boys can choose to study subjects including Ancient History, Greek with Latin, Mandarin and Russian.
Hampton School has a varied co-curricular programme and is well known for its sporting prowess, with many boys competing at regional, national and international level. Over 1,000 fixtures are played annually in 18 different sports on offer. As well as thriving art, music and drama programmes, there are over 50 clubs and societies for boys to engage with, including clubs such as beekeeping, coding, lego robotics, model aviation and creative writing.
Students leave Hampton School with impressive exam results – in 2021, 92% of A level grades were A* or A and 95% of students headed to Russell Group or equivalent universities. Meanwhile, over 87% of GCSE grades were 9–8 (the A* equivalent).
Key information for Hampton School
Headteacher: Kevin Knibbs

Address: Hampton School, Hanworth Road, Hampton, Middlesex, TW12 3HD

London borough: Richmond upon Thames

Admissions contact: Mrs Dorothy Jones – [email protected], 0208 979 9273

Age range and gender: 11–18 (boys only)

Number of pupils: 1,350

Number of places in Year 7: 140

Ratio of applicants to places: 6:1

Open day date: Saturday 24th September 2022

Overview of selection procedure for Year 7 entry: Entrance exam, headteacher's reference and interview

Registration opens: Currently open on the school website

Registration closes: 1st November 2022

Assessment date for Year 7 entry: Saturday 26th November 2022

Scholarship assessment date: January 2023
Hampton School fees and financial assistance
The current fees at Hampton School are £7,300 per term.
Hampton School is committed to providing financial support to boys whose families could not otherwise afford a Hampton education. The school's dedicated charity, The Fitzwygram Foundation, was established in 2018 to fund completely free places at the school – there are currently 85 boys on a full free place, and many more whose funding is partially supported. Bursaries are means-tested or needs-based and range from 10% to 100% reduction in school fees.
Hampton School also awards scholarships to boys who demonstrate talent and potential in a particular field. The scholarships available from Year 7 vary in their fee remission from year to year – normally between 5% and 25% of tuition fees – and are available in the areas of academia, art, choral music, chess, instrumental music, performing arts and sport.
Hampton School term dates
The 2022-23 term dates for Hampton School are:
Autumn term: 6th September – 14th December 2022

Half term: 17th – 28th October 2022

Spring term: 9th January – 24th March 2023

Half term: 13th – 17th February 2023

Summer term: 18th April – 7th July 2023

Half term: 29th May – 2nd June 2023
Admissions process for Hampton School
If you would like to register your son for Year 7 entry to Hampton School in 2023, you will need to complete the online registration form before the deadline of 1st November 2022. A non-refundable registration fee of £125 applies (however, this can be waived if your son receives free school meals). The admissions team at Hampton School will then write to your son's current headteacher to request a confidential report in support of his application.
If your child is applying for a scholarship at Hampton School, you will need to submit a separate scholarship application form before the deadline on Monday 21st November 2022.
All candidates will take an entrance exam at Hampton School on Saturday 26th November 2022. Candidates who demonstrate potential in this exam will be invited back to the school for a 30-minute informal and friendly interview with two teachers. This interview is designed to get to know candidates better, explore their potential and 'fit' with the school's ethos, and discuss each boy's interests and hobbies.
Candidates who are applying to one of Hampton School's scholarships will need to undergo additional assessment processes. Scholarship assessments and interviews will only be offered to applicants who have been successful in the main 11 plus entrance exam.
Academic Scholarships: potential academic scholars are automatically considered and identified through the 11 plus entrance exam – no separate application is required. These consist of Edmund Pigeon Scholarships (awarded for academic excellence) and Robert Hammond Scholarships (awarded for academic excellence to boys who have lived in the areas of Hampton, Hampton Hill or Hampton Wick for at least two years).

Art Scholarships: candidates are asked to submit a portfolio of their work and will complete a practical task (a short drawing and/or painting test) at Hampton School in January 2023.

Chess Scholarships: candidates will need to play to a standard in line with an ECF rating of around 1250. The assessment, which takes place in January 2023, will include gameplay and an interview with the Head of Chess. Supporting references from appropriate professionals are helpful.

Choral Scholarships: auditions for Choral Scholarships take place at the Chapel Royal in January 2023, where candidates will perform a song or hymn of their choice and sight-read music to an appropriate standard. The audition will also include aural tests and questions on general music topics.

Music Scholarships: candidates for Music Scholarships will need to have reached Grade 4 in their principal instrument (they must offer two instruments) and will submit a 2-3 minute pre-audition video, as well as supporting references from their current Head of Music and other professionals. Auditions will take place in January 2023, with candidates performing two contrasting pieces of music on their first instrument. They will also be tested on sight-reading, aural tests and have an informal interview.

Performing Art Scholarships: candidates will need to submit a pre-audition video and supporting references from their current Head of Drama and other representative bodies and professionals. The audition will take place in January 2023, where candidates will perform a short monologue and have a short interview with the Head of Drama.

Sports Scholarships: candidates will be shortlisted based on their performance in the 11 plus exam, their achievements to date in their chosen sport(s) and references from representative bodies and appropriate sporting professionals. Assessments will take place in January 2023 and will include practical tests, generic ball and spatial awareness skills, technical ability and knowledge and basic fitness tests.
Parents will receive the outcome of their son's application in mid-February, and families are asked to confirm acceptance at the beginning of March.
Hampton School entrance exam format
All candidates for Year 7 entry to Hampton School will take an 11 plus entrance exam on Saturday 26th November 2022. This will consist of three papers:
English (40 minutes): candidates will take a short comprehension exercise and produce a piece of creative or descriptive writing based on an image.

Maths (45 minutes): questions include simple calculations, number patterns and relations, spatial relations and elementary logic reasoning.

Words and reasoning (40 minutes): an assessment of candidates' abilities to extract information from a factual passage and from material such as maps or timetables.
You may wish to explore the following resources to help your child prepare for the 11 plus exam at Hampton School:
How to help your child prepare for the selection process at Hampton School
Verbal reasoning practice
The words and reasoning 11 plus paper for Hampton School is unique. The school encourages candidates to read a good deal of non-fiction (such as science and history) appropriate to their age. Boys may also find puzzles helpful, as verbal and visual puzzles will be included in the test. Working through verbal reasoning questions will put your child in good stead for this paper – as this type of content is not taught at Key Stage 2, it is essential that your son understands the style of the questions and how to answer them.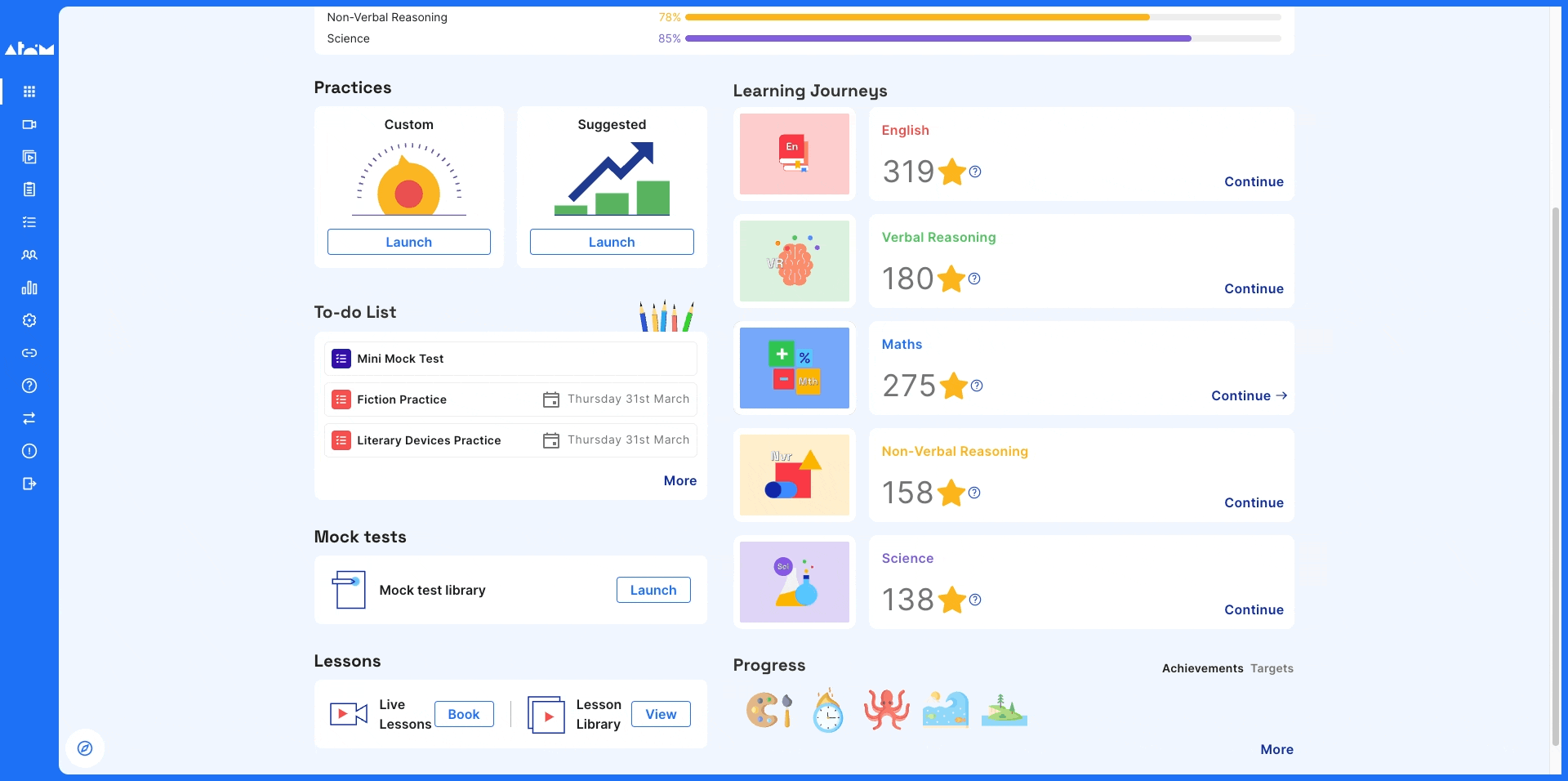 Your child can explore all the possible verbal reasoning question styles on Atom Nucleus (and you will be able to track their progress and identify areas for improvement on your own Parent Portal). After your child has completed the verbal reasoning learning journey, they will be able to put their knowledge into practice with verbal reasoning mock tests:
Regular reading
Regular reading will help your child develop great comprehensive skills and expand their vocabulary – both of which are key for the Hampton School English paper. Candidates are encouraged to read a wide range of children's novels, including books by authors such as Gillian Cross, Terry Pratchett, Rosemary Sutcliffe, Robert Westall and Phili Pullman. If your child is not a natural reader, take a look at our guide to engaging your child with reading for some ideas to help.
Familiarisation with the curriculum
As the 11 plus maths exam at Hampton School will assess your son on the Key Stage 2 National Curriculum, make sure that your child is familiar with everything he has covered in maths at school. Atom Nucleus, our online platform for home, covers the entire KS2 maths curriculum – meaning your child can get ahead and start learning Year 6 content. Our adaptive platform teaches pupils in an interactive, engaging way: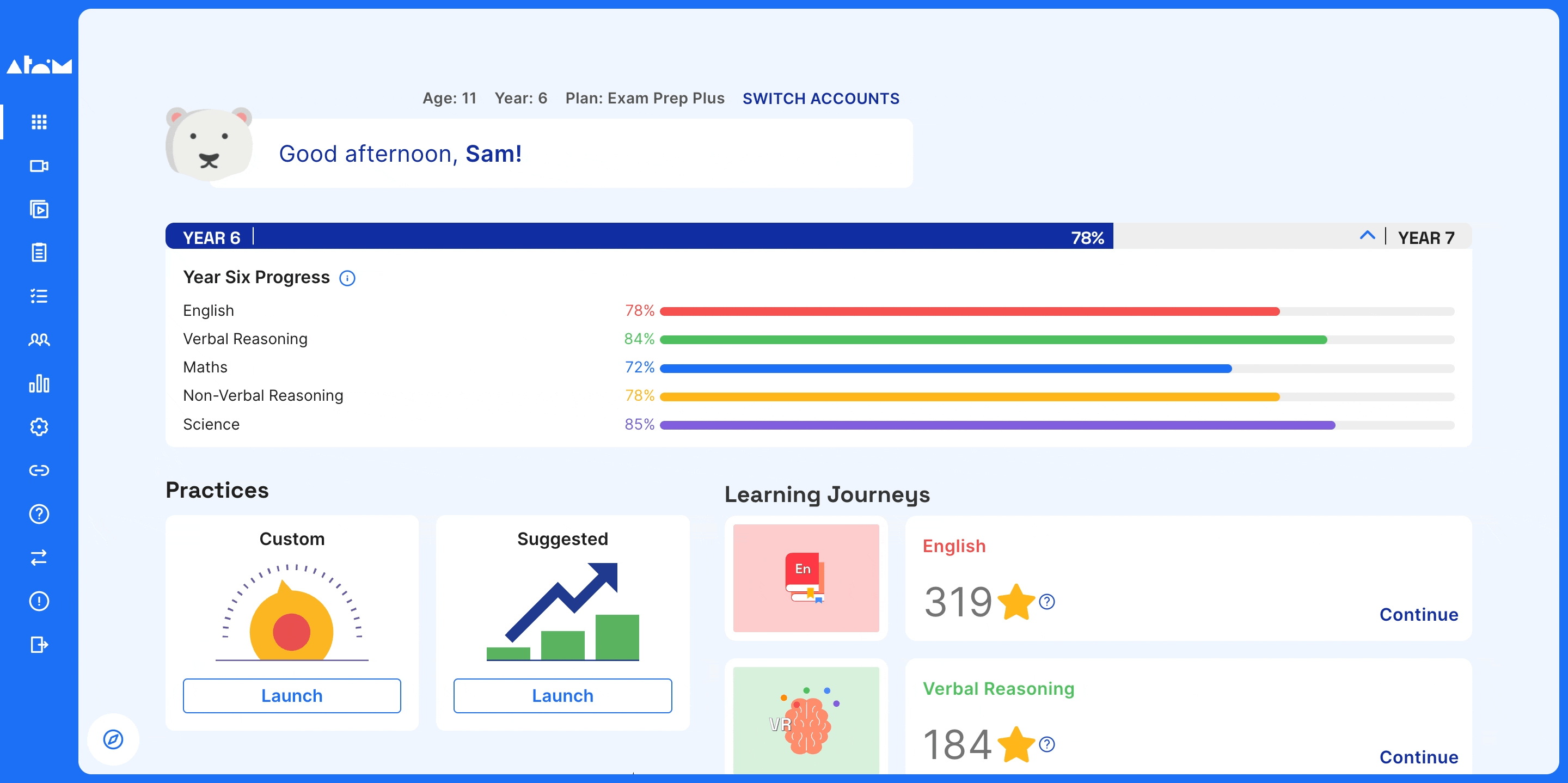 ---
Atom Learning can help
We have over 90,000 teacher-written practice questions, video tutorials, help sheets, live exam preparation courses and unlimited mock tests that mirror the format of most 11 plus entrance exams. It's our mission to help your child feel prepared and confident on exam day.
Begin your free 5-day trial of Nucleus today to unlock success in the classroom, entrance exams and more.
We know how crucial this time is, so our team is on hand to support you and your family every step of the way. You can book a call with one of our Education Experts to ask any questions you might have about Year 7 entry to Hampton School:
If you're looking for exclusive tips and resources to help your child master key subjects, excel in exams and build academic confidence, join Atom's email list: