Reigate Grammar School is a co-educational day school in Reigate, Surrey for boys and girls aged 11–18. It has been named the top co-educational day school in Surrey for nine years running.
The school has a broad curriculum which is tailored to each individual. Alongside traditional subjects, pupils study modern disciplines including computer science, food and nutrition, photography, and theology & philosophy. Children are not restricted by subject 'blocks' and complete their GCSEs over three years, giving pupils in Years 9 and 10 time to participate in an elective programme every week (including options such as pop video production, website design, forensic psychology and special effects prosthetics).
Reigate Grammar School is renowned for its sport, with competitive fixtures in rugby, swimming, hockey, rugby 7s, cricket, athletics, tennis, netball, and rounders. The school occupies 32 acres of playing fields, with further facilities including a 25m indoor swimming pool, dance studio, netball and tennis courts and fitness suites. Pupils also have opportunities to explore creative arts; the drama department has regularly attended national festivals (including both the Brighton and Edinburgh Fringe) and there are three or four large-scale productions each year. Music is also strong; all students are encouraged to join an ensemble and the school hosts the RGS Saturday Music College for 7 to 18-year-olds from local schools.
In 2022, students at Reigate Grammar School achieved record-breaking exam results. 94% of A level grades were A*–B, with 47% of grades A* alone. At GCSE, 79% of grades were 9 or 8 (A* equivalent).
Directory of private schools in Surrey
---
Key information for Reigate Grammar School
Headmaster: Mr Shaun Fenton

Address: Reigate Grammar School, Reigate Road, Reigate, Surrey, RH2 0QS

County: Surrey

Admissions contact: Mrs Philippa Watkins – [email protected], 01737 222231

Age range and gender: 11–18, boys and girls

Number of pupils: 1,094

Number of places in Year 7: 155

Open day date: Wednesday 1st February, Thursday 2nd March, Thursday 27th April, Thursday 18th May, Tuesday 20th June, and Thursday 22nd June 2023. Book a place via the school website.

Overview of selection procedure: written entrance exam, interview and a current school report

Registration closes: November of Year 6

Assessment date: January of Year 6
Reigate Grammar School fees and financial assistance
The current fees at Reigate Grammar School are £7,050 per term for Years 7–8 and £7,195 per term for Year 9 onwards. Lunch is charged separately via a biometric cashless system.
Reigate Grammar School is able to offer bursaries (formerly called assisted places) to enable gifted children to attend the school irrespective of family income. The level of fee remission is determined on a sliding scale which may offer up to 100% reduction in fees, as well as assistance towards the cost of school uniforms, school meals and travel in cases of particular need. The exact amount of reduction depends upon family circumstances, but as a guide, will not be available for families who have a total gross annual income of over £95,000.
A separate bursary scheme called the Nightingale Fund is available for the children of front-line staff within the NHS and related services. 10 assisted places are available for 11 plus candidates applying through this scheme.
Scholarships are also available for 11 plus candidates, although the majority have either no fee remission or are provided at a fixed amount of £1,000. Academic, music and sports scholarships are available for 11 plus candidates, while a separate headmaster's scholarship is available for talent across a range of disciplines.
Reigate Grammar School term dates
The term dates at Reigate Grammar School for 2022–23 are:
Autumn term: 5th September – 15th December 2022

Half term: 17th–28th October 2022

Spring term: 5th January – 24th March 2023

Half term: 13th–17th February 2023

Summer term: 17th April – 4th July 2023

Half term: 29th May – 2nd June 2023
The term dates at Reigate Grammar School for 2023–24 are:
Autumn term: 6th September – 15th December 2023

Half term: 23rd October – 3rd November 2023

Spring term: 4th January – 28th March 2024

Half term: 12th–16th February 2024

Summer term: 22nd April – 2nd July 2024

Half term: 27th–31st May 2024
Admissions process for Year 7 entry to Reigate Grammar School
If you would like your child to be considered for a place in Year 7 at Reigate Grammar School, you will need to submit an application through the school's online admissions portal by November when your child is in Year 6. A non-refundable registration fee of £100 applies for UK applicants, and £150 for overseas or late applications. The admissions team will ask your child's current school for a written report after you have registered.
All prospective pupils will take written tests at Reigate Grammar School in early January in Year 6 and will have the opportunity to sample the types of activities on offer at the school on the same day. Pupils will automatically be considered for an academic scholarship on the basis of their performance in the written tests.
Children will be invited back to Reigate Grammar School on a Saturday in late January for two interviews. One interview will be one-to-one with a member of staff, and they will be asked to talk about their hobbies and interests. The other interview will be a group interview with other candidates and the headmaster.
If your child has applied for a co-curricular scholarship, they will be invited to a separate scholarship assessment day later in January.
Reigate Grammar School will send its offers of places for 11 plus entry to families in early February of Year 6, on a date agreed and in line with other local independent schools. If your child receives a place, you will have until a confirmed date in early March to return the acceptance form.
Reigate Grammar School 11 plus exam
Children applying for Year 7 entry to Reigate Grammar School will take the school's own written tests in early January. There are three papers in total:
English: 60 minutes in total. Children will need to answer questions to demonstrate their comprehension of a provided text, after which they will complete a creative writing task. Take a look at our guide to developing your child's reading comprehension skills and creative writing in the 11 plus.

Maths: 45 minutes in total. Children will be tested on their knowledge and application of Key Stage 2 maths, which includes the topics of number (place value, addition and subtraction, multiplication and division, fractions and decimals), measurement, geometry, position and direction, and statistics. Our guide to 11 plus maths covers the Key Stage 2 maths curriculum, and typical 11 plus exam questions, in more detail.

Reasoning: The reasoning paper at Reigate Grammar School incorporates questions on both verbal and non-verbal reasoning. Children will be tested on their ability to use logic, spot patterns and rules, and solve problems with both written and visual information, such as words, pictures, shapes, and diagrams. Take a look at some tricky questions – and find out how to work through them – for verbal reasoning and non-verbal reasoning.
How to help your child prepare for the selection process at Reigate Grammar School
Build foundational knowledge
The 11+ exam at Reigate Grammar School will assess your child's knowledge and application of the Key Stage 2 national curriculum for English and maths. They will also be tested on their verbal and non-verbal reasoning ability – neither of which are taught in school.
Your child can consolidate everything they need to know with Atom Nucleus. They'll have access to over 90,000 interactive teacher-created questions and learning resources spanning all topics in Key Stage 2 English and maths, and all 11 plus verbal and non-verbal reasoning question types.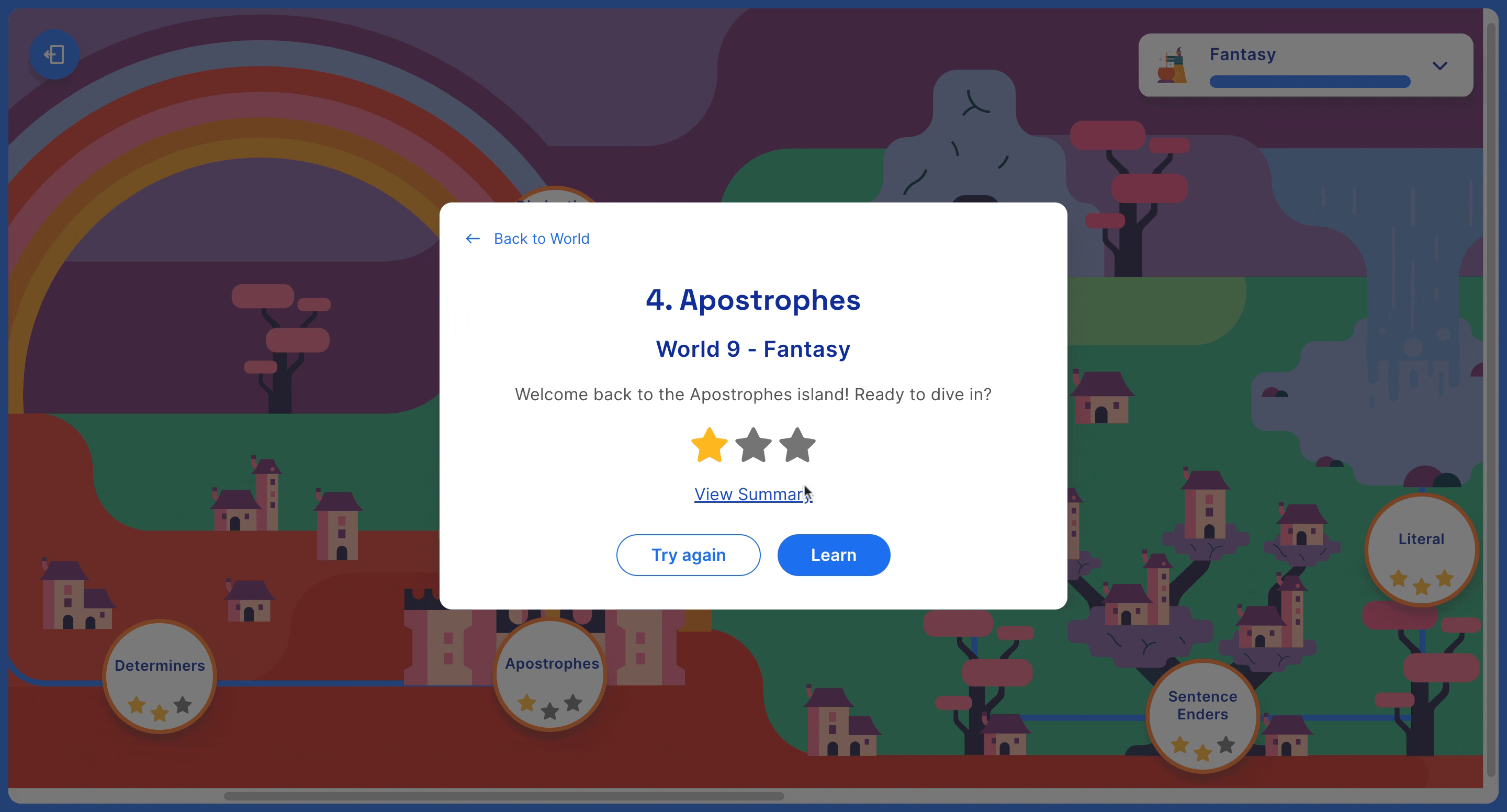 Preparation is key
Familiarisation with the question formats and known styles ahead of the exam is essential to help your child build exam confidence.
An exam preparation subscription with Atom Nucleus enables your child to access quality, unlimited practice material with full score breakdowns to help your child feel confident by the time the exam day comes around.
Your child can take mock tests that replicate typical 11 plus exams for English, maths, verbal and non-verbal reasoning as many times as they like without repeatedly seeing the same questions. Meanwhile, you'll be able to see their results instantly, including their performance compared to peers and suggested areas for improvement.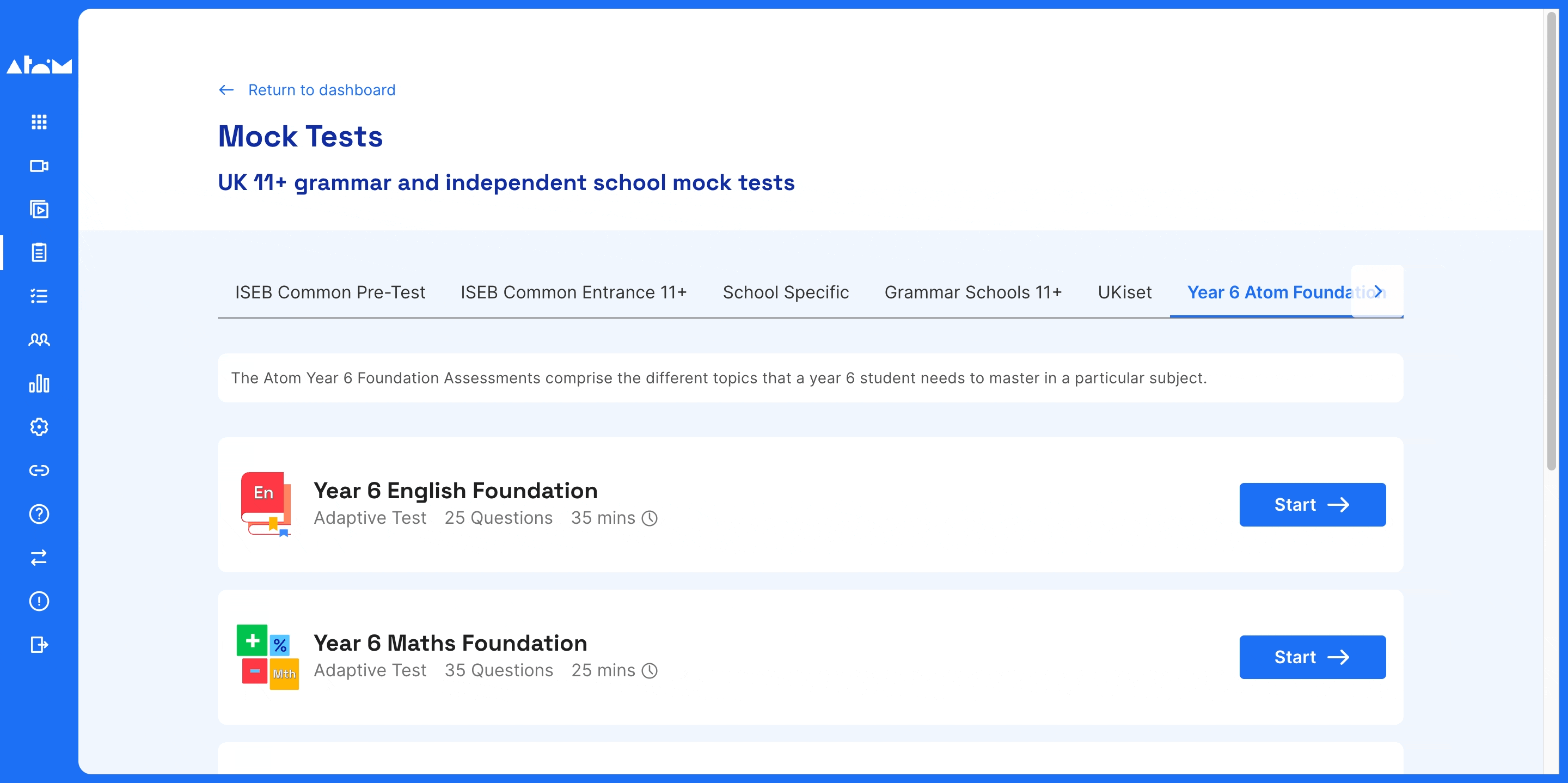 When working through challenging topics, your child will need immediate clarity with any misconceptions so that they feel truly secure in every topic. Atom Nucleus includes video tutorials, help sheets and examples with every question to help your child build confidence and competence across all the areas assessed.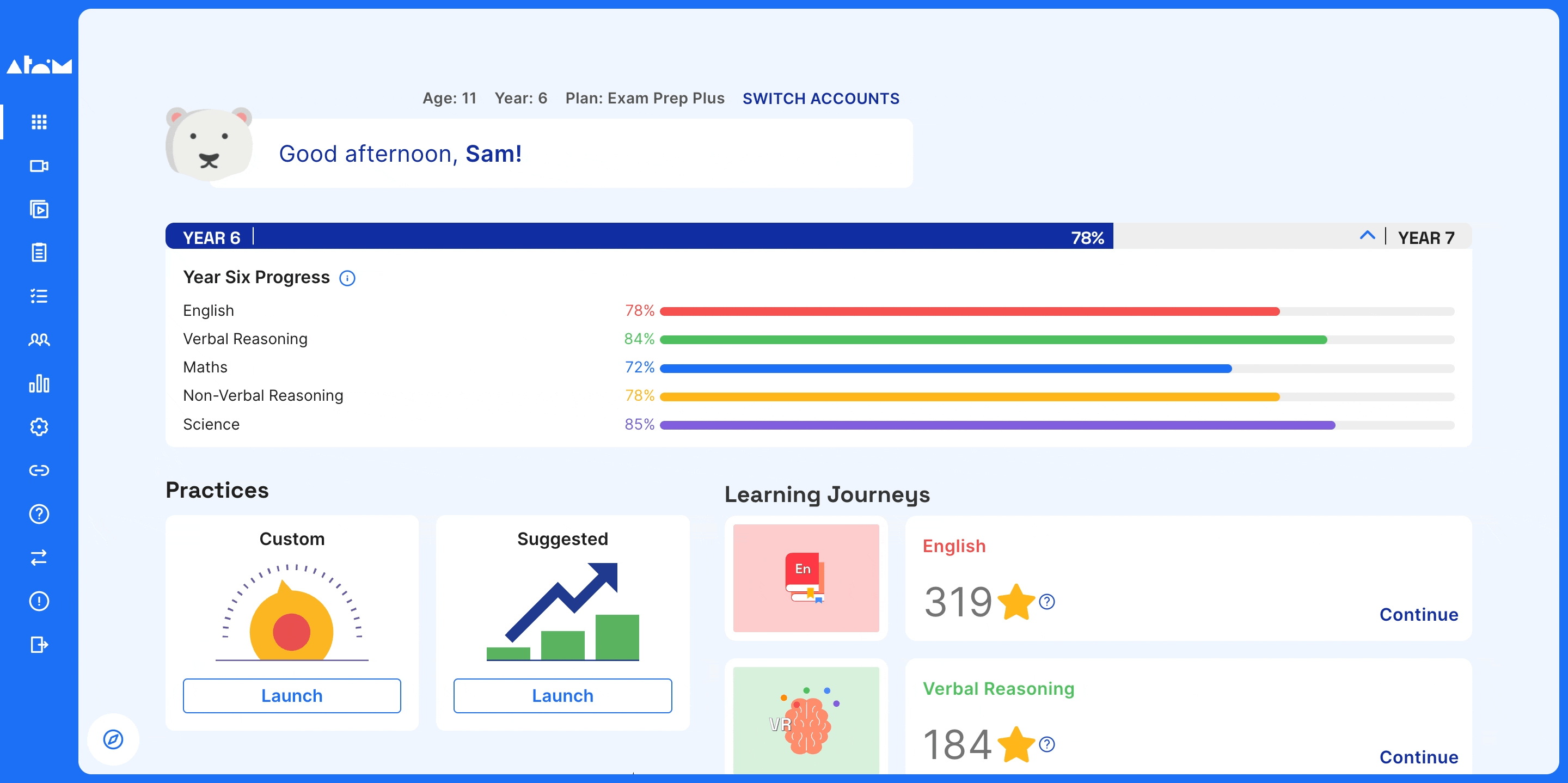 Engage with their progress
Celebrate your child's improvement in areas of challenge together. An accurate and ongoing assessment of their areas of strength and development is helpful.
As an Atom subscriber, you'll have a parent dashboard which offers data-driven insights into your child's progress. You can use this effectively to help your child set targets, see a detailed breakdown of their progress by subtopic and set custom practices to target those they find most challenging.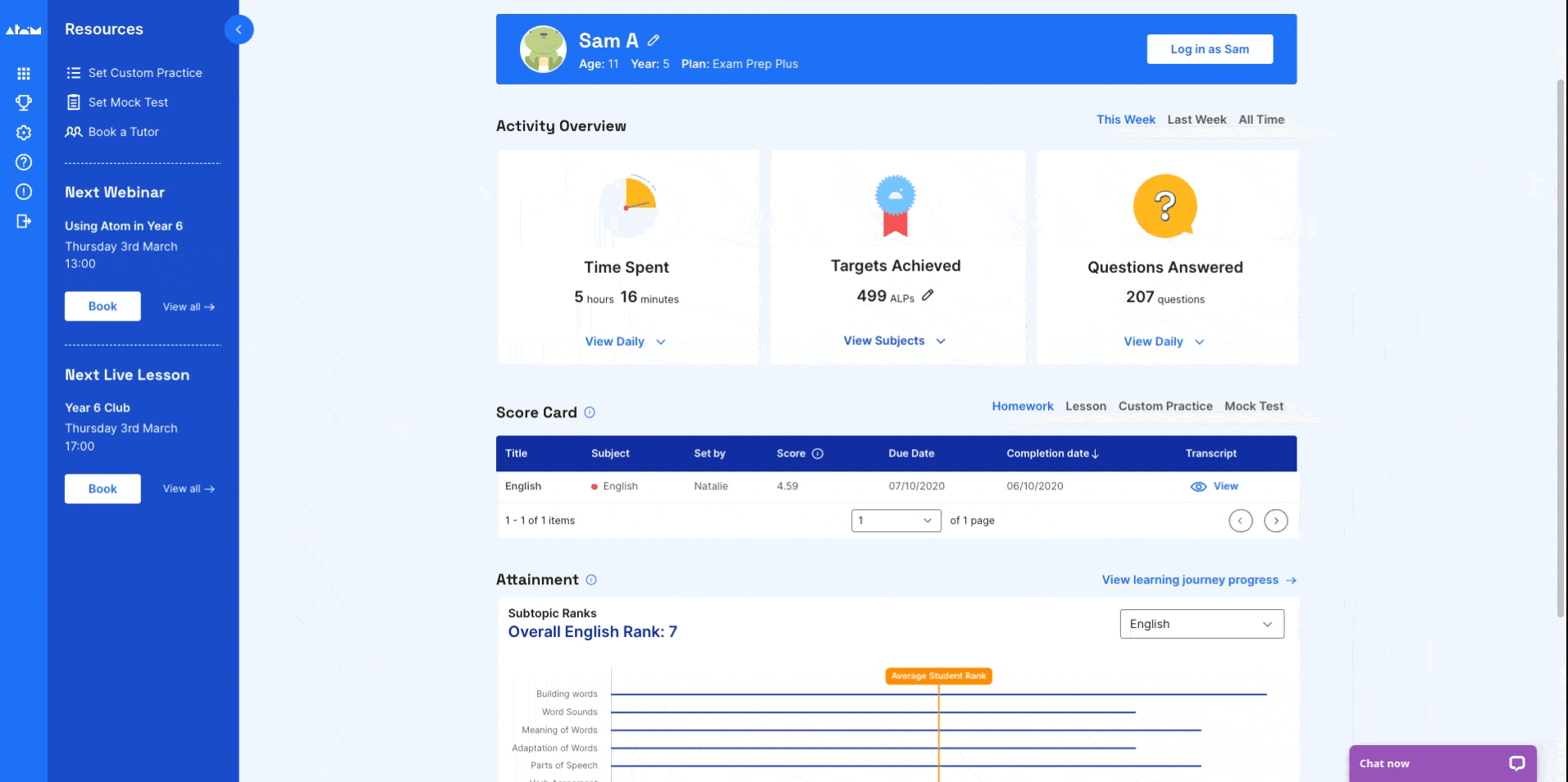 ---
Get started with Atom Learning
It's our mission to help your child feel prepared and confident before the exam day. Begin your free 5-day free trial of Nucleus today to help your child succeed.
We know how crucial this time is, so our team is on hand to support you and your family every step of the way. You can book a call with one of our Education Experts to ask any questions you might have about 11 plus entry to Reigate Grammar School:
If you're looking for exclusive tips and resources to help your child master key subjects, excel in exams and build academic confidence, join Atom's email list: