There are four selective grammar schools in Dorset, located in the Bournemouth, Christchurch and Poole (BCP) Local Authority, with a further two partially selective schools offering admission consideration to a small intake of around 10% (Budmouth Academy and Poole High School).
The grammar schools in Bournemouth are Bournemouth School (boys) and Bournemouth School for Girls, with Poole Grammar School (boys) and Parkstone Grammar School (girls) in the area of Poole. All four schools boast impressive GCSE results, progress scores and extra-curricular activities. They are connected as a consortium, meaning applicants only need to sit one test to apply for all four schools.
The Dorset Grammar Schools 11 plus test 2022 at a glance
Registration opens: 25th April 2022

Registration closes: 9th September 2022

Exam date: 24th September 2022

Exam board type: GL Assessment

Results: 14th October 2022

National school offer day: 1st March 2023 (or next working day)

Admissions information: Dorset Council Admissions

Appeals: undertaken by an independent appeal panel established for that school
Which Dorset grammar schools use the 11 plus test for admission?
Partially selective schools:
Poole High School

Budmouth Academy
What is the Dorset Grammar Schools 11 plus test?
Created by GL Assessments, the test covers all the national curriculum content up to and including Year 6. It is designed to assess your child's academic understanding, logical problem solving, and pattern spotting abilities.
Children sit the 11 plus test at the beginning of Year 6. Passing the test is essential to be considered for any of the four grammar schools in the BCP Council area. Competition for places is fierce: passing the 11 plus doesn't guarantee admission to the school of your choice.
The four grammar schools in the Dorset Consortium share the same exam papers and process. Consortiums are designed to reduce the number of tests your child will need to sit to be considered for several schools. However, each school has its own qualifying standard and priority admissions criteria. You can find more information on this on each school's website.
What is covered in the test?
The test is split into 3 papers, all of which are multiple-choice. It is marked by computer, so it's essential for your child to mark their answers clearly.
Paper 1: English
Lasting 45 minutes, this paper consists of reading comprehension, punctuation, and spelling identification.
Reading comprehension: usually a two-page extract of either fiction, non-fiction, or poetry. The questions about the text are designed to stretch your child's understanding of vocabulary in context, as well as meaning, inference, and deduction.
Punctuation: sections of a text are split into sentences and your child is asked to spot punctuation errors. There will only be one error per sentence, and some sentences may not contain any.
Spelling identification: following a similar format to the punctuation section, your child is given a set of sentences or phrases, and asked to spot any incorrect spellings. This uses the spelling rules covered in Year 6 national curriculum as well as other more challenging words.
Grammar sentence completion: a passage is split into sentences, with phrases or words removed. Your child is asked to choose the grammatically correct option to complete the sentence.
The English paper can be challenging - find common areas of difficulty in the 11 plus exam here.
Paper 2: verbal reasoning
Lasting 50 minutes, this paper tests your child's competency with patterns and sequences of verbal information, their ability to make connections, and their understanding of vocabulary. Learn more about verbal reasoning and how best to prepare here.
GL exams use 21 known styles of questions for verbal reasoning. To help your child prepare, Atom Nucleus has over 20,000 Dorset Grammar School-style verbal reasoning questions to practice.
Paper 3: maths
Paper 3 also takes 50 minutes, including time for instructions and practice examples. The questions are multiple-choice, and are taken from the national curriculum content for Year 6 maths. The maths paper tests your child's recall of number facts, and their cognitive flexibility to apply this knowledge to solve a range of questions.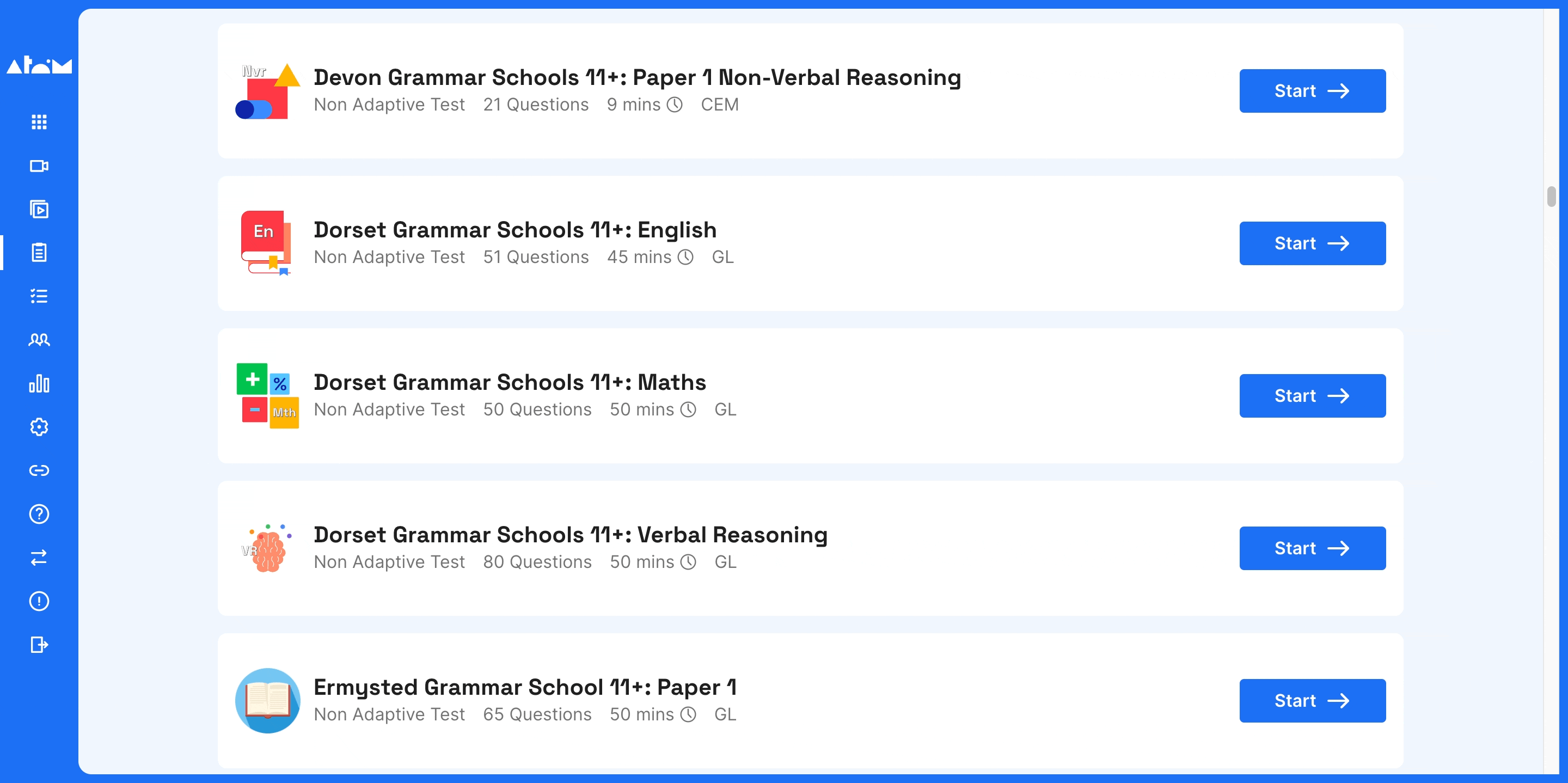 Mock Tests on Atom give your child unlimited practice for all three papers of the Dorset Grammar Schools 11 plus.
What is the pass mark?
There is no single pass mark for the test. Your child's overall standardised score will be ranked in order of success - this is known as the 'qualifying standard'. Ranking criteria are school-specific, the scores from previous years will be used to inform this year's minimum ranked score.
The top 250 scoring students are then filtered using the school's admissions policy (these can be found on their websites). The schools admit pupils who are 'looked after' or receiving Pupil Premium Funding as a priority: those pupils' qualifying standard may be lower than non-priority pupils, who will make up the remaining 150 places.
How competitive is the Dorset Grammar Schools 11 plus test?
The area of Dorset is known for high-performing grammar schools. Places are extremely competitive making schools frequently over-subscribed for Year 7 admission.
Oversubscription school admission policies can be found on their websites. The admission policy for Parkstone Grammar School is below, and the other schools are likely to follow a similar structure:
Priority 1: children who are eligible from their test score and are Looked After by Local Authority, or previously have been.

Priority 2: children who are eligible from their test score, live in the relevant catchment area, and are eligible for Pupil Premium Funding.

Priority 3: children who are eligible from their test score and live in the relevant catchment area.

Priority 4: children who are eligible from their test score, live outside the catchment area, and are eligible for Pupil Premium Funding.

Priority 5: children who are eligible from their test score and live outside the catchment area, in order of the highest ranked score.
When should I start preparing my child for the Dorset Grammar Schools 11 plus?
The 11 plus test is taken in the 3rd or 4th week of September in Year 6, meaning your child will be tested on Year 6 content before they have encountered it at school. Schools do not typically offer additional 11 plus tutoring or practice.
Most commonly, 11 plus preparation begins in the latter half of Year 4 or early into Year 5. This is to ensure your child is familiar with the structure, secure in their understanding of the content, and will be able to sit their 11 plus confidently.
As the exam is designed to test academic ability above age-related expectations, your child should be working at the higher end of Expected or Exceeding (Greater Depth) to comfortably sit the 11 plus. If needed, core-curriculum programmes will help them attain the necessary level before progressing on to exam preparation. It is recommended that these core-curriculum programmes are introduced in Years 3 and 4.
Time pressure can be an added challenge on the day, so it's important for your child to get familiar with timed academic exercises and mock tests in an engaging and supportive environment.
How can I help my child to prepare?
Here are some top tips on how to best prepare your child for the 2022 exam.
Confidently know the structure: there are known question styles on the GL exam, and being familiar with these can reduce anxiety on the day. Access to unlimited practice materials and mock tests will ensure your child is well-prepared for every question type.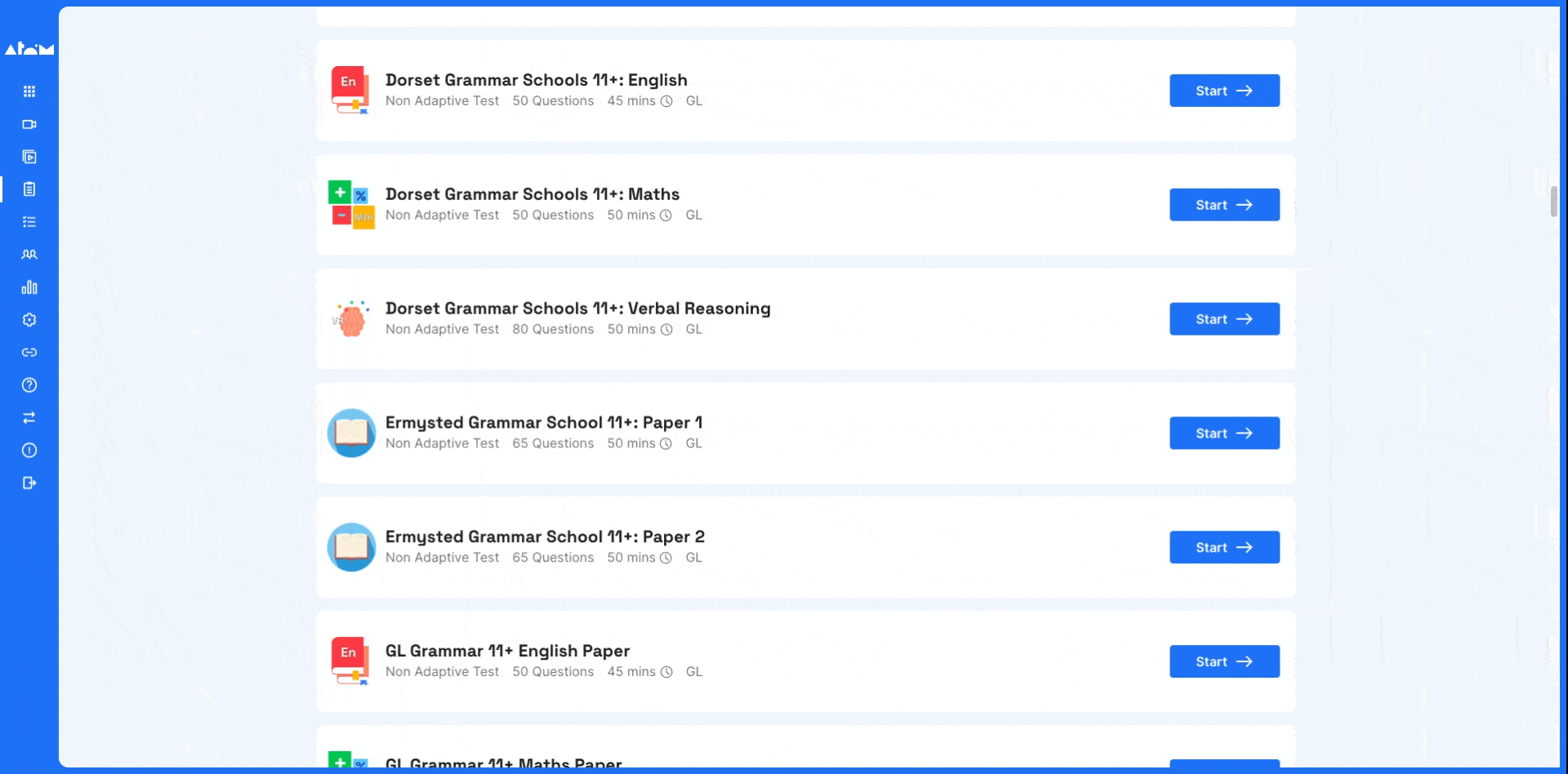 Practice Mock Tests on Atom in the exact style of the Dorset 11 plus papers.
Expand their vocabulary: the English and verbal reasoning paper rely on understanding a range of vocabulary, both in context within a text and as single words. Encouraging your child to read traditional and contemporary genres and authors will help them develop their vocabulary skills. Get free resources for engaging your child with reading here.
Focus on areas of development: tailored learning journeys are essential to allow your child the best chance to develop in the areas they find most challenging. Atom's adaptive technology takes your child on a personalised learning journey so they can be relaxed and confident in hitting their goals. By drilling down to subtopics and addressing any misconceptions at a granular level, you will be able to help them build a strong foundation of knowledge.
Clarify immediately: there are many topics on the 11 plus your child won't have covered at school before, such as ratio and algebra. Atom has videos, help sheets and examples for every question to build proficiency in all areas covered in the exam.
Regularly assess targets: this will allow you to prepare calmly and strategically, avoiding the last-minute cram! Atom's Parent Portal gives you data-driven insights into your child's areas of strength and development so you can help them prepare efficiently.
Overall progress and targets achieved: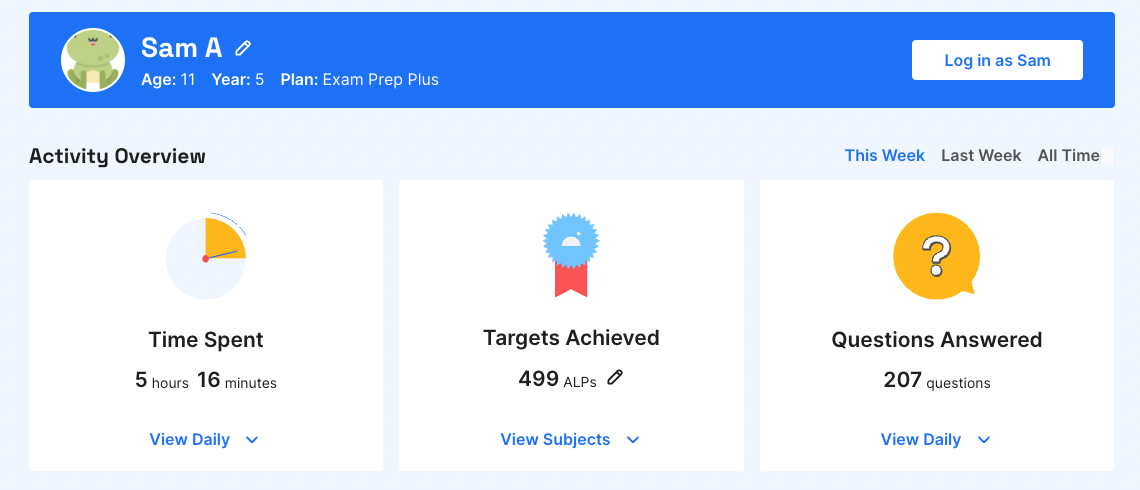 A detailed breakdown of progress by subtopic, compared to the average student in their year: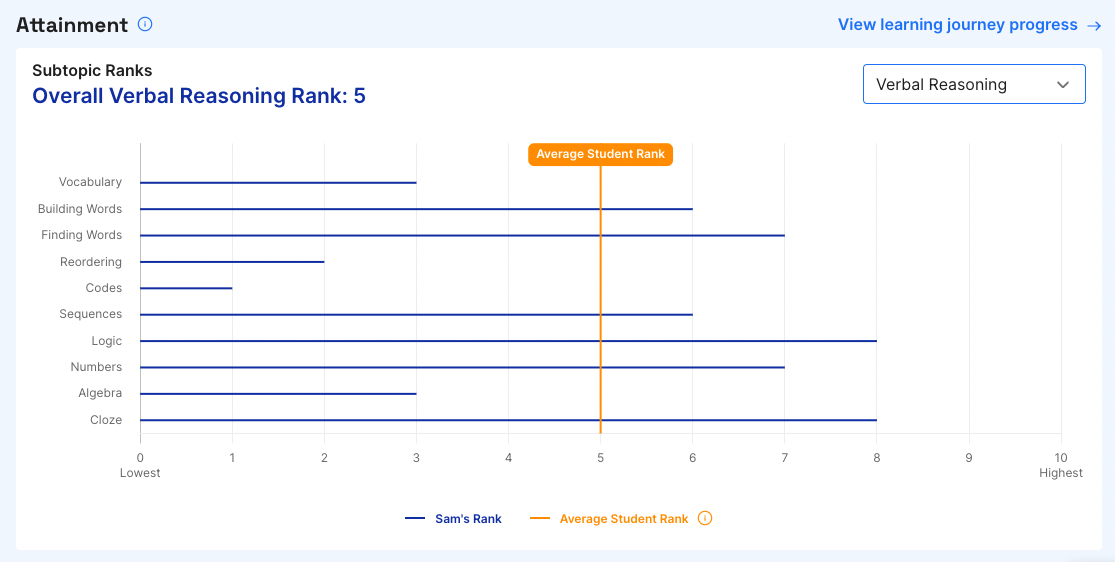 Your child's personalised learning journey progress: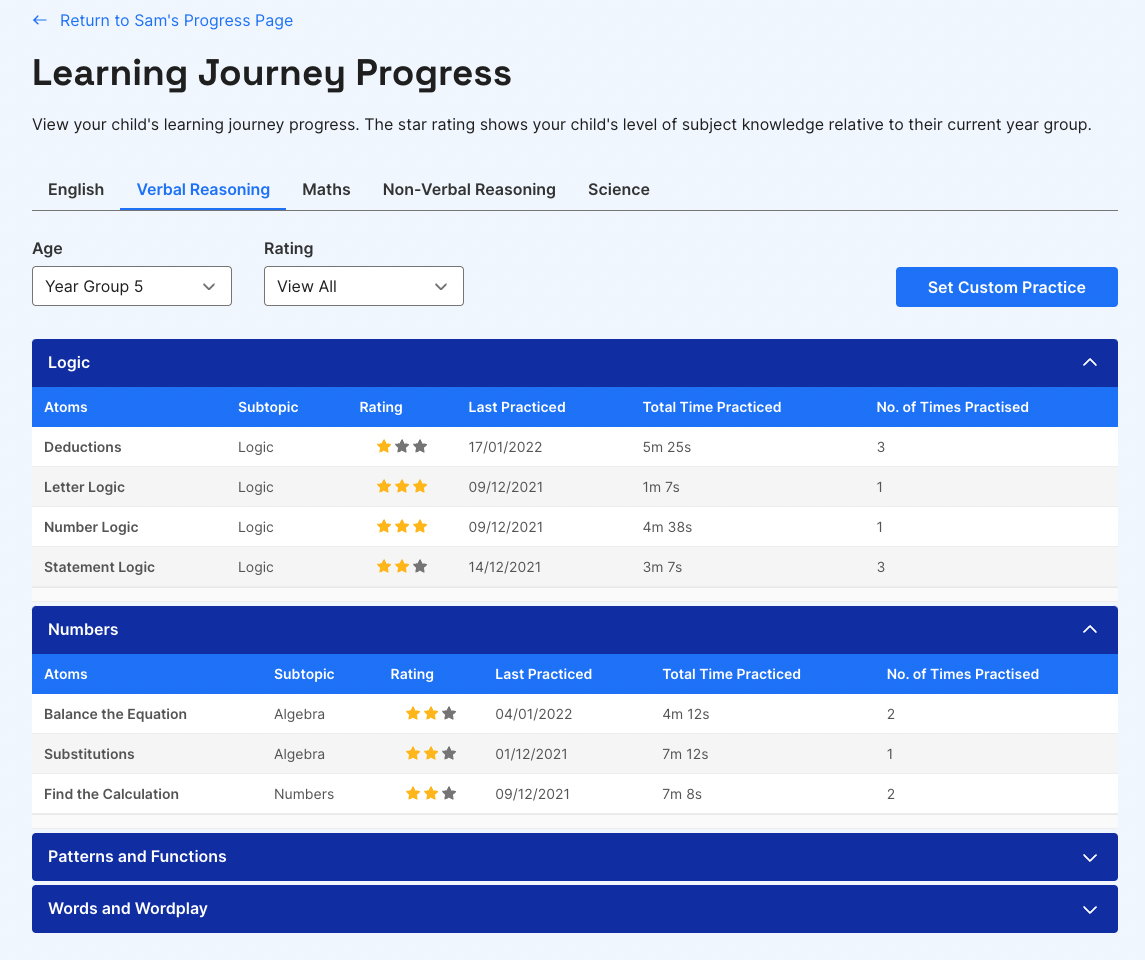 Set Custom Practices to target your child's most challenging subtopics, with functions to personalise timings and question types:
Start your free trial of Atom Nucleus today to learn more.
---
We understand how important this next step is, so our team is on hand to support you and your family every step of the way. You can book a call with one of our Education Experts to ask any questions you may have about the Dorset 11 plus:
If you're looking for exclusive tips and resources to help your child master key subjects, excel in exams, and build academic confidence, join Atom's email list: