Searching for information on the Shropshire, Walsall and Wolverhampton Consortium 2022 exam? We've collated all you need to know about the application process, test content, and how to help your child prepare for success!
The Shropshire, Walsall and Wolverhampton Consortium 2022 11 plus test at a glance
Registration opens: May 2022

Registration closes: early July 2022

Exam date: 2nd or 3rd week of September 2022

Exam board type: CEM

Results: mid-October 2022

National school offer day: 1st March 2023 (or next working day)

Admissions information: Consortium website

Appeals: undertaken by an independent appeal panel established for that school
Which schools use the Shropshire, Walsall and Wolverhampton 11 plus test?
The Shropshire, Walsall and Wolverhampton (SWW) Consortium is made up of five local grammar schools:
Established in 2012, the SWW Consortium schools all share the same 11 plus exam paper, testing dates and registration process. You only need to register your child for this test once. The scores will then be shared across the consortium with your school(s) of choice.
What is the Shropshire, Walsall and Wolverhampton 11 plus test?
The 11 plus is an entrance exam used by selective schools to assess your child's academic ability across four disciplines. Passing the 11 plus does not automatically secure your child a place – be sure to look at school-specific admission policies for additional information on catchment areas and priority criteria.
How to register for the Shropshire, Walsall and Wolverhampton 11 plus test
Registrations for the September 2022 11 plus test are completed online, usually in May. You will register your child to take the test via the school or SWW Consortium website and will receive a confirmation.
Once the results are shared in mid-October, you will be told if your child has met the qualifying standard. If they have, you will be able to apply to the grammar schools of your preference via the Local Authority Common Application Forms (CAF). If you are considering applying to a school that is outside of your Local Authority, your CAF will still be sent to your home Local Authority.

What is covered in the Shropshire, Walsall and Wolverhampton 11 plus test?
Created by the CEM exam board, the SWW Consortium 11 plus test consists of two papers, each lasting approximately 45 minutes. There will be instructions on the test paper format and opportunity to see example questions before beginning the test.
Each paper covers two subjects:
Paper 1: English (reading comprehension) and verbal reasoning

Paper 2: Maths (numerical reasoning) and non-verbal reasoning
Each section is timed, meaning your child will be unable to return to previous sections once the time allowance is up.
Reading comprehension
In the reading comprehension section, children are given an extract (which may be fiction, non-fiction or poetry) and questions to answer about the text. The questions are usually multiple choice. This section assesses your child's understanding of a text, inference of meaning and explanation of vocabulary choices.
Verbal reasoning
A broad vocabulary knowledge is needed to succeed with the verbal reasoning questions of the SWW 11 plus. In this section, your child will be required to identify correct word choices and spot patterns with both letters and numbers. Understanding the structure of verbal reasoning questions is important – [try these top tips] (https://atomlearning.com/blog/11-plus-verbal-reasoning-exam-preparation-guide) on preparing for these questions.
Numerical reasoning
Using the learning objectives included in the Key Stage 2 national curriculum, this section tests your child's rapid recall of calculation methods and number facts in the arithmetic section, as well as assessing problem-solving skills in the lengthier application questions.
Non-verbal reasoning
Assessing your child's spatial awareness and ability to continue shape pattern sequences, these questions test the ability to think abstractly, using mathematical reasoning skills.
Atom has unlimited Mock Tests so that your child can practice all potential configurations of the SWW Consortium 11 plus.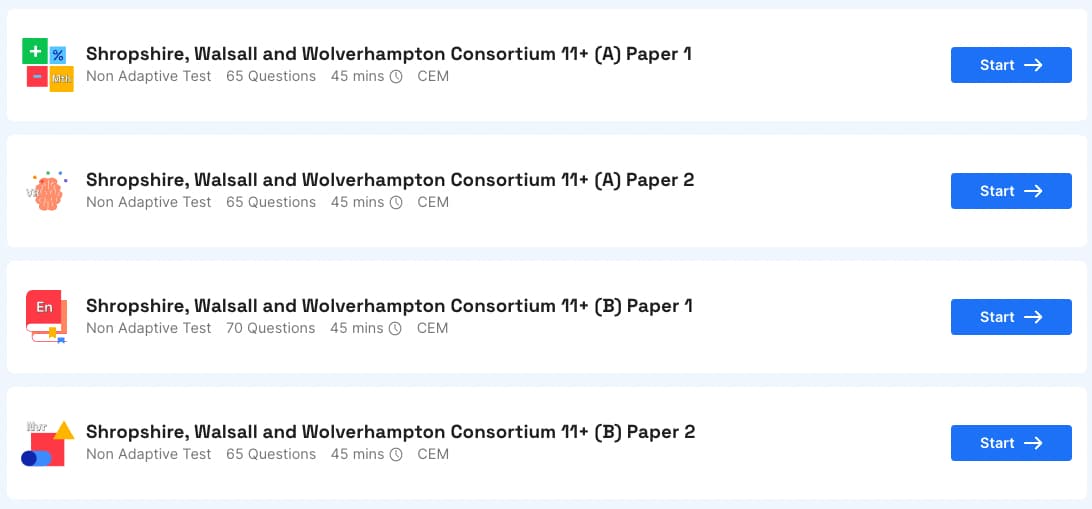 What is the pass mark for the test?
The pass mark for the SWW Consortium 11 plus test varies year on year and depends on the cohort-wide success in the test. The scores are ranked from highest to lowest. The schools' admissions policies determine where the 'cut off' mark for qualifying is for that year. Any child scoring below the minimum qualifying score cannot be offered a place.
There is an appeals process if your child's score does not qualify, although the success rate of appeals is low.
How competitive is the 11 plus test?
Grammar schools in Shropshire, Walsall and Wolverhampton hold impressive reputations, with many boasting excellent Oxbridge offers post A-Level results. Places are highly sought after - each school has an oversubscription priority criteria on their website, with many offering places only to pupils within specific catchment areas.
When should I start preparing my child for the Shropshire, Walsall and Wolverhampton 11 plus test?
The SWW Consortium 11 plus test is in the 2nd or 3rd week of September in Year 6, covering learning objectives found across the whole of the Key Stage 2 national curriculum, including Year 6 content your child will not yet have been exposed to.
Most commonly, preparation for the SWW Consortium 11 plus test begins at the end of Year 4 or beginning of Year 5. This is to allow enough time to master the aspects of the curriculum which have not yet been taught at school, and become familiar with the question styles, test format and timing.
The 11 plus is designed to challenge pupils working above age-related expectations. Children may need extra support to master core curriculum subjects before progressing to exam preparation. Atom's core-curriculum programmes can be introduced in Years 3 and 4 to keep them at the top of the class.
How can I help my child prepare for the Shropshire, Walsall and Wolverhampton 11 plus test?
No surprises: you can help your child to prepare with extra practice and familiarisation with the testing structure and known question styles. This will allow for reduction in cognitive overload on the day, helping them to tackle the test with confidence and ease. On Atom, your child can practice with unlimited online Mock Tests in the style of the SWW Consortium 11 plus.
Encourage reading for pleasure: varying your child's reading preferences to encompass different genres, authors, and time periods will assist them with vocabulary expansion and build vital speed for scanning techniques in the test.
Give them personalised targets: this will help your child stay on track to master all the content they need for the 11 plus. Atom's Parent Portal gives you data-driven insights into your child's areas of strength and development, so you can help them prepare strategically.
Overall progress and targets achieved: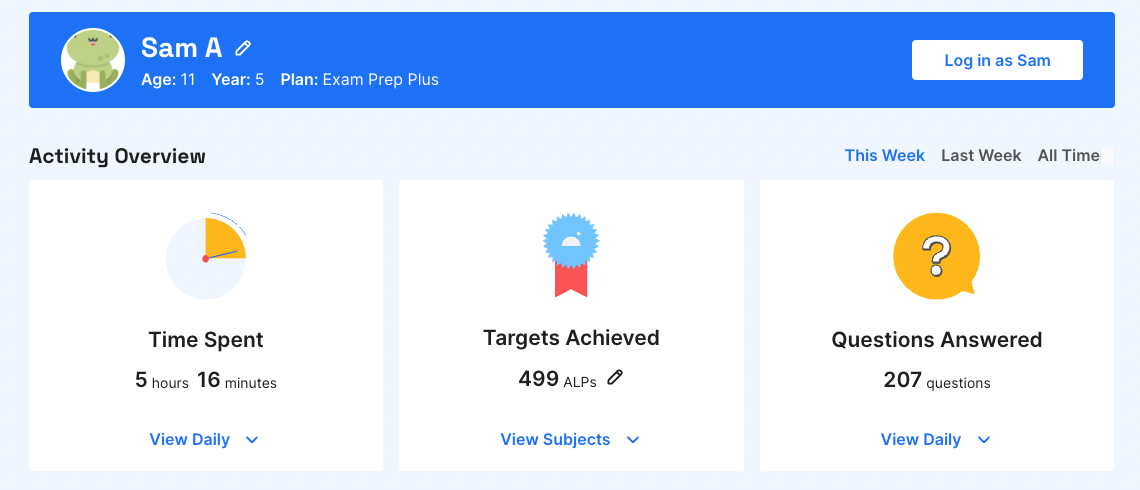 A detailed breakdown of progress by subtopic, compared to the average student in their year: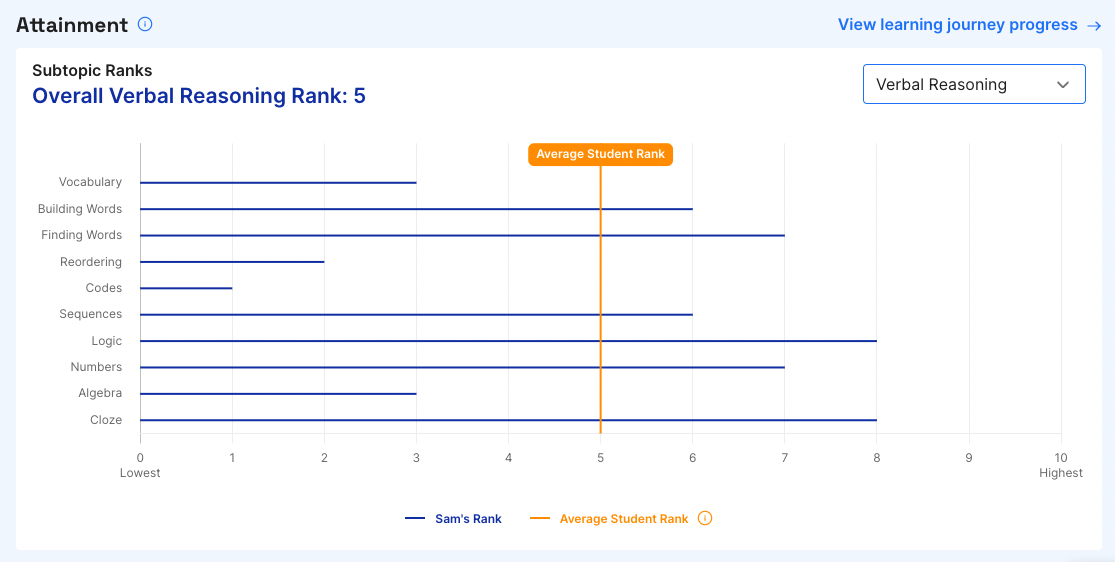 Your child's personalised learning journey progress: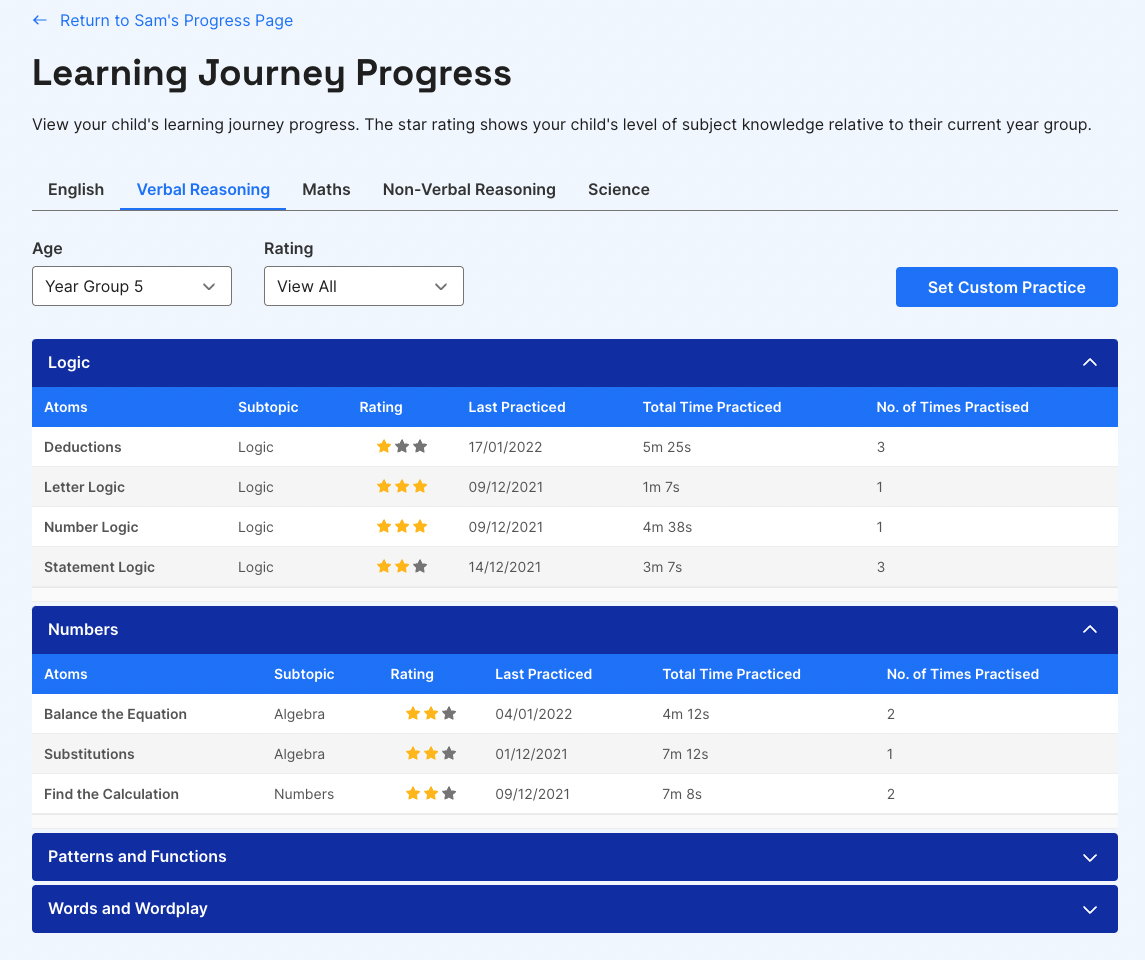 Set Custom Practices to target your child's most challenging subtopics, with functions to personalise timings and question types:
Start your free trial of Atom Nucleus today to learn more about how adaptive learning can help your child shine in the 11 plus.
---
We know how keen you are for your child to do well in the 11 plus, to give them every chance of securing a place at their school of choice. Our dedicated team of Education Experts are on hand to support you and your family every step of the way:
Join our free specialist Grammar School Preparation webinars, and learn how to structure the next few months to maximise your child's progress: