Looking for clarity on the 2022 11 plus admissions process in Wiltshire?
This guide will help you understand:
An accurate and up-to-date breakdown of the 11 plus tests sat by the selective schools in Wiltshire

Answers to frequently asked questions

Expert guidance on how best to prepare
Which Wiltshire secondary schools use the 11 plus for admission?
There are two selective grammar schools in Wiltshire – South Wilts Grammar School (SWGS) and Bishop Wordsworth's School (BWS). Both were single-sex only (girls at South Wilts Grammar School, and boys at Bishop Wordsworth's School) for many years, although with a partnership arrangement in the sixth form whereby some lessons and facilities were shared. Since September 2020, both schools have changed their sixth forms to become fully co-educational.
While both schools use the 11 plus exam for entry to Year 7, they use different providers:
Wiltshire Grammar Schools 11 plus test at a glance
Registration opens: 26th April 2022 (Bishop Wordsworth's School), 1st June 2022 (South Wilts Grammar School)

Registration closes: 30th June 2022 (BWS), 1st September 2022 (SWGS)

Local Authority Applications open: Thursday 1 September 2022

Local Authority Applications close: Monday 31st October 2022

Test dates: Saturday 17th September 2022 (BWS) and Saturday 24th September 2022 (SWGS)

Results: Mid-October 2022

National School Allocation Day: Wednesday 1st March 2023

Appeals: Undertaken by the school of application

Admissions information: [email protected] (for applications to BWS) and [email protected] (for applications to SWGS)
What is the 11 plus?
The 11 plus exam is normally taken in the autumn term of Year 6 and assesses children's academic potential and suitability for grammar schools. Your child must pass this test to get into a selective grammar school, although passing the test does not guarantee admission to the school. The exam will usually be taken at the school of choice.
How do I register my child for the Wiltshire 11 plus test?
To register your child for either Bishop Wordsworth's School or South Wilts Grammar School, you will need to apply directly to the school:
You will also need to submit a Local Authority application form on your local council's website (Wiltshire, Hampshire or Dorset). This will be available between 1st September and 31st October 2022. Parents who wish to apply for a grammar school place at either Bishop Wordsworth's School or South Wilts Grammar School will need to include the school as one of their named preferences on the application form.
What is covered in the Wiltshire 11 plus test?
While both Bishop Wordsworth's School and South Wilts Grammar School require candidates to sit the 11 plus test for Year 7 entry, they use different exam boards and the test content is therefore different.
Bishop Wordsworth's School 11 plus test
Bishop Wordsworth's School uses the CEM test, which does not separate subjects. The school's 11 plus test consists of two papers:
Paper 1: 50 minutes.

Paper 2: 50 minutes.
Each paper assesses verbal, numerical and non-verbal ability and is a multiple-choice format. The content and skills required will match that of the KS2 English and maths curriculum.
South Wilts Grammar School 11 plus test
South Wilts Grammar School uses the GL Assessment. The school's 11 plus test consists of three papers, which are separated by subject:
Maths: 50 minutes. The test reflects all areas of the KS2 national curriculum, including number, algebra, measures, shape and space and handling data.

English: 45 minutes. The test may contain aspects of reading comprehension, spelling, punctuation and grammar.

Verbal reasoning: 50 minutes.

What is the pass mark for the Wiltshire 11 plus?
Pupils' marks in the 11 plus test are age-standardised. These final marks will be sent to both the school and the candidate's parent(s).
While neither school publishes a specific pass mark, this has historically been between 70% and 74% (once age-standardised) but depends on the number and quality of the applicants. However, passing the 11 plus does not guarantee a place; if more pupils pass the exam than the planned admissions number, they will be ranked according to each school's oversubscription criteria.
How competitive is the Wiltshire 11 plus?
In the last seven years, there have been an average of 315 applicants for up to 160 places at Bishop Wordsworth's School. South Wilts Grammar School also has 160 places available for Year 7 in 2023 and historically, there has been an average of 329 applicants. This means that for both schools, approximately one in two applicants is successful in achieving a place.
Both schools apply oversubscription criteria if the number of applicants who achieve the pass mark exceeds the number of places available. The main priority groups are looked after children or previously looked after children, applicants who are eligible for free school meals and applicants whose permanent home is in the school's designated area.
When should I begin preparing my child for the 11 plus?
It's common for parents to begin introducing their children to 11 plus content late in Year 4 or early in Year 5. As with any exam, plenty of preparation and time to consolidate information is key.
The 11 plus is designed to challenge and assess your child's academic ability and problem-solving skills and is used to identify pupils who are excelling academically (above their age expectation). It's important to have a solid understanding of the Key Stage 2 core curriculum before moving onto exam-specific questions.
How can I help my child prepare for the Wiltshire 11 plus?
Here are Atom's top tips on how to best help your child prepare for the 11 plus in 2022:
Preparation is key. Help your child feel fully prepared by familiarising them with the style and format of the questions ahead of the exam. Bishops Wordsworth's School holds familiarisation classes for Year 5 pupils and South Wilts Grammar School holds a familiarisation exam (normally the week before the official exam date).
Access to quality practice materials will ensure your child feels confident when tackling the test. Atom has unlimited 11 plus Mock Tests in the style of the Wiltshire CEM 11 plus (taken by Bishop Wordsworth's School) and in the style of South Wilts Grammar School's GL Assessment.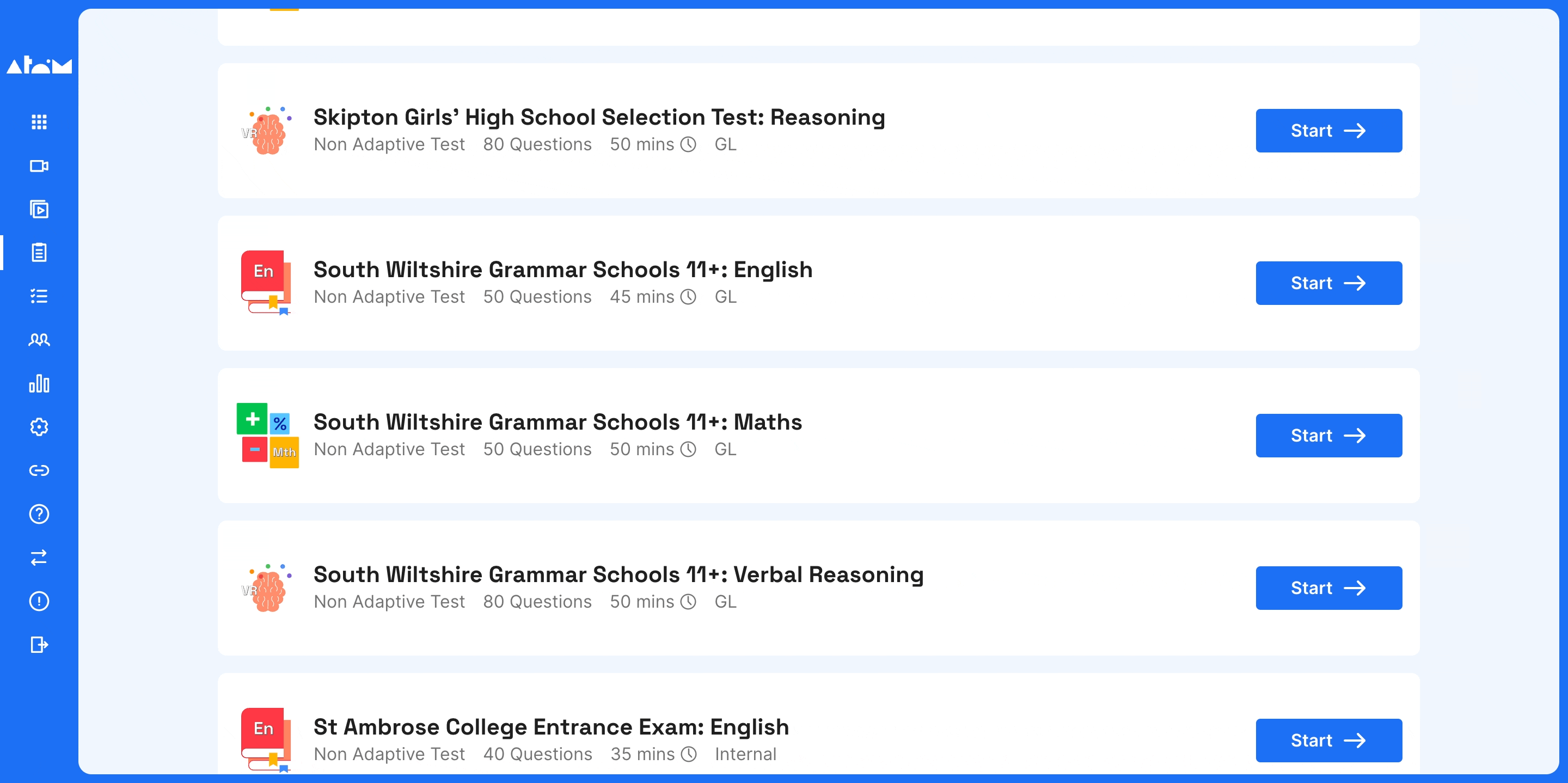 Build a strong knowledge of the curriculum. Atom Nucleus offers adaptive, tailored learning journeys – specific to your child and to your school of focus – with over 90,000 questions created by teachers.
Access to immediate support. Your child will need clarity when working through tricky topics in order to fully grasp the content of the exam. Atom gives your child access to video tutorials, help sheets and examples for every single question, which will help them build their confidence and mastery of the subject.
Engage with their progress. Celebrate your child's efforts when they improve in an area that they previously found challenging. Atom's Parent Portal provides an accurate and ongoing assessment of your child's areas of strength and weaknesses, helping you to personalise tasks for your child. You will be able to see:
your child's overall progress and achieved targets

a detailed breakdown of progress by subtopic, compared to the average ability of a child in the same year

set Custom Practices to target the areas your child finds most challenging, with features allowing you to personalise the timing and the types of questions.
Atom Learning can help
Start your 5-day free trial of Nucleus today to ensure your child is fully confident and prepared for the Wiltshire grammar schools 11 plus.
---
We know how crucial this time is for you and your child. If you have any questions about the 11 plus test taken by the Wiltshire grammar schools, our education experts are on hand to support you and your family every step of the way.