Looking for a complete guide to help navigate the Warwickshire 11 plus exam for 2023 entry? This article explains everything you need to know about registration, the testing process, and how best to prepare your child to sit the entrance exam for the school of their choice.
Warwickshire Grammar Schools 11 plus test 2022 at a glance
Registration opens: 9th May 2022

Registration closes: 30th June 2022 (4pm)

Exam date: Saturday 17th September 2022

Exam board type: GL Assessment

Results: 21st October 2022

National school offer day: 1st March 2023 (or next working day)

Admissions information: Warwickshire County Council

Appeals: undertaken by schools
Which grammar schools use the Warwickshire 11 plus test?
Partially selective schools:
What is the Warwickshire 11 plus test?
The 11 plus is an entrance examination used by UK grammar and independent schools as part of their selective admissions process. It is sat in the September of Year 6 and if your child meets the qualifying standard, you may include a grammar school on the Warwickshire County common application form (CAF).
There are 5 grammar schools and 1 bilateral school (partially selective) in Warwickshire. Each grammar school is oversubscribed, celebrating excellent GCSE results as well as superb extracurricular activities and achievements.
The 5 grammar schools form a consortium, meaning candidates applying for any of the grammar schools (including Ashlawn School) in the Warwickshire area need only sit one test. The raw scores are then given to the individual schools for their own ranking procedures.
The Warwickshire Consortium and the Birmingham Consortium follow the same testing dates, process, and papers, allowing raw scores to be shared across consortiums if applying for grammar schools in both areas. Your child will only be able to sit this test once. Both consortiums use GL Assessment as their exam provider.

How to register for the Warwickshire 11 plus test 2022
Registration opens on 9th May 2022, through the Warwickshire Admissions website and closes on 30th June 2022. Paper copies of the registration form are available on request.
The Warwickshire Local Authority will allocate a test date session (which can be morning or afternoon) and will confirm which of the school's testing centres your child is assigned to.
If you're considering applying for one of the eight grammar schools in the Birmingham Consortium as well as in the Warwickshire area, you will be able to request the raw score to be shared as part of the registration process. If you have any queries about combining your Warwickshire and Birmingham registrations, you can contact [email protected] for guidance.  
What is covered in the Warwickshire 11 plus test?
The Warwickshire and Birmingham Consortiums follow the GL Assessment exam board, recently switching over from CEM in previous years. GL provide the exam questions – the choice of the length of paper and contents weighting is decided by the consortiums themselves.
The Warwickshire 11 plus test is made up of two papers, the first comprising maths and non-verbal reasoning, and the second paper testing reading comprehension and verbal reasoning.
Each paper lasts one hour and is comprised of 85 questions. They are likely to be multiple choice format, with a separate answer sheet to the question booklet. The question booklet is not marked, and any working out completed in this booklet will not be considered.
Maths
The maths questions are aligned with the Year 6 national curriculum, although it's worth remembering that as the test takes place at the start of Year 6, your child will not have encountered all of the content in the classroom yet.
Non-verbal reasoning
The non-verbal reasoning section of the 11 plus assesses the logical problem-solving skills necessary to continue picture and shape sequences, as well as finding similarities and relationships between images. Find out more about non-verbal reasoning and how best to prepare for these questions here.
Verbal reasoning
The verbal reasoning section of the Warwickshire 11 plus test are designed to assess your child's inference and deduction confidence. A broad vocabulary understanding is necessary to confidently answer these questions in the time restrictions. You can find more information on verbal reasoning and how to best prepare for these questions here.
Reading comprehension
The reading comprehension section will contain an extract or passage for your child to read and answer subsequent questions. The text will often be pitched at readers who are more advanced than age 11, with complex vocabulary and hidden meaning.
What is the pass mark for the Warwickshire 11 plus test?
The pass mark for the test varies depending on the year. It will change depending on the aptitude of the whole cohort, each schools' specific oversubscription policy and the number of places they have available.
How competitive is the test?
There is significant competition in Warwickshire to attend one of the 6 grammar schools in the area. Before sitting the test, students should be confidently familiar with the format, questions styles, and timing pressures of the exam.
Each school follows their own priority criteria when allocating places, including catchment areas. It's worth familiarising yourself with the policies of your target schools to see if your child meets any of the higher priority criteria.
When should I start preparing my child for the Warwickshire 11 plus test?
The most common time to start 11 plus preparations is at the end of Year 4 or beginning or Year 5. This will give your child ample time to build confidence with the various question types and develop their exam technique so they are comfortable working within time pressure.
How can I help my child prepare for the Warwickshire 11 plus test?
Here are Atom's top tips on how to best prepare your child for the 2022 exam.
Familiarity: your child should get used to the question styles and answer formats ahead of the exam. Access to quality, unlimited practice materials ensures confidence when tackling the test.
Atom Nucleus has a library of Mock Tests mirroring the style and format of Warwickshire Grammar Schools 11 plus, so your child will know exactly what to expect. Start your 5-day free trial today to learn more.
Vocabulary engagement: building confidence with vocabulary is key for success in the verbal reasoning and reading comprehension paper. Engagement with a range of complex, era-specific texts before the test will be beneficial. Get free resources for engaging your child with reading here.
Achieve full subject mastery: the 11 plus test assesses a huge amount of content. Atom's Exam Preparation package offers tailored learning journeys for the Warwickshire Grammar Schools 11 plus. The 90,000+ expert, teacher-created resources will help your child to fully master each topic before moving on to the next.
Engage with their progress: celebrate their improvement in their areas of challenge together. Atom's Parent Portal gives you data-driven insights into your child's areas of strength and development so you can help them prepare efficiently.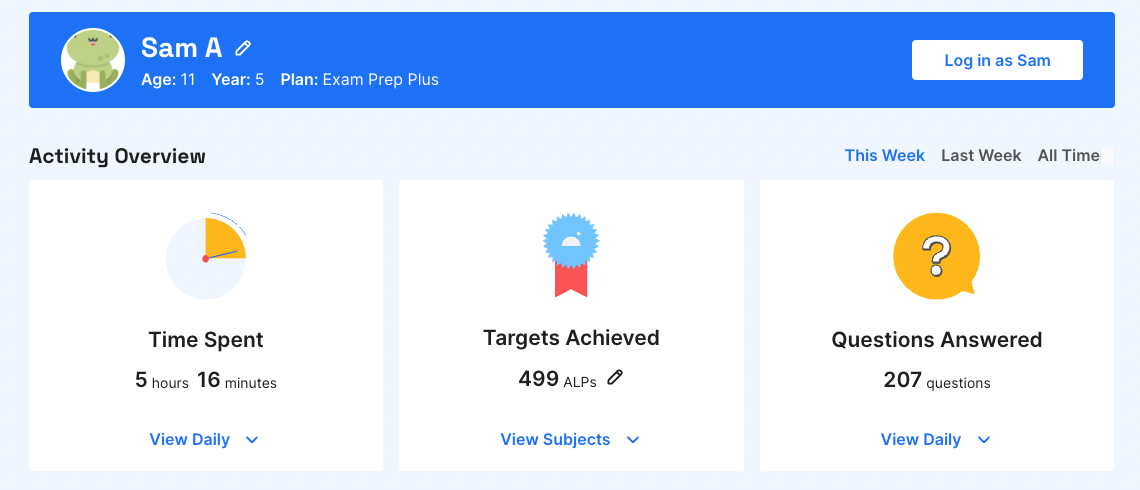 Set Custom Practices to target your child's most challenging subtopics, with functions to personalise timings and question types:
---
We know how crucial this time is, so our team is on hand to support you and your family every step of the way. You can book a call with one of our Education Experts to ask any questions you may have about the Warwickshire 11 plus:
Join our free specialist Grammar School Preparation webinars, and learn how to structure the next few months to maximise your child's progress: